Kitchen Cupboard Christmas Decor
Have you seen those pictures of people decorating their kitchen cabinets with mini wreaths and ribbon for Christmas? I wanted to decorate in a similar way, but instead of wreaths I used felt gingerbread people to create my Kitchen Cabinet Christmas Decor idea.
Here is my version.
Before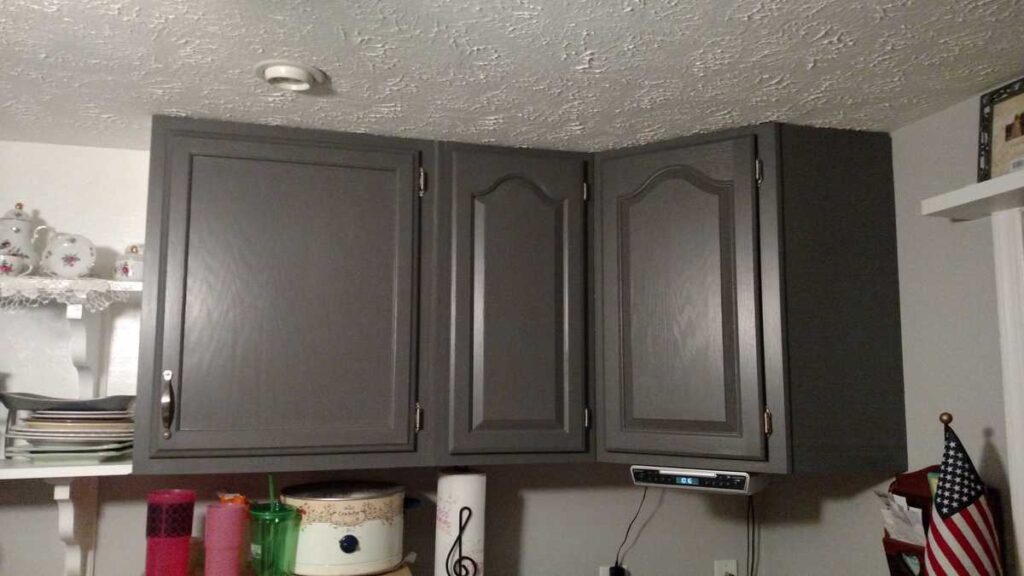 (*This post may contain affiliate links. By purchasing anything from these links, I may receive a small commission at no cost to you. More information is available on my Disclosure page.)
Cute Gingerbread things you might like!*
I know people who like gingerbread decor. So I keep a lookout when I am shopping. Sometimes I find something and decide to keep it instead of give it away for a gift. That is what happened with these little felt gingerbread people.
Yard Sale Find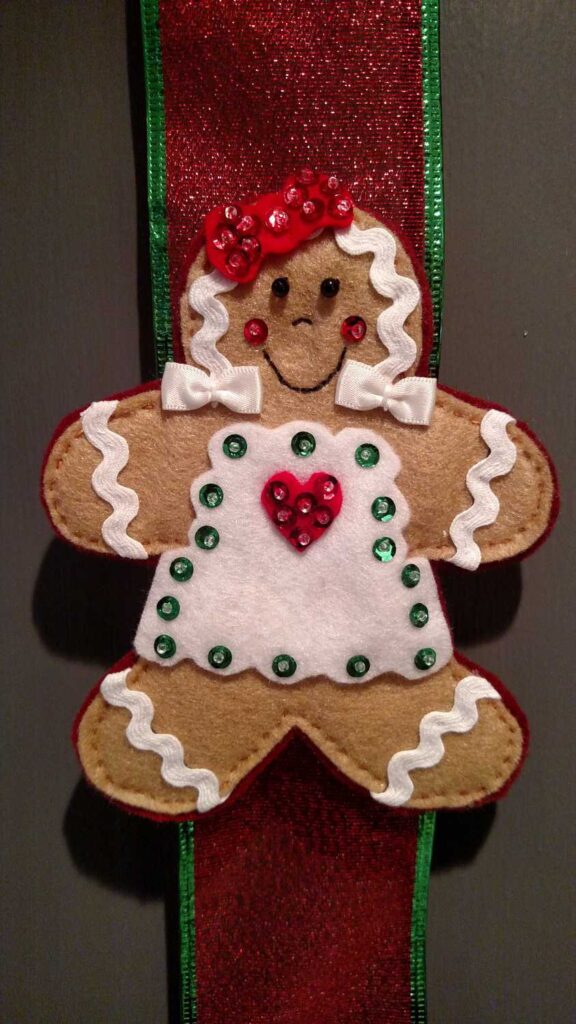 (I liked my felt gingerbread people so much that I began creating other seasonal felt decor for my kitchen cabinets. You can find them all below.)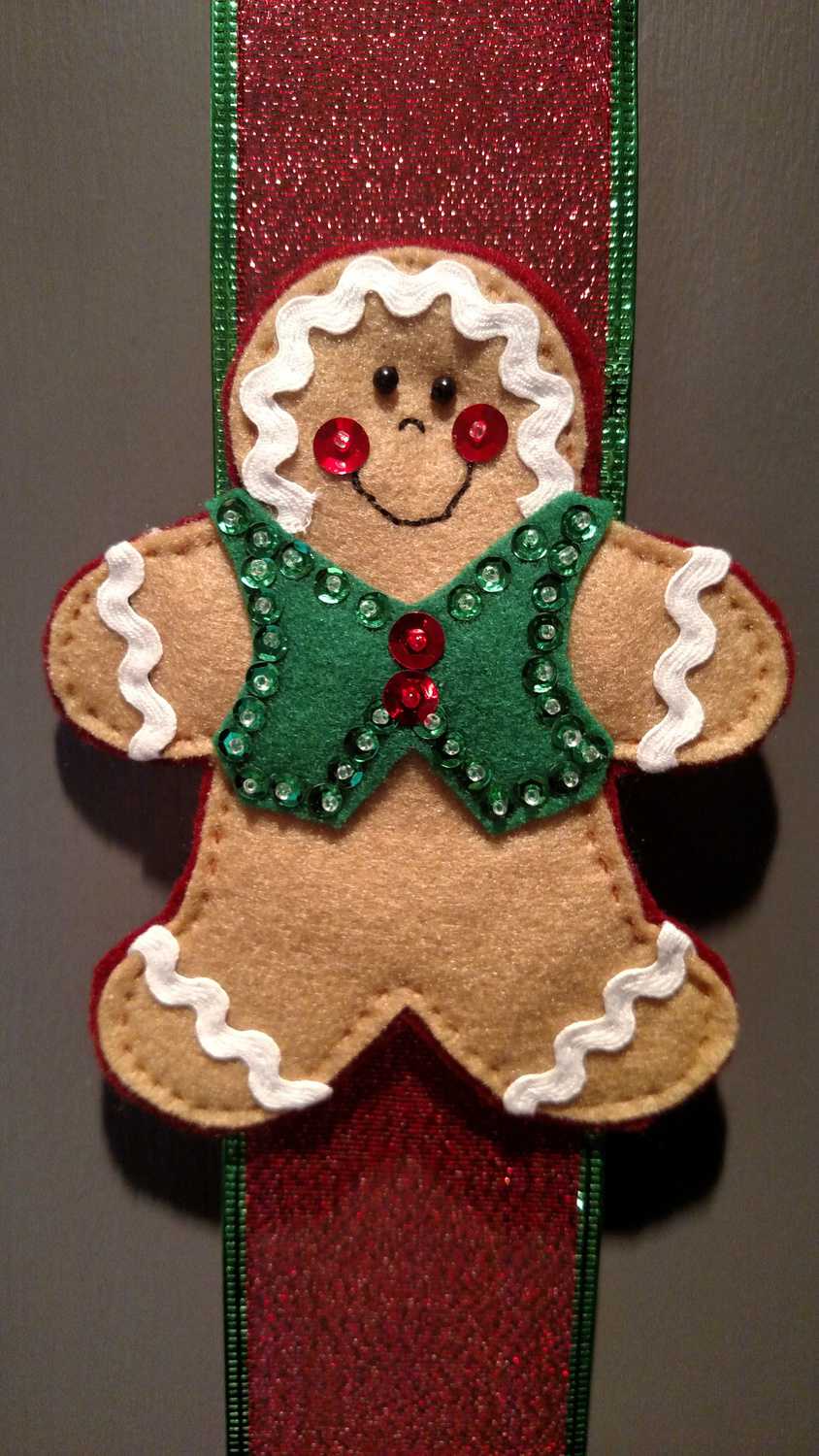 If you don't want to wait until you find some felt gingerbread men at a yard sale, you can buy a kit to make your own! (affiliate links below)
Photo Credit: www.etsy.com
There are four of them, two gingerbread girls, and two gingerbread boys. I pinned them to some ribbon with a safety pin.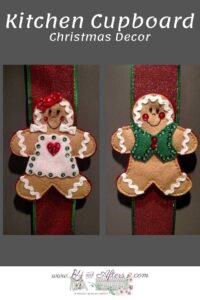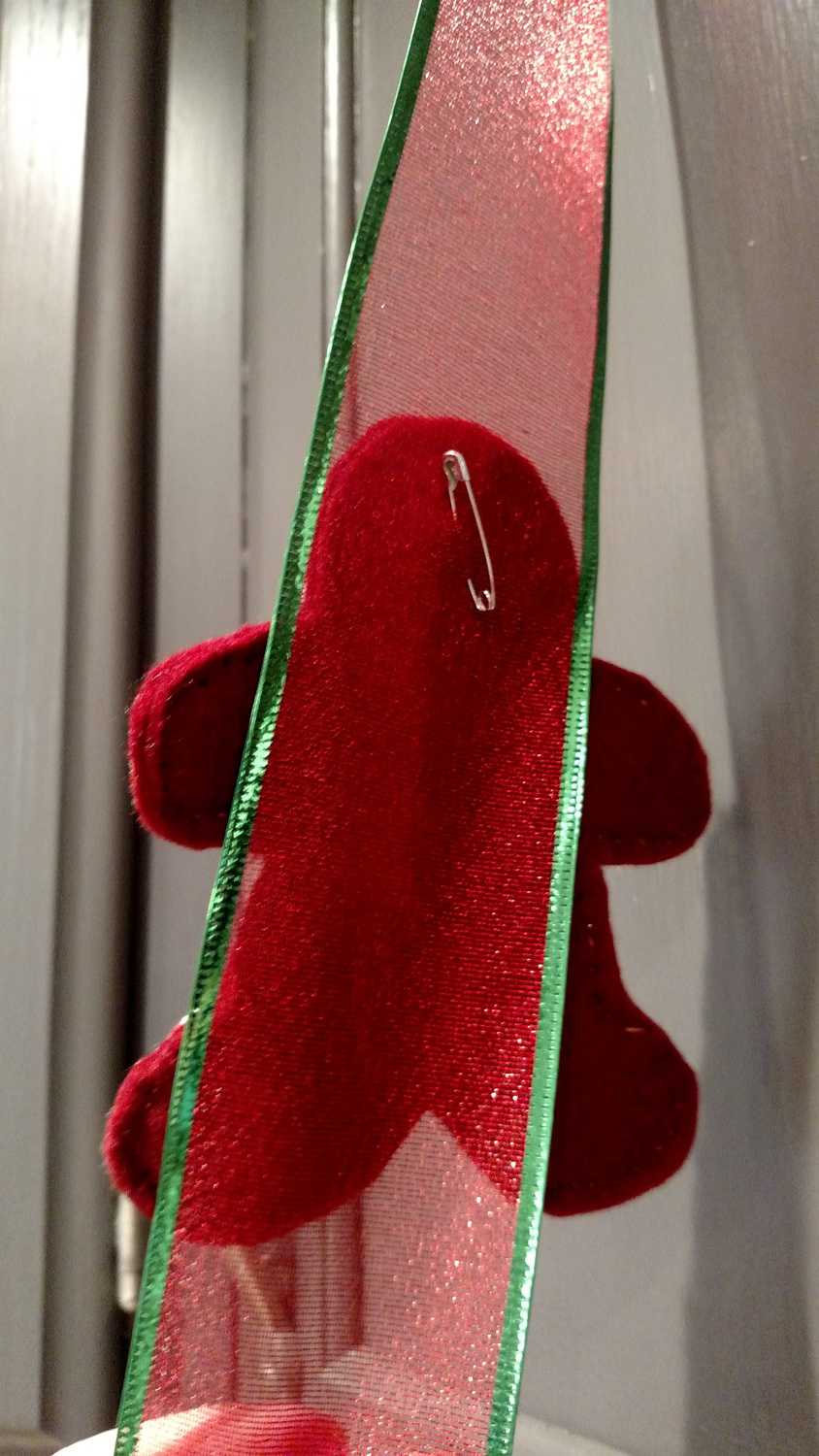 Then I used my trusty masking tape to attach the ribbon to the back of my cupboard doors. If masking tape will do the job, I use it. It almost always removes easily without damaging anything.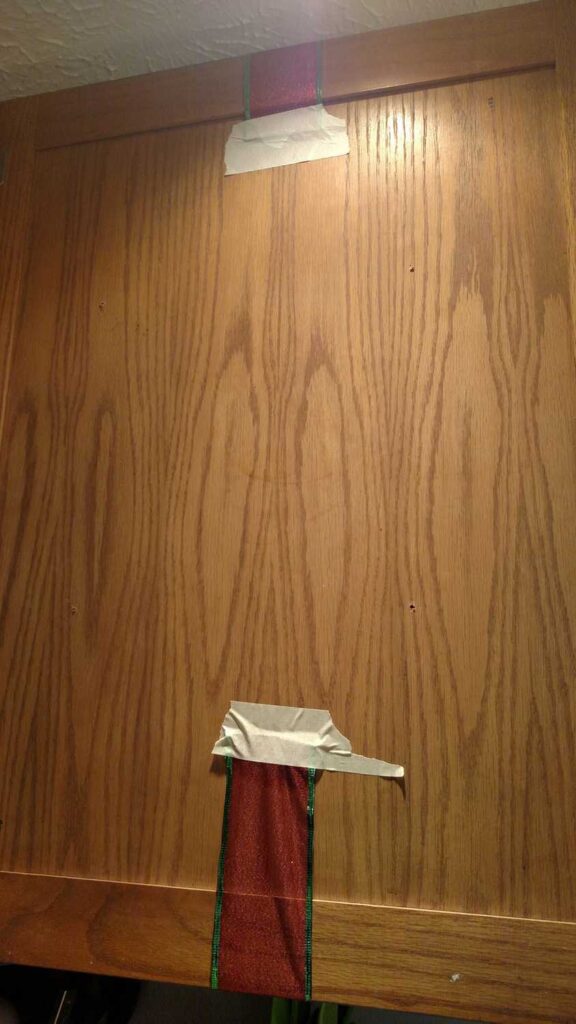 And voila!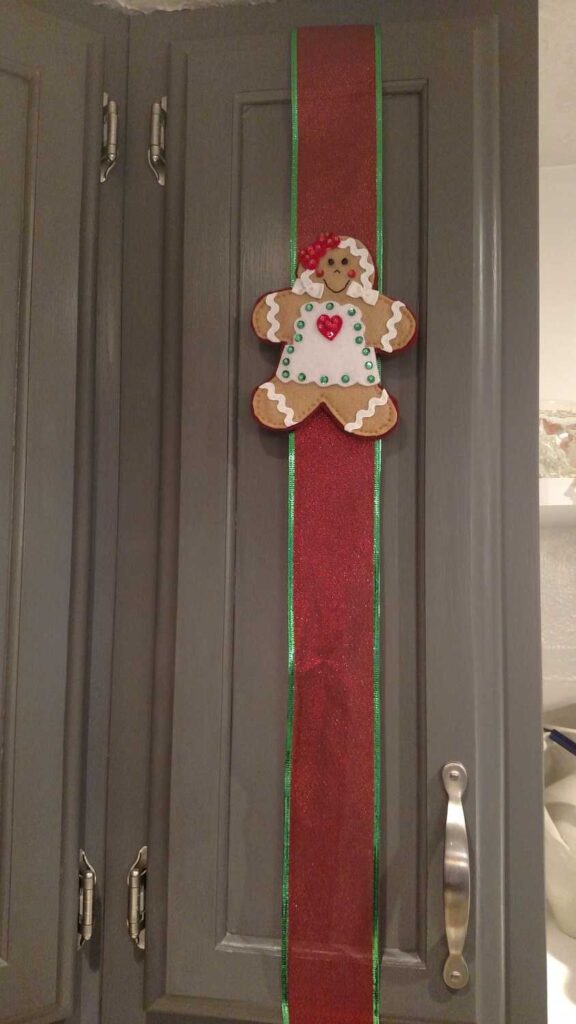 Isn't it cute? And it didn't take long at all to do. What do you think of my easy kitchen cabinet Christmas decor? Each year I leave them pinned to the ribbon and roll them up to store until the following year. Then all I have to do at Christmas time is tape them to the cabinet.
How To Decorate your Kitchen Cabinets for Christmas
Make or purchase Felt Gingerbread People. If you make them, follow directions for making them first, before following these guidelines. These directions are for completed gingerbread boys and girls.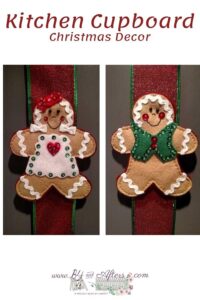 Required Tools:
You may need a step stool to reach your cabinet doors.
Things Needed?
– Felt Gingerbread people
– Masking tape
– Safety Pins
– Wide ribbon, wired preferred but not necessary
Steps to Attach Gingerbread Decor to Cabinets:
I decided to stagger the gingerbread men at different places on the ribbons.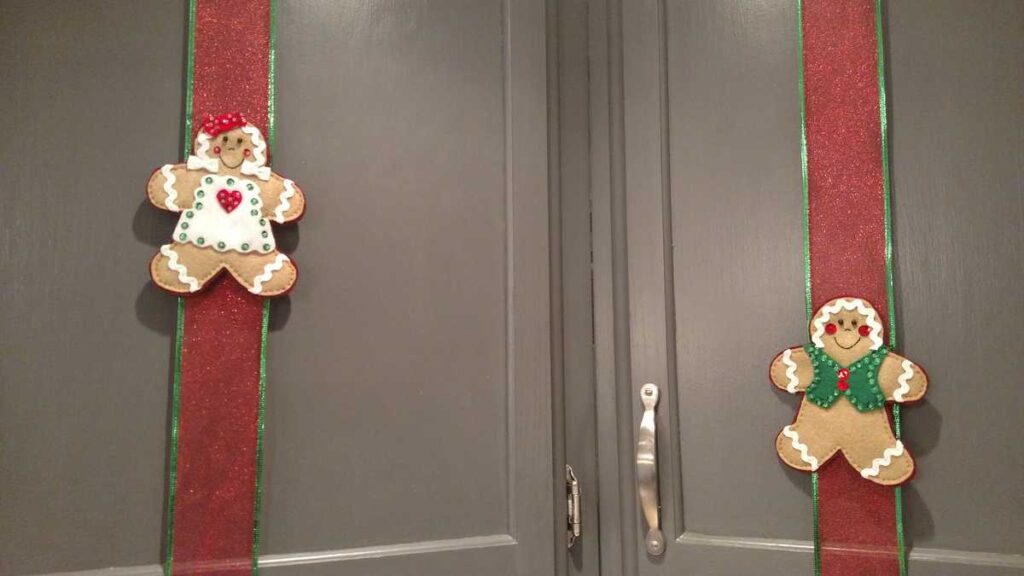 Here is what they looked like on my cabinets before I painted them. (Yes, I painted my cabinets!)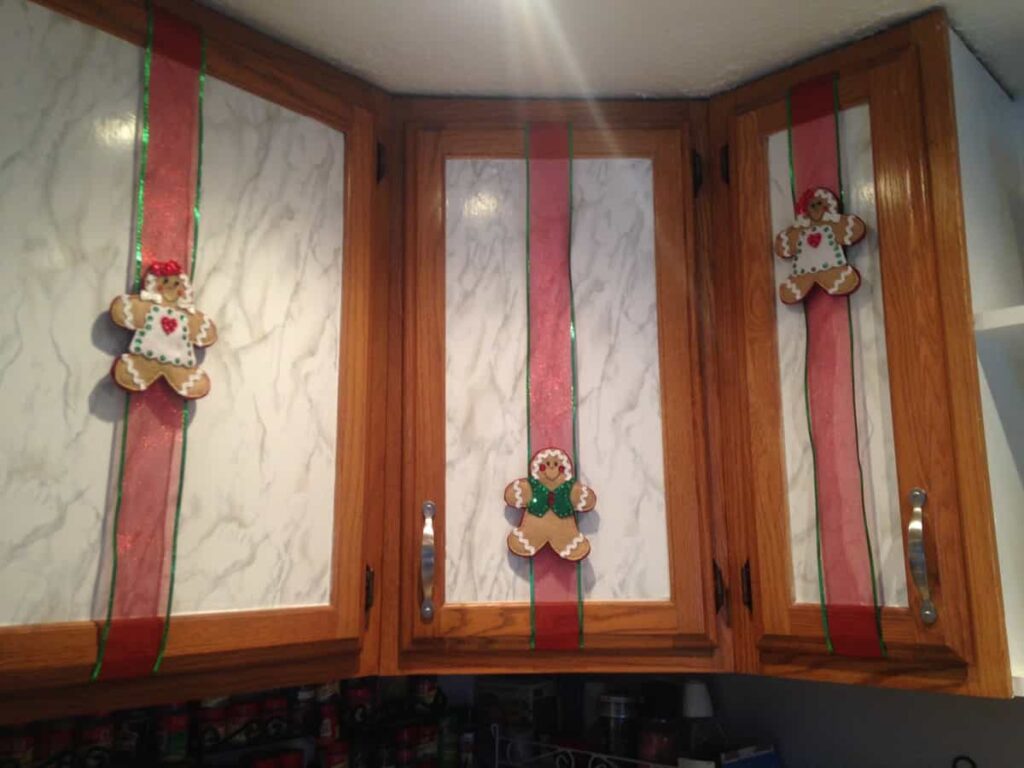 [The white and gray marble in the center of those cabinets? Yes, that's contact paper… The previous owners had painted the centers with latex paint and I didn't care for it so the marble contact paper was my temporary solution.]
AFTER!!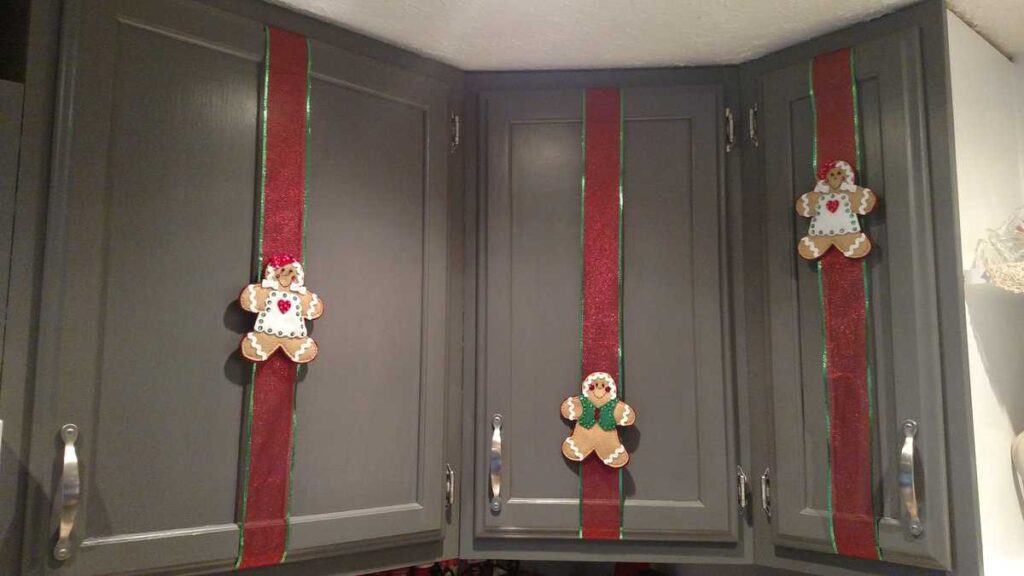 And here are my kitchen cabinets from further away. I have more than 4 cabinets, but I only have four felt gingerbread people!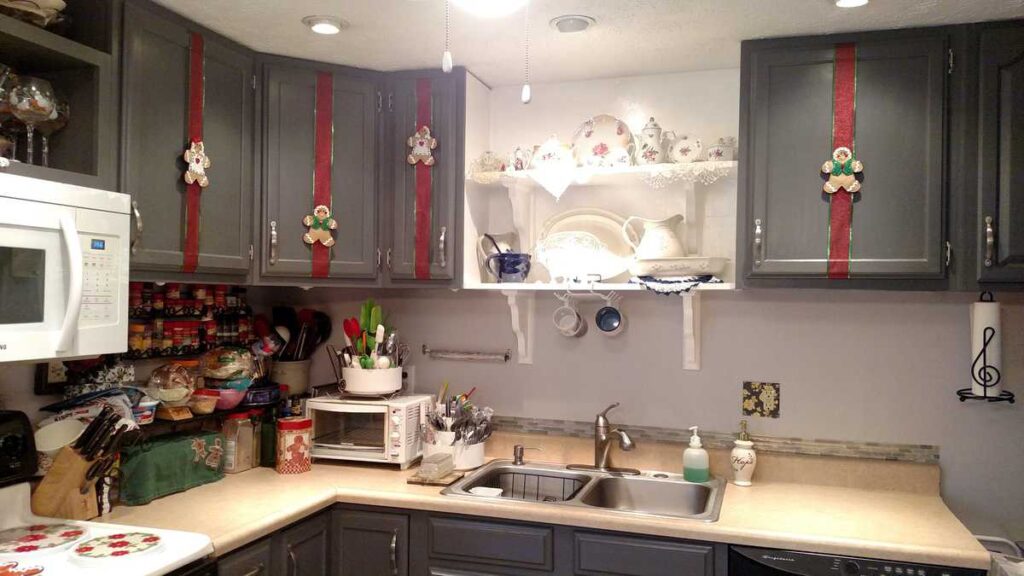 Thank you so much for sharing and Pinning!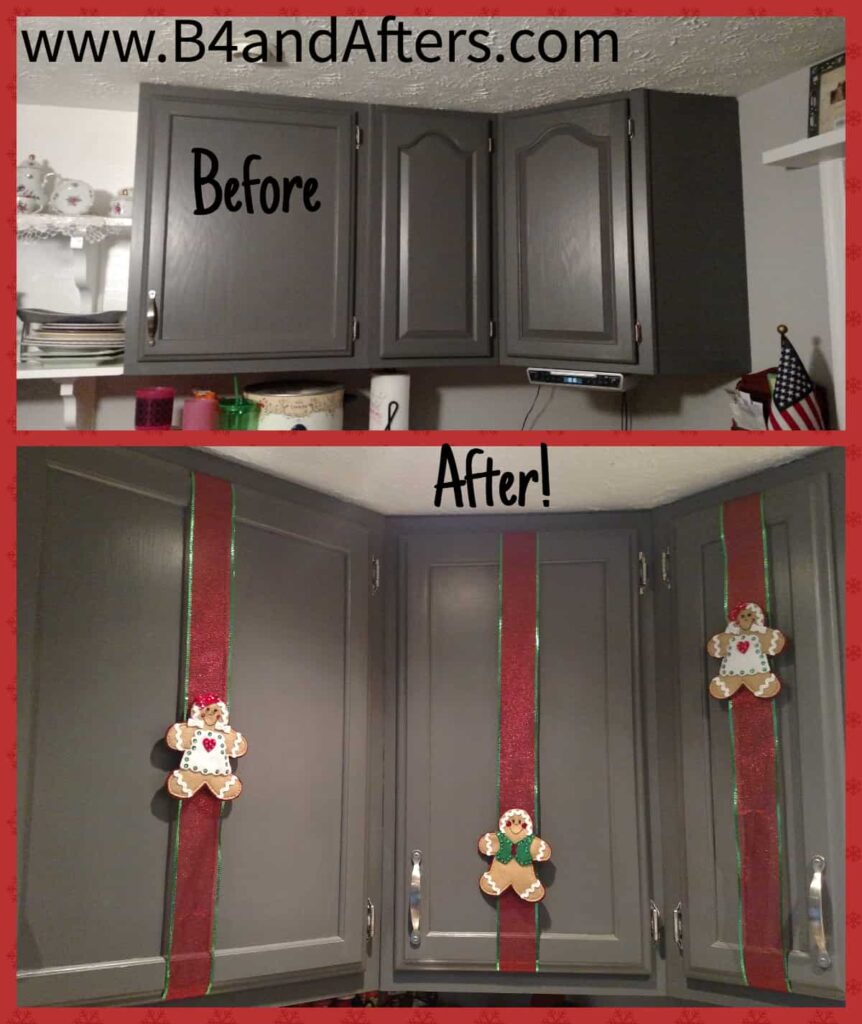 Do you like decorating with Gingerbread people for Christmas? I found a Tiered Tray with a Gingerbread theme online, and I just HAD to share it with you! @CupcakeCountryGirl gave me permission to share this photo with you that she originally shared on Instagram a couple years ago: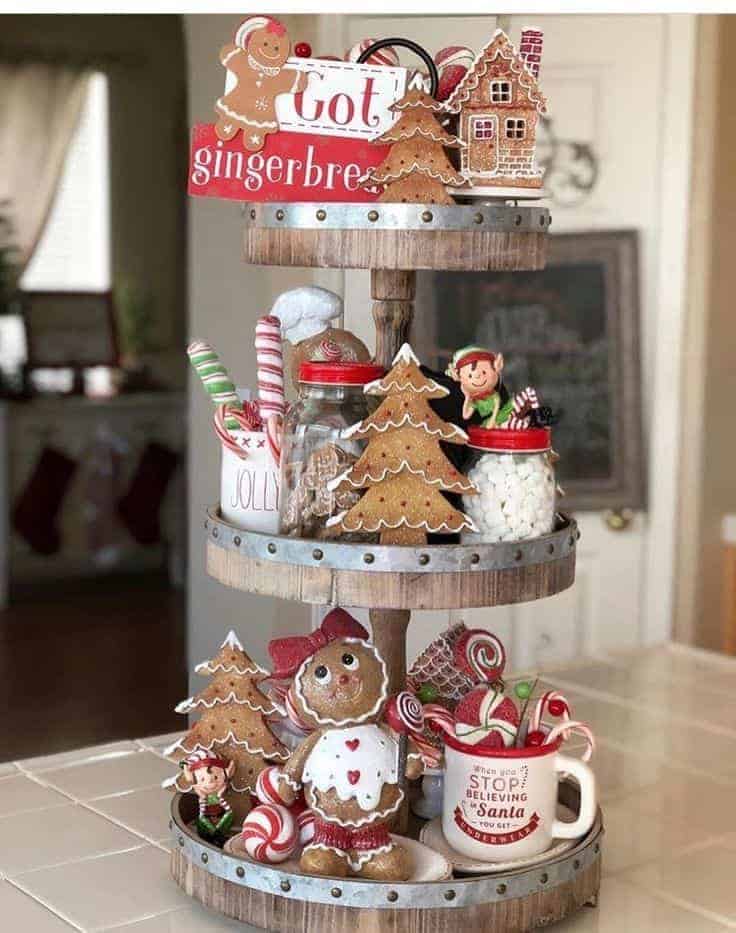 Isn't it just so pretty!!!! It makes you want to get a tiered tray and start decorating, doesn't it?!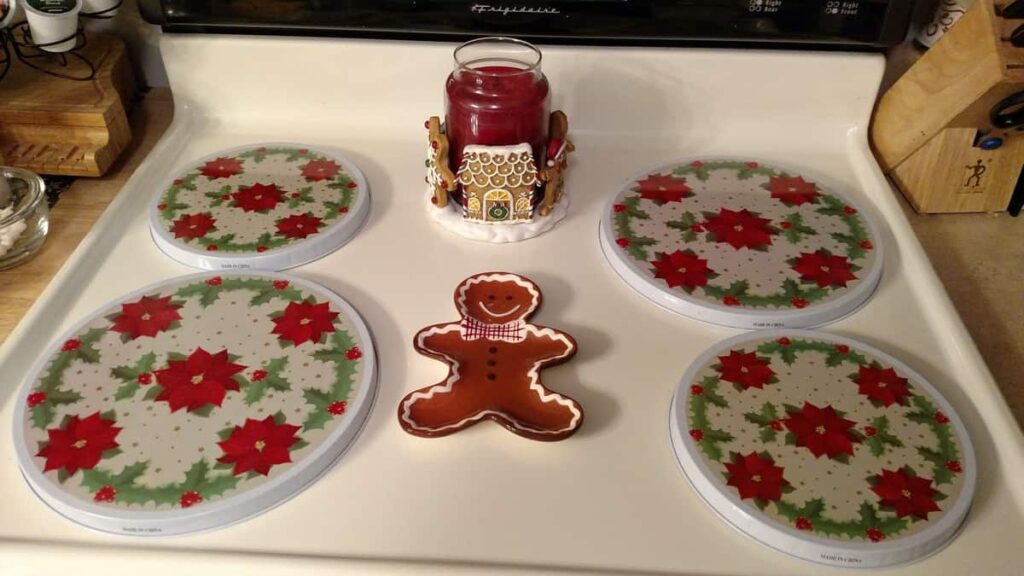 For more Christmas Kitchen decorating ideas, look here.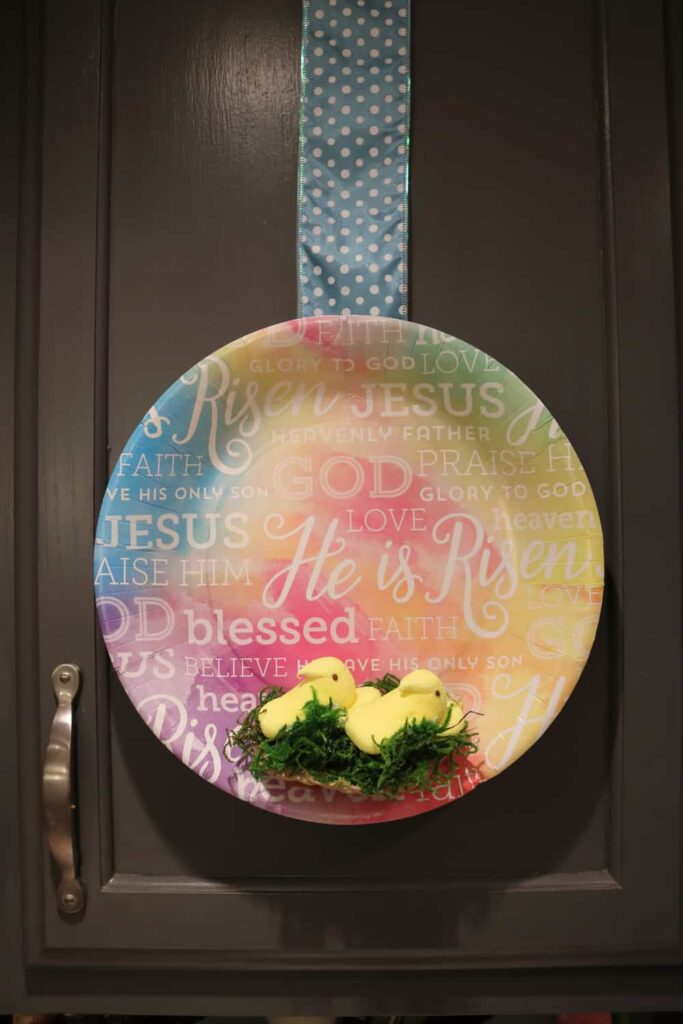 To see a way to decorate your cupboard doors for Easter with Peeps, Click Here.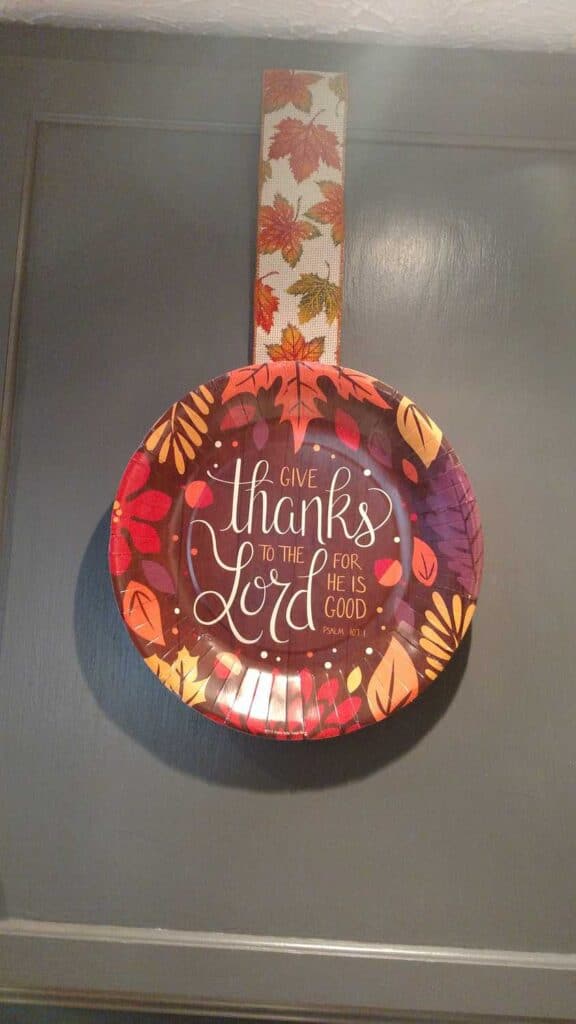 If you would like to see another way I like to decorate my kitchen cabinet doors, look here.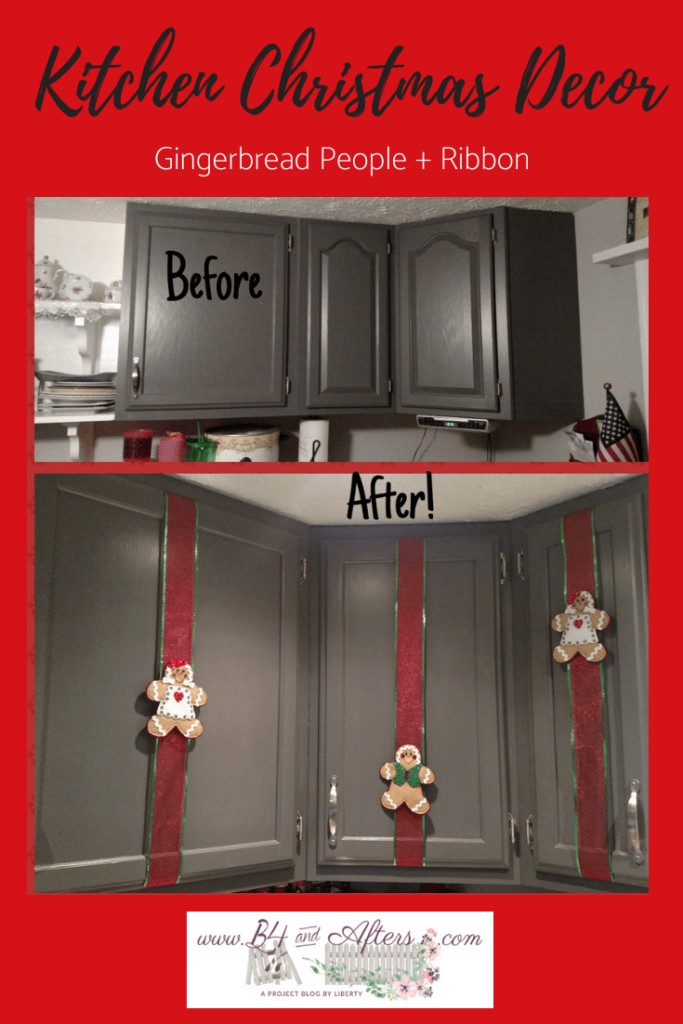 SaveSave
SaveSave
SaveSave
SaveSave