Kitchen Cupboard Valentine Decor
Previously, I had created these felt hearts with my Cricut Maker. I assembled them using Spray Adhesive. I used pink, dark pink, white, and lavender felt and cardstock. Any of your favorite color combinations would work.
Before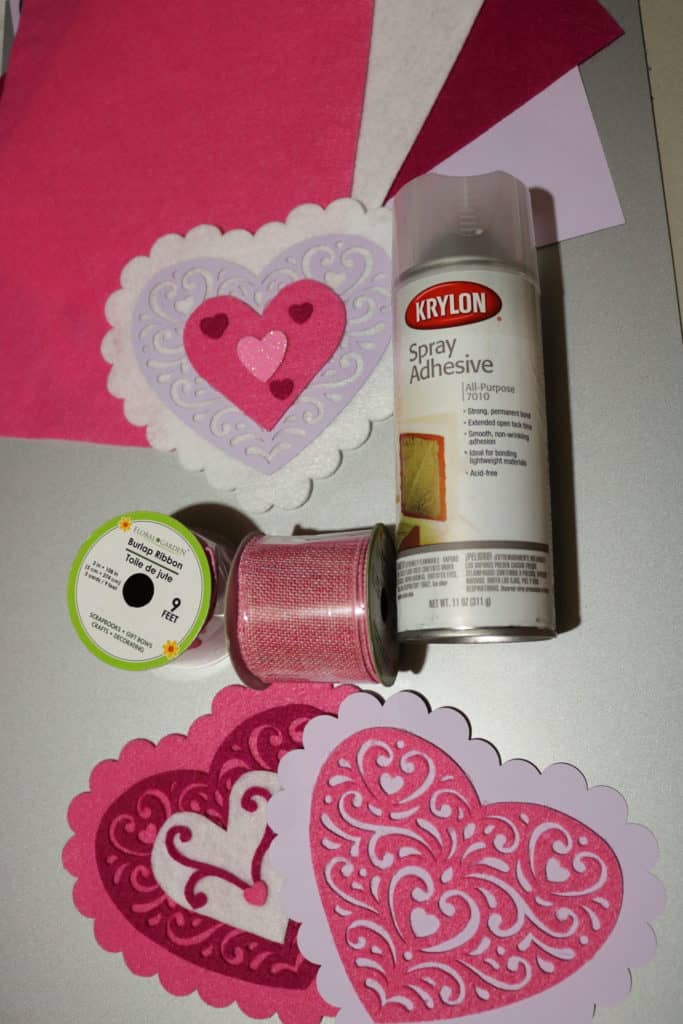 (*This post may contain affiliate links. By purchasing anything from these links, I may receive a small commission at no extra cost to you. More information is available on my
Disclosure
page.)
Using Dollar Tree ribbon, I attached the felt hearts to my cupboard doors to help decorate my coffee station area for Valentine's Day. I used safety pins to attach the hearts to the ribbon. (You can see how I did that here.) Then I used masking tape to attach the ribbon to the insides/ backs of the cabinet doors.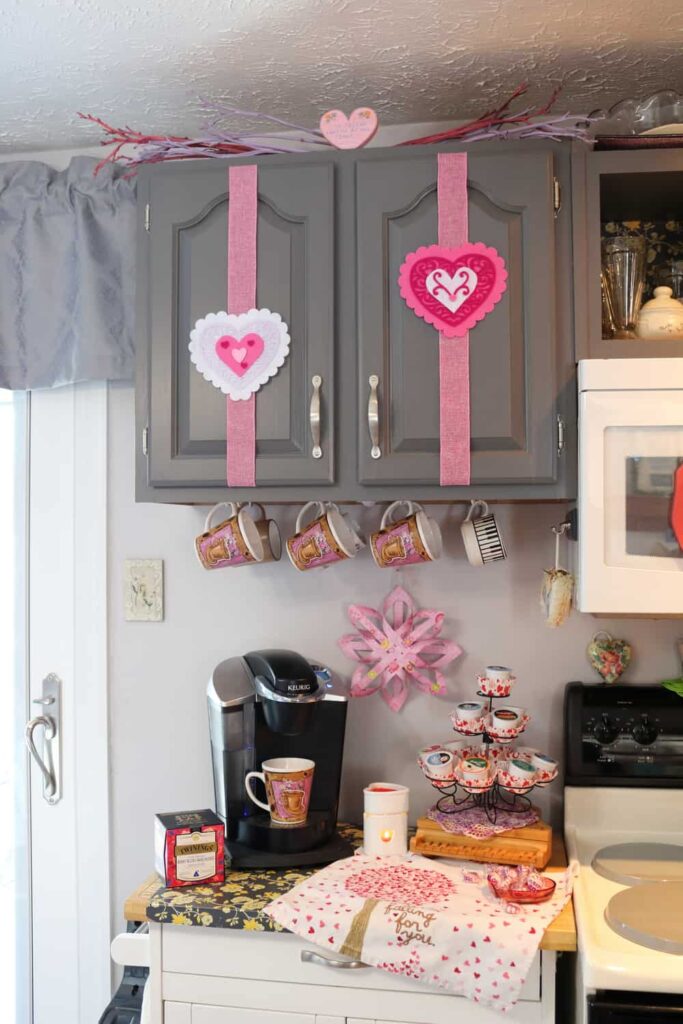 [Before I show you the rest of the details of my Kitchen Cupboard Valentine Decor, I wanted to show you these cute Hearts available for purchase. Some are hearts, some are patterns only, and some are kits, which include the supplies and the directions. They are so cute!]
Felt Heart Ideas for Purchase
These are felt hearts and patterns available for purchase.
Here are some close ups for you.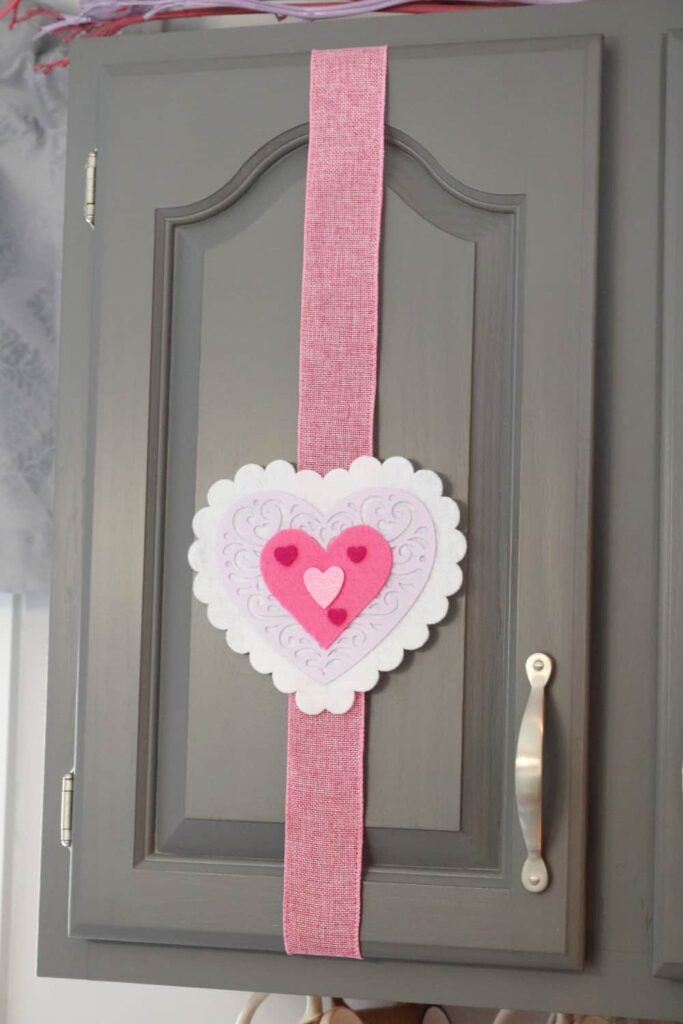 I love the texture and dimension that the felt gives. It is so much more interesting than just paper valentines.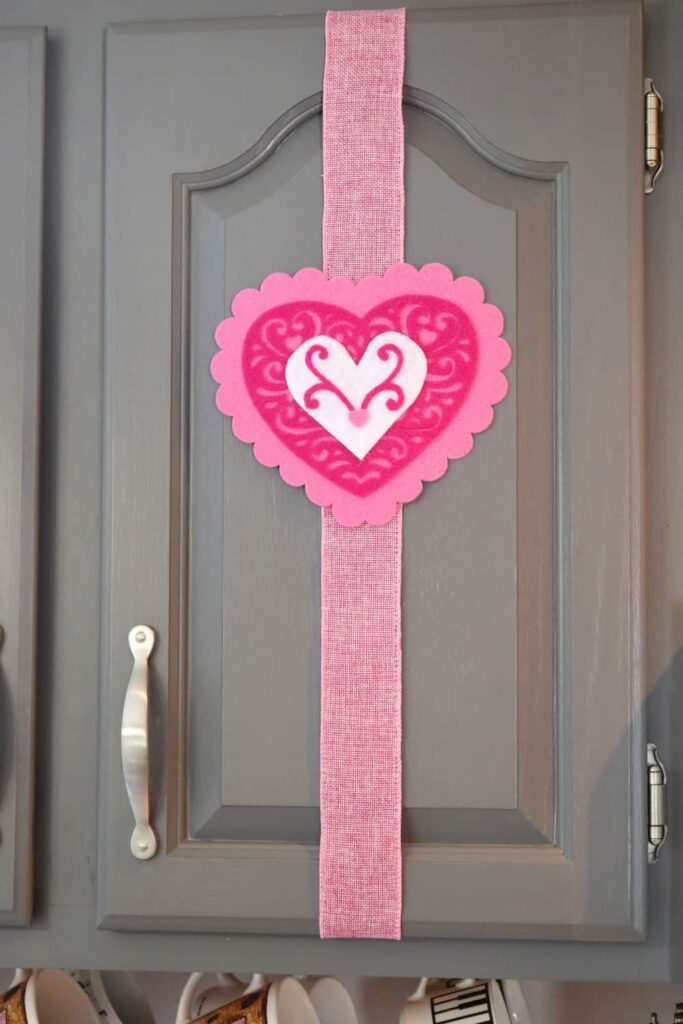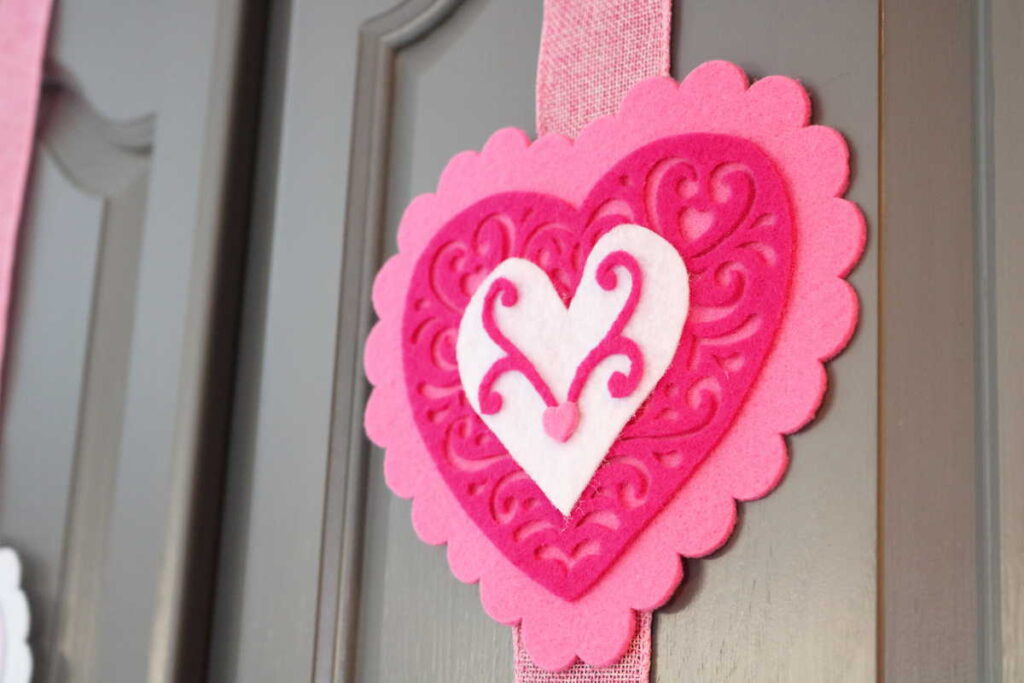 Since I had three hearts, I decorated a third cupboard door. One roll of ribbon was more than enough for three doors.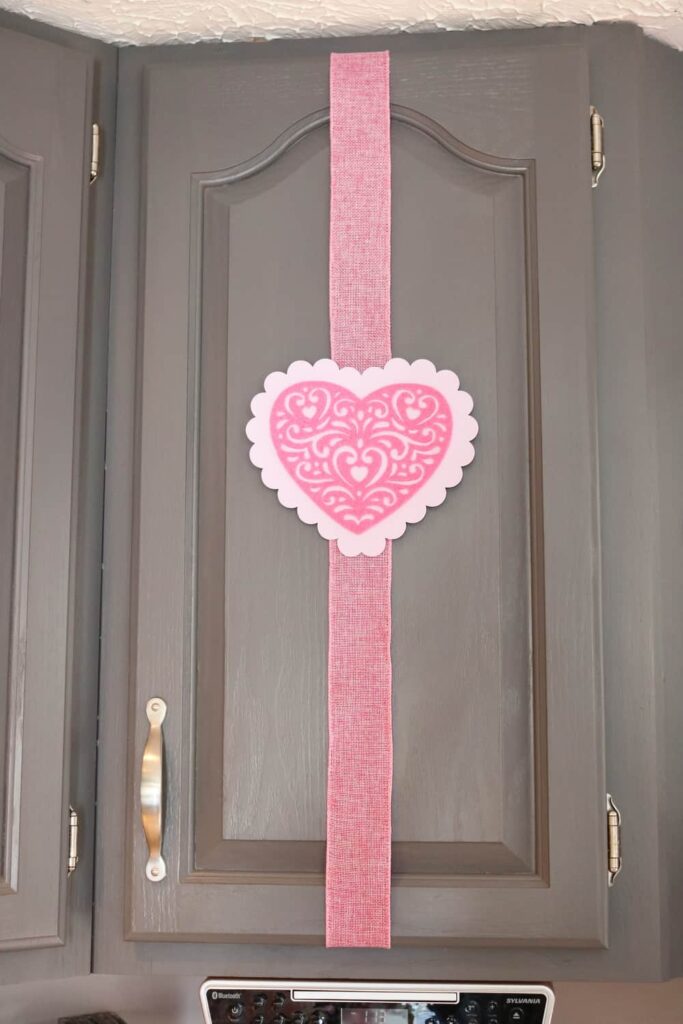 This heart was paper, so I glued some scrap felt on the back so that I would able to safety pin it to the ribbon.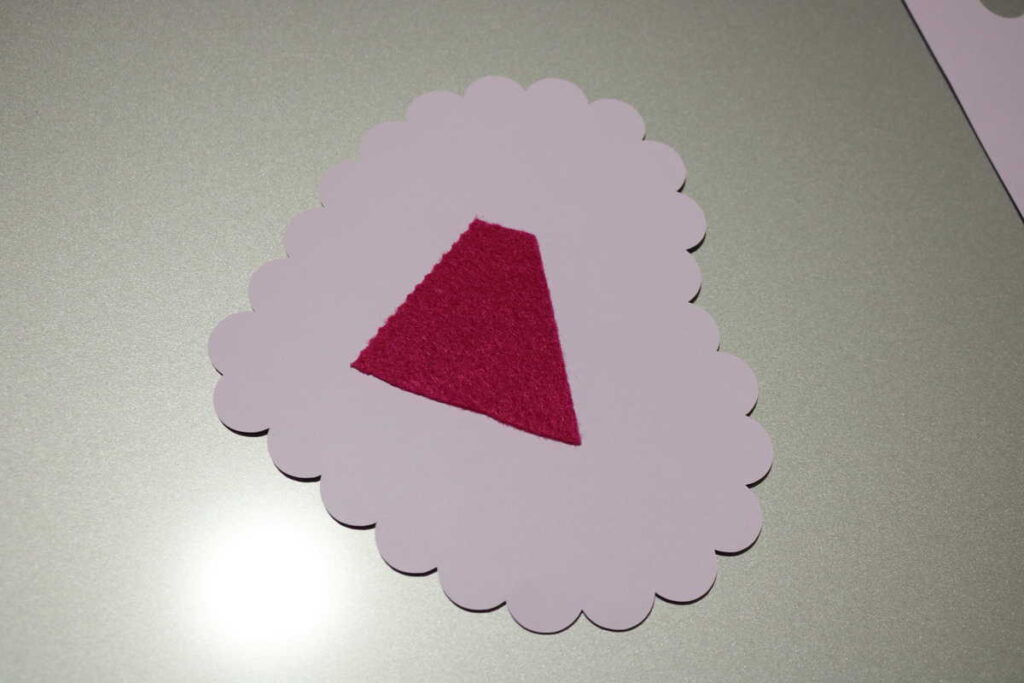 Here are some more details about the rest of this Valentine vignette inspired by these felt hearts.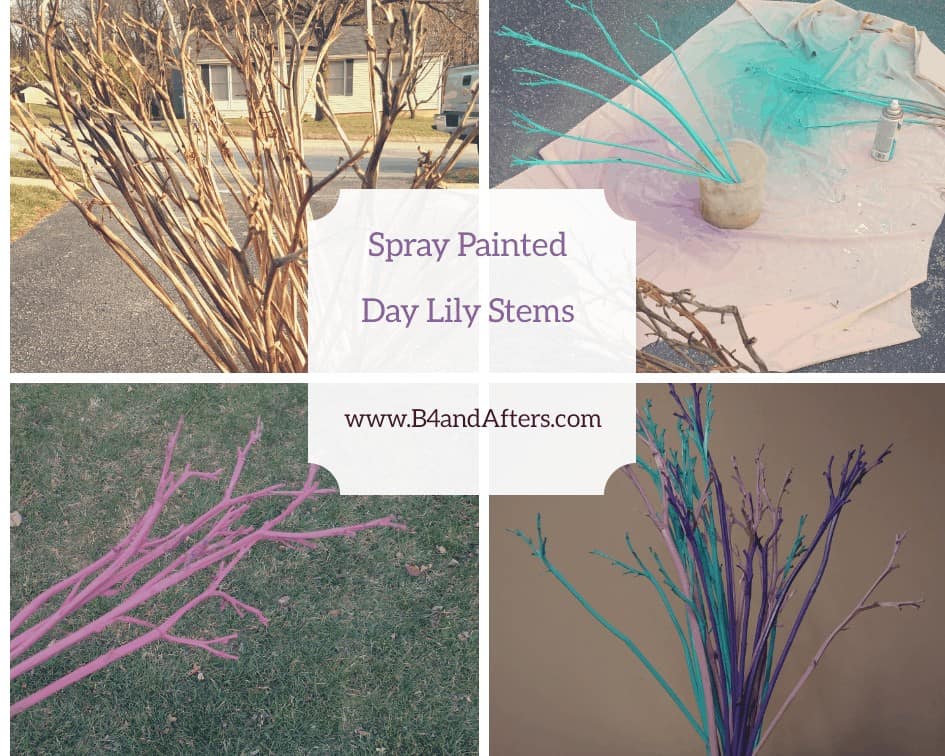 I took some lavender stems out of this Spray Painted Day Lily Stem bouquet that I had made. I also had some pink ones and I thought the pink and purple looked nice together in this case.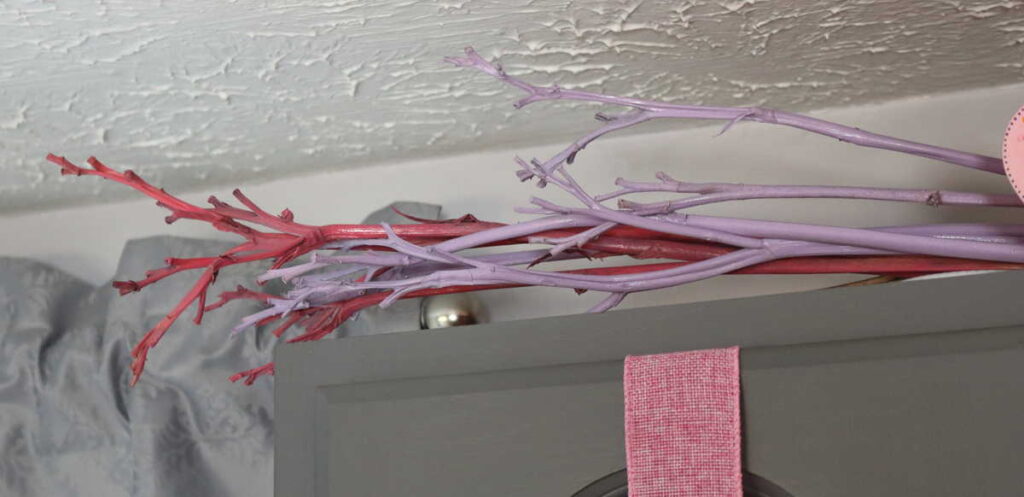 In the center I set this wooden heart painted and given to me around 20 years ago.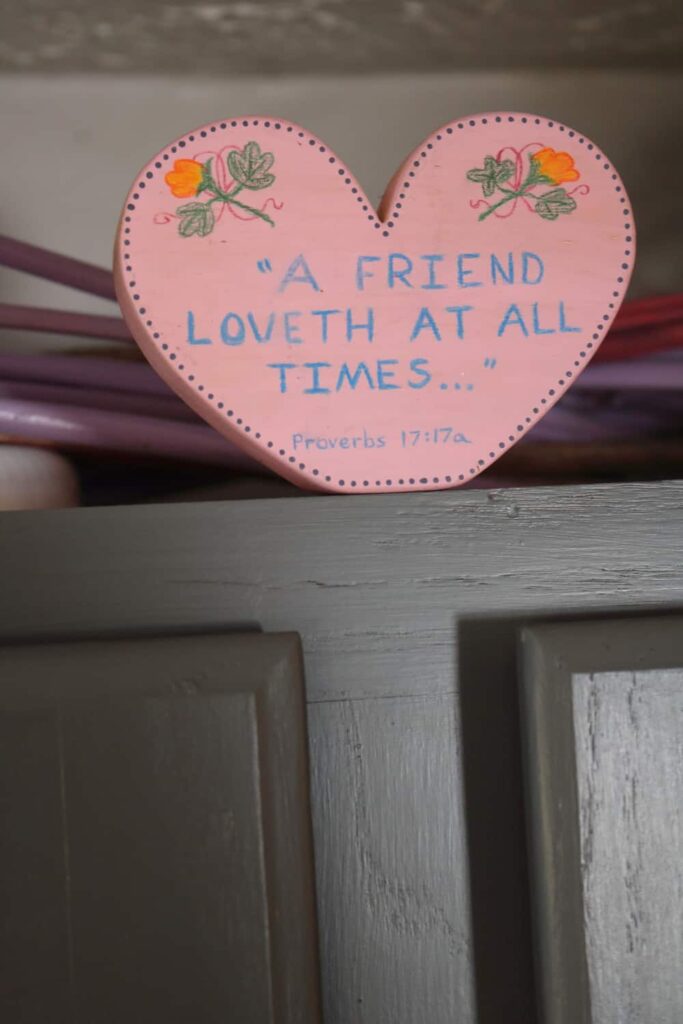 This is where the hospitality happens!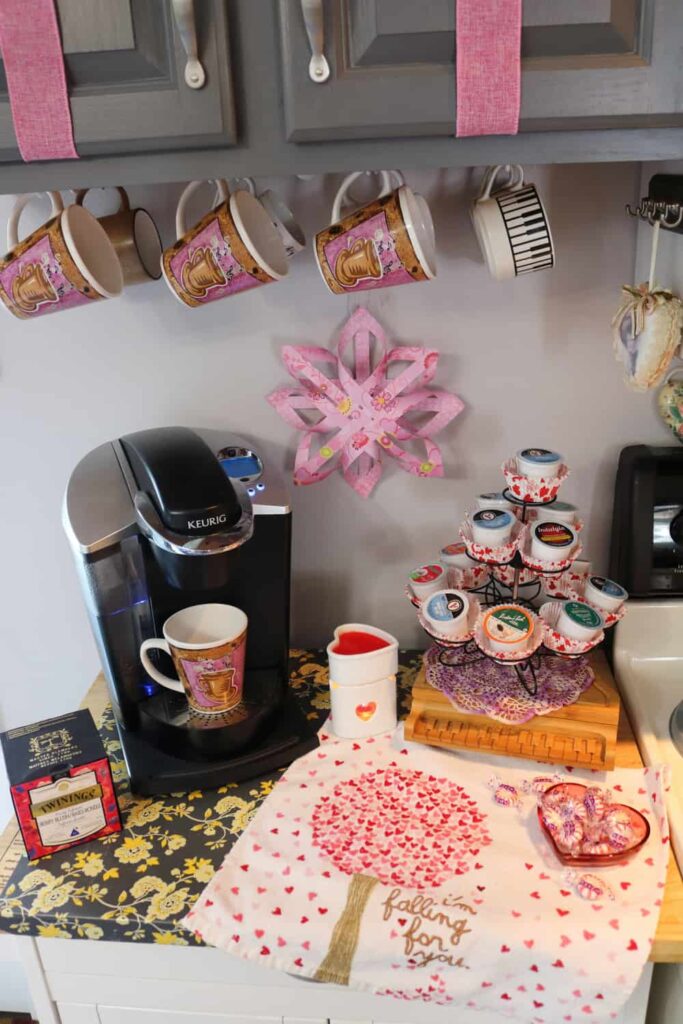 This large leaf tea is what I used to make my tea Love Sign. There are still some left to drink.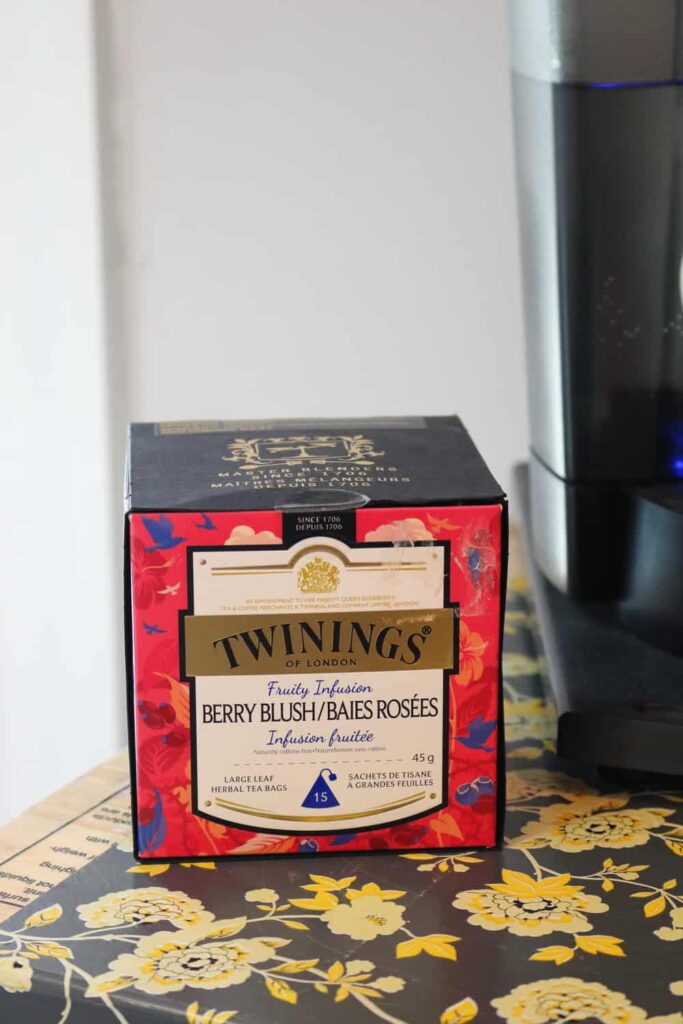 This tealight candle wax warmer is a favorite of mine. It was a gift long ago and I don't remember from whom.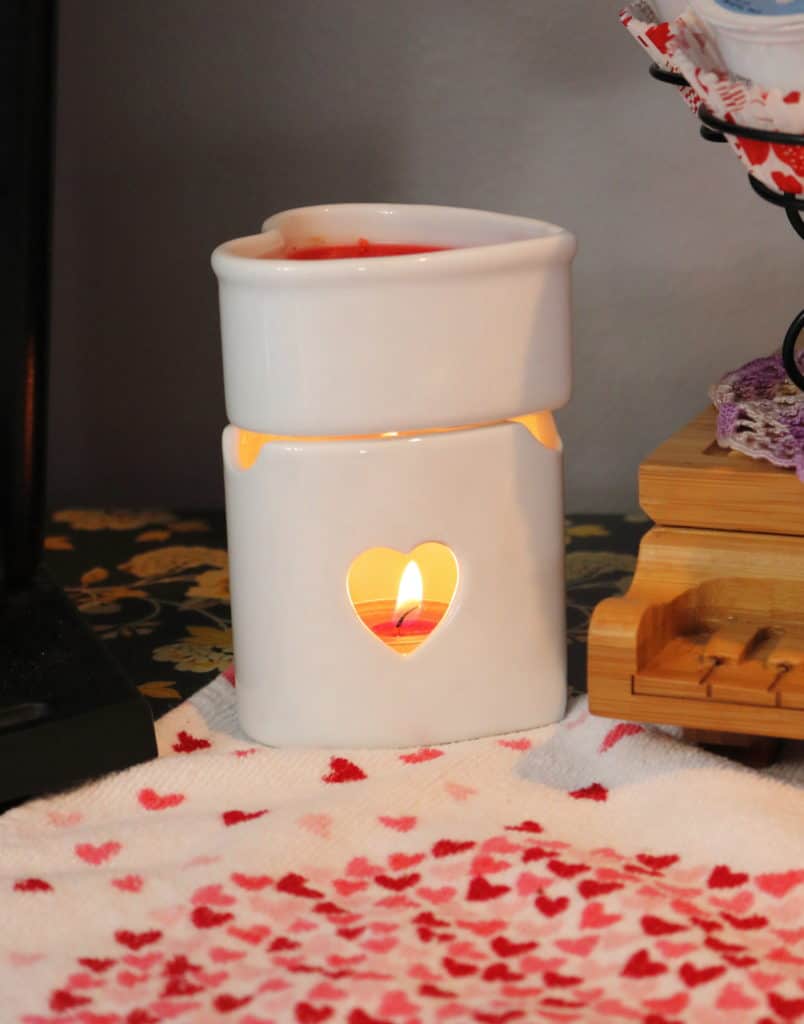 I put the K-pod coffee choices in cupcake paper liners to dress them up. Why not– my K-pods sit on a cupcake stand, so cupcake liners are perfect!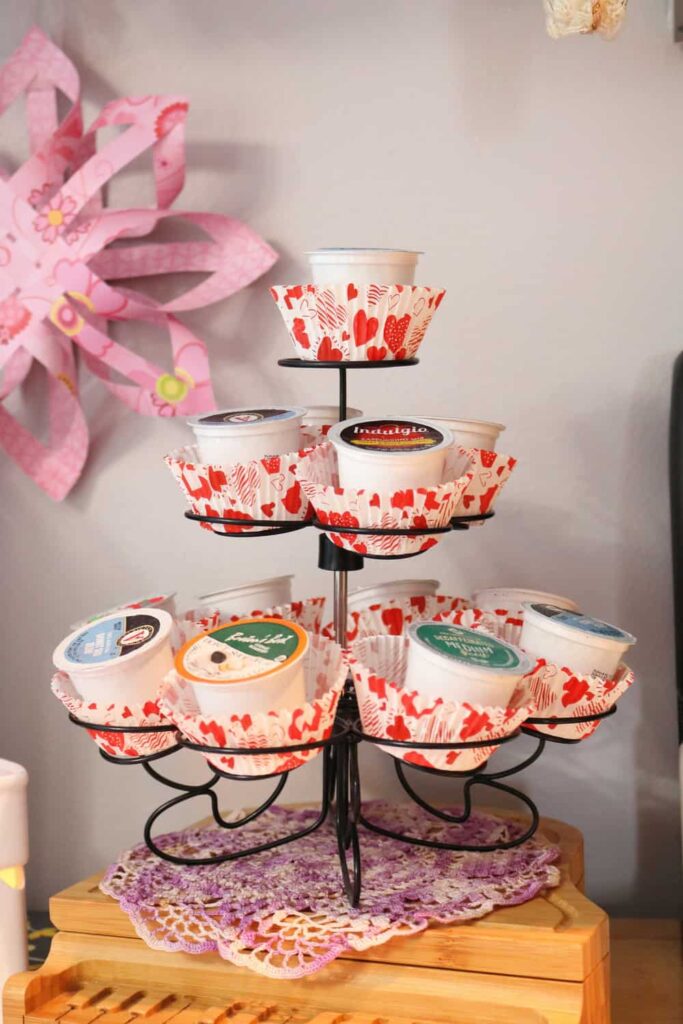 These peppermints could be eaten alone or used to flavor hot chocolate.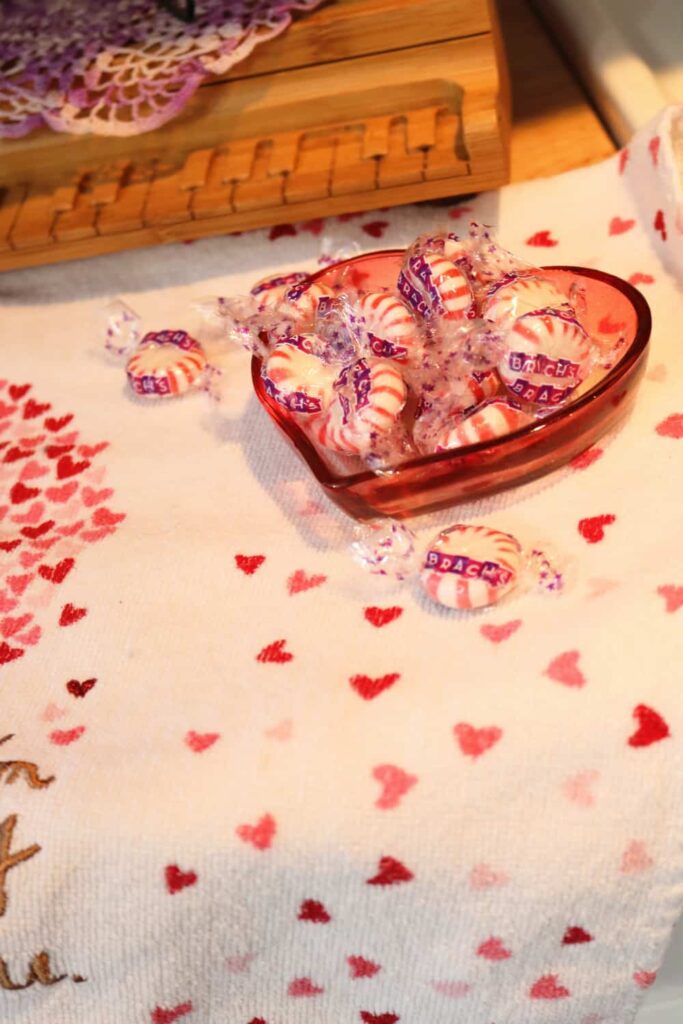 Usually green measuring cups hang from these Command Hooks on the middle right. But of course I had to dress them up for the pictures!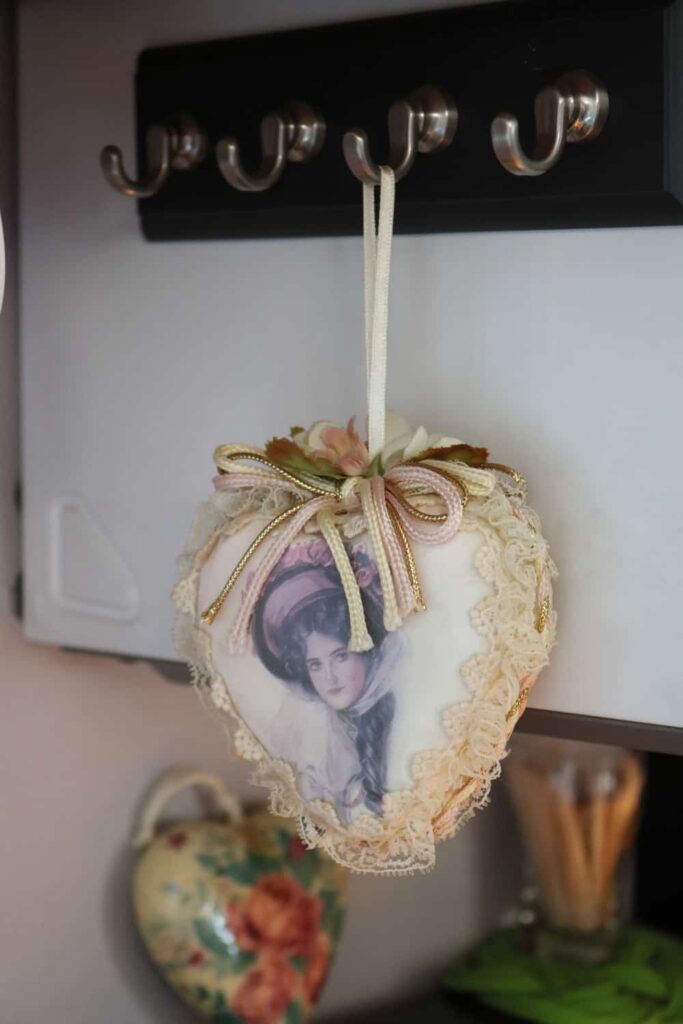 These are my favorite mugs— because of the shape and feel, and of course because of the music notes in the steam!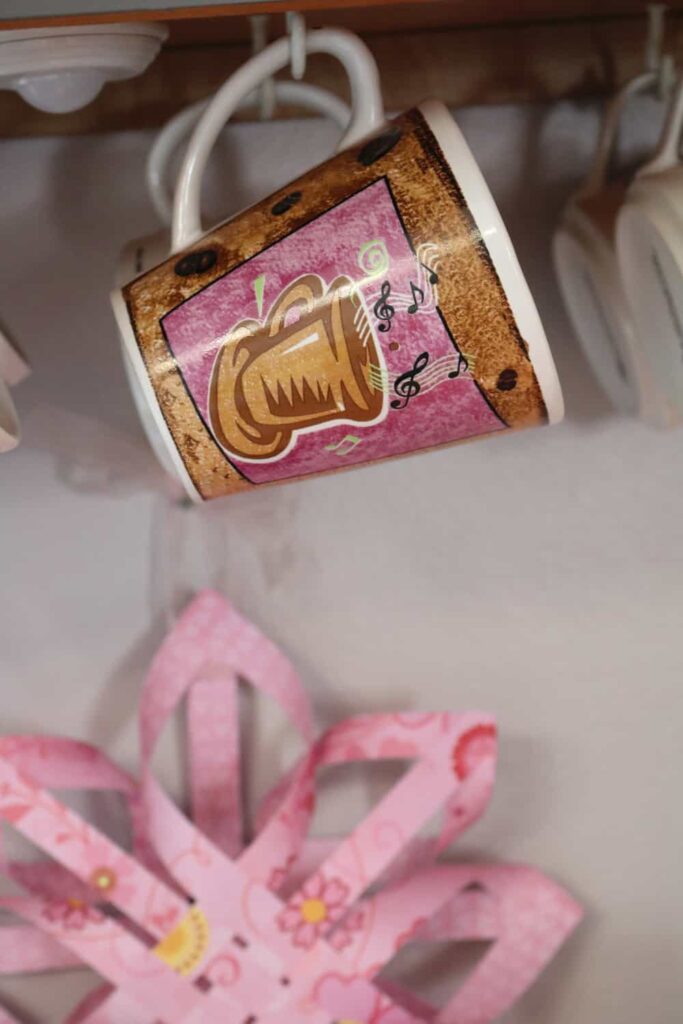 On the wall I hung the Pink Paper Star that I made last year.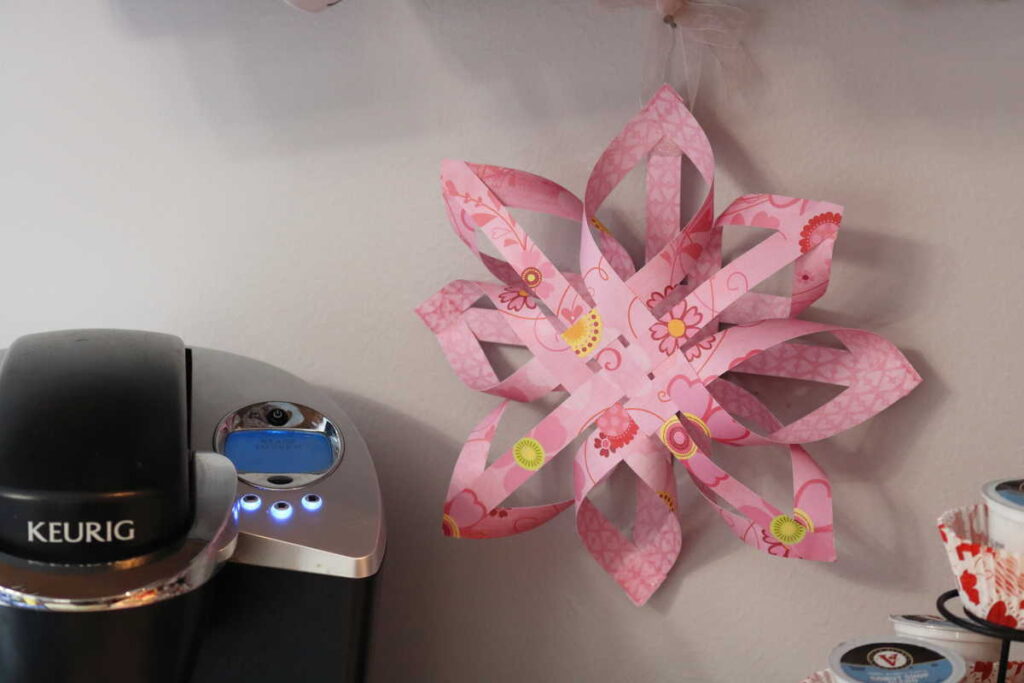 And here is one more look at the sweet valentine hearts that inspired this part of my kitchen Valentine decor!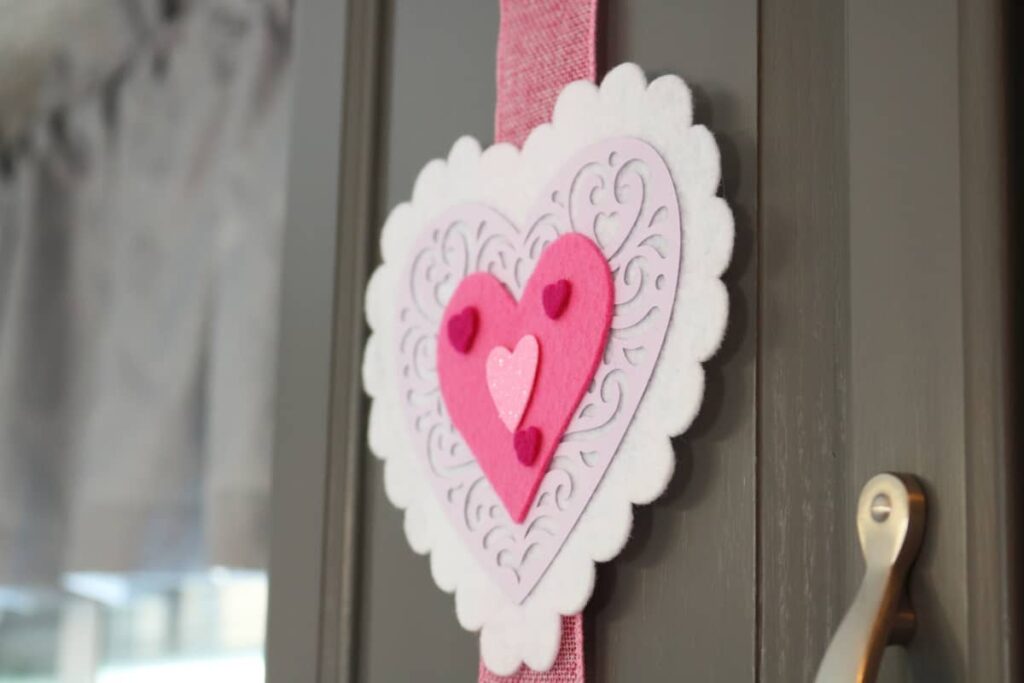 This is such a cheerful coffee station. I encourage you– start small in your decorating. Take a small space or area, and see what you can do with it using what you already have. I already had all of these things except the hearts on the cupboards– and they were so easy to make. I hope you have enjoyed these ideas and that they encourage you and brighten your day!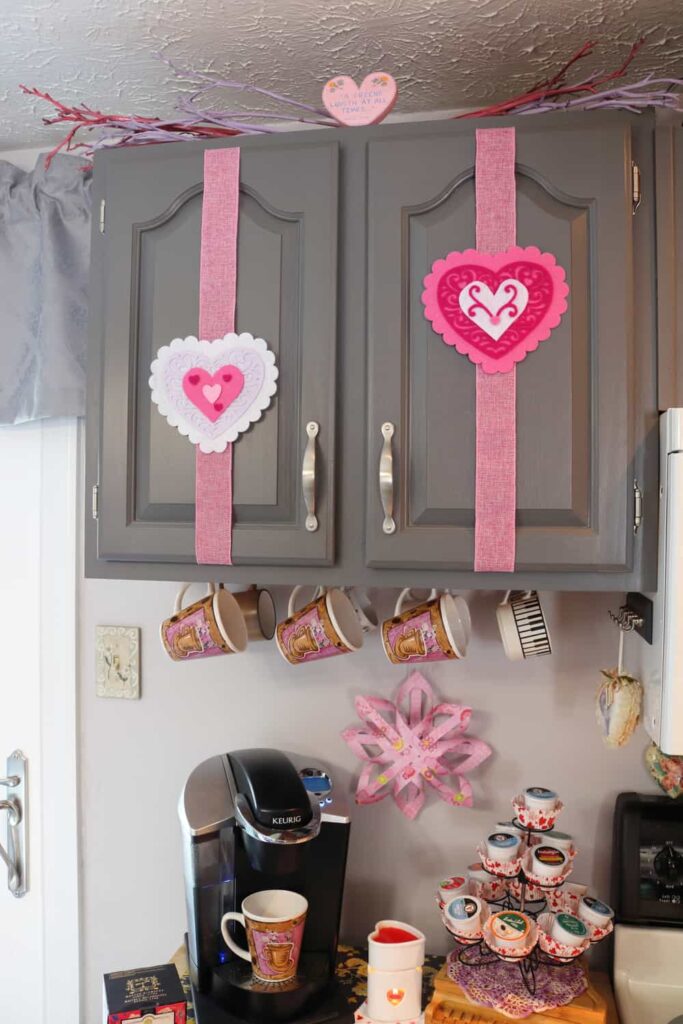 (By the way, I painted my cupboards several years ago…. Click on the picture to see how I did it.)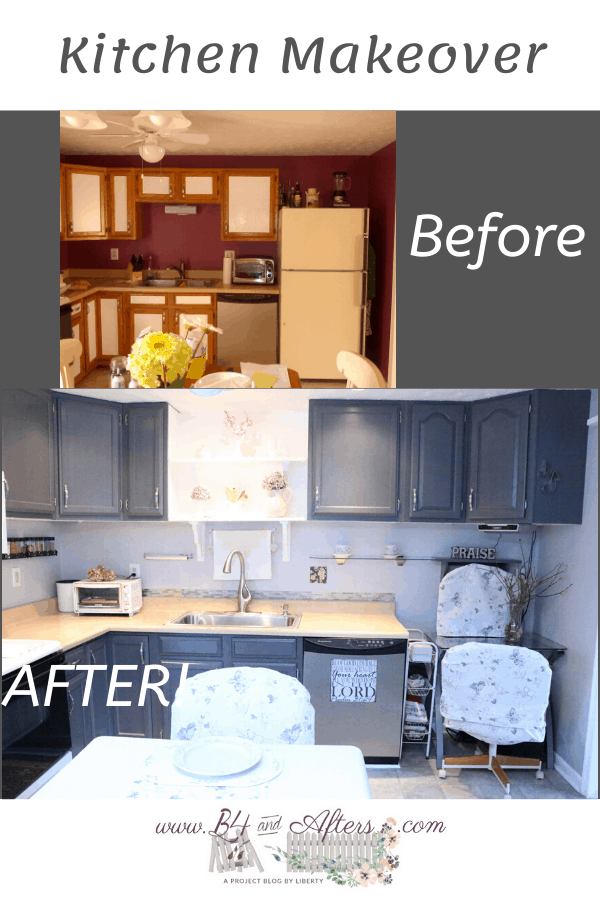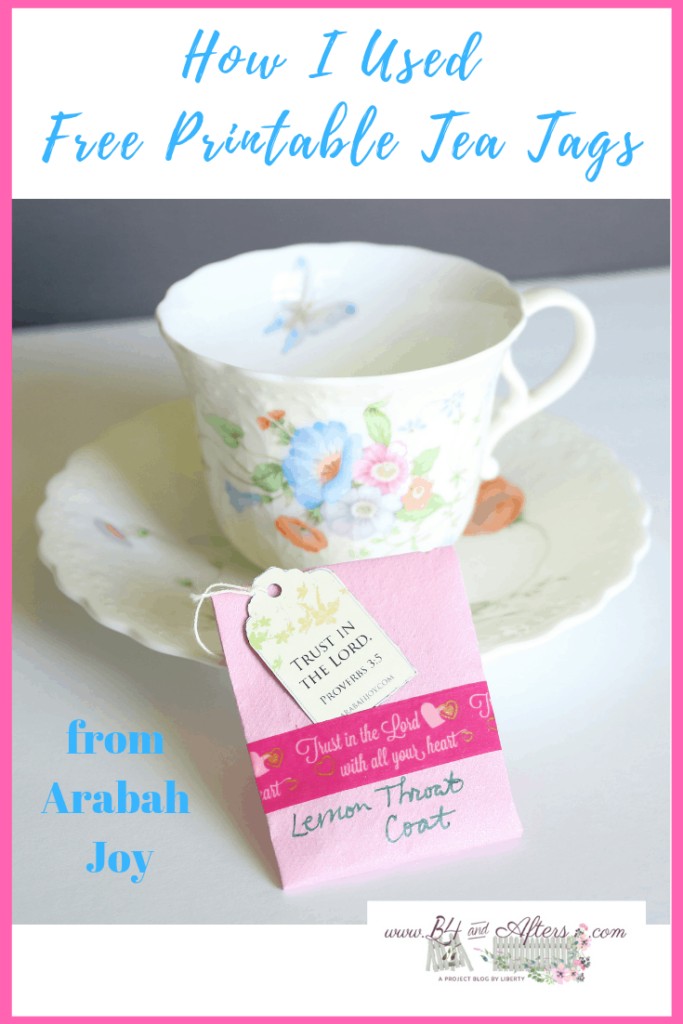 Felt Heart Ideas for Purchase
These are felt hearts and patterns available for purchase.