Kitchen Cupboard Christmas Decor 2
Here is another idea for you to decorate your kitchen cupboards for Christmas. Do you decorate your house the same way each year, or do you change how you decorate for the holidays? Some things I usually do the same way. Other things are always different– usually because I can't remember how I did it last year! Either that, or I have something new to find a place for.
This time I have something completely new to show you! Here is my Kitchen Coffee Station.
Before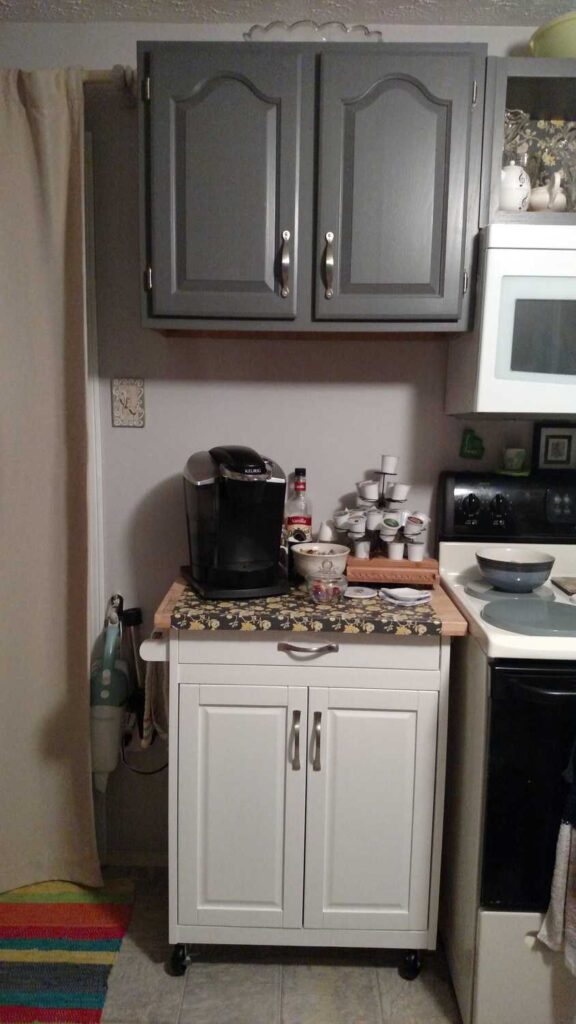 (*This post may contain affiliate links. By purchasing anything from these links, I may receive a small commission at no extra cost to you. More information is available on my Disclosure page.)
Before I show you what I did to my Kitchen Coffee Station, let me show you a different part of my kitchen from another year. I wrote my first Kitchen Cupboard Christmas Decor post showing you how I attached these cute felt gingerbread people.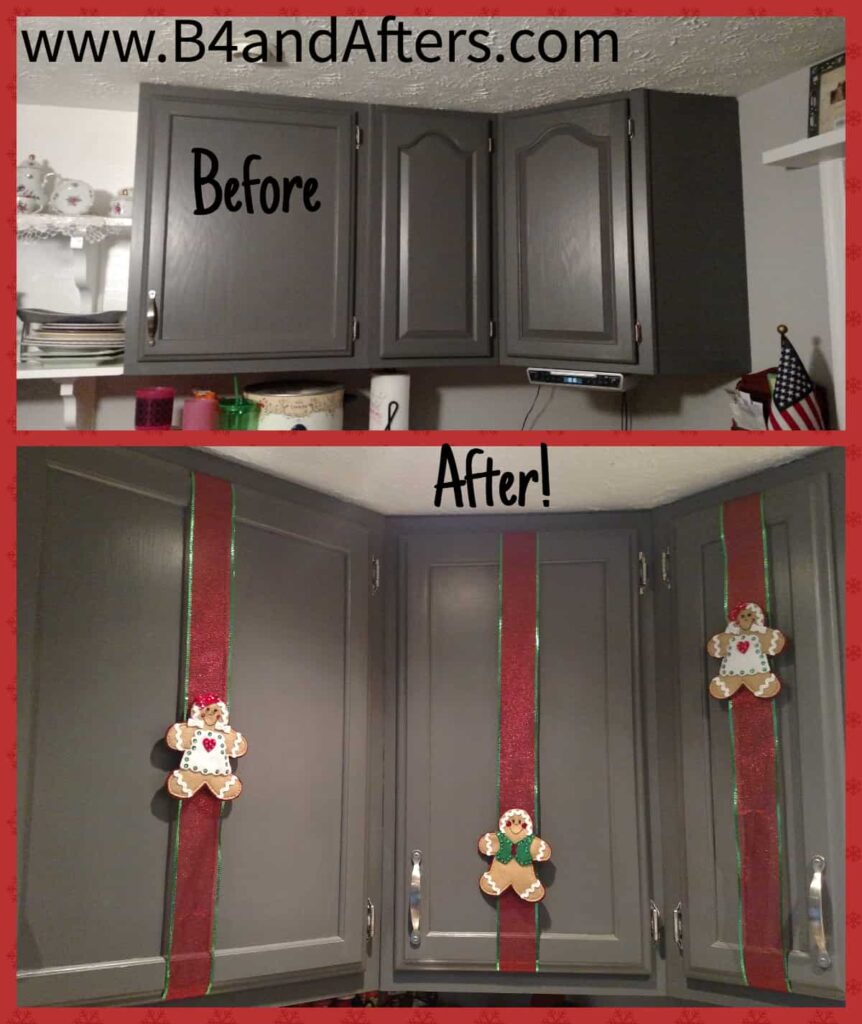 *You might like this Christmas Bead Craft Kit!!*
So recently I was thinking about these cute miniature gingerbread men and gingerbread girls, and I realized that I had some other cute miniature felt Christmas decorations. I have this set of miniature Silverware Stocking Holders that I made years and years ago! And I knew what I wanted to do with them this year.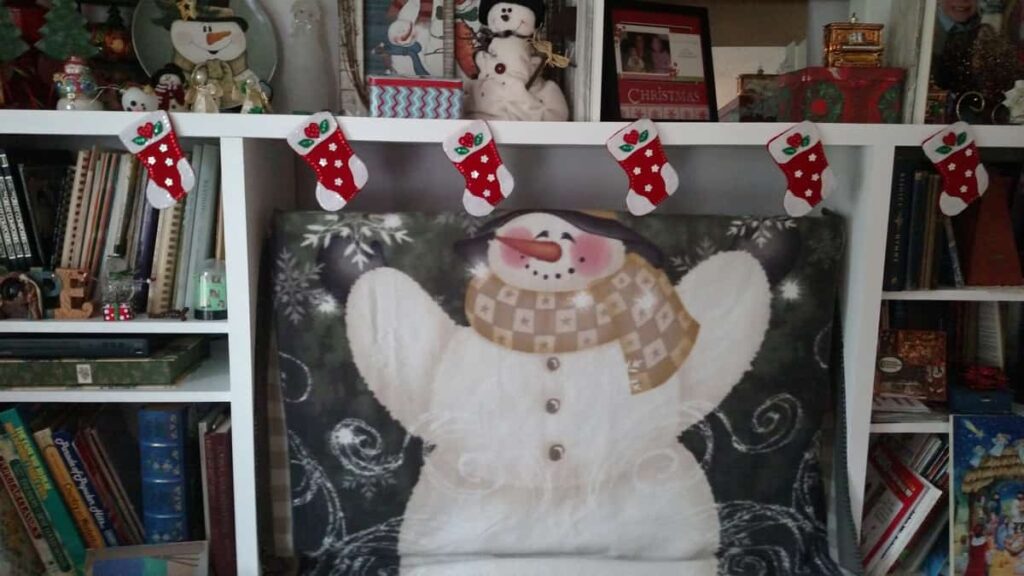 Cute Gingerbread things you might like!*
All I needed to do was find the perfect ribbon. When inspiration strikes, I really try to find something out of what I already have, instead of buying more. AND, I don't usually want to waste any time by having to go out to the store!! So I was thrilled to realize that I had this lovely white ribbon with red snowflakes on it. Perfect!! Don't you think??
AFTER!!

If you follow me on Instagram, you saw where I took a vote of which way to hang the stockings. The overwhelming majority said with the ribbon going up and down instead of across. The across ribbon was trickier to do, but it does help the stocking to hang more realistically. Go ahead and hang it that way if you prefer.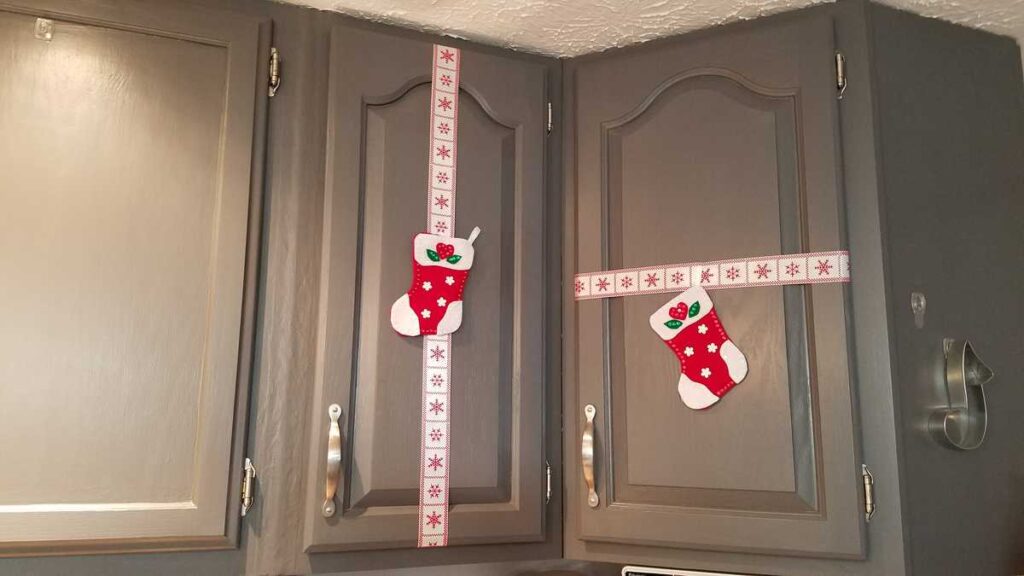 To transform my cupboards for Christmas I stuffed some faux evergreen branches from a salvaged Christmas tree above the cabinets. I taped the ribbon onto the insides of the cabinets with masking tape.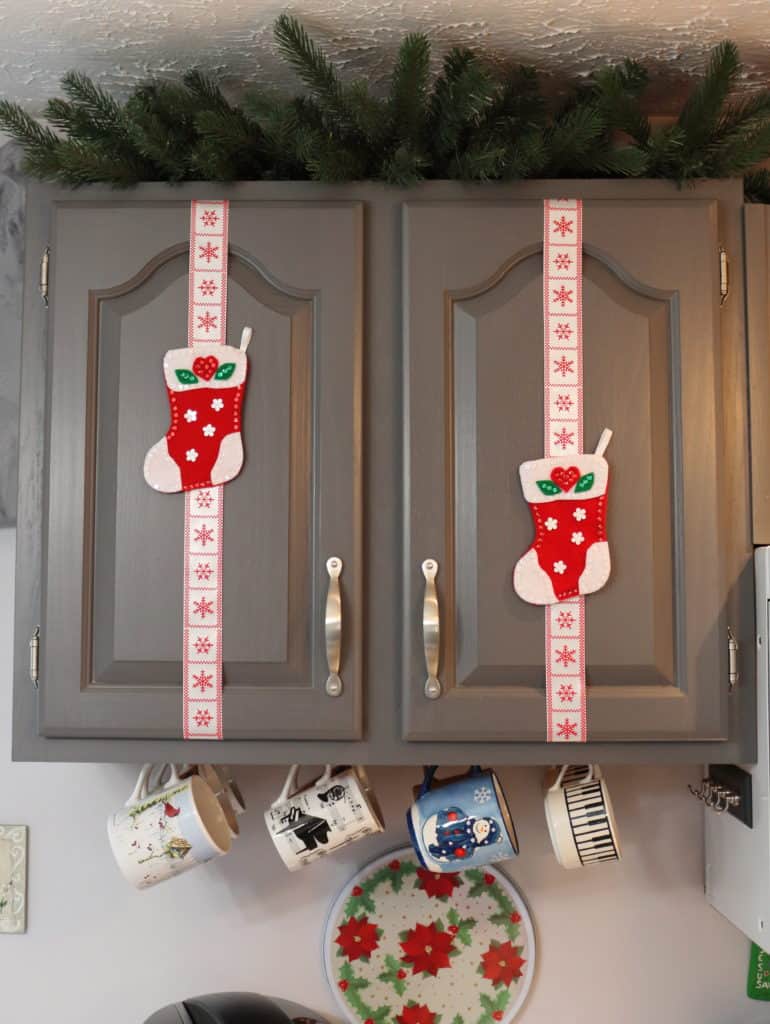 (I attached the stockings to the ribbon the same way I had the gingerbread people, by using a safety pin.)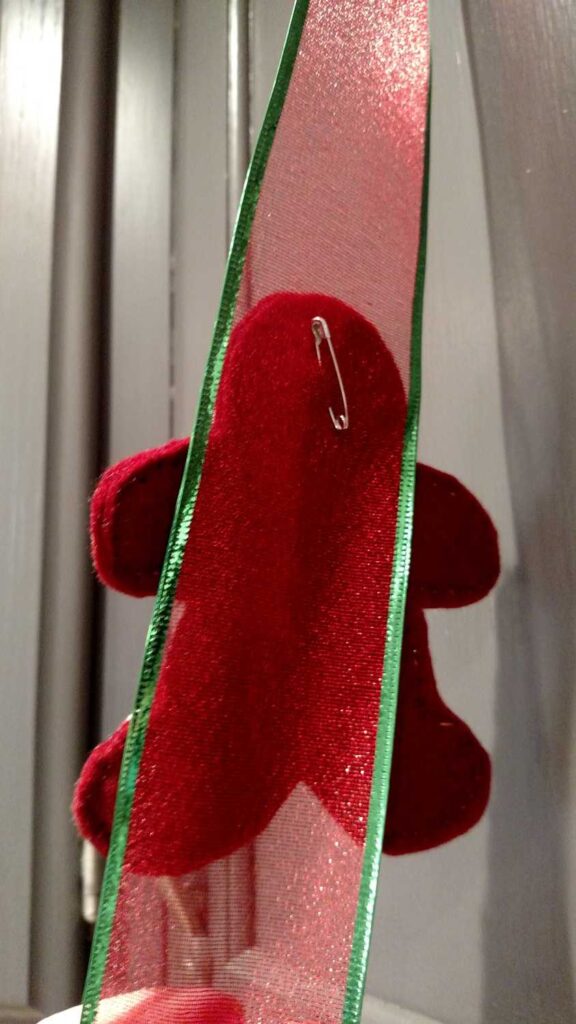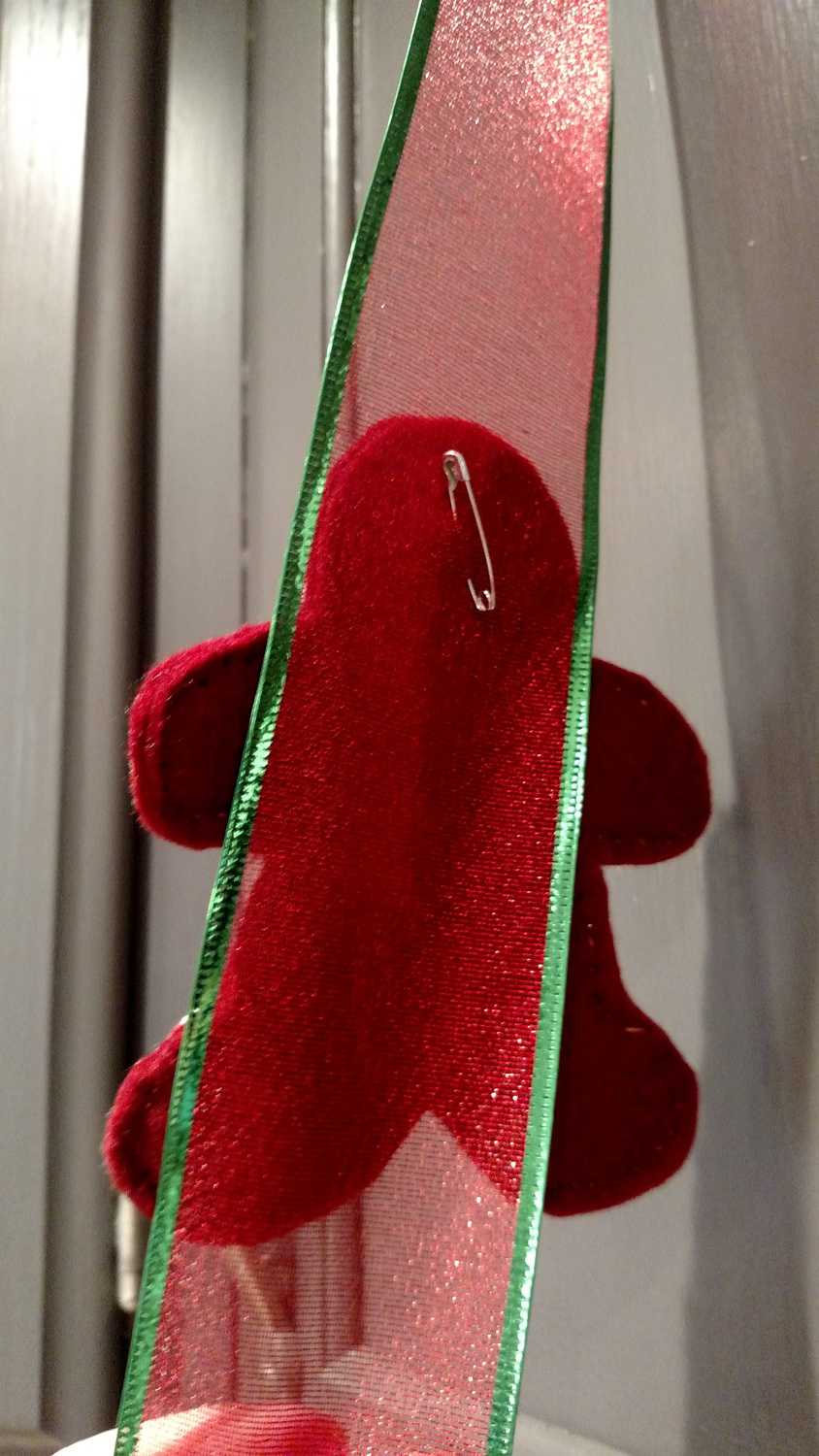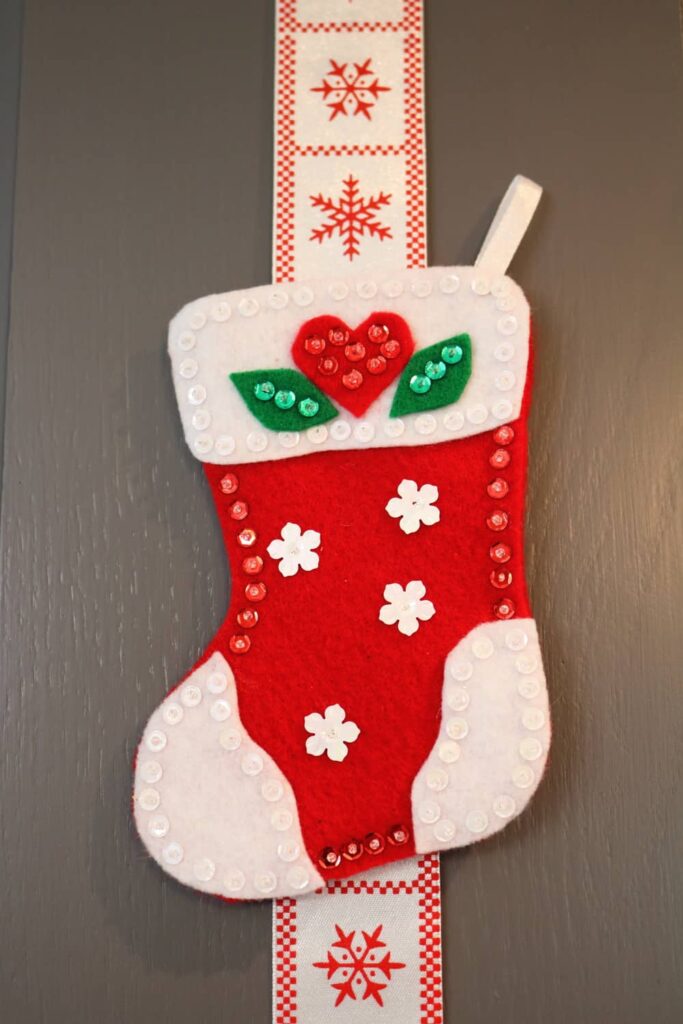 Here's what I did to dress up the rest of the area. While I like my yellow and gray floral contact paper for everyday, it just was not going to look right for Christmas. So I used some metallic contact paper temporarily. I am not sure how it would hold up under every day use. You can find some HERE. Yes, I did just happen to have it on hand. I had recently increased my Contact Paper collection and I am glad that I did!
The wall art is….. a Stove Burner Cover!! I do believe that I found them at the Dollar Tree years ago. You can see the whole set and my Christmas Stove Decor HERE.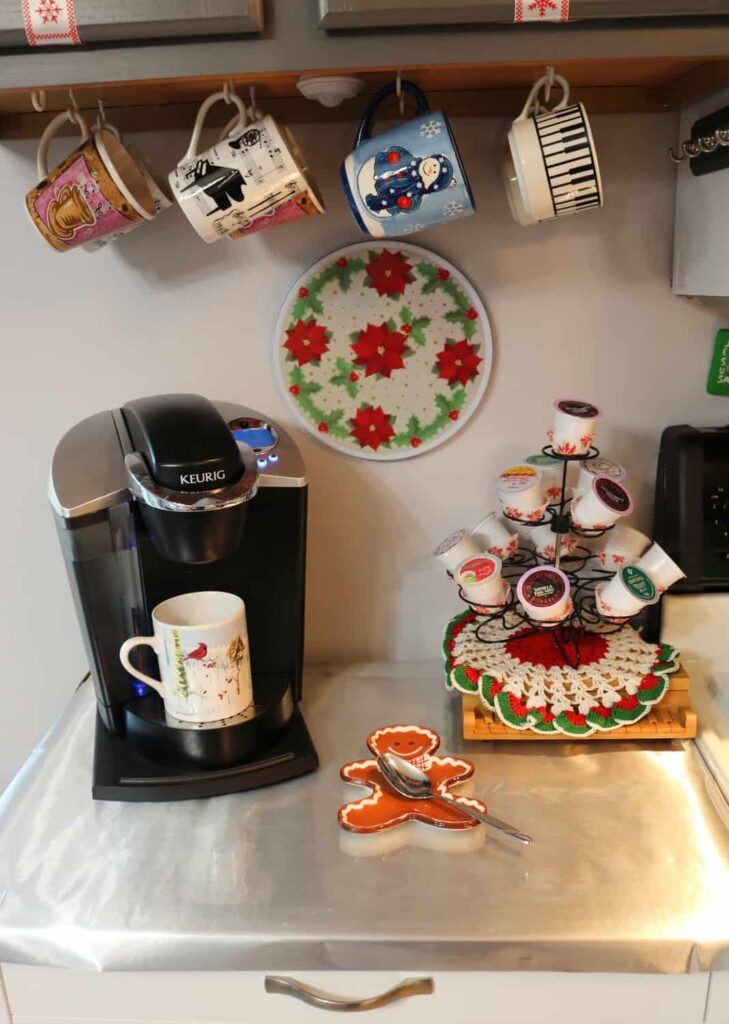 My little K-cup coffee pods are always ready for guests in this cupcake holder (Here is an even larger one! For Christmas they are resting in miniature cupcake liners to be festive. The liners can also hold the empty K-cups to keep them from dripping on their way to the trash can. (Speaking of trash cans… have you ever decorated yours??? I have! You can see it HERE!)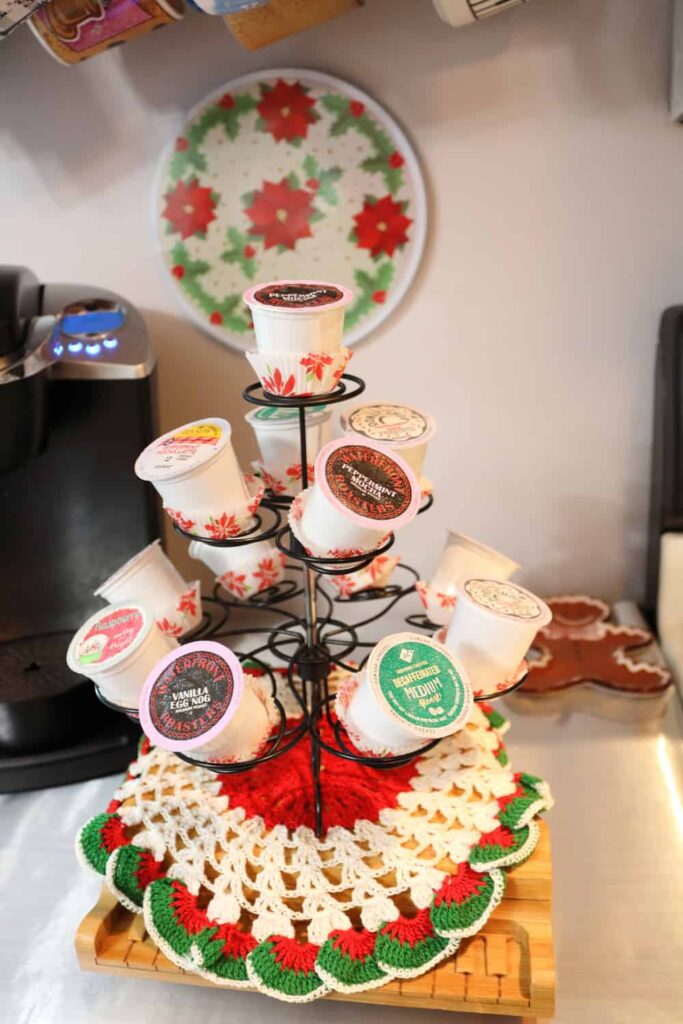 My coffee pods are elevated on a Bamboo Piano Cheese Set that includes a cutting board and utensils. It even props open like a real grand piano!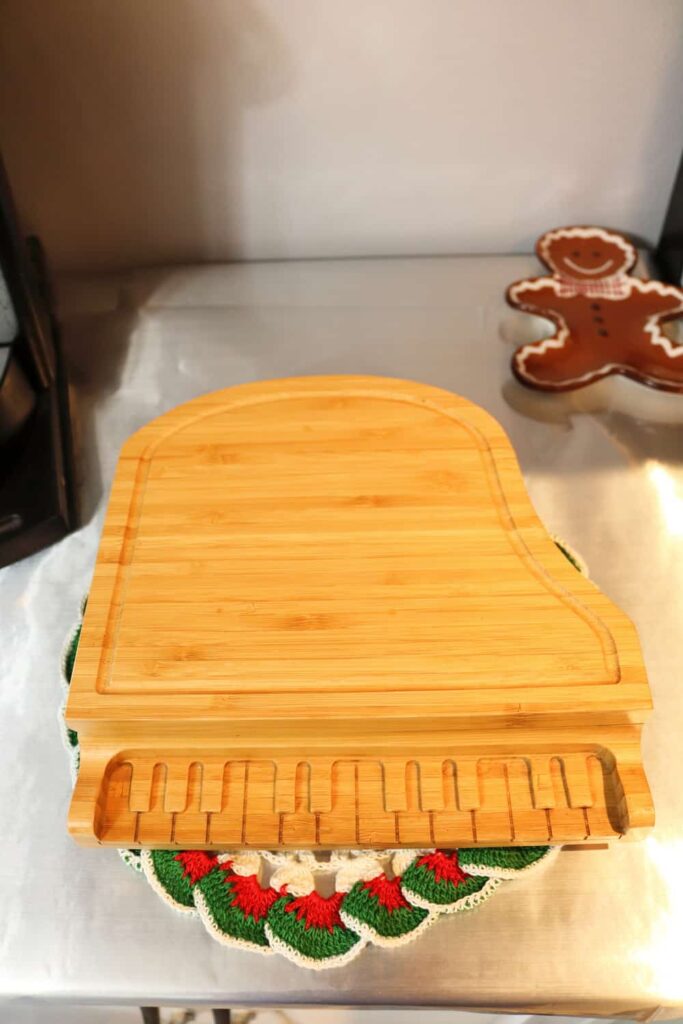 A Christmas colored doily that I crocheted years and years ago helps protect the piano.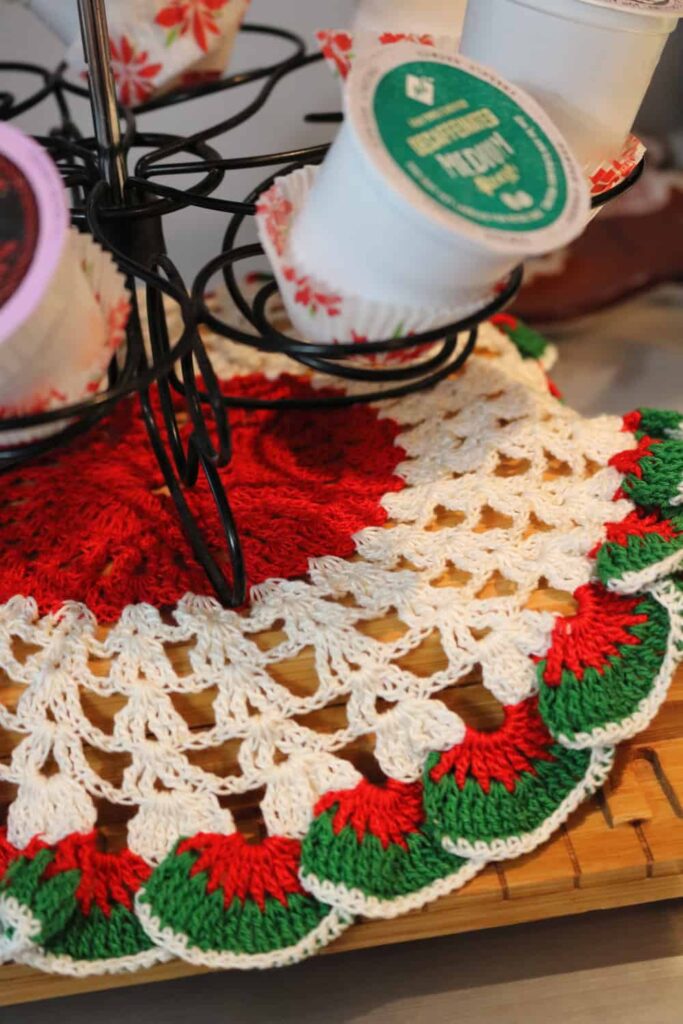 So while other bloggers have set up Hot Cocoa Bars for the season, mine is still a Coffee Station. In those cabinets though, there is some hot cocoa. There is also a great variety of tea and more coffee. The Keurig is very handy for quickly making some hot water no matter what you choose to drink. We have had ours for ten years, now!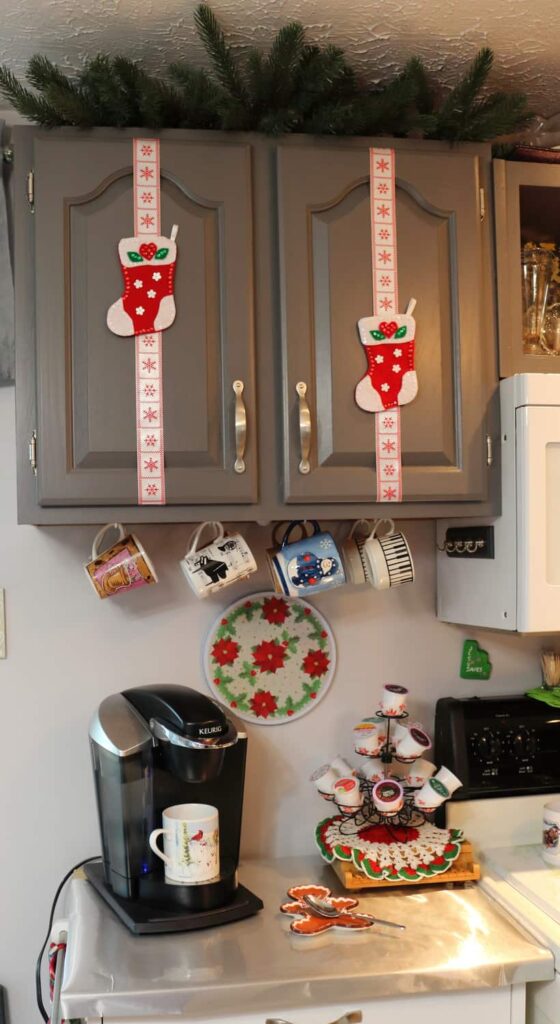 Thank you for Sharing and Pinning! : )