Wow! Can you believe it has been FOUR YEARS?!! Whether you have been with me since the very beginning, or have only followed along recently, I am thankful for you. I would love to see in the comments how long you have been reading about my projects!
Today I will do a recap of the past year, ending with my current top 5 posts at the end. (The year for B4 and Afters runs from October to October.)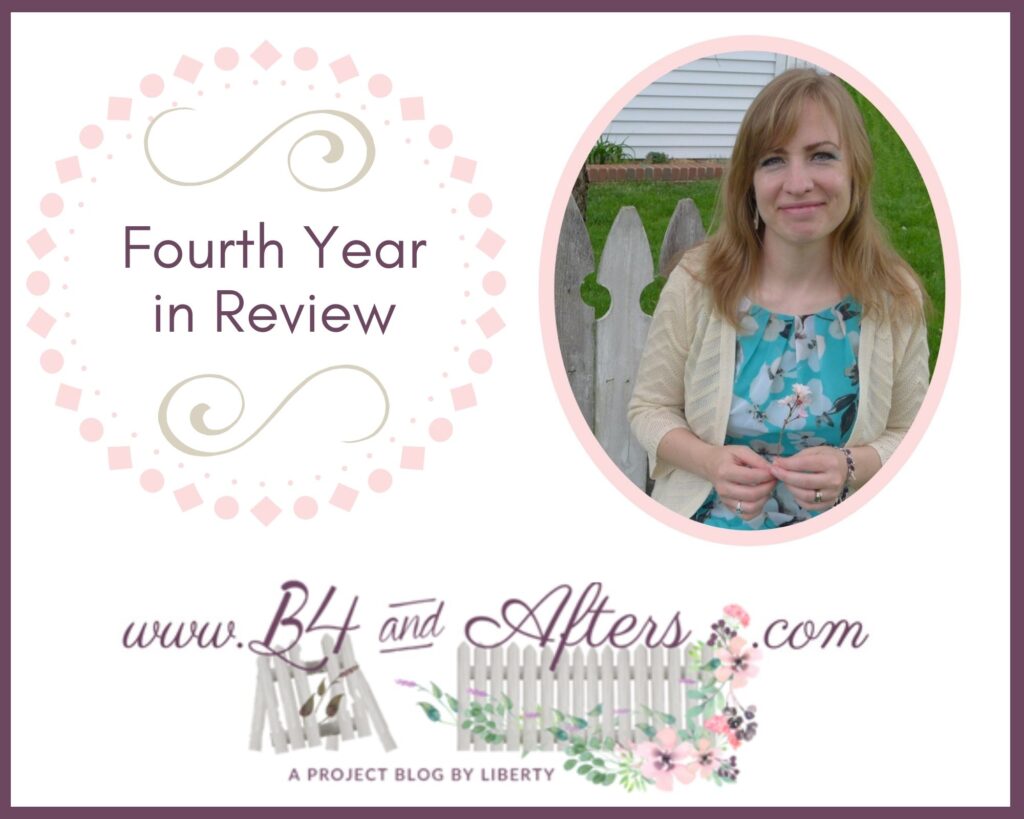 (*This post may contain affiliate links. By purchasing anything from these links, I may receive a small commission at no extra cost to you. More information is available on my
Disclosure
page.)
Videos
For the past 12 months, a huge majority of my posts were made with a video app called Jumprope. The app converted my videos to blog posts, made Pinterest pins, and a host of other things. It was super easy to use and I loved it– it saved me a lot of time. Or so I thought. A couple months ago I received notification that they were going offline and that I needed to save my data. Ugh!!! In four years of blogging, and hearing about other blogger's data disasters, it had finally happened to me. So I rushed about and managed to save my data. However, I am still in the process of updating those posts– so if you ever notice anything a little strange– please tell me! Mostly, I am putting pictures where they belong.
I converted those videos to YouTube videos, and am processing them there. Recently I acquired enough followers on YouTube to customize my URL, so if you were a part of that, thank you so much!
I also learned how to make Playlists on YouTube– basically it is connecting similar videos together, so that another one of my videos starts to play at the end of whichever video you are watching.
Video creating is now harder for me…. because I have not found a really good replacement. TikTok is popular, but I have important reasons for not using it (If you want to know– send me a message and I will tell you!) So if you know of a good video creating app or process that makes it easy– let me know!
LTK
I was recently accepted into the LTK (formerly RewardStyle) affiliate program. An affiliate is a product link that I share, where if someone purchases something I may receive a small commission. So I would love it if you would follow me over there.
Ads
I don't like ads anymore than anyone else does. But it is one of the ways to make money to support the blog, since blogs are not free. I started out with an ad company that I ended up not liking at all. Now I am waiting to get into a new ad network that I hope will be much better….
About B4 and Afters
When I first started this blog, I knew I wanted to post about crafts, home improvement projects, and recipes. I also might like to post about additional topics. So I named the blog B4 and Afters so I could include all of those things!
I knew that I was supposed to only have one basic topic, but that was just too boring for me! Then someone told me I was a craft blogger, so I started thinking of myself like that. Still, I didn't want to only post about crafts, or even only one type of craft like some people do.
I did a little research, and guess what I discovered. I am not a craft blogger. Does that surprise you?! I am actually what is known as a lifestyle blogger. A lifestyle blogger writes about several different topics. I have often said that I wished someone could just follow me around and write about my life (it would give me more time to do projects, instead of taking time to write about them, too)!
So I've been enjoying my new realization that I am a crafty lifestyle blogger. : )
Quick Start Guides
One of the things I did this year was switch email providers, to ConvertKit. I did that in April. Just a couple months ago I started making Quick Start Guides for different categories. I am seeing new subscribers trickle in through those, and hope to see more as time progresses.
Here are the ones I've made so far, in case you are interested:
All the Places
In order for people to find my projects, I share them in all sorts of places. Of course there is social media, but there are also a few other places. I will list them for you below. Since I do not hire out any of my blogging, I don't do a great job of keeping up with them all…. but I do my best!
*Pinterest: https://www.pinterest.com/libertyruby (my current favorite)
*Instagram: https://www.instagram.com/libertyb4andafters (where you will see my current projects before I blog about them)
*Facebook: https://www.facebook.com/b4andafters
*LinkedIn: https://www.linkedin/in/b4andafters
*HomeTalk: https://www.hometalk.com/member/49448630/B4andAfters
*FoodTalk: https://www.foodtalkdaily.com/member/49448630/B4andAfters
*MeWe: https://mewe.com/p/b4andafters
*LIKEtoKNOWit: https://www.shopltk.com/explore/b4andafters
*Snapchat: https://www.snapchat.com/add/b4andafters
*Twitter: https://www.twitter.com/@b4andafters
*YouTube: https://www.youtube.com/channel/UC5hiX20TCvy5shj_2YkZLLw
Personally
At the end of last year, I got a new look personally. On my face. I've almost completely adjusted now! Maybe one day I will update my profile picture!
And at the beginning of this past year, in January, our family had covid. Probably you have had it too, by now. In December, my in-laws had it pretty badly. Interestingly enough, we didn't get it from them. My daughter Hope suffered the most, and in fact lost her smell again in April. When she got very ill again a third time in May, I began taking her to different doctors to see if there was something else wrong, like an autoimmune disorder. Nothing was found, and she now seems to be completely back to normal. I am sooo thankful!!
I now have pain in my wrist that I am trying to amend. It's apparently neither carpal tunnel nor tennis elbow, and I will see a specialist next week to try to figure that out. Maybe it's too much blogging…. I wouldn't be suprised…..!
We spent a lot of time this year looking for another house nearby with more land– and placed several bids that we lost. That took a ton of time and energy. We are now content to stay where we are…. and may just build a garage instead.
Posts
I took a lot of breaks this summer from blogging. Regular life was just too busy, as you have read! But all in all, I still managed to post over 70 times since January so far!
I stopped doing any Link Parties, and have been focusing my energy in other places, as seen above.
As promised, here are the current top five posts:
5. Mini Oreo Crust Cheesecakes
4. Kitchen Cupboard Christmas Decor
and the most popular one of all…..
What was your favorite post?
Featured!
Thank you to all of the bloggers and sites that have featured B4 and Afters this past year! I appreciate it!
I'm pleased to say that there is an upcoming feature Very Soon that I am so excited about and I will tell you about it just as soon as I possibly can!!!
Gift Tags
Christmas will be here before we know it, and in anticipation of that, I created some free gift tags for you.
And I will leave you with that. Please let me know if you have any questions!