How to Make Easy Christmas Tree Cinnamon Rolls
*This post may contain affiliate links to websites such as Amazon. By purchasing anything from these links, I may receive a small commission at no extra cost to you. More information is available on my Disclosure page. I appreciate your support!
Today I am sharing how I made some super easy Christmas Tree Cinnamon Rolls! You will be amazed at how simple they are!
Have you ever wanted to make a cute Christmas treat that wasn't too very hard to make? Maybe you needed to bring something to a family Christmas brunch, or maybe you just wanted to make Christmas morning a little bit extra special this year.
I have just the thing! The best part, is you only need TWO ingredients to make it!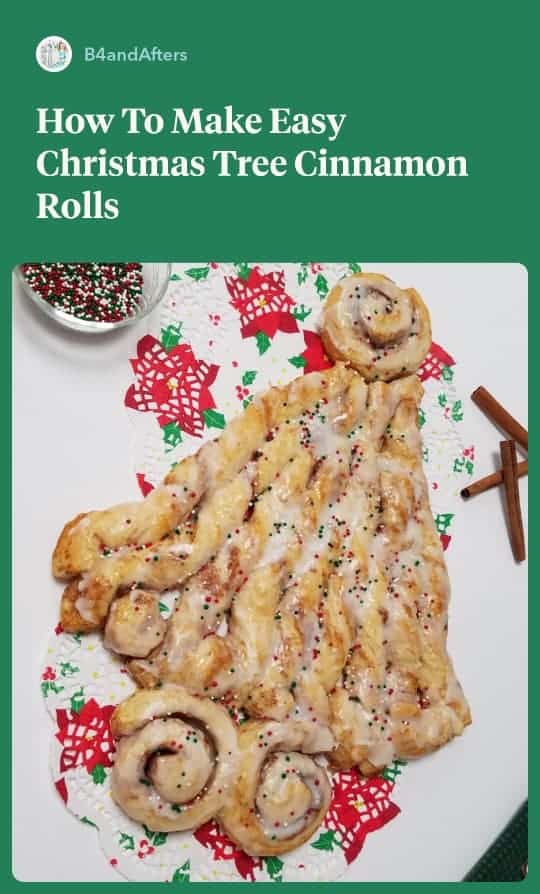 You Will Need:
2 cans of cinnamon rolls and Christmas colored nonpareils.
You will also need a large cookie sheet, but I'm assuming you already have that…
And if you want, you can use paper doilies, but they are totally optional.
There are four cans of cinnamon rolls in this box, but I only needed 2 cans to make this cute Christmas tree cinnamon roll! That means, I could have created 2 trees if I had wanted to.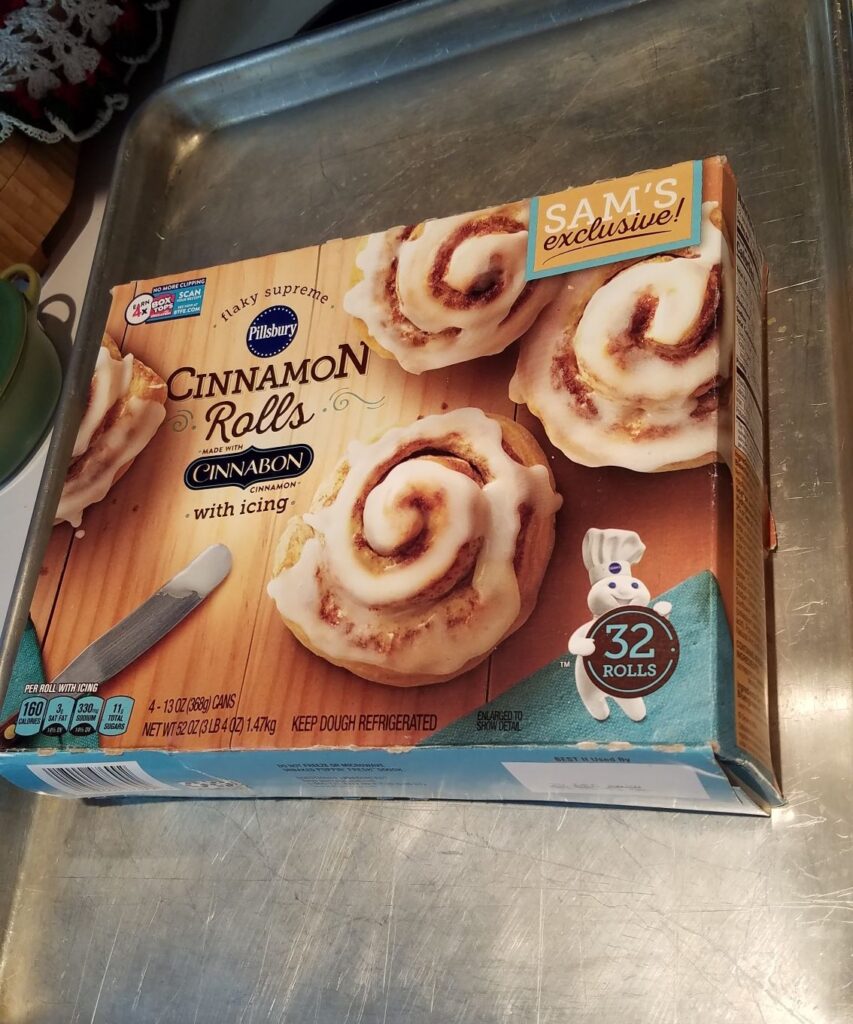 Butter a 12×18 cookie sheet or jelly roll pan. Preheat the oven according to the directions on the can.
Take the cinnamon rolls out of the can by pulling the paper off and popping the cardboard tube open at the seam. You can use a spoon or your thumbnail to press on the seam.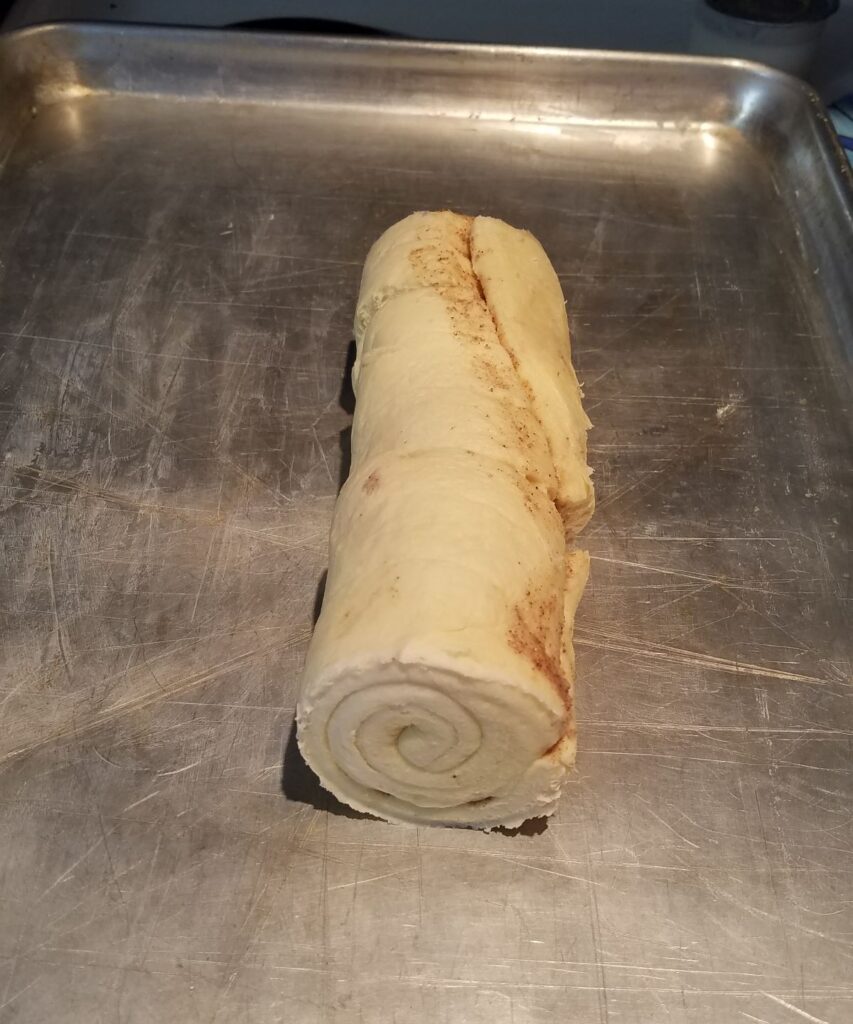 Take the cinnamon rolls apart by separating them. Open one roll, straighten it, and then twist one of them. You can watch this video to see exactly how I did the twisting.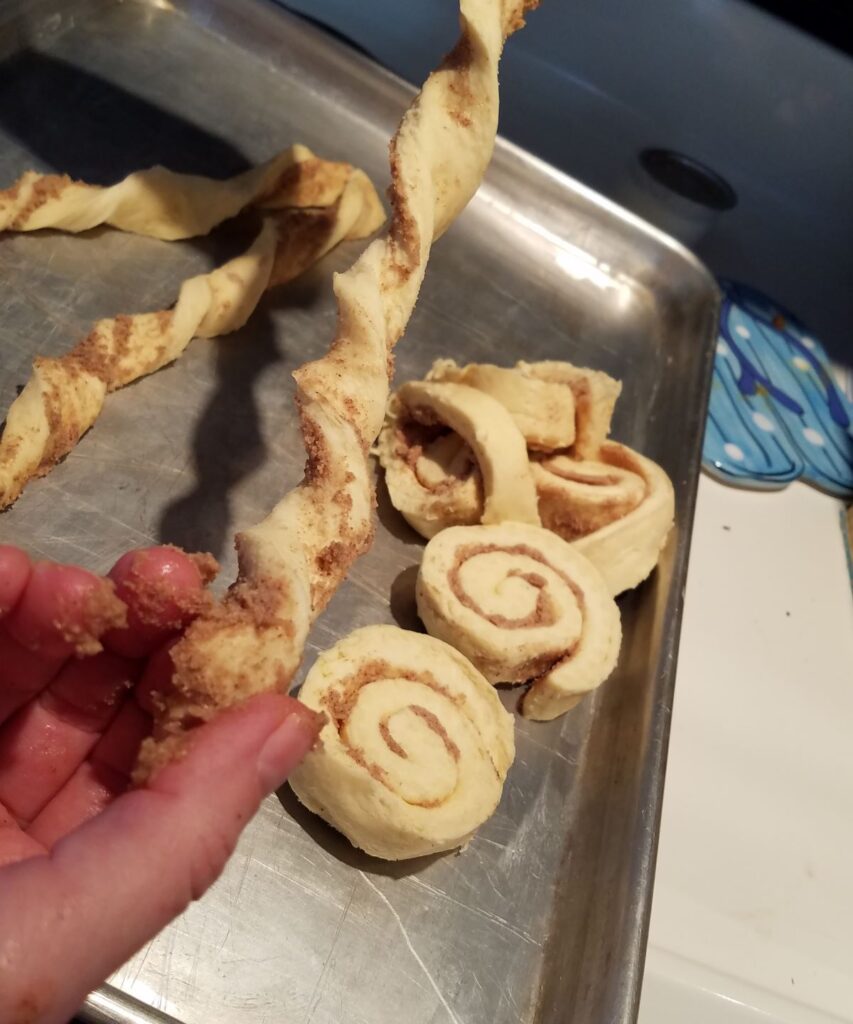 I twisted 9 cinnamon rolls in the same way. You could twist a few more than that if you want to. Keep in mind that the rolls will "grow" as they bake.
I pinched some of the dough off of the ones on the sides, to create a rounded tree shape at the bottom. Then I put those extra pieces of dough to fill in the bottom of the tree so there wouldn't be any gaps.
Then I put one rolled roll at the top for a "star", and 2 rolls at the bottom for the trunk.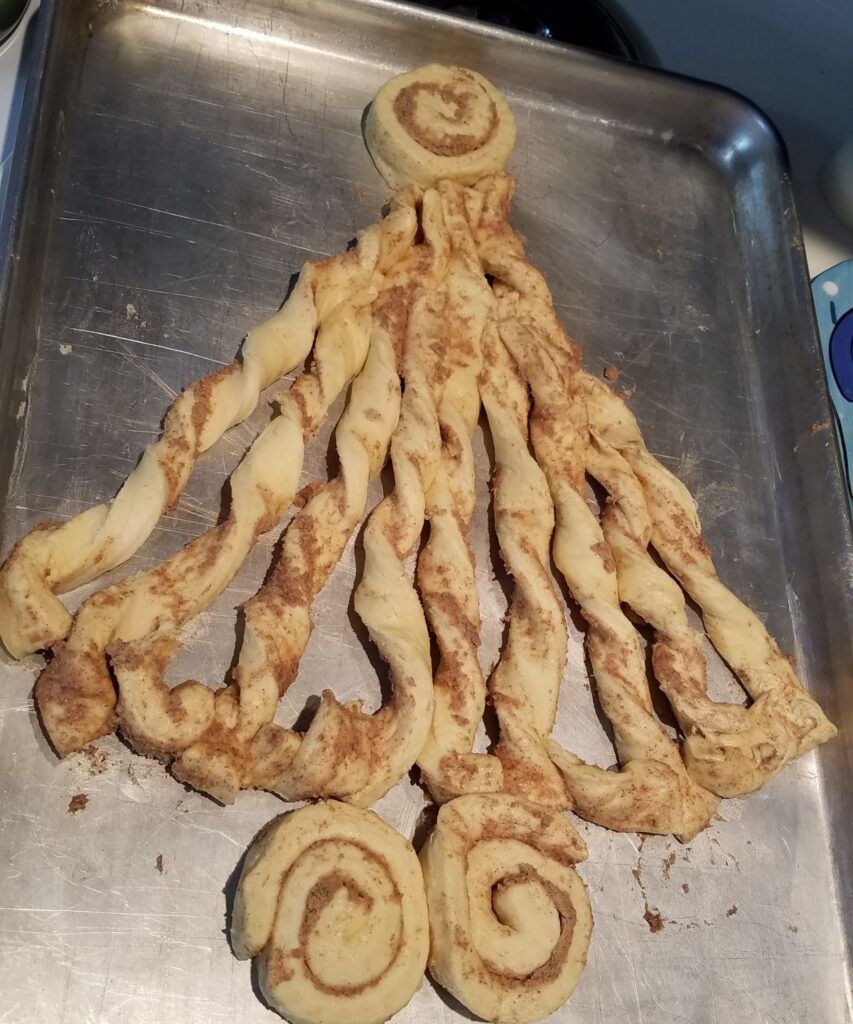 Bake according to the directions until done, but watch them carefully. My oven always seems to burn the bottoms of cinnamon rolls before the tops are done!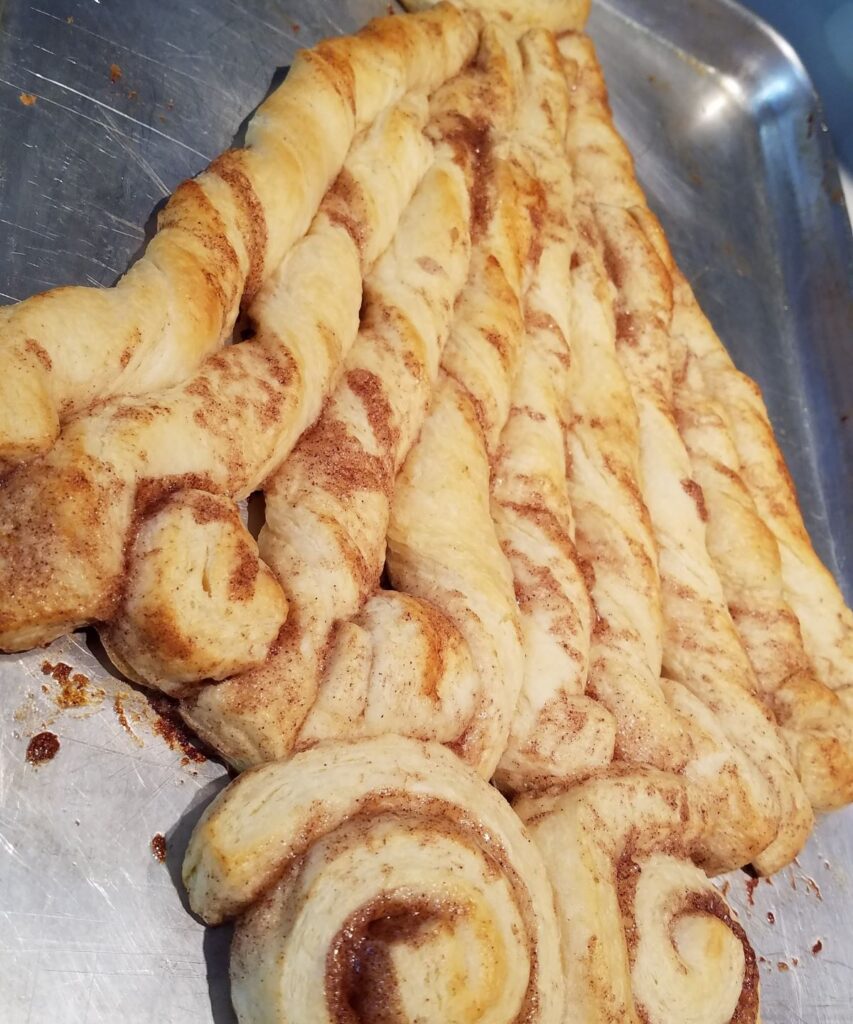 Then spread the frosting glaze that came in the cans on top of the tree, after they have cooled for a few minutes. But don't wait until they are completely cool or the glaze will not spread and melt on it very well.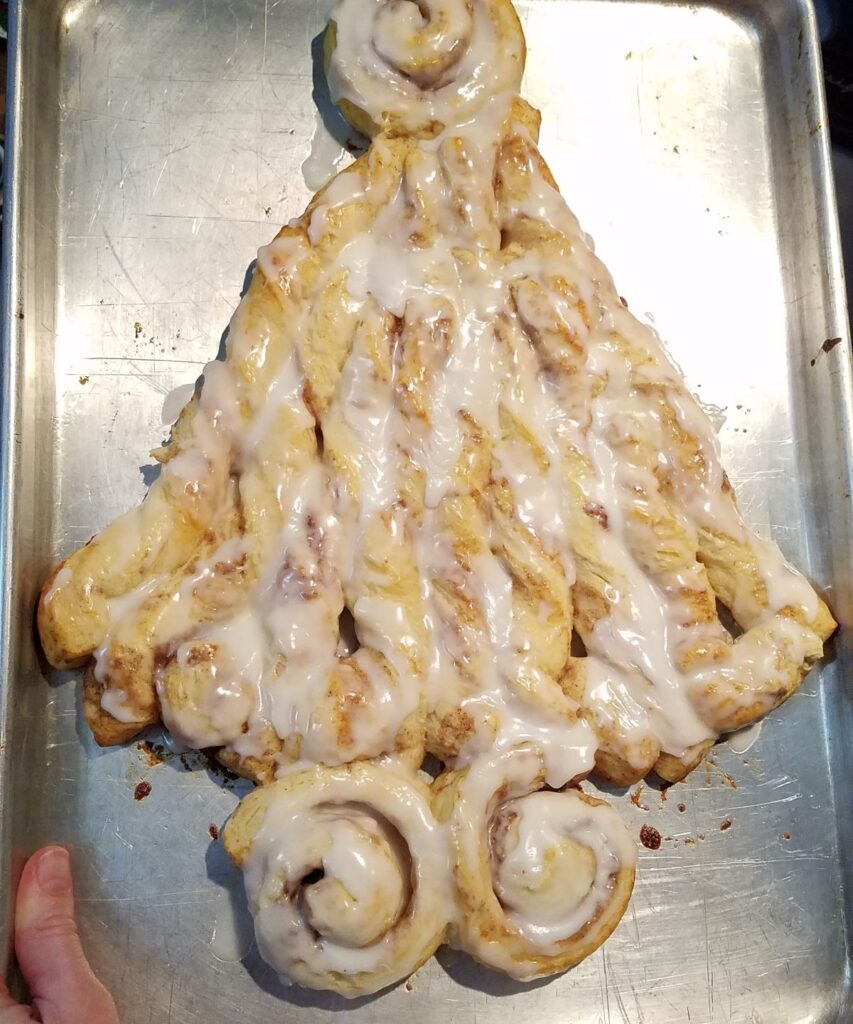 Next, add the Christmas colored nonpareils. (Isn't that such a fancy name for little dot sprinkles?!)
Now, I was planning to transfer my Christmas tree cinnamon rolls to a serving tray so I didn't want extra frosting and sprinkles dripping everywhere. But you could transfer the cinnamon rolls first, and then add the frosting and sprinkles on your serving tray. It's up to you which order you do it.
I had a little dilemma about how I was going to transfer this huge baked tree without it falling apart…. Here's how I did it!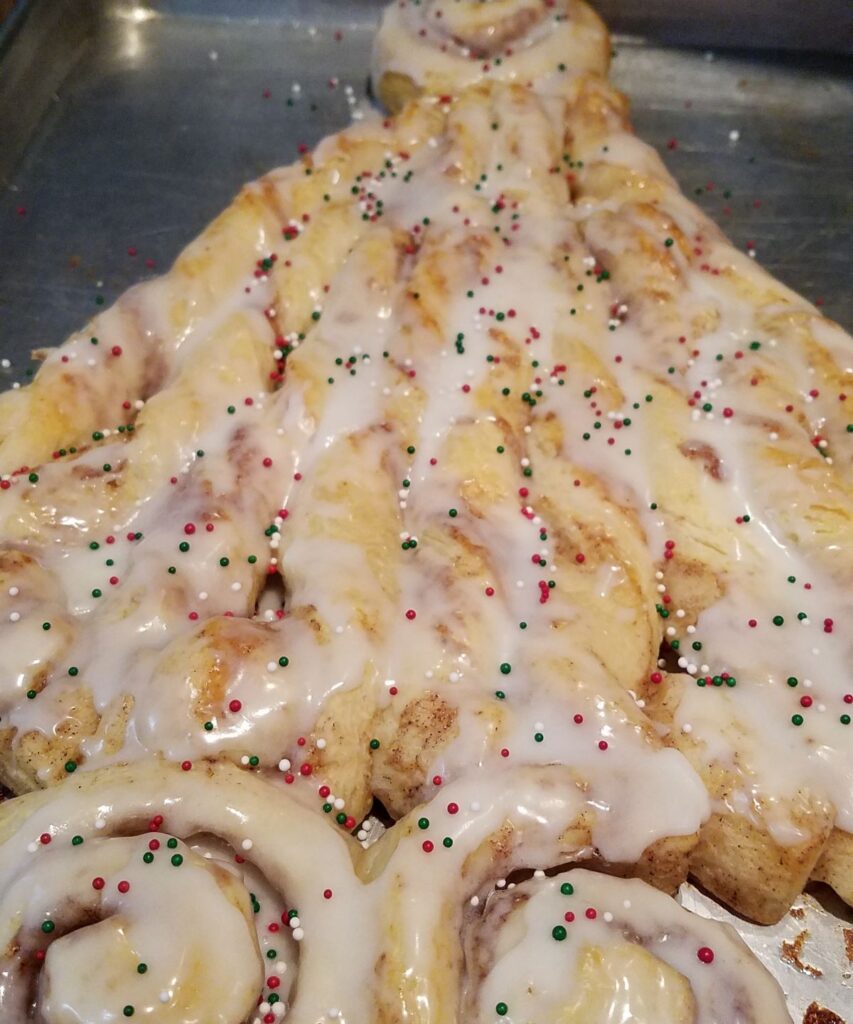 I laid a piece of clear plastic wrap on top. Then I laid one of my kitchen chair cushions on top of the plastic wrap and gently turned the pan and cushion upside down! See how nicely cooked it is?!
Because I was using paper doilies, then I laid the paper doilies (upside down) on top of the upside down cinnamon rolls. Then I turned my serving tray on top of that, and flipped it all back over gently again. Whew! It was a little nerve wracking that it might all fall apart, but it didn't.
Of course, you could just serve it on the tray that you baked it on if you don't want to go through all of that. Maybe tuck some other cookies and cakes all around the tree.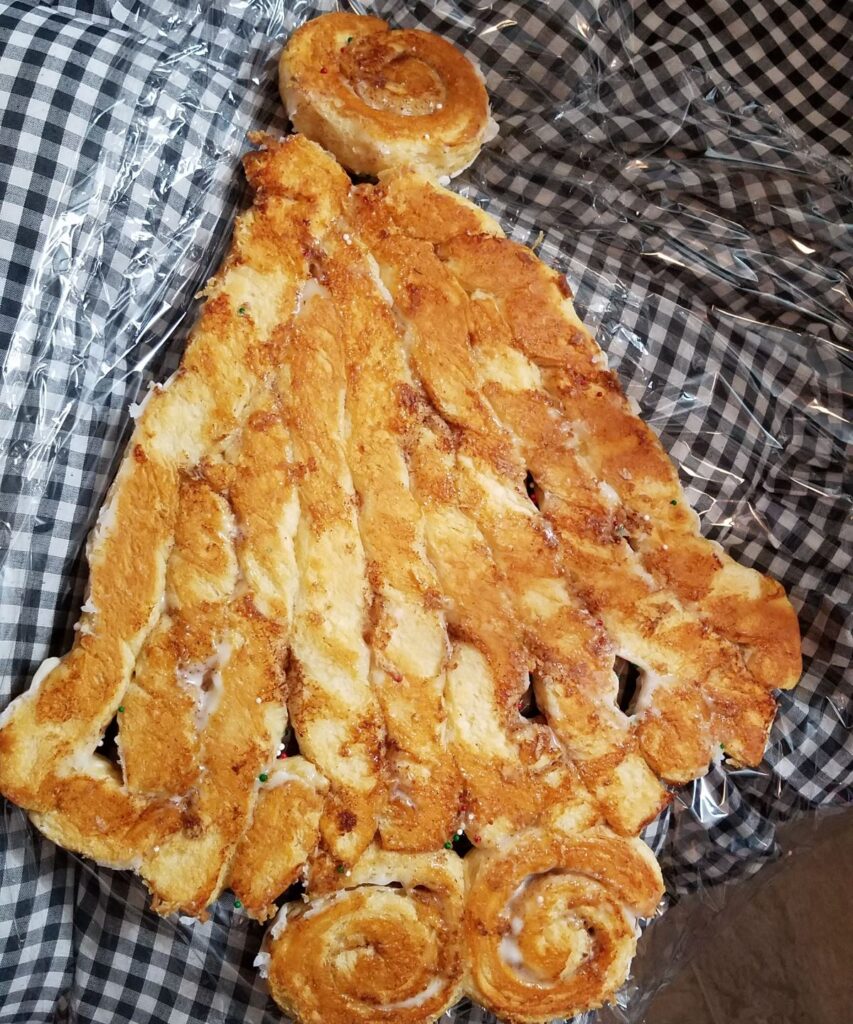 Didn't it turn out so pretty? Would you serve this at a Christmas gathering?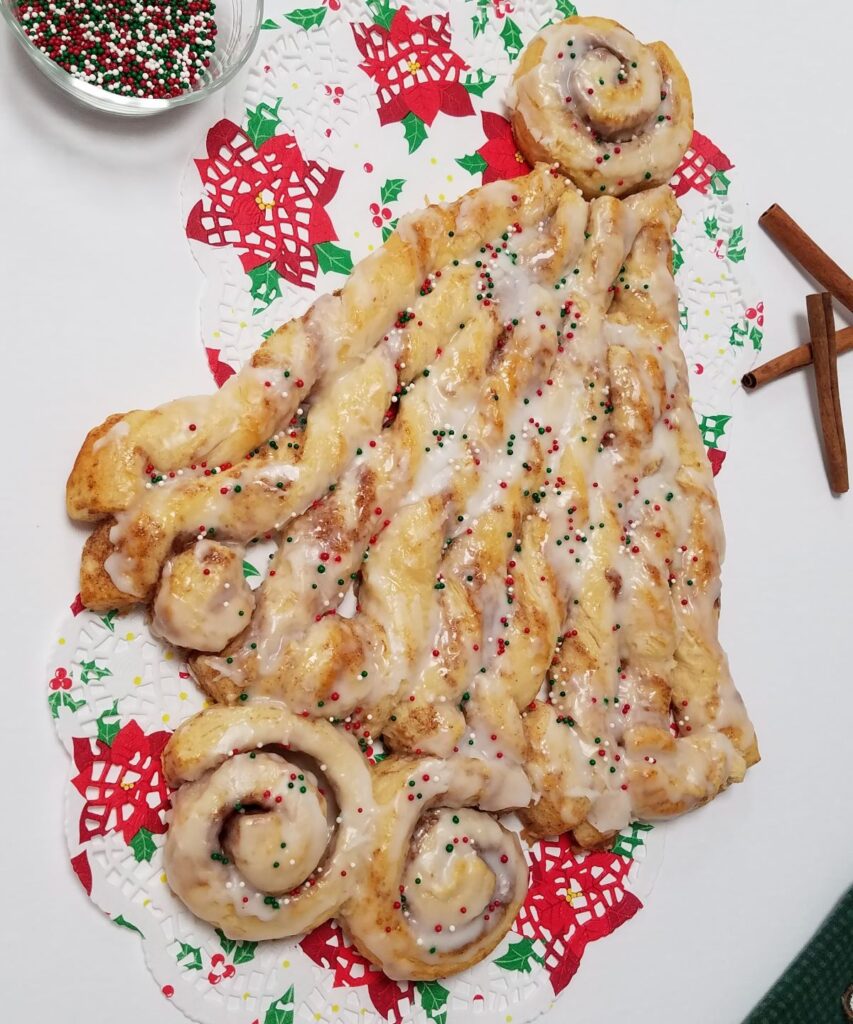 If you liked this idea, you might also like my Patriotic Cinnamon Roll Star!