Your Step by Step Guide to Making an American Girl Doll Birthday Cake
*This post may contain affiliate links to websites such as Amazon. By purchasing anything from these links, I may receive a small commission at no extra cost to you. More information is available on my Disclosure page. I appreciate your support!
What do you do when your daughter asks you to make an American Girl Doll Birthday Cake? You make it, of course! When she first mentioned this idea, I asked her, well, which one? Which American Girl doll? She chose the one that she has– her Truly Me doll. The one that she was given several years ago.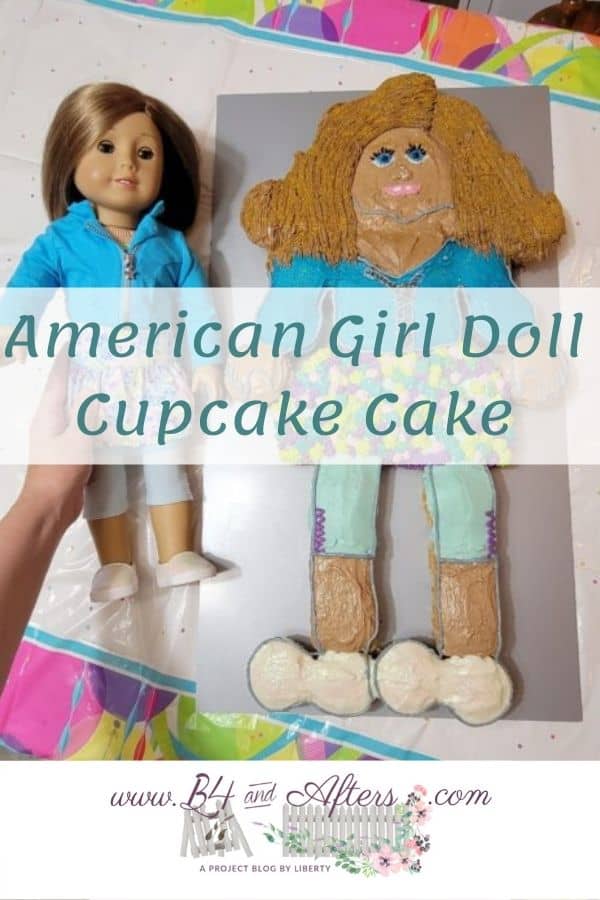 When I told her that I didn't know if I could do it, she said, "well, if you can make that Lego Ninjago cake, you can. Just do it like that one." And that was such a good idea!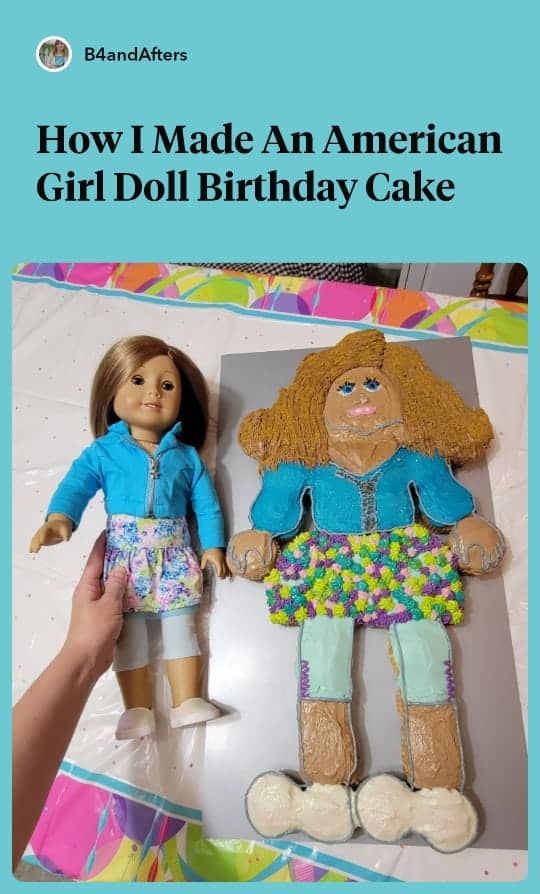 I don't know how many hours it took me to make this cake. Let's just say it took all day! I make my own frosting, and of course the cupcakes, and then there is the time spent coloring the frosting– and we haven't even started frosting the cake yet!
My daughter helped with everything up to the point of frosting the cupcake cake. She wanted it to be a surprise, like their birthday cakes have always been.
Before I began, I drew out a plan of where the cupcakes would go. I used my round cupcake pan as well as the square one that I have by Wilton. [Guess what– all this time I didn't know that I was using a "brownie pan" when I made my square cupcakes! The square shapes just work better sometimes… for legs and arms!]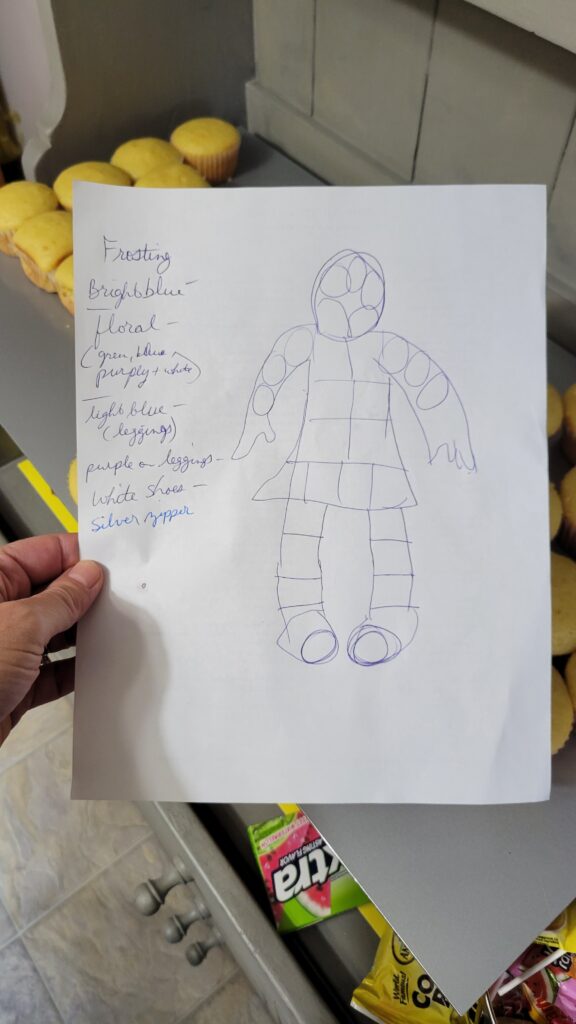 I laid out the cupcakes in proportion to where I envisioned the arms, torso, legs, head, and hair. Later I stuffed cut cupcake pieces down in the gaps where the hair meets the face, so that the frosting wouldn't fall down (not shown).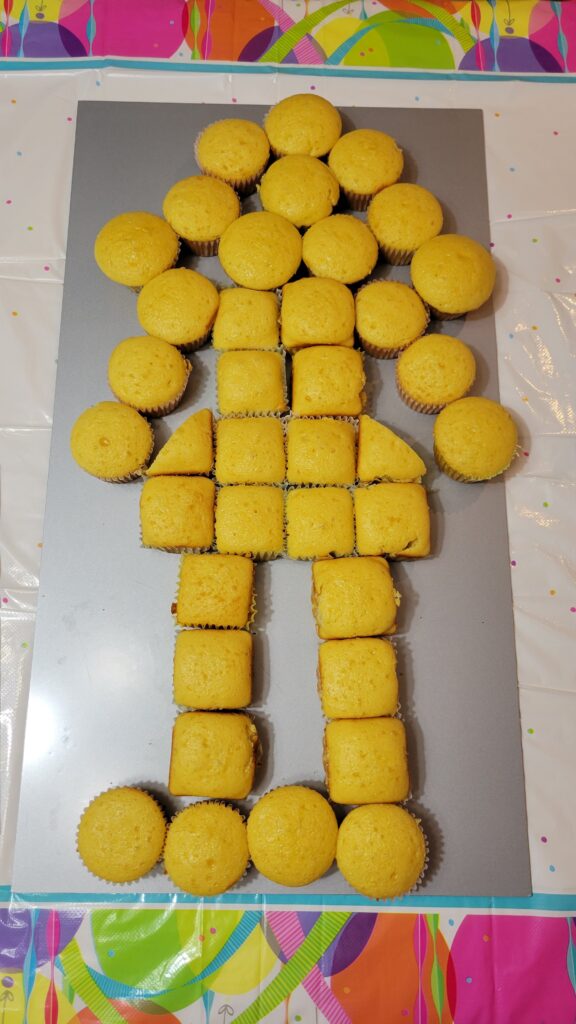 Skin Colored Frosting
Have you ever tried to make frosting in a skin color? I have found that by adding just a touch of orange frosting to white frosting, it comes pretty close. Then you can tint it darker by adding a tiny bit of brown frosting or brown food coloring.
Well, when I was making this skin colored frosting, my daughter saw it and thought it should be darker. I made it darker– and sure enough, it looks like it matches pretty well!
This is a "Truly Me" American girl doll, that looks like my daughter in skin, hair, and eye color. My daughter does have darker skin than I do. I am pretty fair skinned, and will burn a whole lot easier than I tan in the sun. My daughter has only burned 1 or 2 times in her whole life– and gets a very lovely tan brown.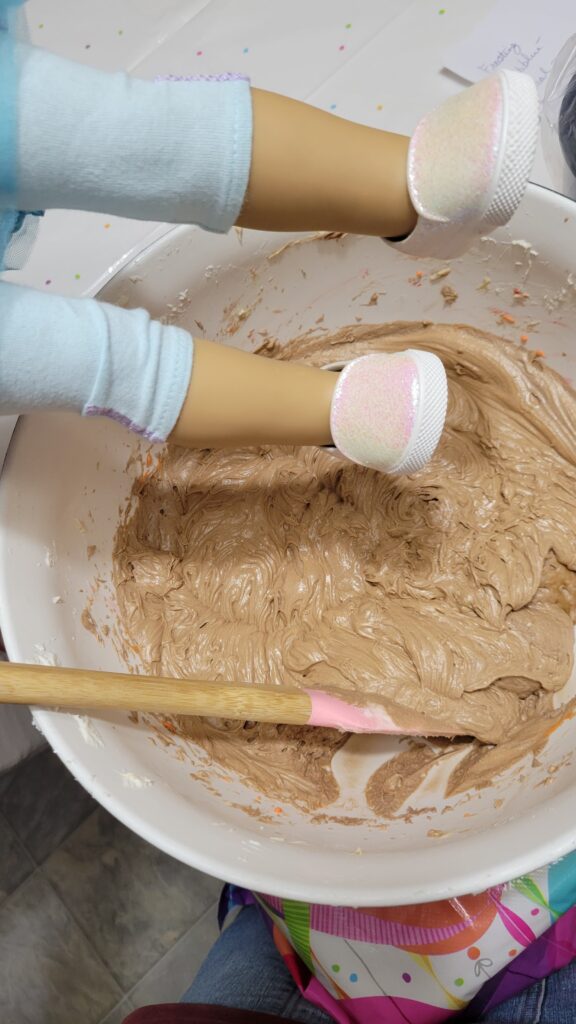 I used the skin colored frosting for the hair, too, but I planned to add some gold glitter to the hair.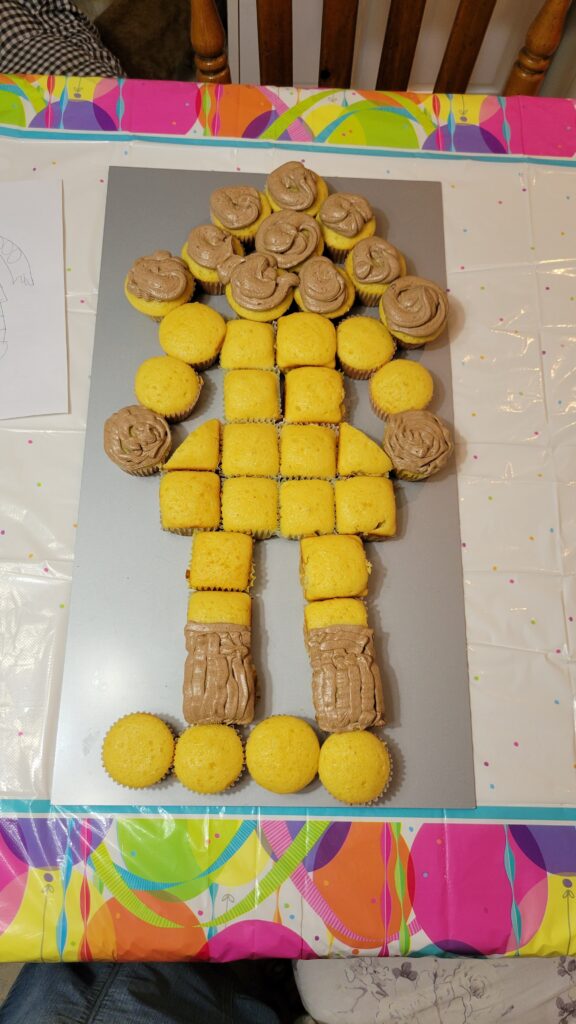 The absolute hardest thing for me to do on this cake was the face. American Girl Dolls have such sweet faces, and I am not a face drawer, let alone a frosted face drawer! I did the best I could, though.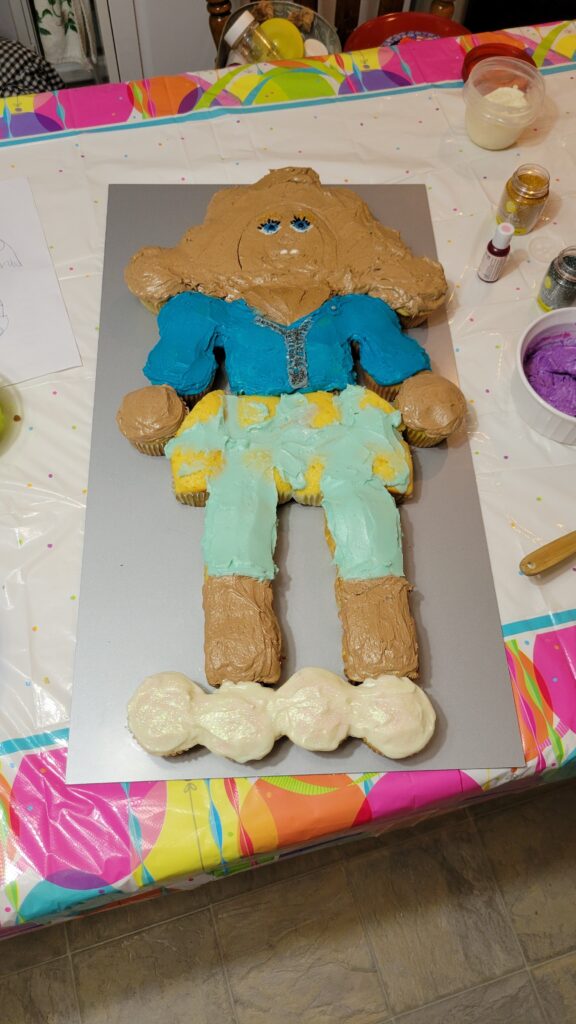 I checked to see if the colors were matching… looks like it is coming together nicely!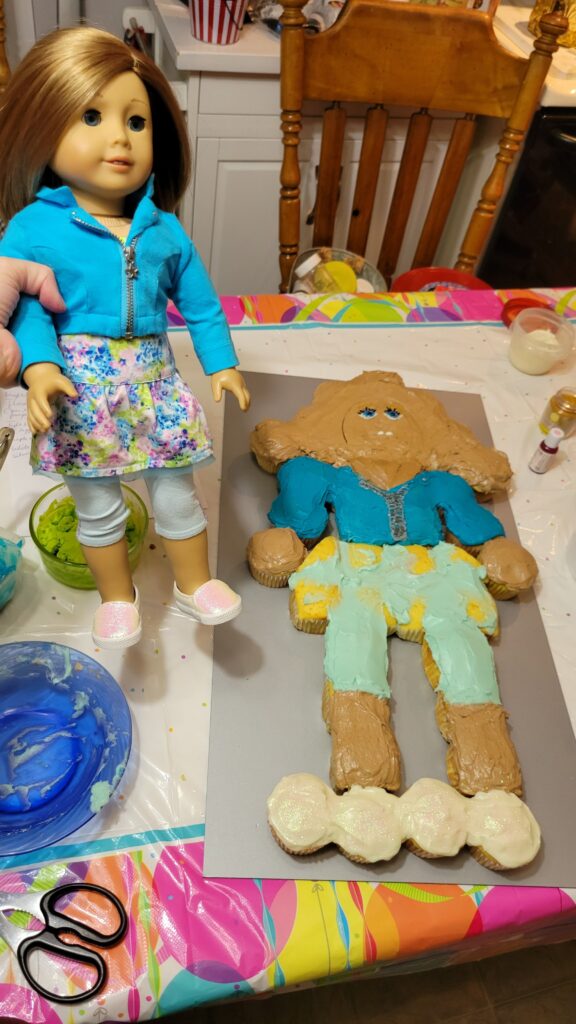 American Girl Doll Cake Details
I added gold glitter to the hair. I would have liked to have used a less yellow color, if I had had it… I put the glitter on the eyebrows, too!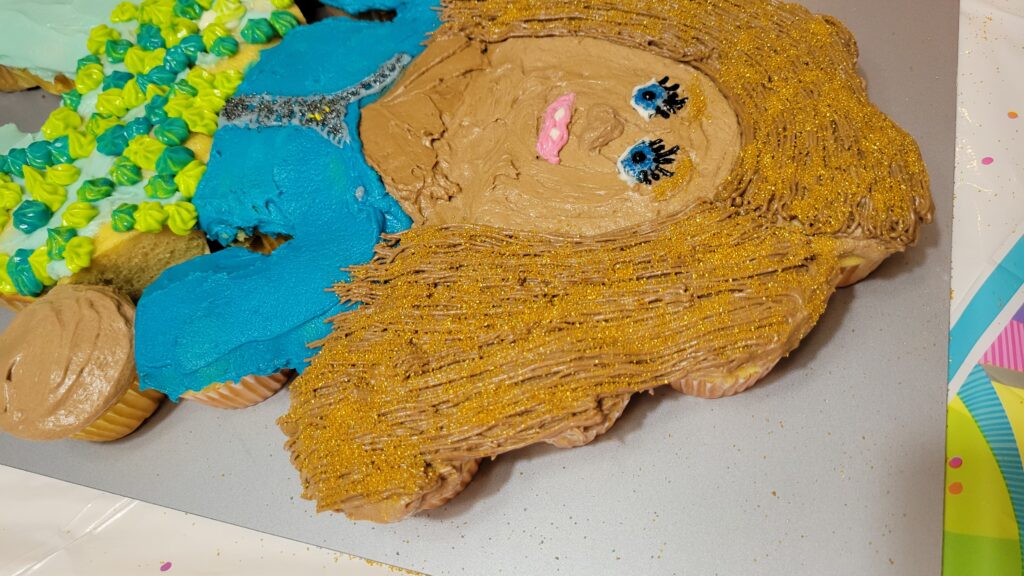 Watch the video to see more of how I added all of these details…. I put a zipper on her top.
I decided to outline everything in gray…. Not sure if that was the right color choice…. but I do like the definition that outlining gives.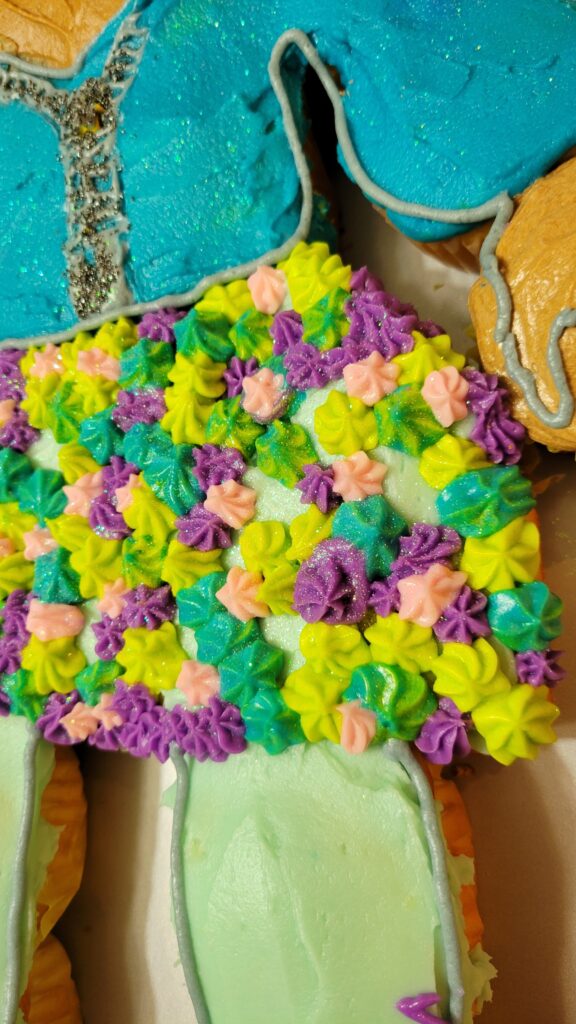 When we were looking at the doll and thinking about the cake, my daughter reminded me to add the stitching from the leggings– or I may have missed that one!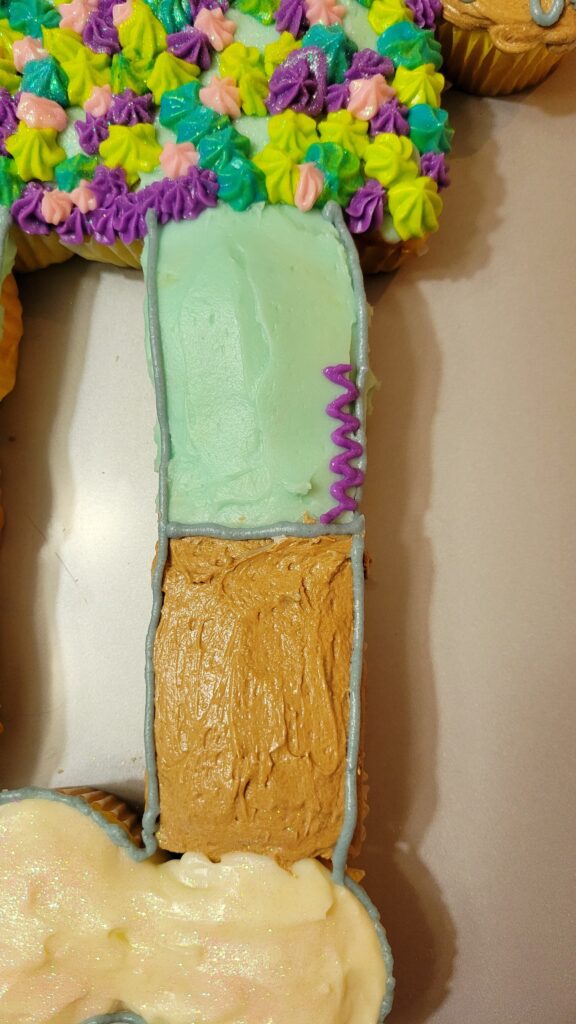 My daughter was also very specific about the hands– because American Girl Doll hands are different from other doll's hands– they are open. Again, I am not a hand artist– but I liked how these hands turned out!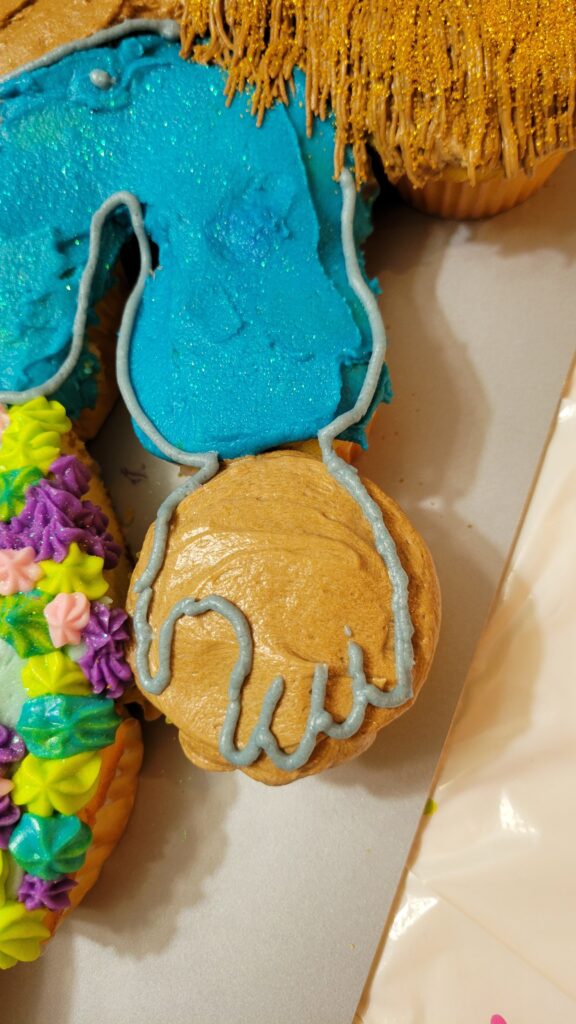 I borrowed a grass frosting tip from a friend to make the hair, pulling it out straight.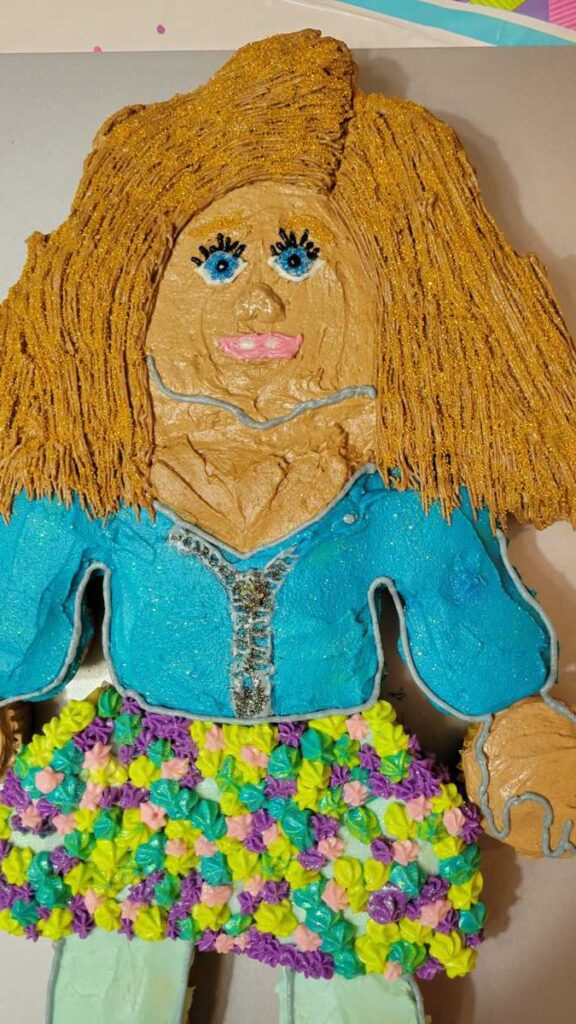 I added edible glitter to the skirt and shoes. It's hard to catch that glitter in a photograph– but it sure looks special in person!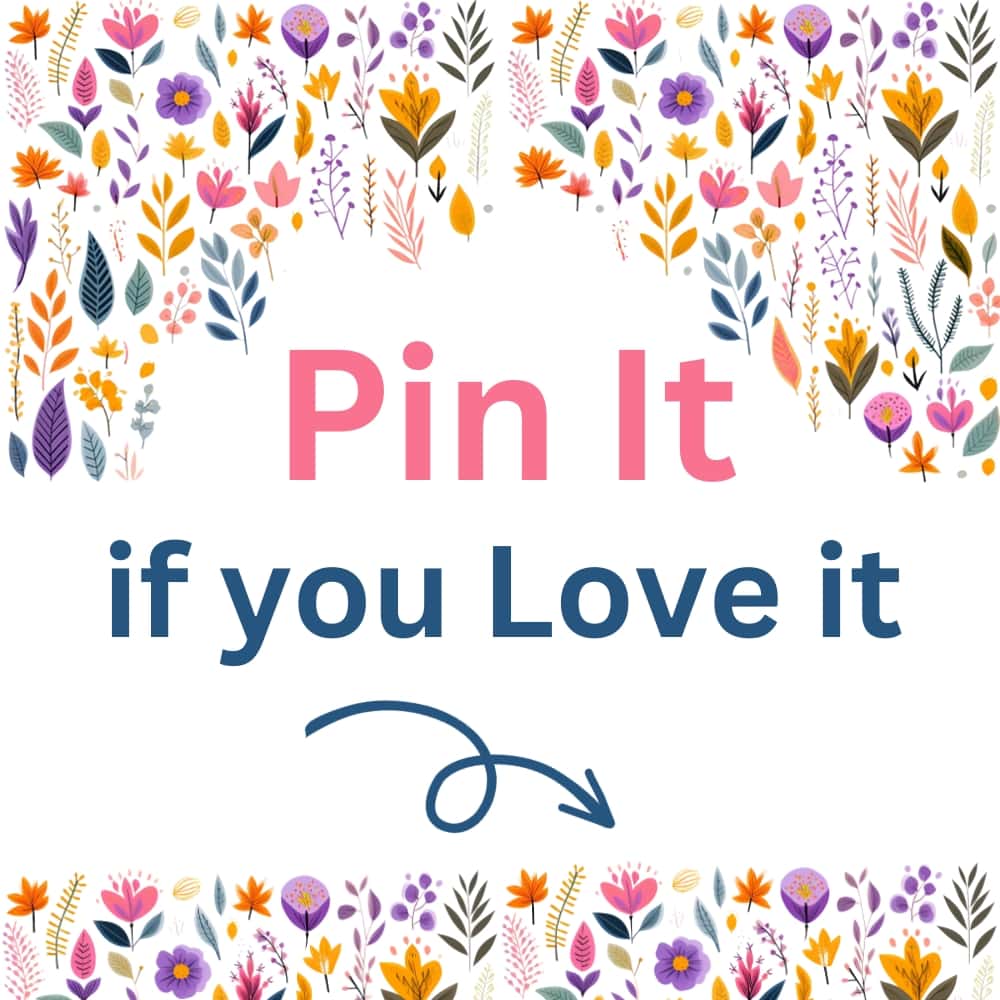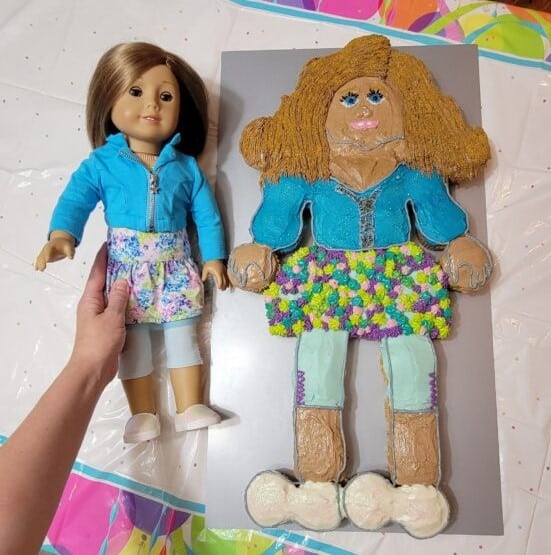 My daughter was very happy with how her cake turned out.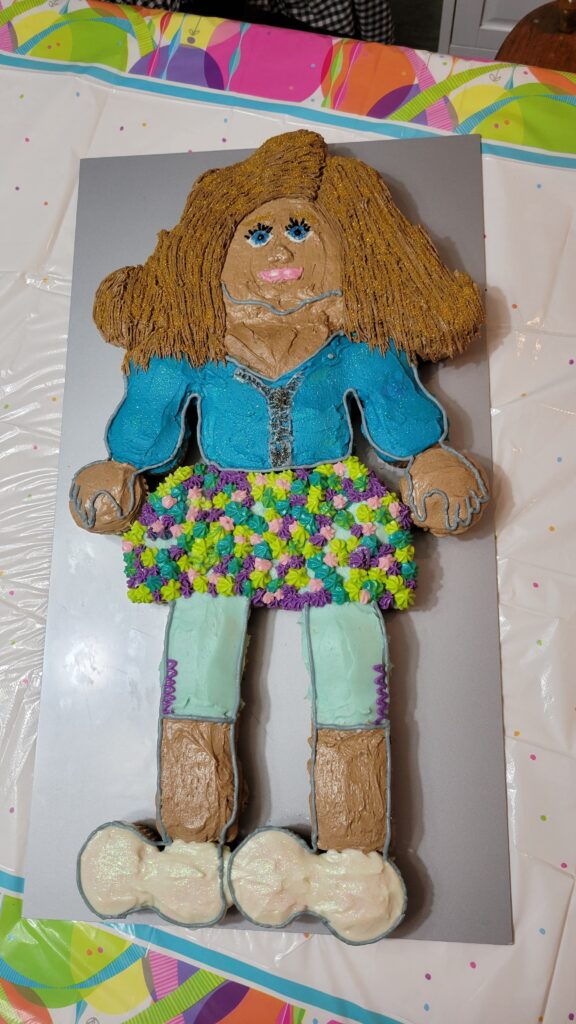 I'm glad, too. Whew! If you have any tips for making frosting doll faces on a cupcake cake, please let me know!!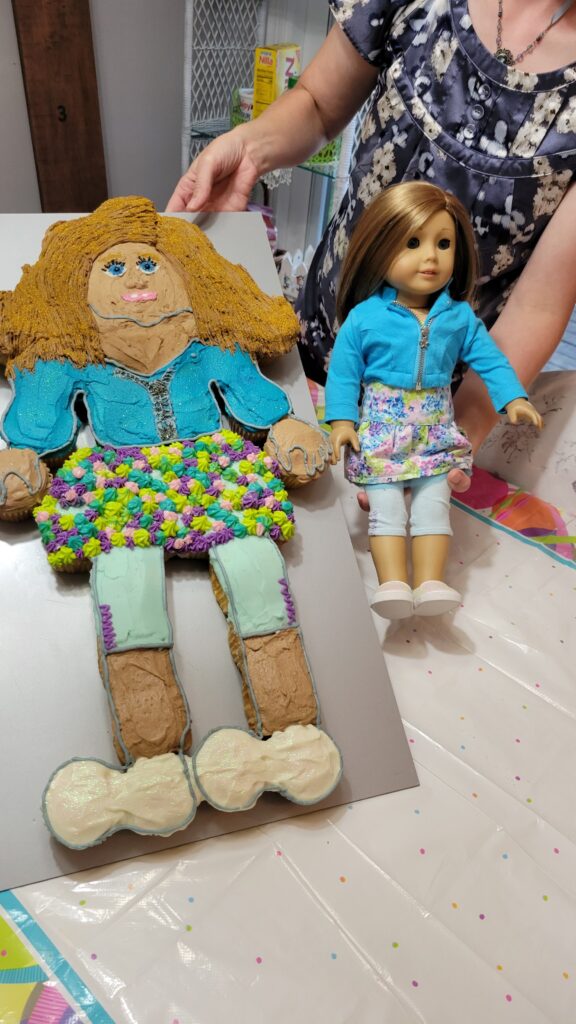 Watch the video to see me make this Truly Me American Girl Doll Cake at hyper speed!