Contact Paper in the Kitchen (5 places)
Have you ever used Contact Paper? If not, I encourage you to pick a place and give it a try. Contact Paper is very inexpensive compared to the big impact it can have. I have enjoyed using it in a lot of different places in my house. It can be a little tricky to manage, but start with a small project and work your way up until you get used to it…. In this post I want to show you five places that I have used Contact Paper in my kitchen. Don't worry– I didn't say five different patterns!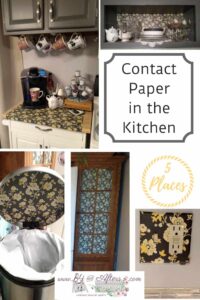 (*This post may contain affiliate links. By purchasing anything from these links, I may receive a small commission at no extra cost to you. More information is available on my Disclosure page.)
The Contact Paper that I used it my kitchen is called Laura Ashley. I think I originally bought 2 rolls of it at a Ross Dress for Less. I love the pattern–because it goes with my kitchen color scheme. In our condo kitchen I had a different color scheme, and a different coordinating Contact Paper. I think I use contact paper like other people use pillows– to add color, pattern, and variety.
One of the easiest and smallest projects to start with is covering your lightswitch plate, or outlet cover. I love using contact paper on a lightswitch plate, because it makes them so smooth and easy to wipe off. You can find detailed directions how to do it here. I have two covered plates in my kitchen- here: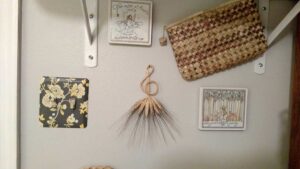 and also here. The lighting is a tad different, but don't worry, they match perfectly! I have not known contact paper to ever fade– another great quality!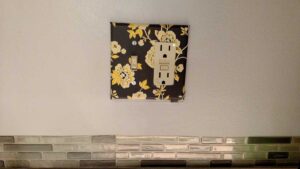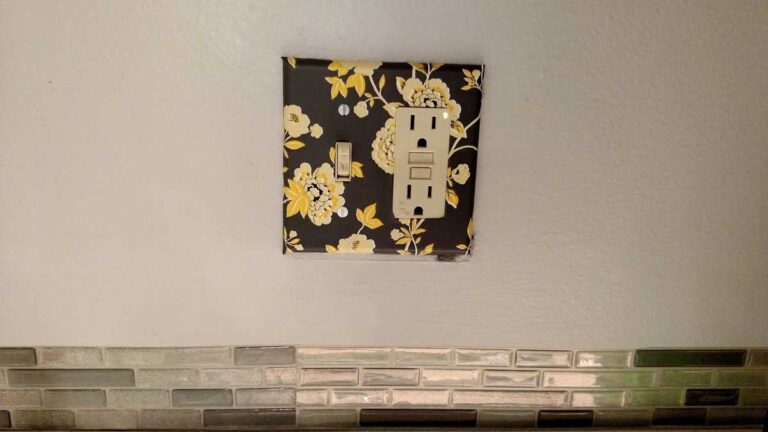 A second place that I used contact paper in my kitchen is in my pantry doors turned Refrigerator Surround. The glass doors just needed covered.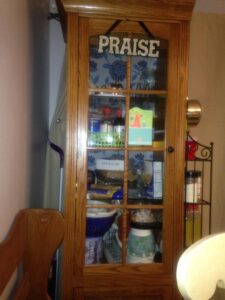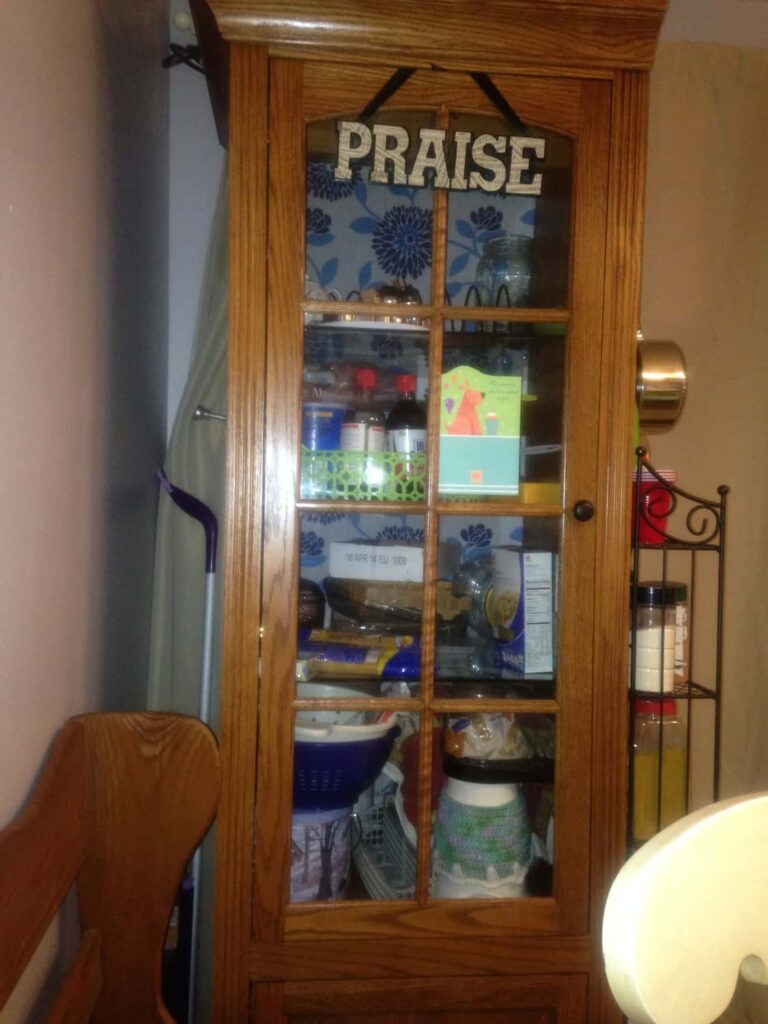 Much better- don't you agree?!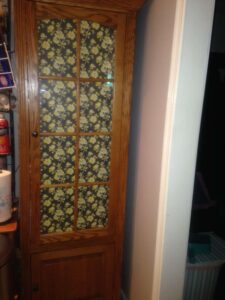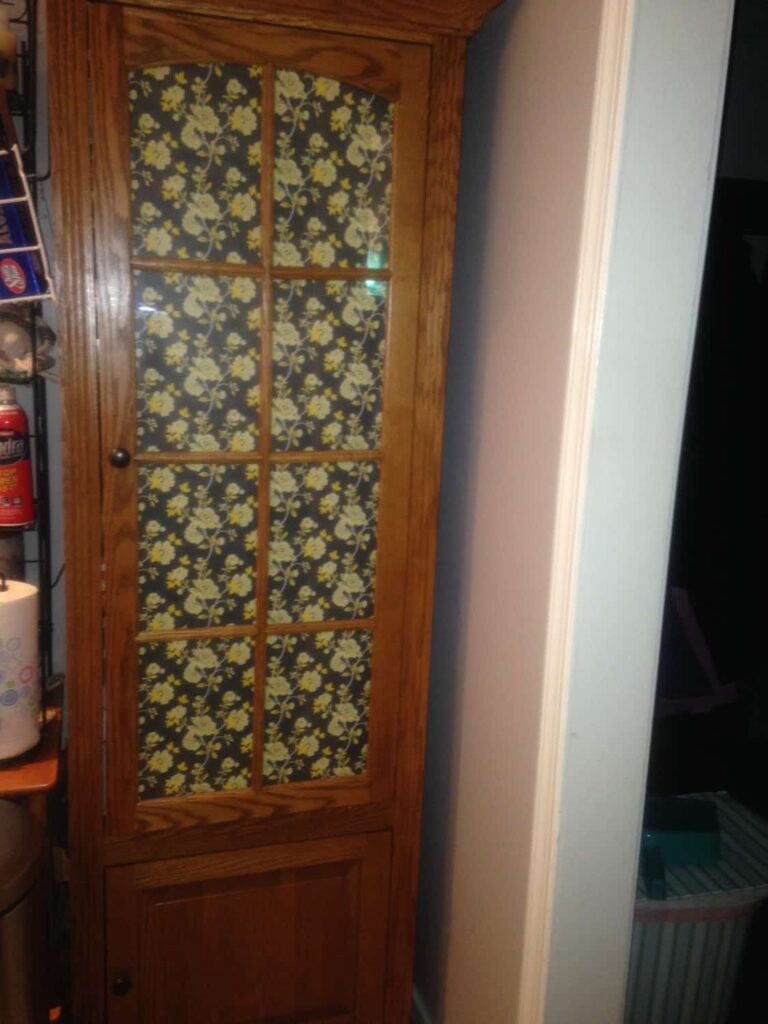 Even after organizing my cookbooks and everything, well, you can see how glass doors just would not work. I attached the contact paper in an unconventional way for contact paper. Instead of taking off the backing, I simply taped it up to the door with masking tape. You can see the back of one of the doors in the picture below to the right.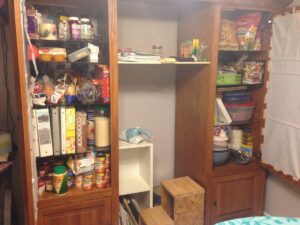 The masking tape has held up extremely well for nearly 5 years!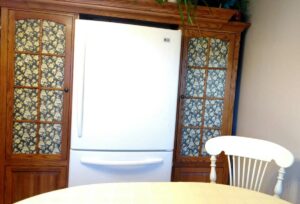 I was very happy with the end result!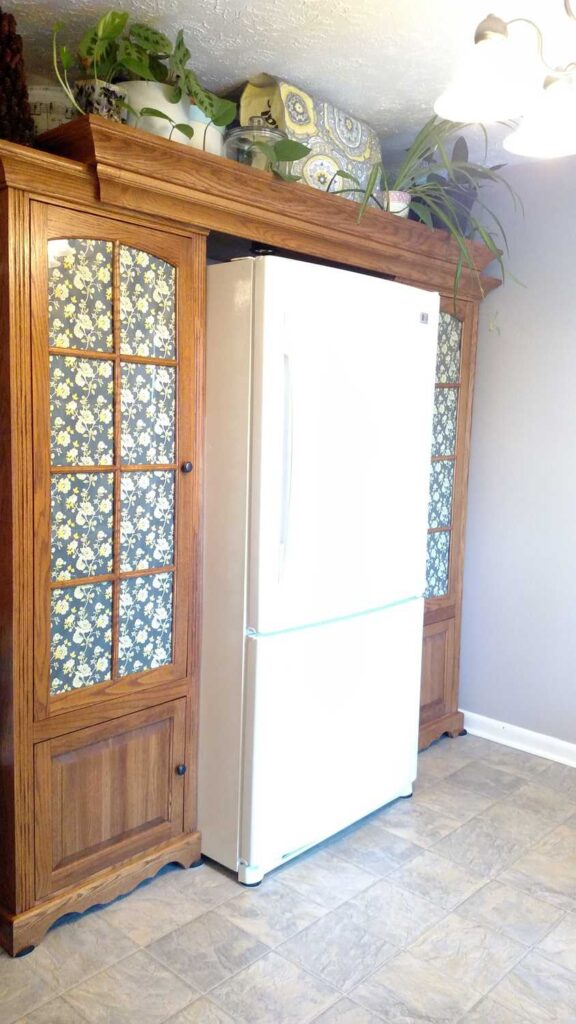 I mentioned above how easy it is to wipe off contact paper. That was the reason that I decided to line my trash can lid with it! Kids are always getting food on the inside top of the lid– things like ketchup that dries unnoticed. Have you ever noticed how hard it is to clean dried foods off of stainless steel?! Since I put on this contact paper (another very easy beginner project), it has been very easy to wipe off spilled food. The flower pattern also hides said food, making it less noticeable– which could be a pro or a con, depending which way you look at it….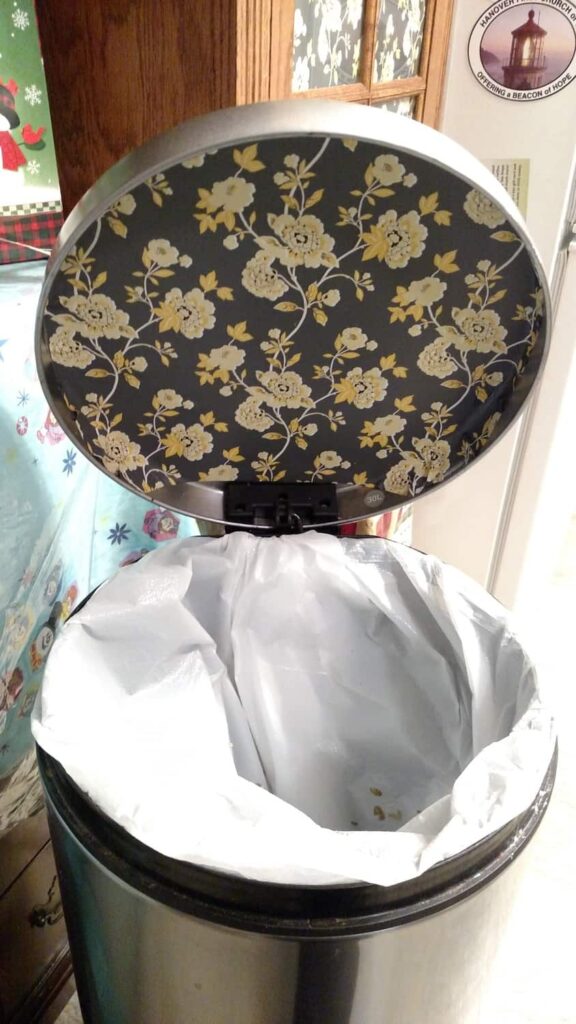 A fourth place that I put my flowered contact paper was on the back of this open cabinet above my microwave. Perhaps this one has made me smile the most– probably because it was the first cabinet that I test painted just before adding this contact paper to it.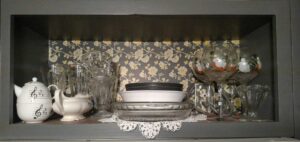 I put contact paper on the butcher block counter on my island turned coffee station right after I bought it. Not caring for the worn look, I wanted to protect the wood. It has done its job splendidly for 4 plus years.

Here is a closer look: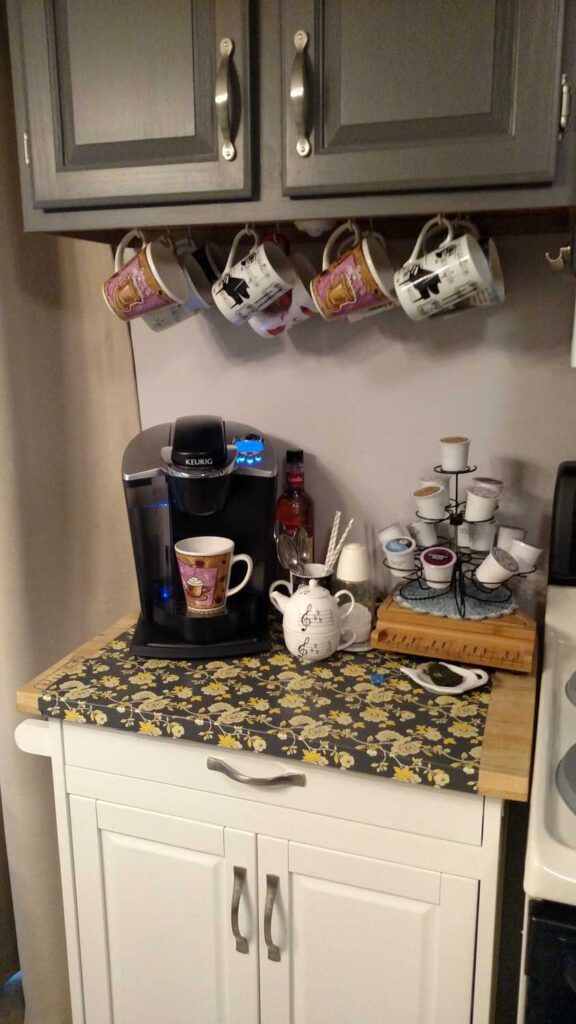 I hope you have enjoyed seeing five places that you can use contact paper in the kitchen. I actually have a sixth place for an idea that I haven't done yet. If I do it, I will be sure to let you know!
Let me review the benefits to using contact paper:
It is usually easy to remove if you don't like it (especially if you remove it sooner rather than later)
It wipes off easily
Big impact for little money
Easy to apply if you start small
Doesn't usually fade
Can adhere to a variety of mediums- wood, glass, plastic, walls, metal, etc.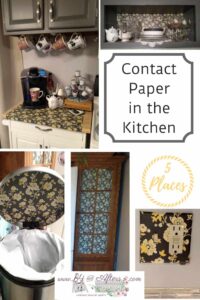 For more great Contact Paper ideas, click on the picture below!