Century Farms One Year Anniversary!
Wow! On December 22, 2022, we had our one year anniversary at Century Farms. We've only lived here for 9 months, since we worked on it for 3 months before moving in.
(*This post may contain affiliate links. By purchasing anything from these links, I may receive a small commission at no extra cost to you. More information is available on my Disclosure page.)
On the day we bought our house, the realtor took pictures of our family in front of it.
Potential with a capital P!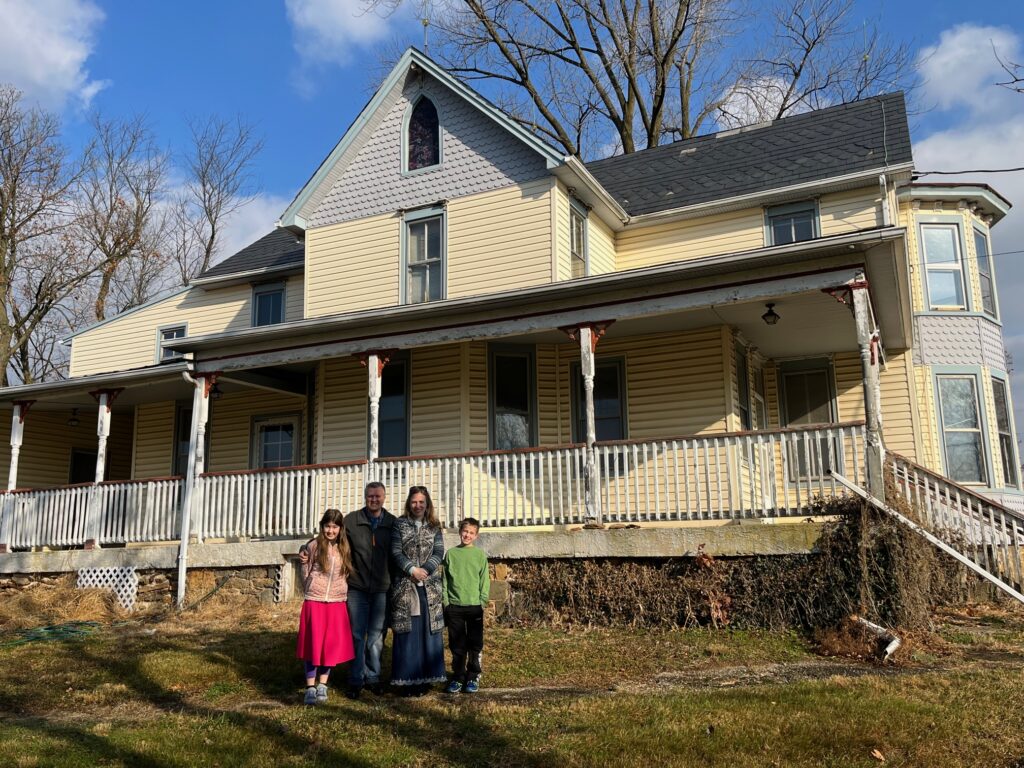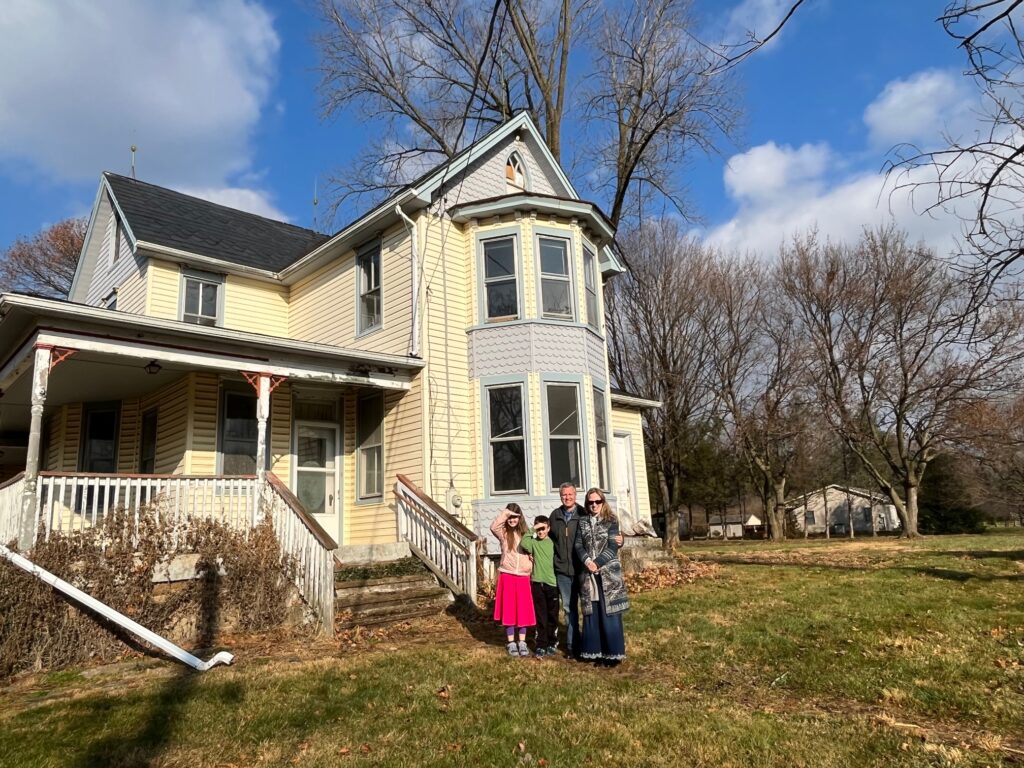 Not long after these photos, my son was tearing those vines off of the railings! We tore into demolition for 10 days straight.
While the exterior looks somewhat the same, we know that inside the house is where most of the visible changes are. [I'm really looking forward to replacing the porch posts and railing with PVC that won't ever need painted!]
In this video-monthly-one year update, I mention a few things that we completed in the past year and in the past month. Here's a list of what we accomplished (including things that contractors and friends helped us with) in one year!
It's very possible that I've forgotten something and will need to update this list!
House
Replaced 25 windows
New Front Door
New Storm Door on back/ main door
New Plumbing
New Electric
New Septic Line
New mortar on rock part of the exterior
Whole house pressure washed
Foundation reinforcement
Painted tin porch roof
Crate container for storage
Removed 2 large trees
New mailbox
Garden
Dog kennel
New bilco door
Kitchen
Gutted kitchen
Replaced a partial wall
Painted walls
New appliances
Nearly new cabinetry
New vinyl floor
New light fixture
Bathroom
Major bathroom renovation upstairs including
Demolition of old bathroom fixtures and walls
Completely new footprint, plumbing, shower, toilet, vanity, stained doors, etc.
New lighting, new medicine cabinet, flooring
Master Bedroom
Walls painted
Window trim sealed
New carpet
Bedroom 1
Touched up Wood floors
Shiplap ceiling panels
New lighting/ ceiling fan
New mirror closet door
Bedroom 2
Major bedroom remodel including a new roof, insulation, ceiling, lighting, new wall plaster, ceiling fan, flooring
Did you Know?
We bought a Fixer Upper Farmhouse!
Laundry Room
New plumbing
Laundry Tub
Pass through from bathroom
Vinyl flooring
Living Room
Finished wood floors
Hand Painted Tin Ceiling
Dining Room
Finished wood floors
Hand painted Tin Ceiling
New light fixture
Piano Room
Reinforced wall under the floor
New subfloor
New floor heat fixture
New flooring (carpet and vinyl)
Walls painted
Hand Painted Tin Ceiling
New light fixture
Craft Room
New Woodhaven ceiling and lighting
WallControl organizing system
I thought you would like to see a rough layout of our 1st and 2nd floors, like I mentioned in the video. The 1st floor is on the left, and the 2nd floor is on the right.
During the time we were waiting to close on Century Farms, I spent a good deal of time planning out the upstairs renovation.
Below you can see the original layout of the upstairs bathroom and bedroom. The hallway was wasted space in my opinion. I must've made 50 revisions as I tried to best plan out a new layout. At first I was using what is now my craft room for the laundry room.
Before Renovation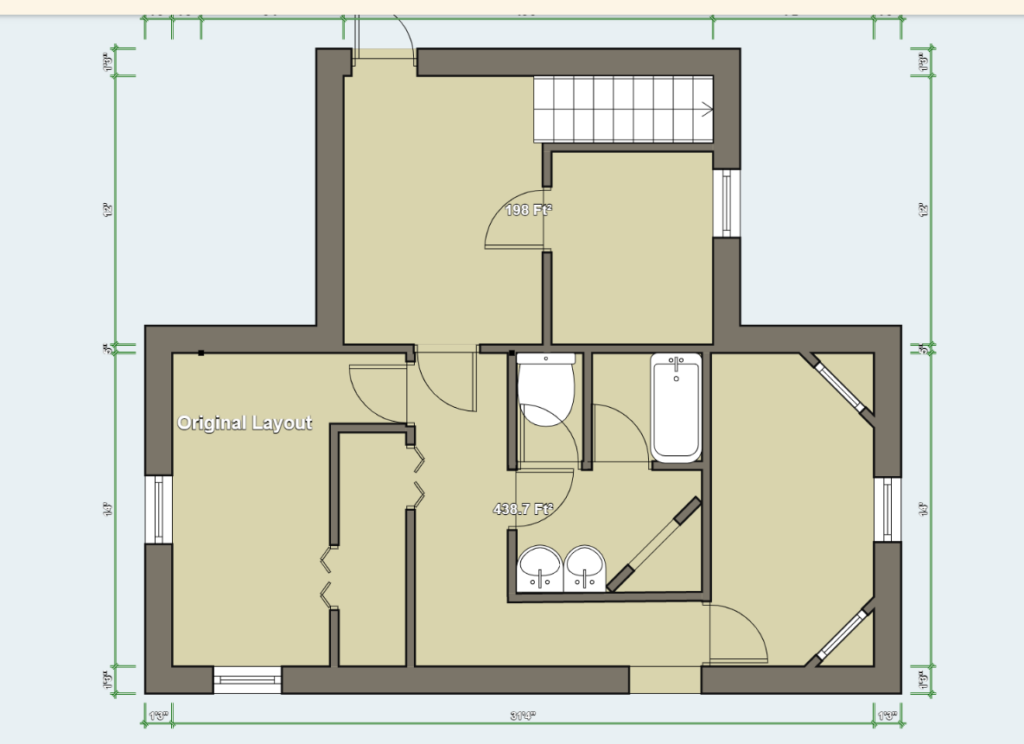 After Renovation
Once I switched the laundry room to be opposite the attic stairs, everything started to work out better.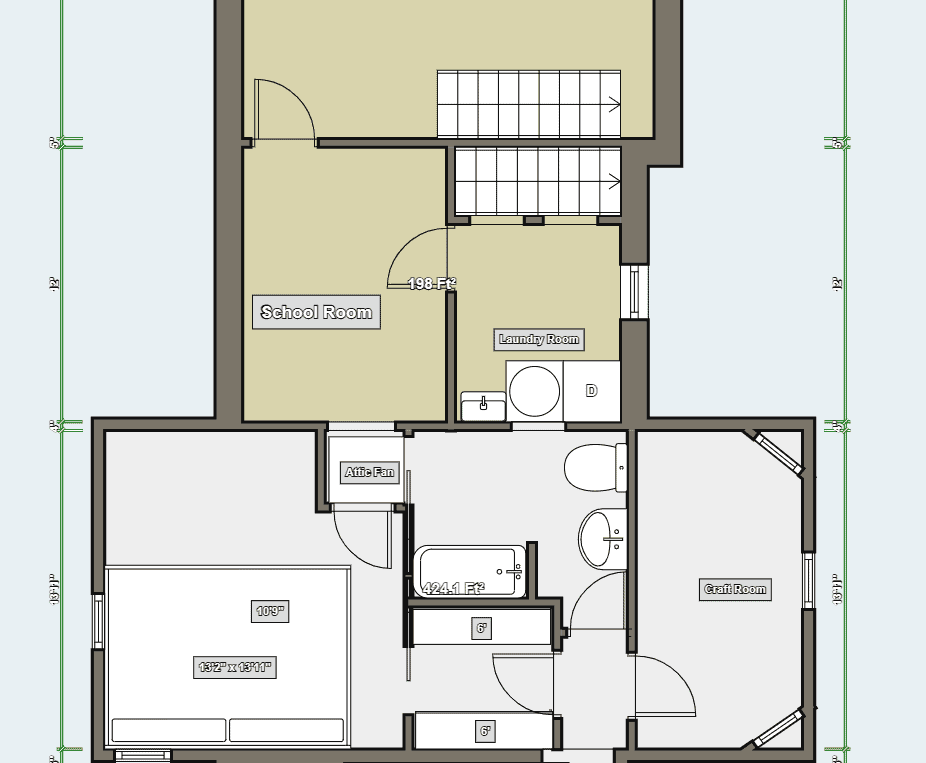 With the new layout, there are 2 options for moving from one side of the house to the other side. The red route is the main route, through the bathroom. If the bathroom is occupied, we can use the green route instead. The kids aren't allowed to use the green route unless, and only if, the bathroom is occupied. (They also have to use the downstairs bathroom unless it is during the night.)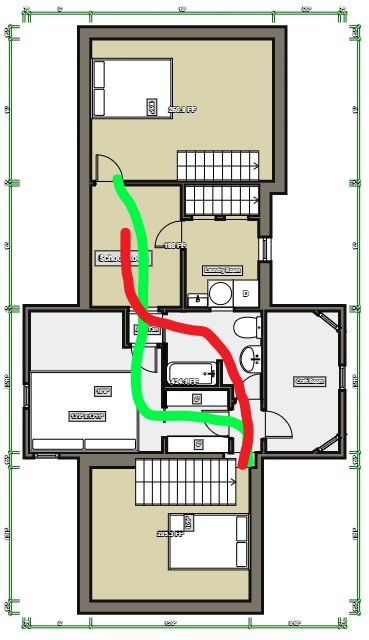 Google Maps took this aerial shot of our house and property sometime in the spring or summer when everything was nice and green– and after my garden was growing! You can easily see our large circle (or is it half a heart? half a raindrop?) driveway, and the Y shaped sidewalk.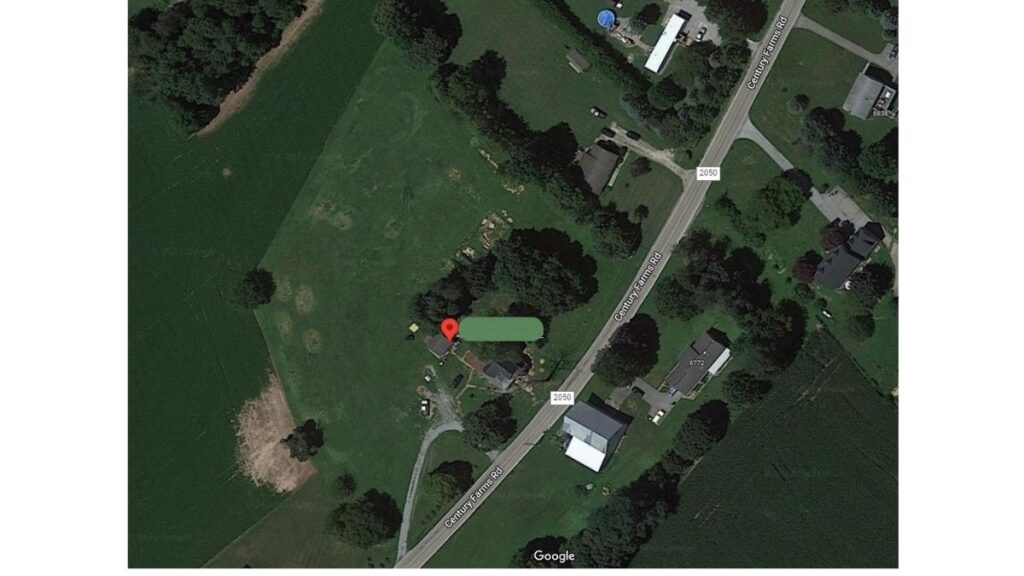 While we have accomplished so very much in one year, we still have a lot left to do! Here is what still needs done:
Plans for Next Year/ the Future
House
Heating/ mini-splits
Replace Porch posts and railings
Organize basement
Clean attic better
Continued pest control/ plugging holes, etc.
More unforeseen things we haven't found/ haven't happened yet
Garage
Storage Crate
Kitchen
Finish Ceiling Panels
More recessed Lighting
Two more cabinets
Install toekick trim at floor cabinets
Sink Backsplash
Renew Door and Window trim
Master Bedroom
Finish Ceiling
Install Light Fixture
Laundry Room
Finish Ceiling
Install Light Fixture
First Floor Bathroom
New flooring
Install vanity
Install Medicine Cabinet
New lighting
Mudroom
Finish ceiling
Finish walls
Flooring
Lighting
Exercise Room
Finish Ceiling
Paint Walls
Flooring
Lighting
School Room
Finish Ceiling
Paint Walls
Lighting
Main Staircase to 2nd floor
Replace Ceiling
Finish and Paint Walls
Lighting?
Reinstall hand railing
Finish wood stairs
Living Life
We've worked hard this past year, and we've also taken a little time for some fun. We've had lots of campfires and have enjoyed getting to know our neighbors. Because of the recommendation of one of them, my daughter received a Lyme's diagnosis in April and help for it after 14 months of illnesses.
We took a trip across the country, and managed to finish all of our homeschool curriculum.
My thyroid problems threw us a curve ball, but hopefully that is all behind us.
Living out in the country on our 3 acres has been good for our family. Now my kids can squash bugs and care for more animals. The kids have grown more confident and are acquiring life skills that just aren't available in the suburb– like climbing on top of hay bales and watching the farmers work their fields.
We have seen some of the best sunsets! (In the video I point out this view from the second floor– but it's raining.) This is the view from the front porch.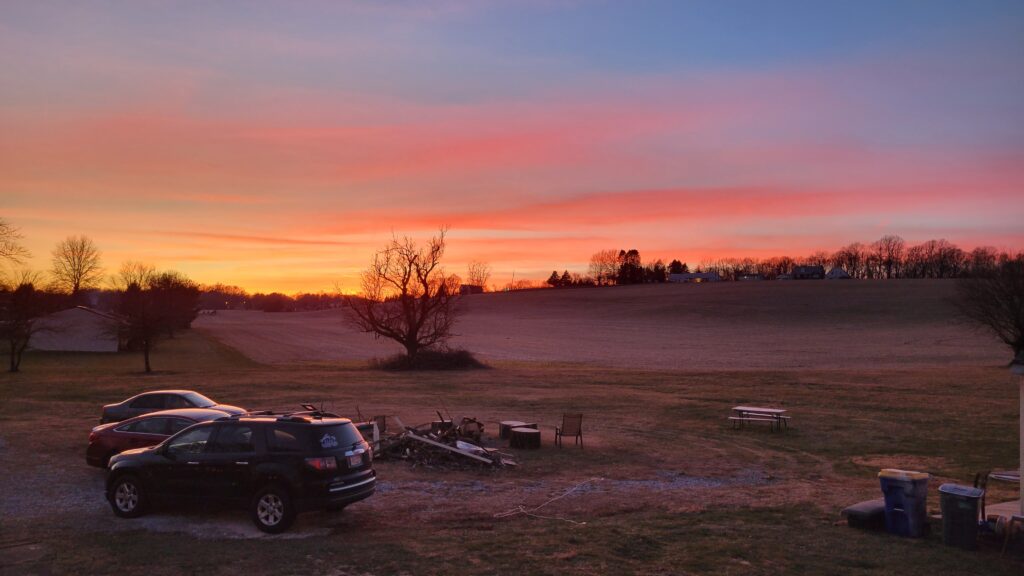 When we stood in front of our new house, we had no idea of the beauty that lay in the opposite direction!