It's always nice when a friend thinks of you. In this particular case, a friend brought me some pumpkin puree recently. I used some of it to make this delicious Pumpkin Praline Pie. Have you ever tasted one? It is easy to make– only a little different from traditional pumpkin pie. It has an extra layer between the crust and the pumpkin. I think you will like it!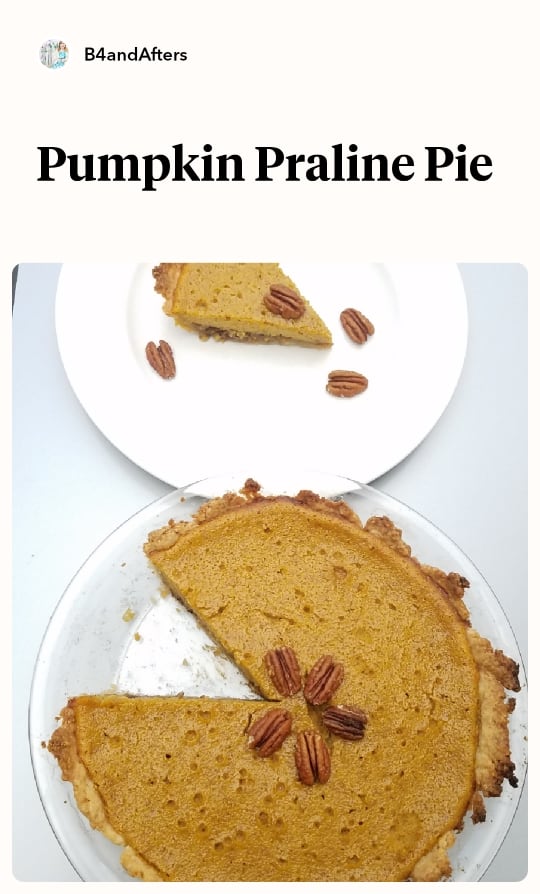 (*This post may contain affiliate links. By purchasing anything from these links, I may receive a small commission at no extra cost to you. More information is available on my Disclosure page.)
You can use a regular pie crust for this pie, but I used a different crust this time– and it tasted great!
I'd love to hear if you make this pie!
1
Inside your unbaked crust, press the pecan brown sugar mixture.
2
Bake it as directed. This keeps your crust from getting soggy!
3
Then pour the pumpkin mixture on top of the pecan bottom and bake as directed.
4
Mine was very airy and bubbly (I used whipped cream instead of half and half).
5
Two layers and it wasn't hard at all!
6
This was my first time making this pie and it was so good!
7
Let me know if you try this Pumpkin Praline Pie!
Here's the Recipe!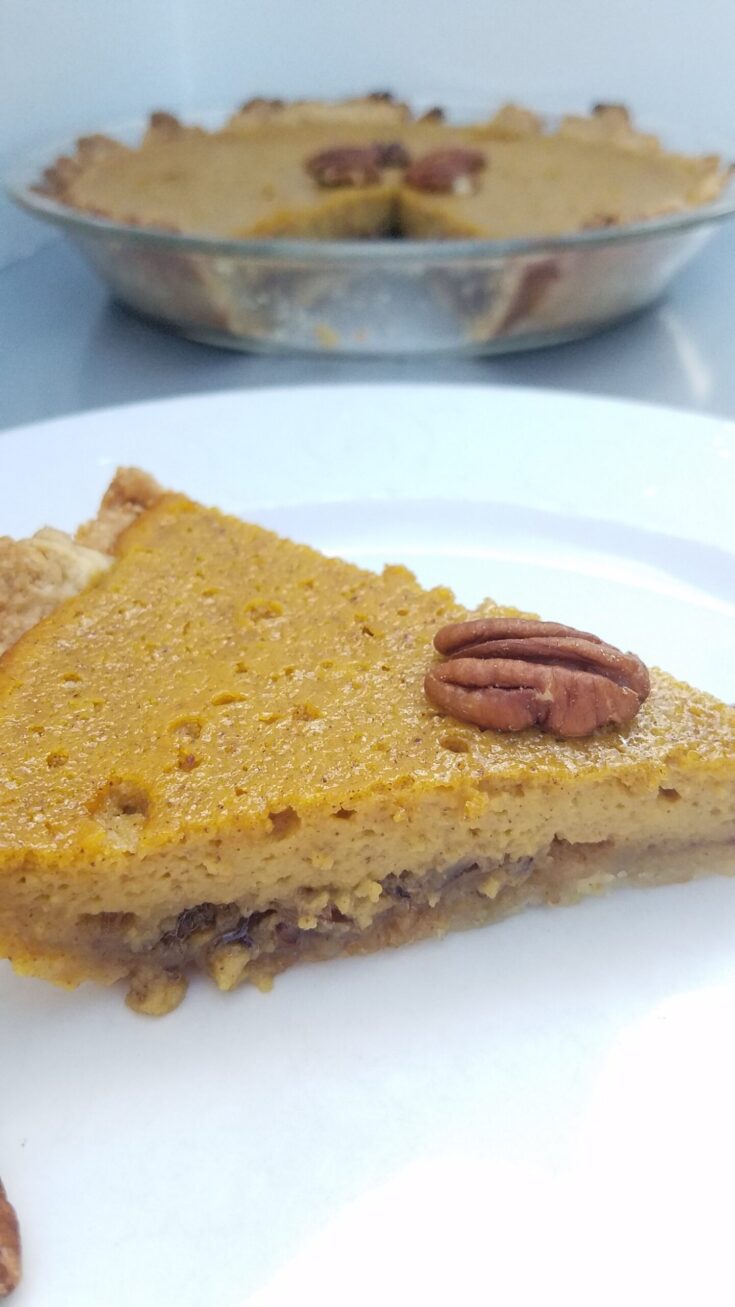 Yield:

8 slices
Pumpkin Praline Pie
Total Time:
1 hour
30 minutes
This delicious two layer pie is easy to make-- with a tasty, crispy crust. It's a great twist on the traditional pumpkin pie.
Ingredients
Pie Crust
1 1/3 c. flour
3 TBLSP sugar
1/4 tsp. salt
7 TBLSP cubed cold butter
3 TBLSP water
Pecan Layer
1/3 c. chopped pecans
1/3 c. packed brown sugar
3 TBLSP softened butter
Pumpkin Layer
2 c. pumpkin puree
3 eggs, beaten
1/2 c. sugar
1/2 c. backed brown sugar
2 TBLSP flour
3/4 tsp cinnamon
1/2 tsp. salt
1/2 tsp. ginger
1/4 tsp. cloves
1 1/2 c half and half cream (I used real whipped cream already whipped for a substitute)
Instructions
To make pie crust:
Mix flour, sugar, and salt. Then cut in butter and mix until crumbly. Gradually add water and form into ball, then roll out or press into a pie plate. Put fork marks into the sides of pie crust.

To make pecan layer:
Mix pecans, sugar, and butter. Press into the bottom of the pie crust. Bake at 450 degrees for 10 min. Cool for 5 min. on wire rack.
For pumpkin layer: Combine all ingredients except pumpkin and cream. Then gradually stir in pumpkin, and gradually add cream. Bake at 350 degrees for 45-50 minutes or until a knife inserted near the center is clean. Cool on wire rack. Garnish with halved pecans.