Cute Candy Corn Craft Idea
If you don't like to eat candy corn (or even if you do!), I have a Candy Corn Craft for you! If you do like candy corn, have you ever noticed that different brands taste differently? I was recently looking at the ingredients, and they really are different!
Anyway, I enjoyed creating this Candy Corn Pine Tree. I hope you like it, too! This would be a great way to use up that leftover Halloween candy.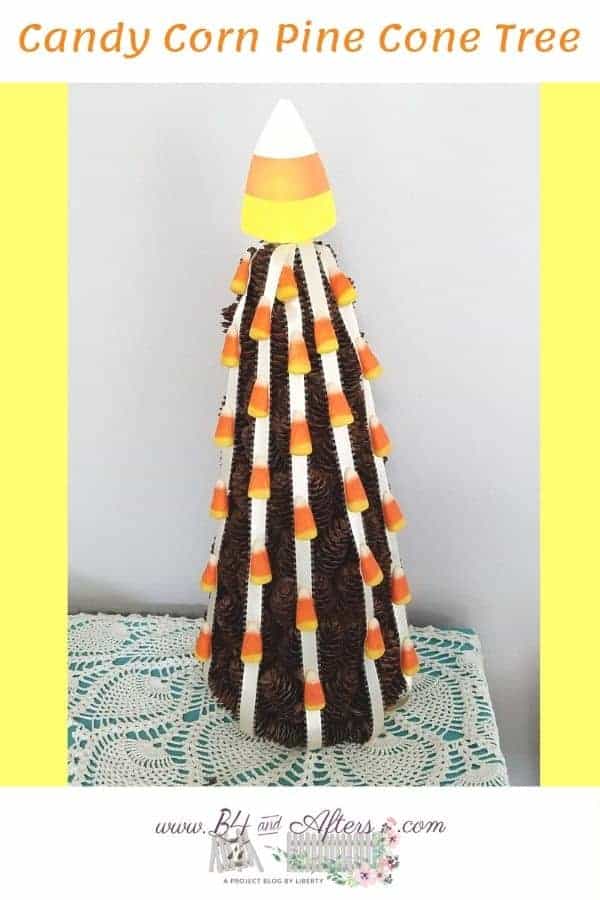 (*This post may contain affiliate links. By purchasing anything from these links, I may receive a small commission at no extra cost to you. More information is available on my Disclosure page.)
Candy Corn Craft Instructions
1
I wanted to decorate my pine cone tree with candy corn.
2
I tried hot gluing it to some jute string, but the corn flipped around and didn't look right.
3
I tried gluing the candy corn on in a different direction, sure that would work, but it didn't.
4
So I finally glued the corn to ribbon instead. Success!
5
To keep the ribbon from unraveling, I hot glued the end.
8
And folded it again. No need to worry about unraveling now!
9
I put a pin through all of the ribbons,
10
And secured the pin to the top of the tree.
11
Here is a closeup of the candy corn ribbon!
12
I had a topper given to me years ago as part of a fall bouquet. It matched perfectly!
13
Candy corn…. or Indian corn? Thanks for watching! (I'd love it if you visited my blog for +ideas!)