Orange Salad
This post contains links to affiliate websites, such as Amazon, and we receive an affiliate commission for any purchases made by you using these links. We appreciate your support!
I have liked this Orange Salad since I was a child. I made a big batch recently for a ladies luncheon– which is why you see a huge amount of ingredients!! But don't worry, the recipe below is for a normal sized batch.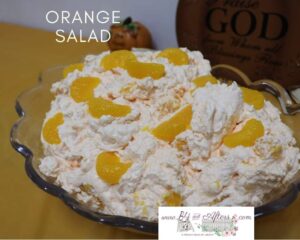 This orange salad combines two ingredients that you would not normally think of combining–cottage cheese and Cool Whip. Now before you think that this must be really gross, just try combining a spoonful of each of the five ingredients and tasting it. You might be surprised!
Orange Salad Ingredients Before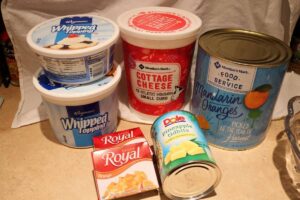 [sc name="This Post May Contain Affiliate Links"]
As you can tell, I don't mind purchasing off brand ingredients. I was not shopping at my usual store, and I had never used that brand of jello before….so I recommend that you stick with the brands you are comfortable with.
This dessert salad is super fast and easy to make. First, stir together the cottage cheese and Cool Whip. I normally prefer real whipped cream to Cool Whip, but in this recipe it will not work. You need the consistency of the Cool Whip to help the jello set.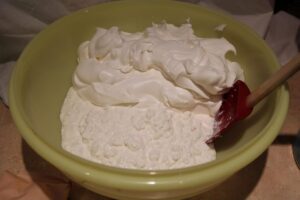 Next, stir in the jello. Since I had tried a different brand of jello than normal, I was surprised how "not orange" the color was.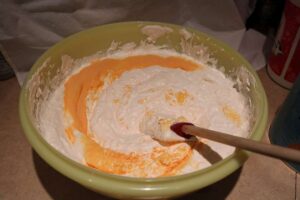 So I added food coloring. But normally I do not add food coloring to this recipe. It's up to you if you want to add any.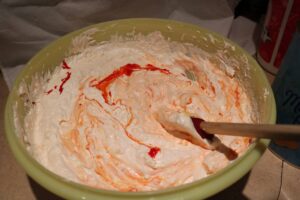 Lastly, stir in the pineapple and mandarin oranges. Remember, the amount you are seeing below is one and a half times as much as a normal recipe makes.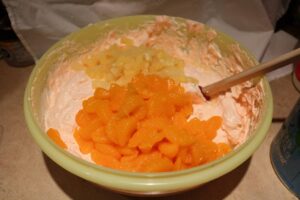 Here it is all mixed up.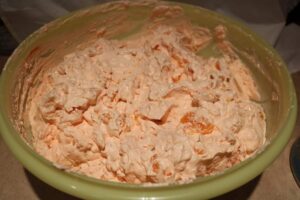 I put it in a pretty serving dish, and added extra oranges to make it pretty.
Orange Salad After!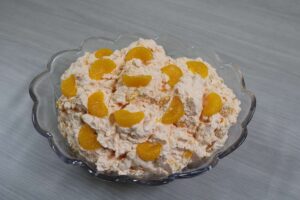 So what do you think? Have you ever made or tasted a salad like this?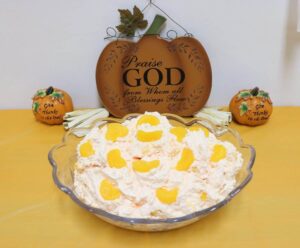 I recommend making this salad just an hour or two before you are going to serve it. If it sits overnight, it will get watery and will not remix together very well.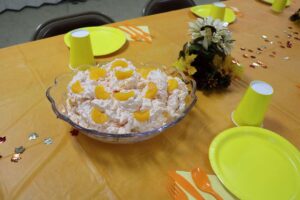 I have made this recipe using green/ lime jello instead of orange. It was pretty and fun.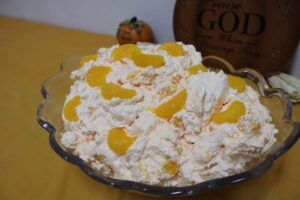 Orange Salad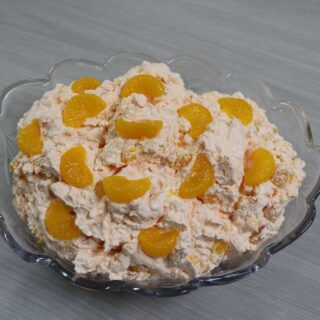 This easy-to-make simple salad with fruit and jello is refreshing– the kind you would find on a restaurant's salad bar.
Ingredients
1

large carton cottage cheese

24 oz. (I use small curd 2% or 4% milkfat.)

1

large

16 oz carton Cool Whip

1

large pkg

6 oz orange jello

1

large can

22 oz chunk or tidbit pineapple, drained

1

can

22 oz mandarin oranges, drained

Food coloring

optional
Instructions
Mix first two ingredients.

Stir in jello powder.

Add food coloring if you wish.

Stir in drained fruit.

Serve immediately, or refrigerate no more than a couple of hours.

Do not let sit overnight before serving, or it will get watery. Even if you stir it up, it will still be a little "sloppy."

Do not substitute real whip cream for the Cool Whip– it won't set right.

Use lemon, lime, or other flavors of jello for a change of pace.