After our beadboard basement ceiling was finished, I had a bunch of pieces of scrap beadboard to use for crafts. I made some Fall signs, and now I have made a Christmas one! I hope you like how I did it, and that it inspires you.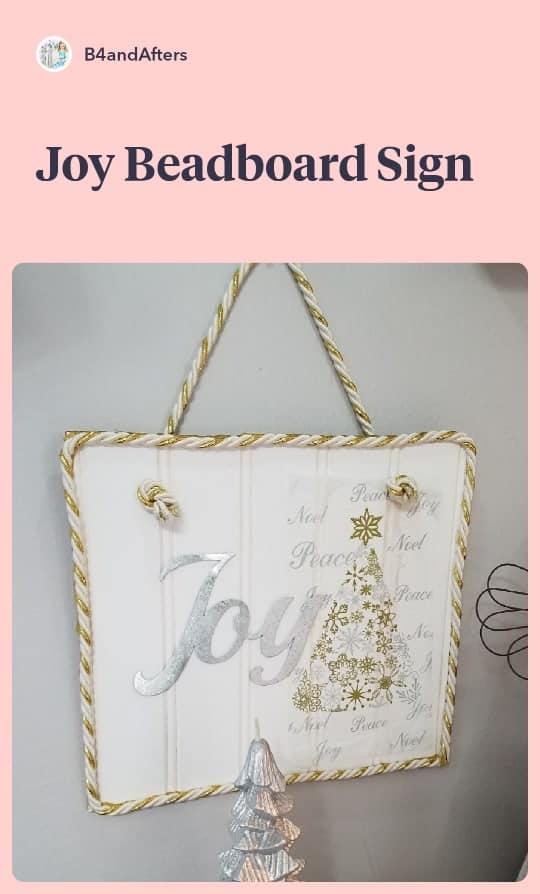 (*This post may contain affiliate links. By purchasing anything from these links, I may receive a small commission at no extra cost to you. More information is available on my Disclosure page.)
What Can You Make with Leftover Beadboard?– how about a Beadboard Sign!
1
I started by using mod podge to adhere the top ply of a napkin to my beadboard.
2
I used hot glue to add cording around the edge, drilled holes and knotted the cording for a hanger.
3
The top edge looked unfinished so I applied gold glitter hot glue. It could just be painted white.
4
It dried quickly, because it was hot glue.
5
I also used hot glue to apply my metal word from the Dollar Tree.
6
My sign turned out so cute!
7
I love how it looks at my coffee station.
More Details
I bought my words when they used to be available at the Dollar Tree. I haven't found any at a store in awhile. Although you can order online from the Dollar Tree, if you do they have a minimum order of 4-25 pieces depending on the item. I could not find any words on their site at the time of this writing. I did find some on Etsy, though!
These words are very popular with crafters and non-crafters alike, so I do hope the #dollartree brings them back soon!
Cutting Beadboard
If you need to cut beadboard for a sign, you can use a jigsaw. I like using ours for small jobs like this.
Christmas Tree Shaped Candles
I just love candles in pretty shapes, don't you?! Whether they are pine tree shaped, pine cones, or super fancy carved candles, I love them all!
Paper Plates
Aren't those Hark the Herald Angels Sing paper plates so pretty? I don't think I can bear to eat on them!
Pretty Napkins
Tuesday Morning has a beautiful selection of paper napkins. You can also find seasonal ones at Hobby Lobby and even Walmart.
Gold and White Cord
I was blessed to get my white and gold cord given to me. But if you need some you can find it here.
What About You?
Have you had time for crafting lately, or is regular life keeping you too busy? If you have been creating something, what are you making? I'd love to hear about it!