Dollar Tree Oval Platter Embroidery Hoop Wreath
This post contains links to affiliate websites, such as Amazon, and we receive an affiliate commission for any purchases made by you using these links. We appreciate your support!
I've been wanting to make this Oval Embroidery Hoop Wreath for 5 years…. ever since I picked it up at a thrift store! When I found these oval platters from the #dollartree, I knew they would be perfect for this wreath.
As you can probably tell, this hoop is HUGE! That's why I liked it so much! I have a smaller oval one, too.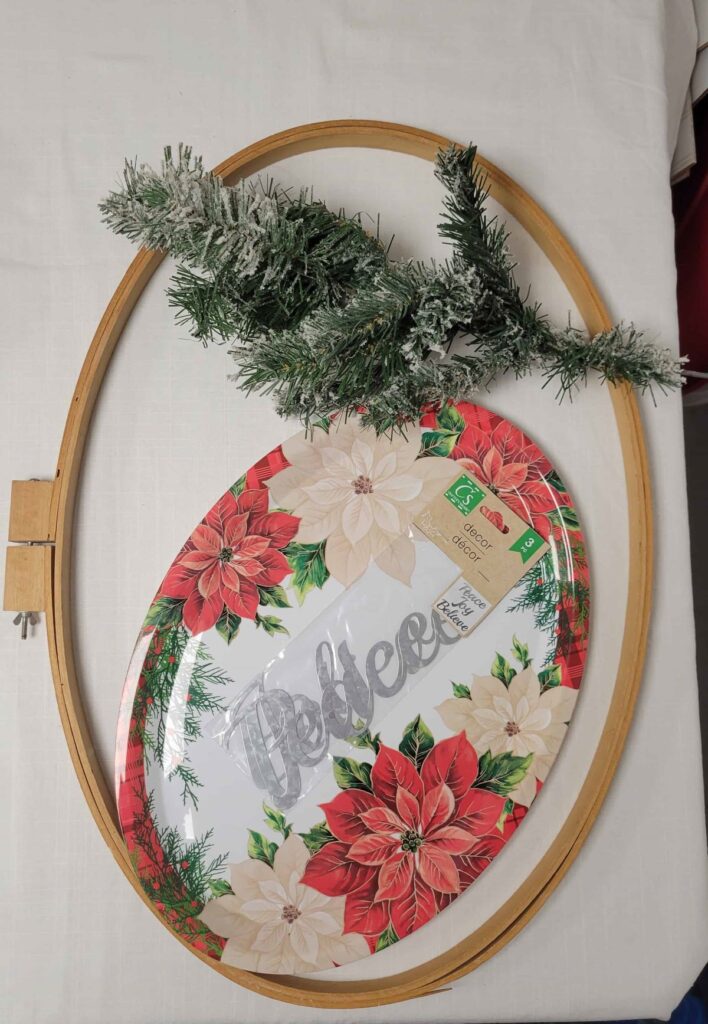 My 9 year old son assumed I would drill a hole in the platter to hang it– and I decided that was a good idea! So I did.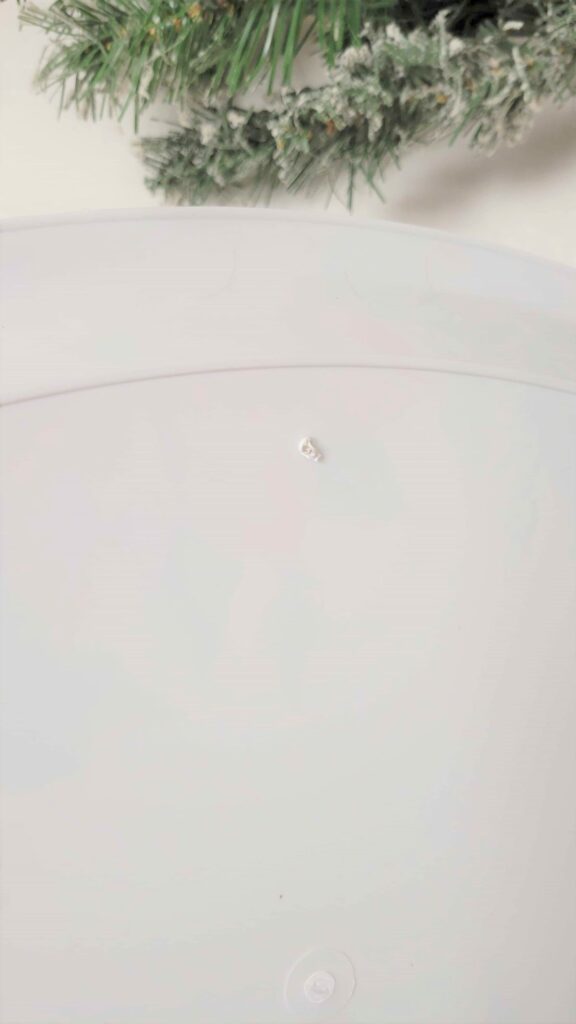 I used a ribbon to tie it to the wooden part of the wreath.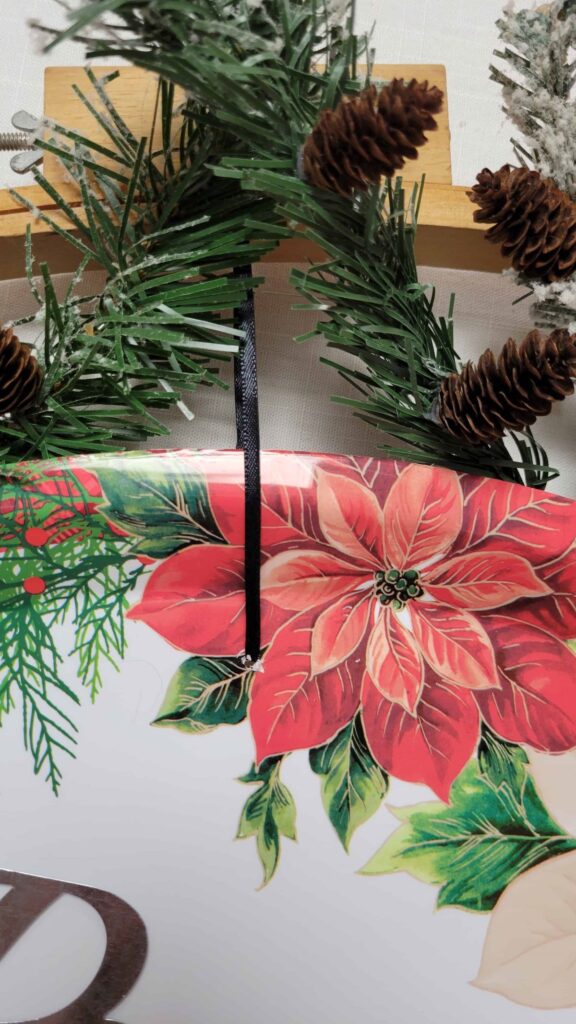 I used hot glue to attach this #metalword from the Dollar Tree to the platter. But I have to tell you that hot glue just doesn't always do the trick, especially when there are temperature changes from warm indoors and cold outdoors, like there are on a door. To really secure this metal word, I should drill holes and use little bits of wire to tie it on.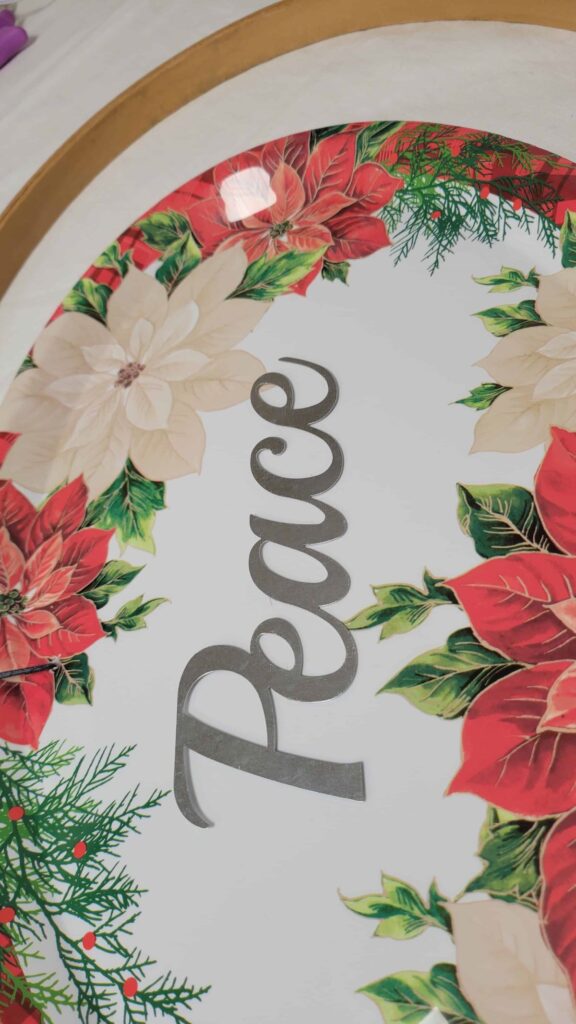 I used hot glue to attach faux flocked greenery (salvaged from an old Christmas tree) to the back of the platter…. again– not the best attachment method. The sun likes to melt my hot glue on my wreaths…. sigh. Oh well! Either drill holes and attach with wire, or use a better glue like E9000.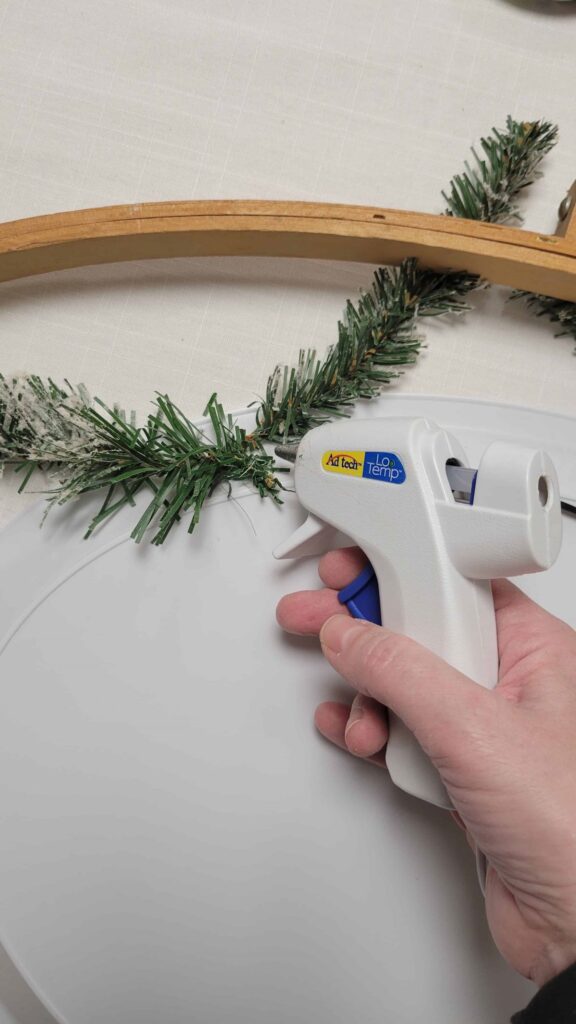 In Progress…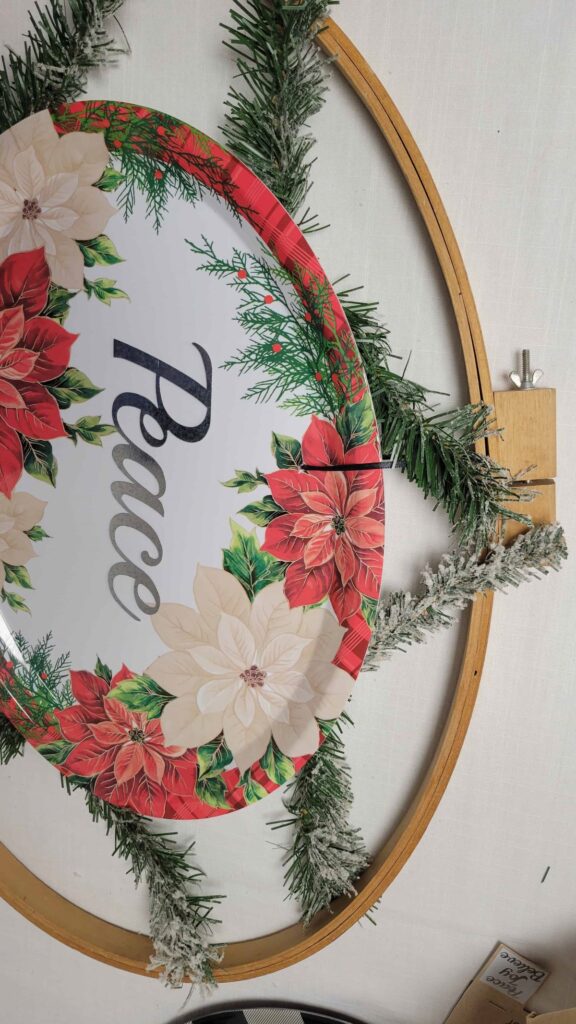 These little pinecones that a friend and I salvaged were just perfect for this wreath! And hot glue was the right method for attaching them. : )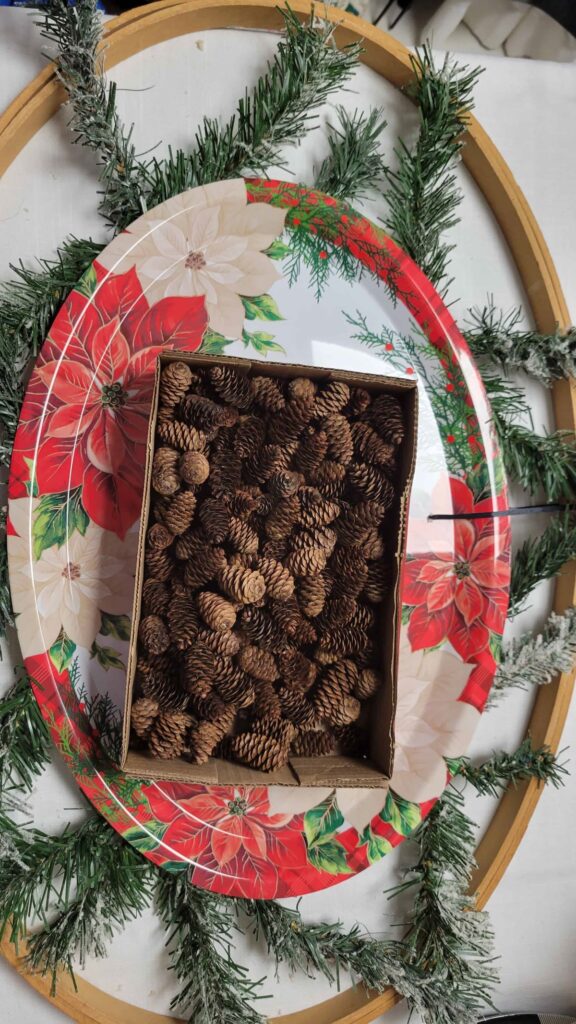 I added a whole bunch of them. It's nice to have free materials from nature to use as much as you like!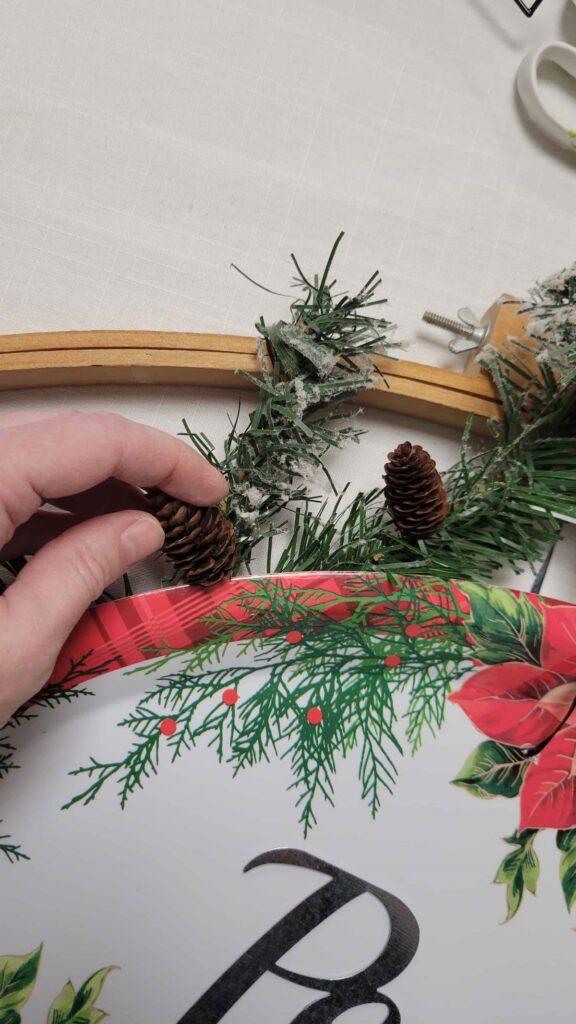 Then I hung it on the door using my Easy Way to Hang Wreaths on Exterior Doors method.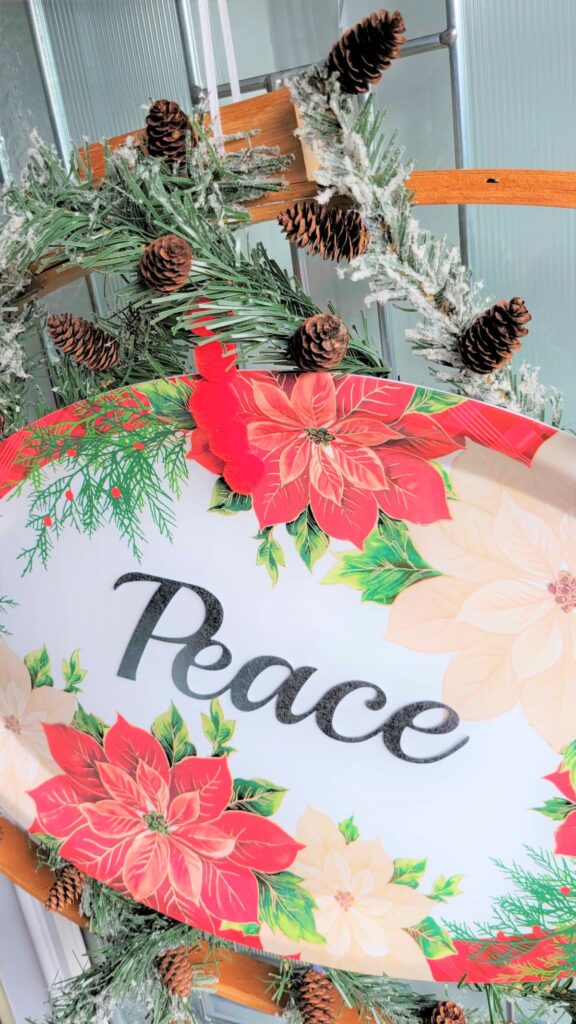 Then I realized that the wood could use some cleaning up. This is the wood before I added Lemon Oil to it.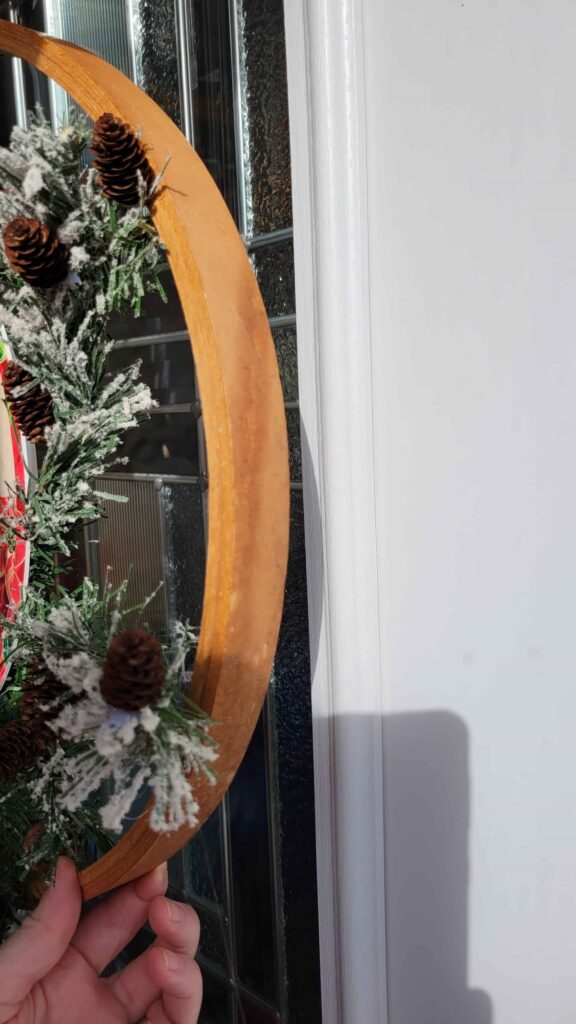 And this is the wood after. Doesn't it look so much richer and happier?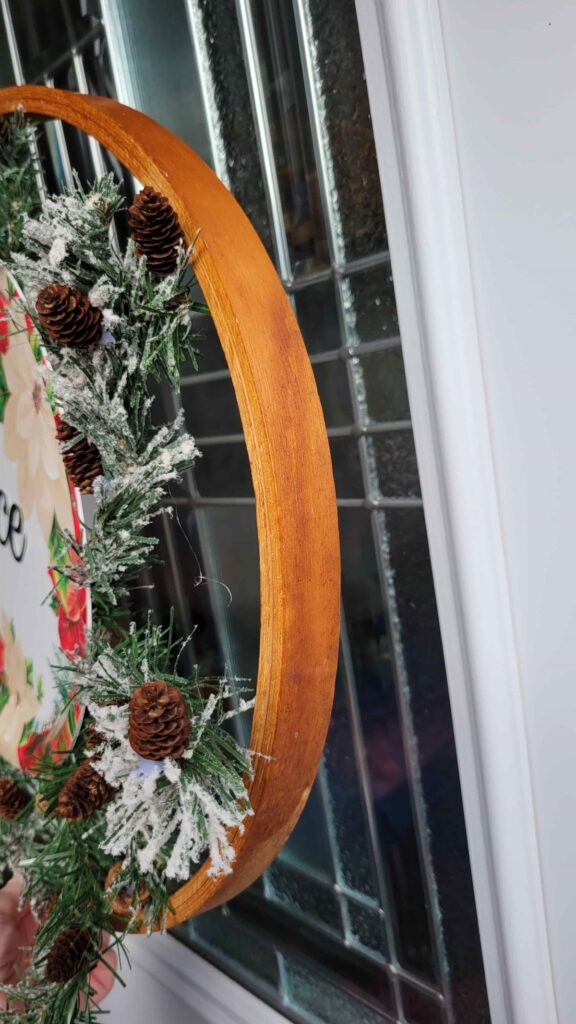 I added little red pom poms on top of the black ribbon with…. some hot glue. Didn't my wreath turn out fabulous?? Have you ever made an embroidery hoop wreath?