Strawberry Shortcake Doll Princess Cake
This post contains links to affiliate websites, such as Amazon, and we receive an affiliate commission for any purchases made by you using these links. We appreciate your support!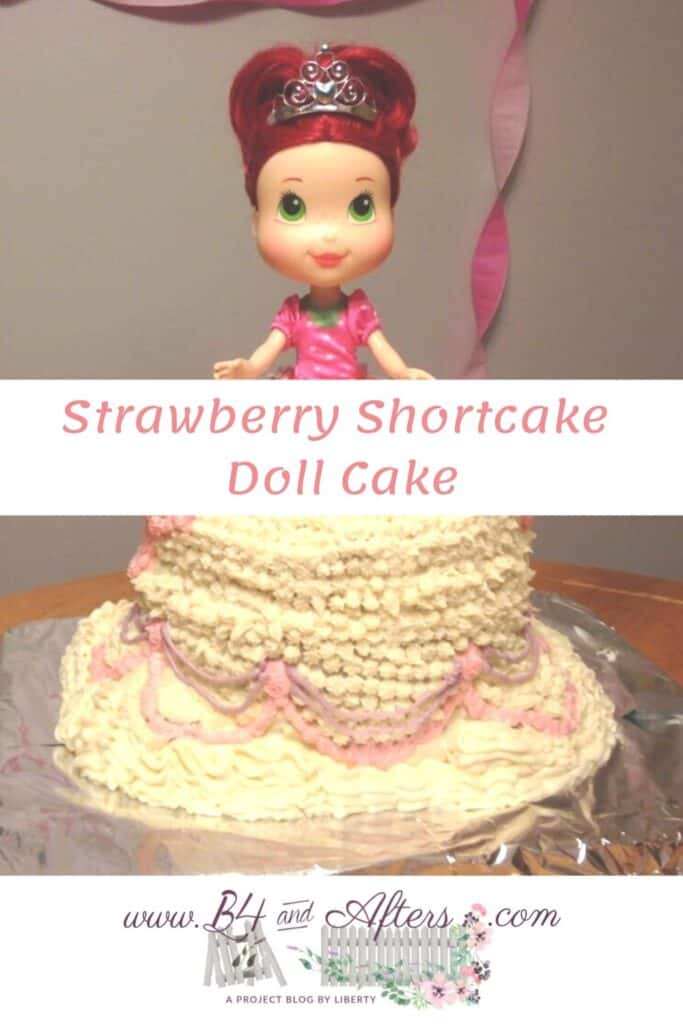 For my daughter's fourth birthday, I wanted to make her a doll cake. I didn't make a Barbie doll cake, but instead it was a cake using her Strawberry Shortcake doll.
Before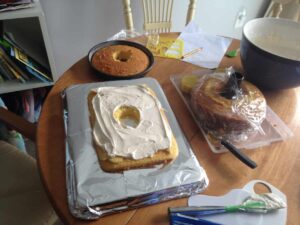 (*This post may contain affiliate links. By purchasing anything from these links, I may receive a small commission at no cost to you. More information is available on my Disclosure page.)
I used a 9×13 cake, a tube cake, and a round cake. I cut holes in the center of the cakes that needed holes. I wrapped the doll in plastic wrap so that she wouldn't get frosting on her body or in her hair. My daughter's birthday is in July, the house was probably warm, and my homemade frosting was melting. I think at some point I did realize that I needed to put it into the fridge, so that helped. But I did still have some trouble…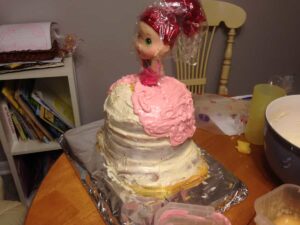 I used this video as a guide of how to decorate the doll cake.
At this point, I was so afraid that it would turn into one of those fabulous "Pinterest Fails"! But I kept on frosting.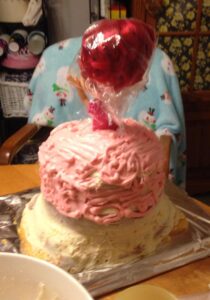 I followed the video's advice and drew out the design that I envisioned. This was my first time trying to make a doll cake– and I haven't made another one since—But I have had a lot of practice with other cakes since then, so it would probably be easier now.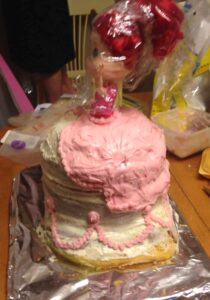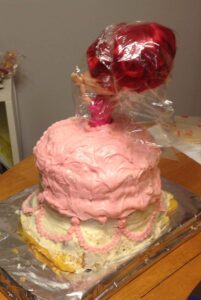 I drew on the cake with a skewer like the video suggested, to center the dress's ruffles at the bottom.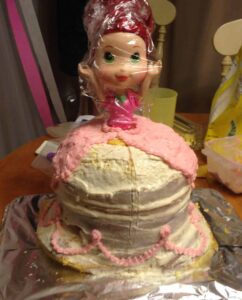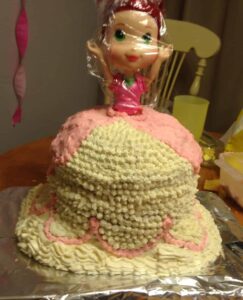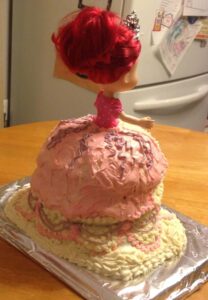 In the end, my first attempt at a doll cake turned out okay! It's always hard to cut into a cake after spending so much time and work on it. My daughter liked the cake, and it tasted pretty good. My goal was accomplished! Have you ever attempted a doll cake?