(*This post may contain affiliate links. By purchasing anything from these links, I may receive a small commission at no cost to you. More information is available on my Disclosure page.)
I have a Simple Human brushed stainless steel trash can* that I love.
I found it by accident at a local auction for $11. It didn't look like it had ever been used. I love it because the lid closes noiselessly. I like it because
you can pull out the inner plastic trash holder to take out the full trash bag. And then, when you put the new kitchen trash bag inside, it has a hole with slits where you can attach the bag in tightly so that the bag is not hanging out of the lid opening. The bag has never fallen into the trash can because of this, also!
Inevitably, food will get on the inside of the lid, underneath. I had this bright idea to make it easier to wipe off. My idea also makes it pretty when you open it…..
BEFORE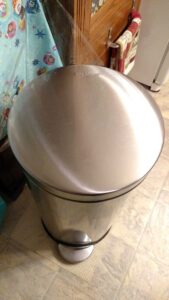 I added leftover contact paper to the inside of the trash can lid! It coordinates with what I used on my light switch covers. Dried on food wipes off of the contact papered lid so much easier than it wiped off of the metal surface. The pattern of the contact paper also helps hide any food splatters so you don't notice it like you would on the bare metal. This contact paper also coordinates with my pantries, the top of my butcher block counter coffee station, and the back of my over-the-microwave cabinet (all of which are future posts…).
AFTER!!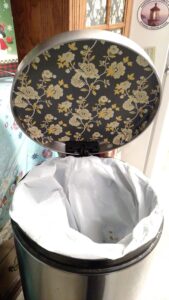 It is a bright, fun thing to see instead of focusing on the ugly trash inside the can….
SaveSave
SaveSave
SaveSave
SaveSave
SaveSave
SaveSave