Organizing Bookshelves with Decorative Boxes
Have you ever wondered if there was a way that you could make your bookshelves look a little less cluttered without getting rid of anything? Today I bring you a way to organize your bookshelf that you may not have thought of before now. Here is my bookshelf Before: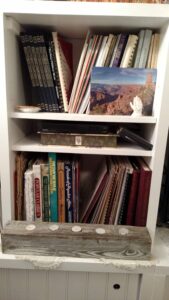 (*This post may contain affiliate links. By purchasing anything from these links, I may receive a small commission at no cost to you. More information is available on my Disclosure page.)
Yes, I made the tea light candle holder from one of my old fence posts; but that is another story for another day. Focus on all of the sheet music sitting directly behind the repurposed candle holder, right about in the middle. I am going to show you a way to make it look a little better. Every little bit helps, right?
What you need is a cat. First, take out the sheet music. Then, install the cat. Ta-dah!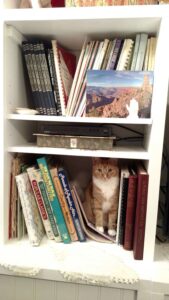 I'm sorry; I just couldn't help myself! I hope you think that is as funny as I thought it was…. Our cat is always on hand to "help" with my projects…..
Back to the project of decluttering the shelf. I was out shopping when I saw this big, hollow, storage book box.* I am attracted to the green, blue, and purple side of the color wheel when I am shopping. This one has all three of those colors! I don't have a lot of space to decorate with knick-knacks. I needed to think of a practical purpose for this storage box. Thankfully, I did think of a couple of ideas to be able to organize my shelves better. Here is the front of the box that I bought: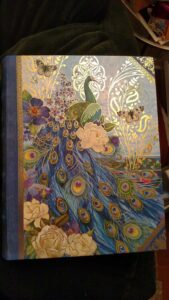 And here is the spine: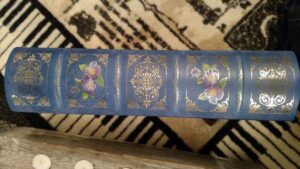 I bought it, thinking that I could fit one large book inside of it. That would have worked, except that the storage book was too tall for the shelf that I would have put it on. Then I thought of my sheet music. This sheet music is mostly Christmas piano music and other things that I don't use very often. The box was the perfect size! A LOT of sheet music fit into it.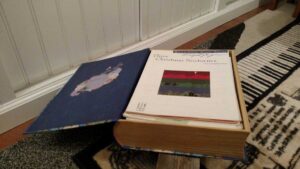 And here is the real AFTER!!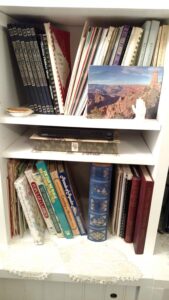 Or did you like the one of the cat better? : ) Do you see the other decorative box on the middle shelf under the DVD player? It holds part of my postcard collection…it was a box that held a set of stationery paper and cards. I really like those decorative boxes…. The nesting ones* are so cute, and the ones with inspiring quotes on them…. They make great keepsake boxes. I will show you some more of mine in a future post…..


SaveSave
SaveSave
SaveSave
SaveSaveSaveSave
SaveSave
SaveSave
SaveSave
SaveSave