Spray Painting a Metal Accent Table
This post contains links to affiliate websites, such as Amazon, and we receive an affiliate commission for any purchases made by you using these links. We appreciate your support!
Someone was moving and downsizing, so they gave away this metal accent table, which was then passed on to me. I suppose that it may have been a plant stand.
Before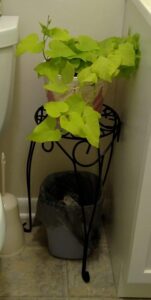 (*This post may contain affiliate links. By purchasing anything from these links, I may receive a small commission at no cost to you. More information is available on my Disclosure page.)
I put it in my bathroom, and I put a plant on it. It was convenient for the trash can to be underneath it. I had thought I would paint the table white, but after it stayed black for a very long while, I finally decided on lavender. I used what has become my favorite spray paint– Rustoleum's Ultra Cover 2x Glossy Spray Paint in lavender. It only took a few minutes to spray it all over, and it dried quickly. I love color, and this accent color works great with my upstairs bathroom! I had to move the plant because of the cat, so then it became a good place for the tissue box.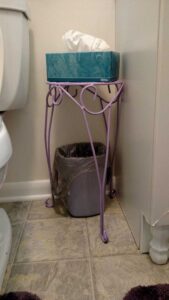 On Mother's Day I received this begonia from church. I set it in this wooden decorative box. I love all of the colors together! I love color so much more than neutrals. Neutral colors have been in style for awhile, and I'm glad to see hints this year that other colors are coming back around.
AFTER!!