Pink and Gold Christmas Dining Room
This post contains links to affiliate websites, such as Amazon, and we receive an affiliate commission for any purchases made by you using these links. We appreciate your support!
Last year I decided that I wanted to use pink and gold in my Christmas Dining Room this Christmas. I'm not normally a pink kind of girl, so why in the world would I choose that color?
Well….. because of this.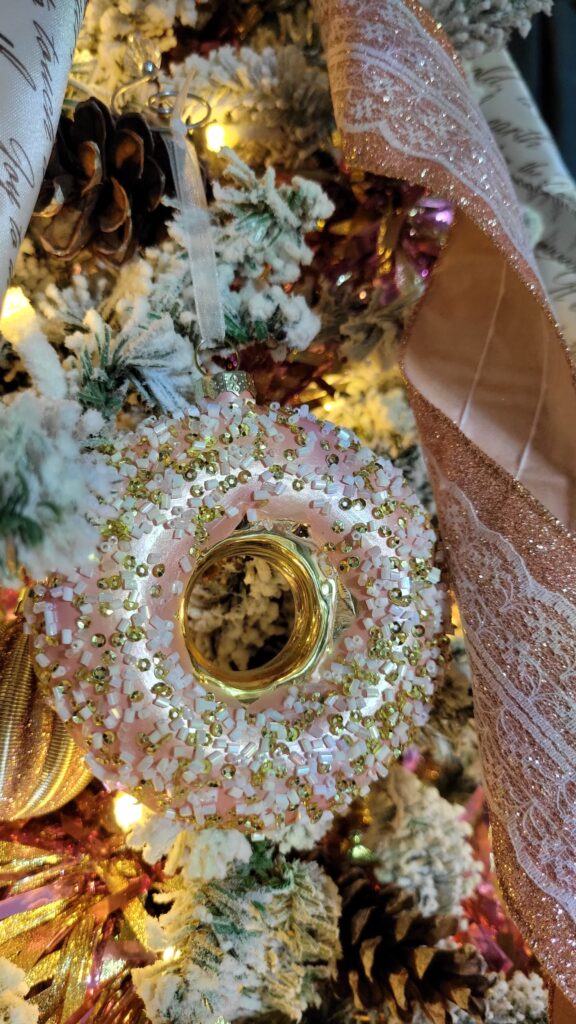 Yes, that is a pink donut. That is a gold and pastel coral pink glass donut ornament. And I have two of them! They were given to me by #KingofChristmas at a conference I went to last summer. (Sadly, they are now sold out!!)
So when I was shopping the after Christmas clearance, I found everything that I was going to need! I found coordinating ribbon, and even these lovely vintage bell ornaments at a thrift store for $1 apiece!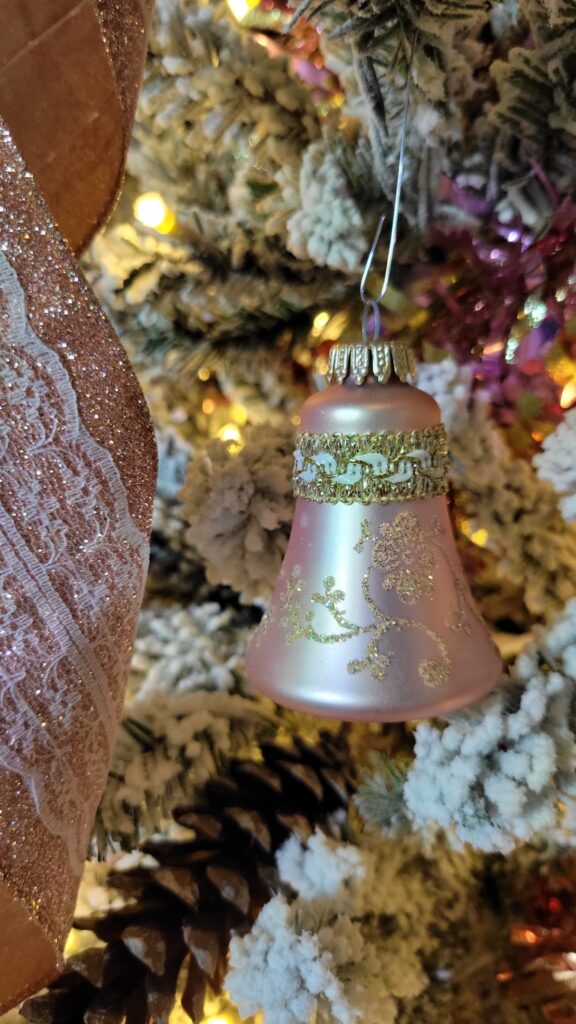 Aren't they so sweet and romantic?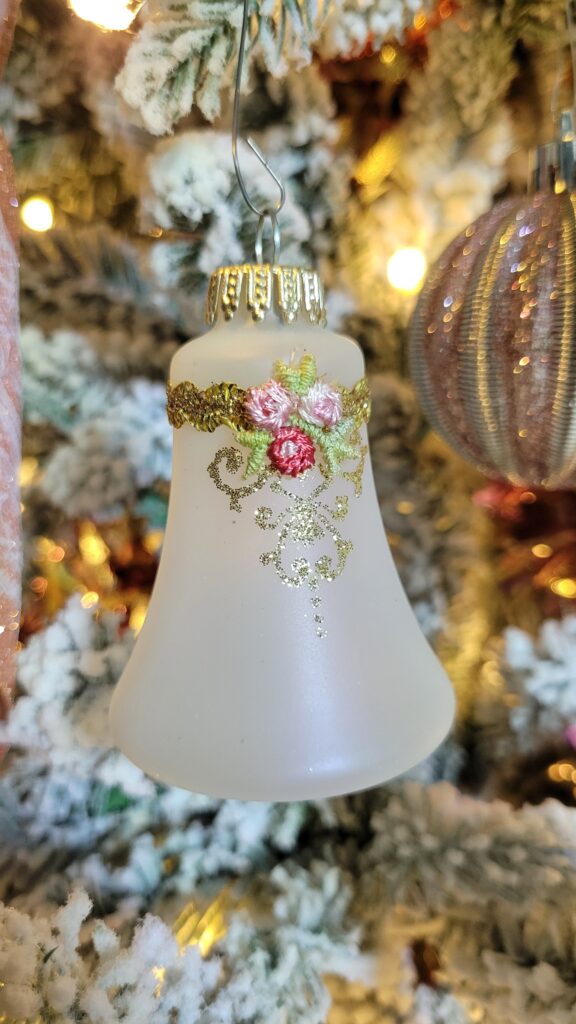 (Remember to watch the video because you can see the donut and bell ornaments so much better than in these photos.)
There were several elements to get this Christmas Dining Room to come together. And there is easily more than one Star of the Show! In no particular order there are:
The Tree

The DONUT ornament
The DIY topper

The Wreath
The Garland
The mini trees
The Table
Have you ever looked around your house, wondering what you can use for a Christmas tree topper? Well, I happen to have several different varieties of dried flowers and grasses and stems around my house….. So when I saw my dried hydrangeas, I hoped it would be perfect– and it was!
Plain Dried Hydrangea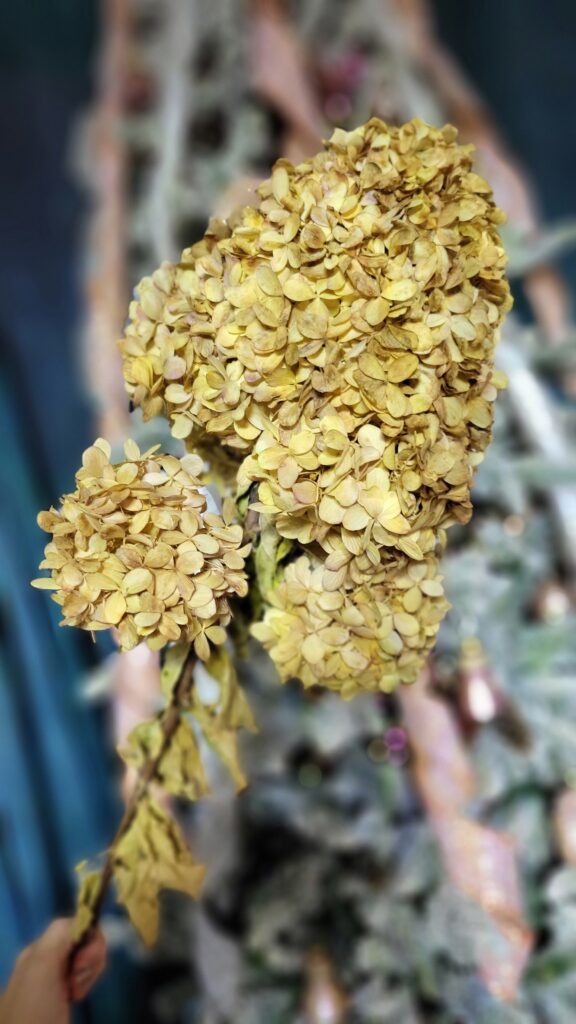 You can spray paint a hydrangea to be any color you want– and to match any Christmas color scheme that you dream up!
*Tip: If you want a pastel color like I did, then spray paint the hydrangea white first. Then, spritz a little of your base color over the white.
Painted Dried Hydrangea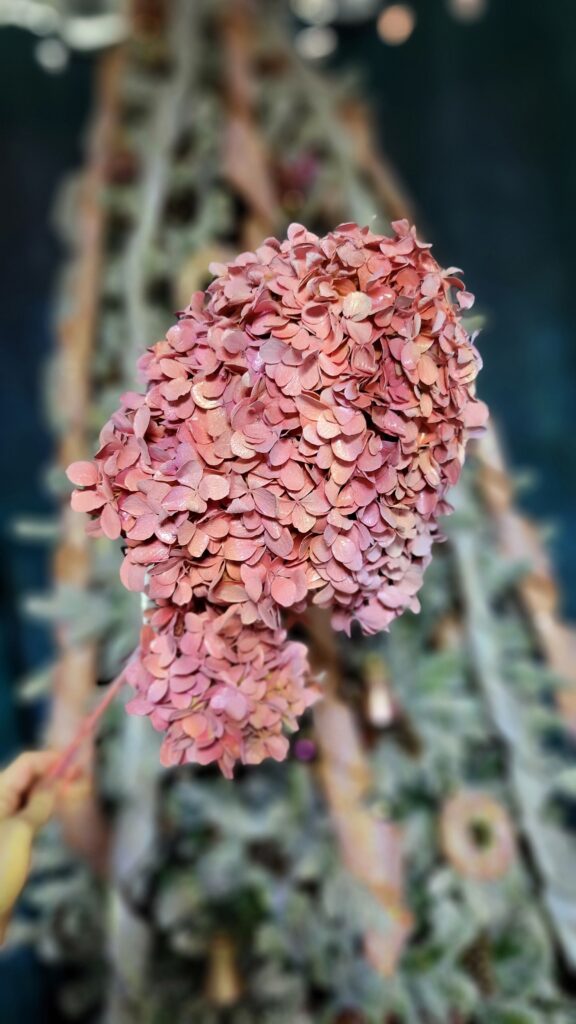 DIning room table setting
Since this is a Christmas dining room, of course I had to set the table to match. Now, I do have some special Christmas dishes, but since my color theme is pink, I left my pink dishes in my hutch. And I used them on my table.
This plate is special because it belonged to my great grandmother.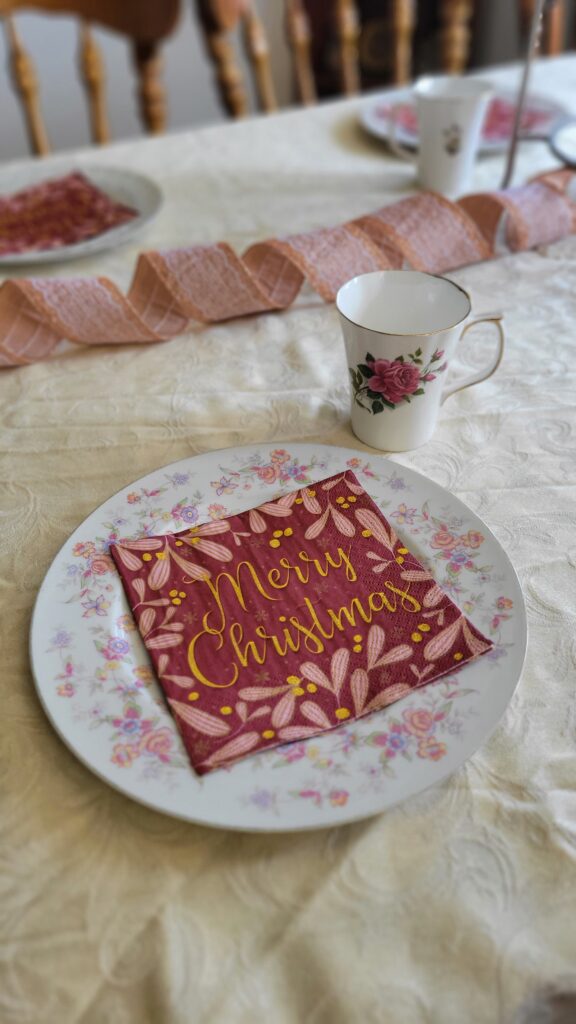 And yes, I found Christmas napkins in a pink theme!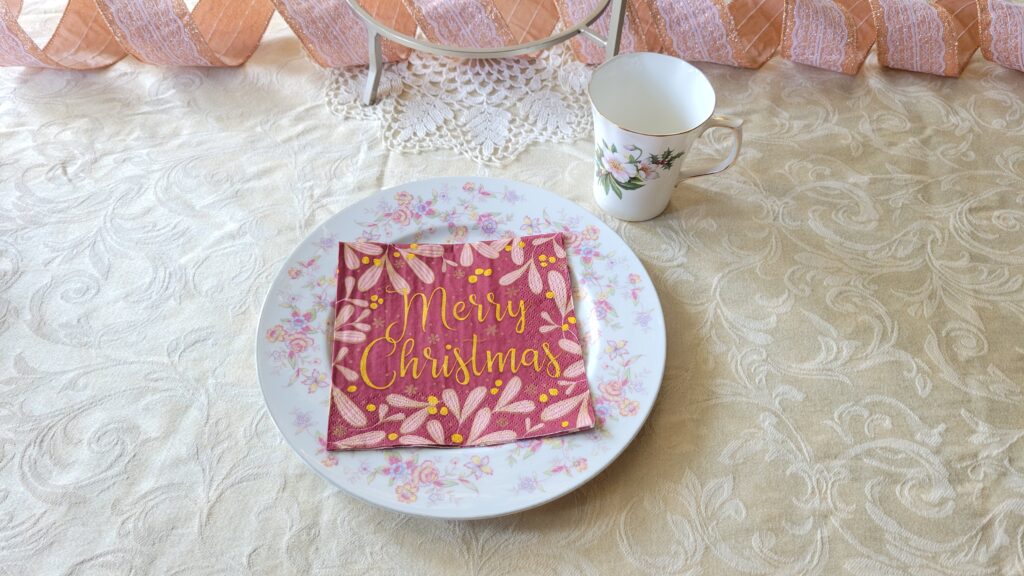 The centerpiece was easy to put together using a tiered tray.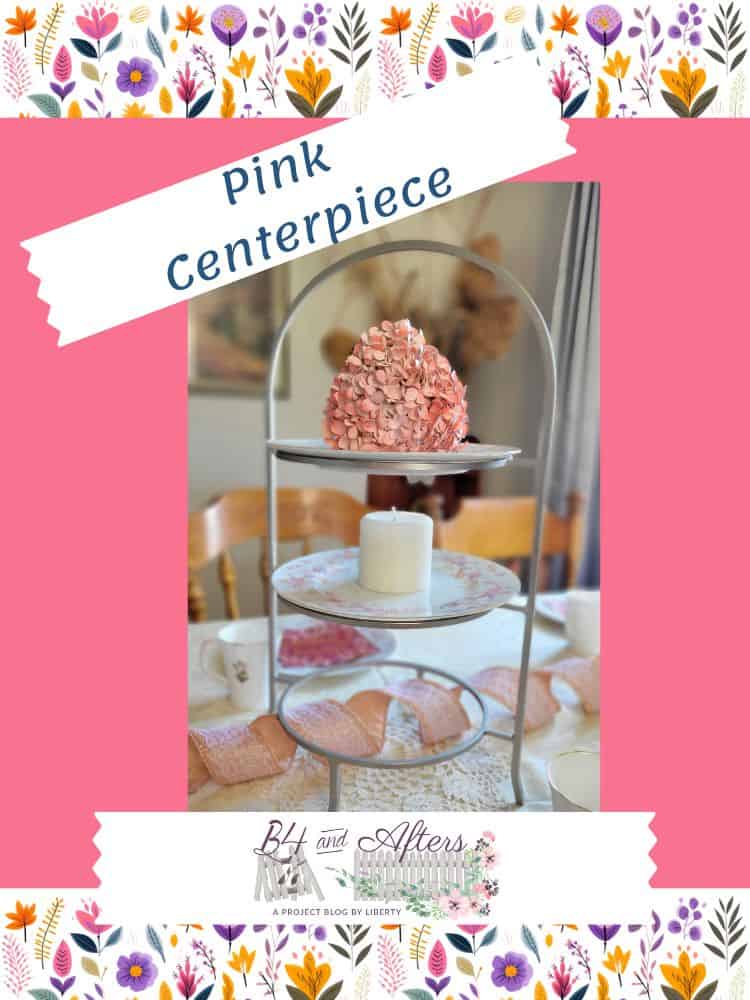 The table.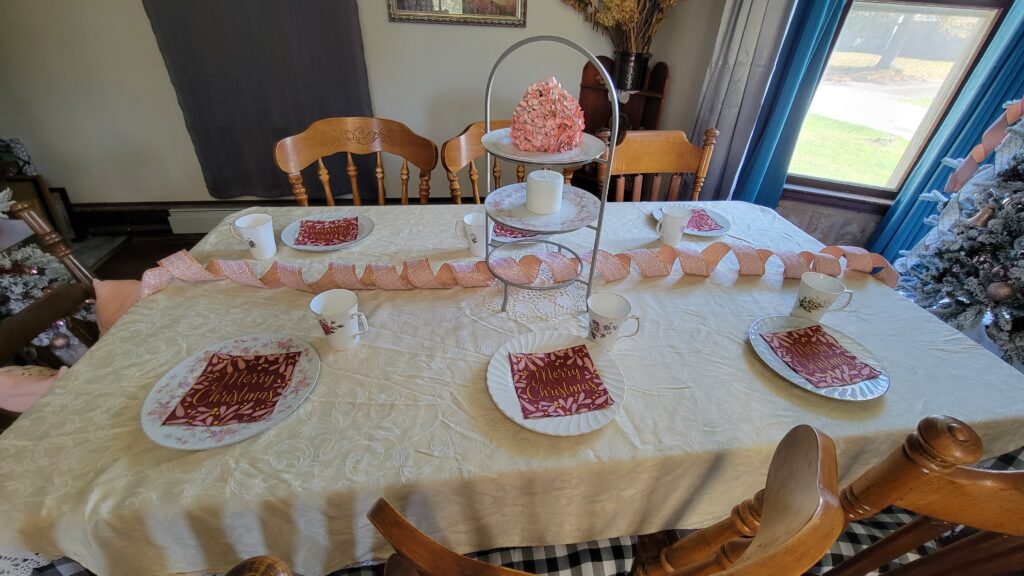 I do not have an open concept house, and I like it that way. So I have a door, actually two doors to my dining room. You can read about the wreath that I hung on one of the doors here.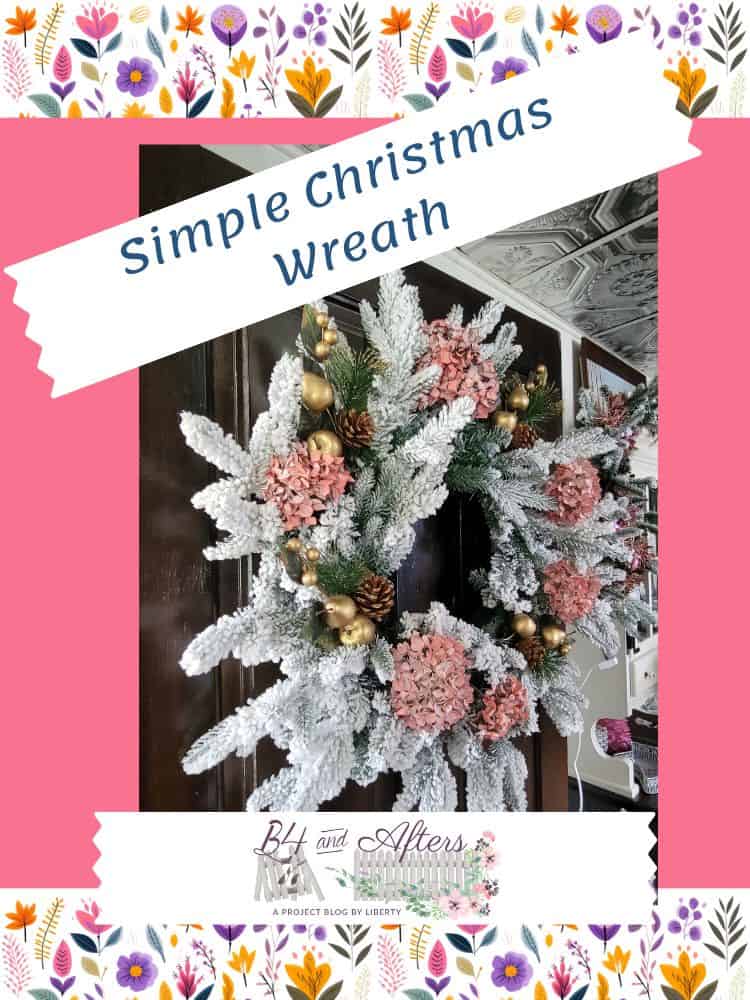 Our cat thought that I put the tree skirt there for her. : ) Thankfully, she does not bother the tree at all! Maybe because she's nine?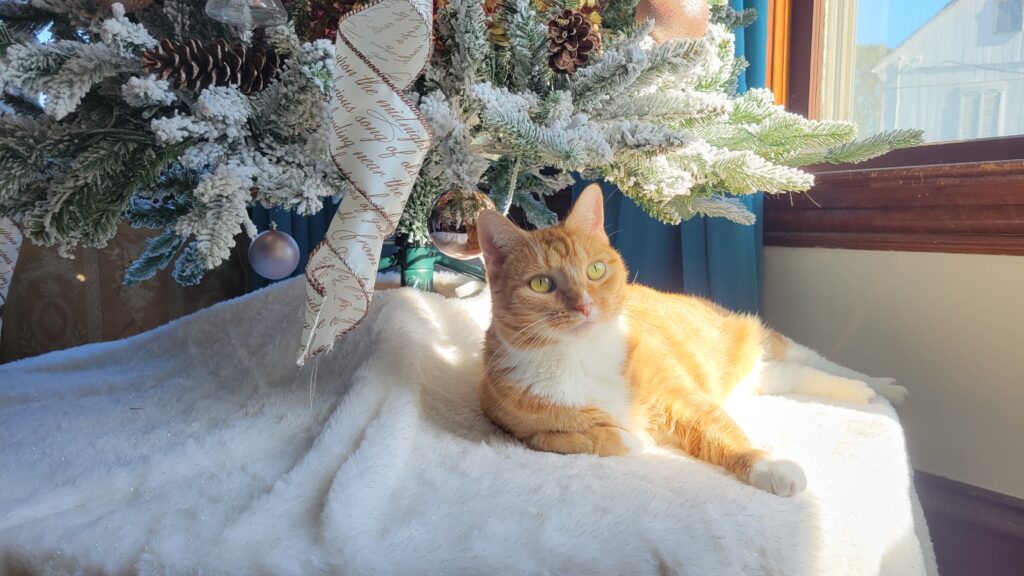 The words on the ribbon are to the Christmas song, "It Came Upon a Midnight Clear."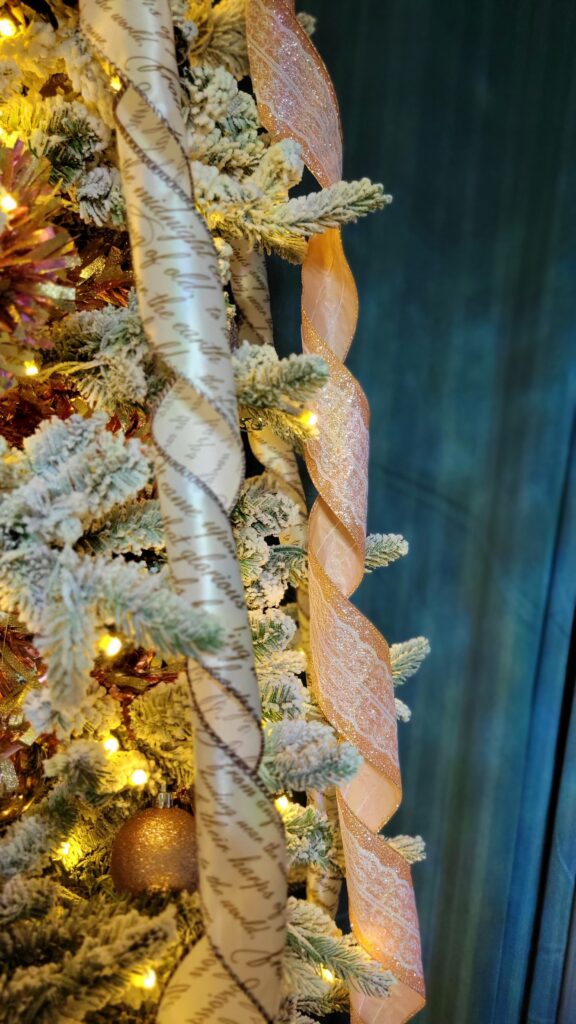 Here's the tree in all of its pink glory!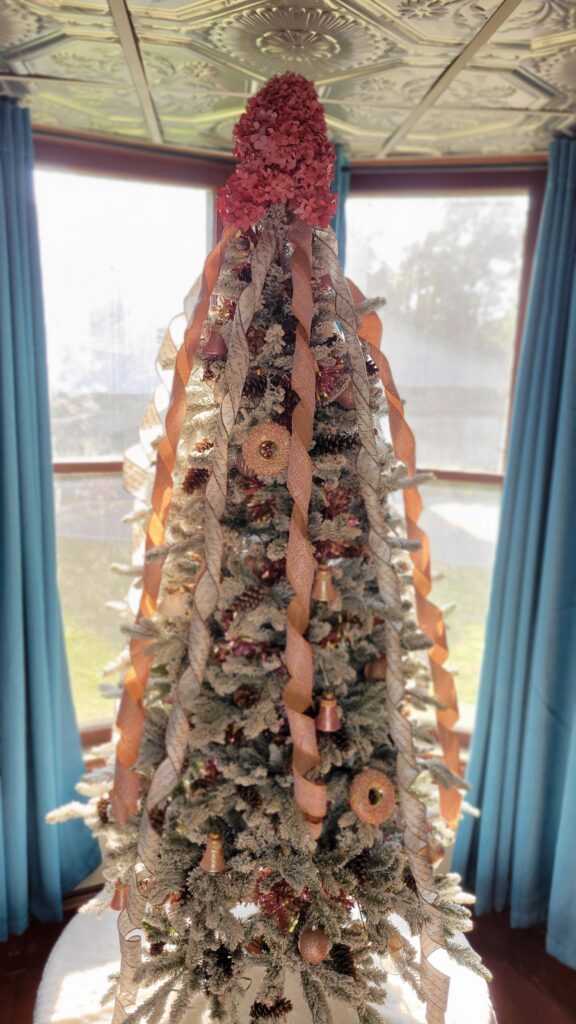 And here is the hutch in the opposite direction.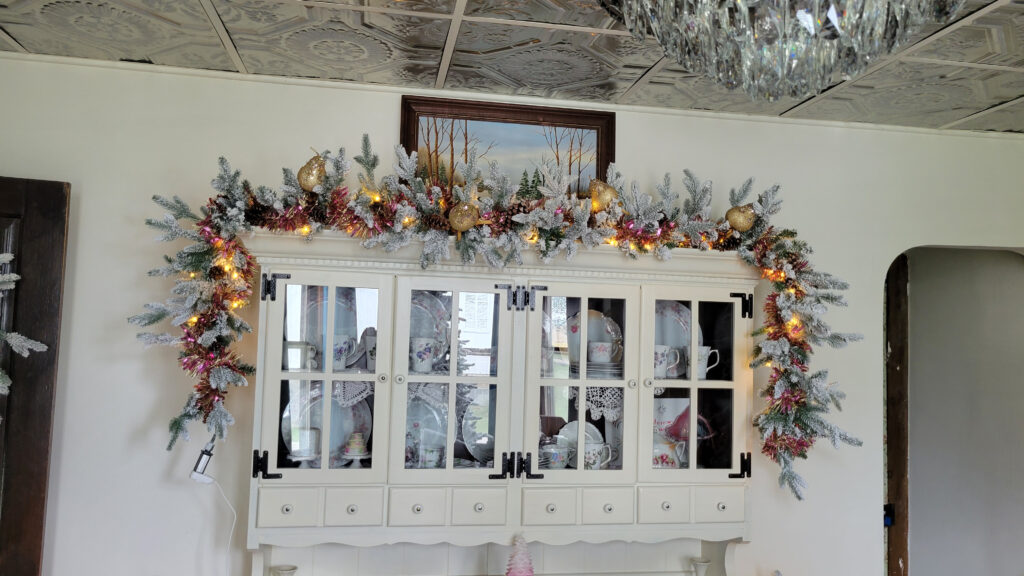 The hutch all lit up at night…. These 4 pieces– the garland, wreath, and 2 miniature trees are included in the Garland set from King of Christmas. All of them can be battery powered– and all but the wreath have the option to be plugged in. I really like that I can plug them in!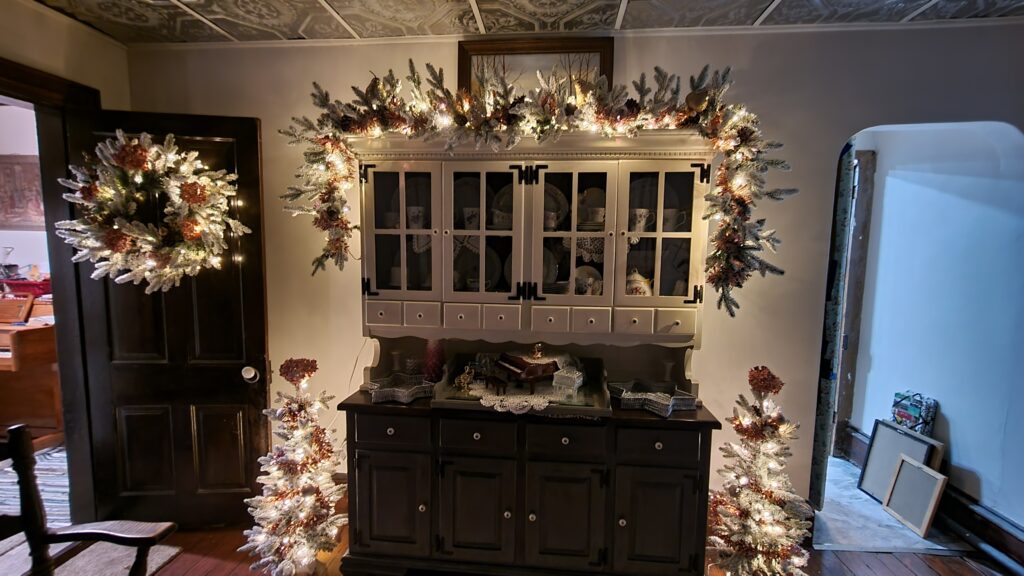 Well since I can't have you all over for some tea, I hope I've shared enough pictures and video with you so that you feel like you've been here anyway. : )