Upcycle a Cupboard Door Into This Surprising Thing
This post contains links to affiliate websites, such as Amazon, and we receive an affiliate commission for any purchases made by you using these links. We appreciate your support!
When we replaced our bathroom vanity, I saved the cupboard doors because they were real wood. I've seen people turn cupboard doors into cute trays, but I really had no use for a tray. I wasn't sure what I would use it for until….. today!
Today's craft is part of a Craft Blog Hop hosted by Celebrate and Decorate. Don't forget to see everyone's ideas at the end of this post! If you are visiting from Home is Where the Boat Is then I'm so glad you stopped by!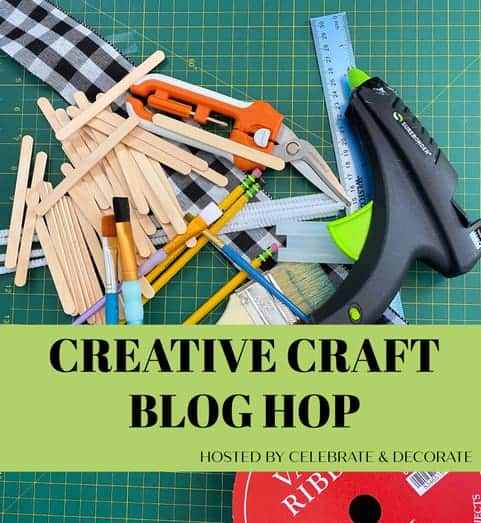 Have you seen those cute fabric bags at Walmart? I love reusing gift bags, and these fabric bags are a great way to "wrap" oddly shaped gifts. I bought a bunch for half price after Christmas a few years ago so that I could craft with them. Just think of the possibilities! You can easily stuff one and sew it shut to make a pillow. You can cut it and make a framed picture.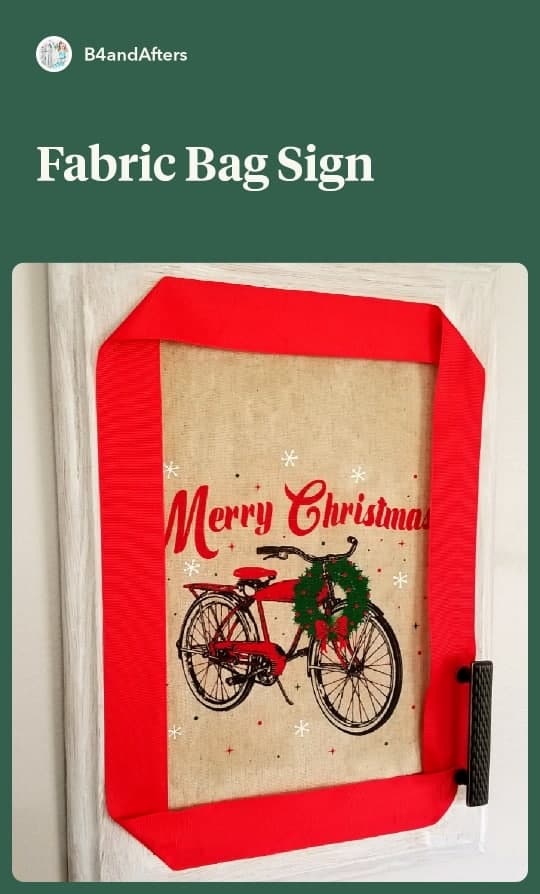 I bought these fabric burlap bags after Christmas at a big discount.

I had saved a cupboard door from our old vanity. I painted the edges white with craft paint.

I spread mod podge to adhere the fabric to the door.

I ended up putting mod podge on top, too.

I adhered grosgrain ribbon with a glue dot runner.

I also switched the handle with a brown one.
I put a nail-less sawtooth picture hanger on the back.

It looks so cheerful on my wall!
More Details on Upcycling a Cupboard Door with a Fabric Bag
So I hoped to just use Mod Podge on the back of the fabric. But it seeped through to the front, changing the color in spots. To fix that, I just went ahead and put Mod Podge on the top side, too.
My red grosgrain ribbon was from Fabric Wholesale Direct. Their 50 yard roll came in two 25 yard rolls, and it seems like it might last me forever! I have made a lot of projects with it this Christmas season. The ribbon really helped finish this project by covering the cut edges of the fabric bag.
I tested out adhering the ribbon with Mod Podge, but the Mod Podge seeped through the ribbon, so I used glue dots from a glue dot runner instead.
Lastly, I love using these nail-less sawtooth hangers. They come in so handy, and are so very easy to install– so much easier than tiny nails or screws and a little bracket. I really don't know how I managed before I bought a bag of them!
P.S. I found another great way to reuse a Cabinet door right here!

If you are visiting us in order, then Holiday Decor with a Sign is next. Enjoy!
Personalized Scrabble Tile Christmas Place Cards
Beautiful and Easy Wine Glass Candle Holder
How to Make a Cozy Neutral Pom Pom Pillow Cover
Adorable Crochet Zebra Makes A Sweet Homemade Gift
Fluffy Chenille Edged Poinsettia Stem
Simple Chandelier DIY Decoration
How to Make Christmas Tiles with Stencils
Easy and Festive Gift Card Ornaments
Upcycle a Cupboard Door into this Surprising Thing