Upstairs Bathroom Renovation Part 1
This is the first post in a series of updating our upstairs bathroom. I hope you enjoy all of the "before and afters!"
This is what our bathroom looked like when we bought the house.
Before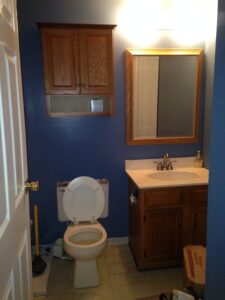 (*This post may contain affiliate links. By purchasing anything from these links, I may receive a small commission at no extra cost to you. More information is available on my Disclosure page.)
And this is what it looked like previous to when we bought the house:
Before, Before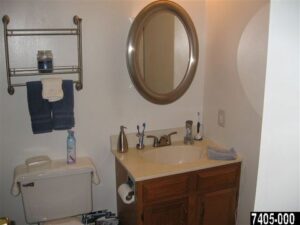 Paint
That dark blue was just too dark for a bathroom without any windows. It photographed a lot brighter than it really was in real life. So I decided to paint it right away.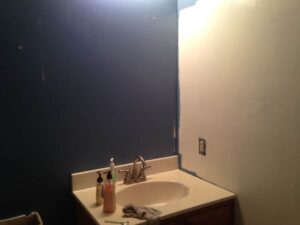 I decided on a warm white called Swiss Coffee.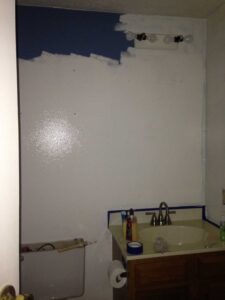 New Medicine Cabinet
I was thrilled to find a wall mount (not recessed) mirrored medicine cabinet on Craigslist for half the price of a new one. You can see a similar one Here on Amazon.* Here is the inside. You can see more of what I did to the inside of the medicine cabinet HERE.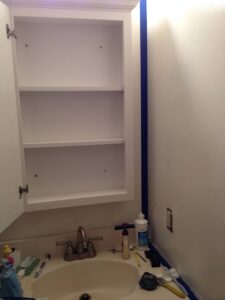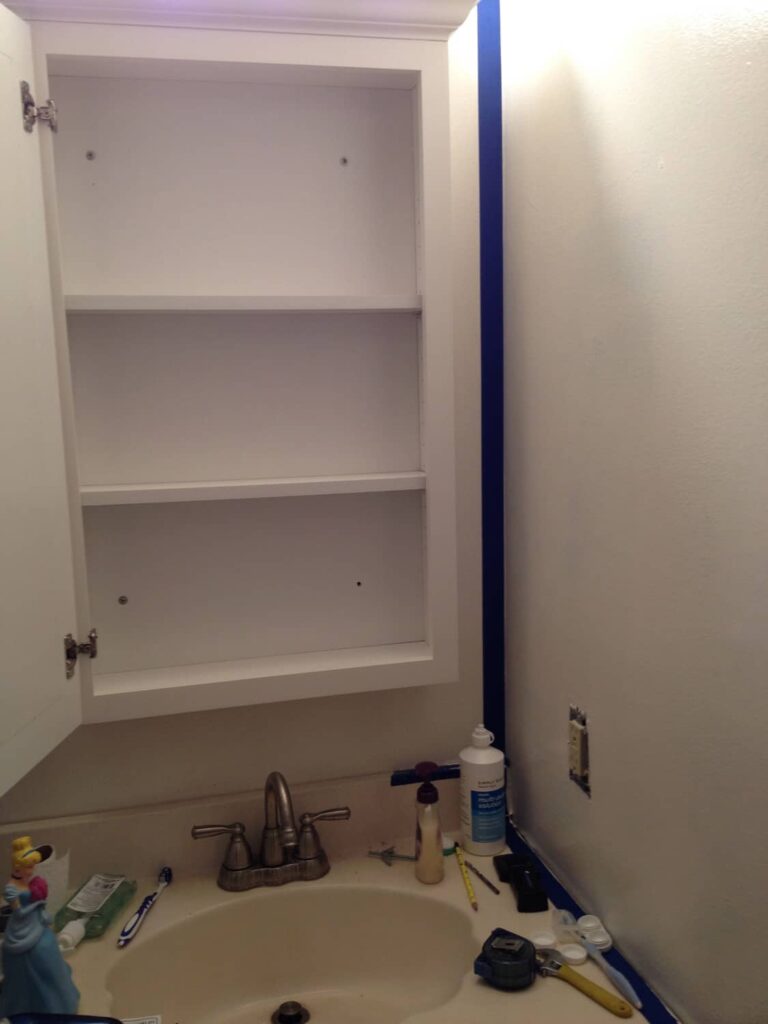 Shower Curtain
I like bright colors, but I don't like to be overwhelmed, so I opted for an accent wall in just the right shade of aqua green. (I painted this in 2014 and am just posting about it now….) I wanted the accent wall to coordinate with a shower curtain that I had bought and used at our former condo unit.
I had gone to Kohl's to purchase a shower curtain that I liked. It was a splurge. Up to that point in my life all purchases for such necessities as shower curtains had been based on what was the cheapest. This time I went out to find something pretty. I did find something pretty. I loved it! (The only problem was that it didn't look so great with the mauve tile and light yellow walls in that bathroom.)
So this bathroom was designed all around a shower curtain that is no longer available. You can see it here:
Accent Wall
And that is how I ended up with this aqua green accent wall, to match the flowers in the shower curtain! The Swiss Coffee primary color of the other walls goes with the white of the shower curtain.
Here is a view of the two small shelves that I installed on the wall.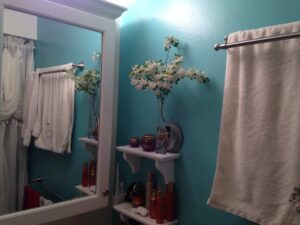 Over Toilet Cabinet
I reused an over-the-toilet space saver from our condo. The difference was that instead of standing it on the floor, I left off the bottom legs and had it mounted on the wall instead. This allowed for taller items to sit on the toilet, and fully utilized the vertical space above the toilet. The brown cabinet that you see in the Before picture, I saved and painted for my Downstairs Bathroom!
Already, we had made a lot of progress!!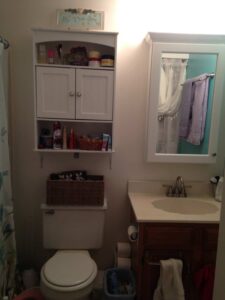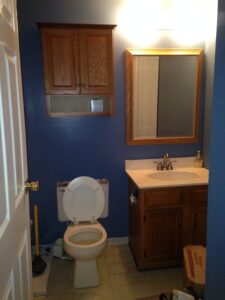 Here is my shower curtain pictured with the cabinet over the toilet.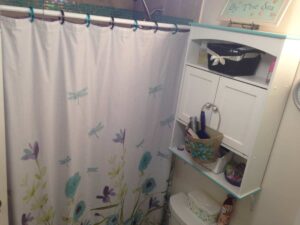 New Vanity
I had found a bathroom sink and cabinet for free that no one else wanted, and eventually had it installed in the place of the existing bathroom vanity. I re-used flower cabinet knobs that had previously been on my daughter's closest doors.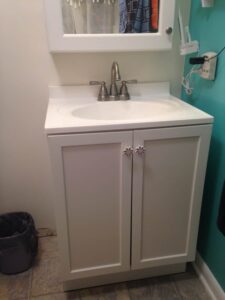 Eventually, I added little legs to the bottom of the cabinet. You can see that post HERE.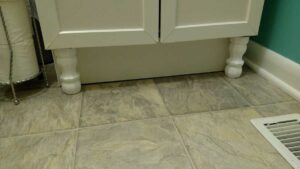 DIY Backsplash
I also made a Removable Backsplash for the Vanity.
Accent Table
I spray painted this little stand to match the purple accent color in the shower curtain. The new vanity was slimmer, and that allowed enough room for this stand between the toilet and the vanity.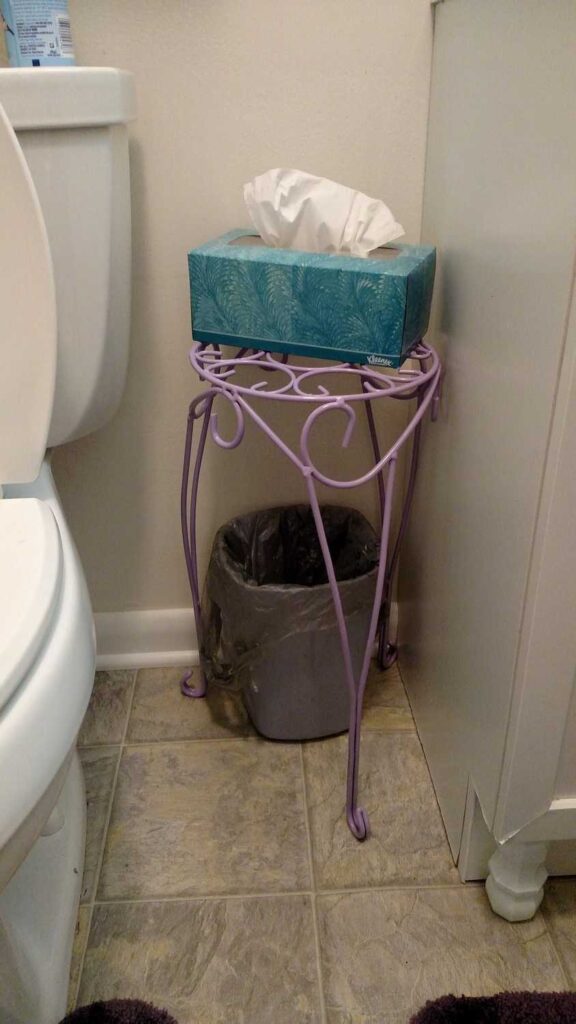 So here is the bathroom, except for the shower. Tiling the shower will be the next post in this series.
AFTER!!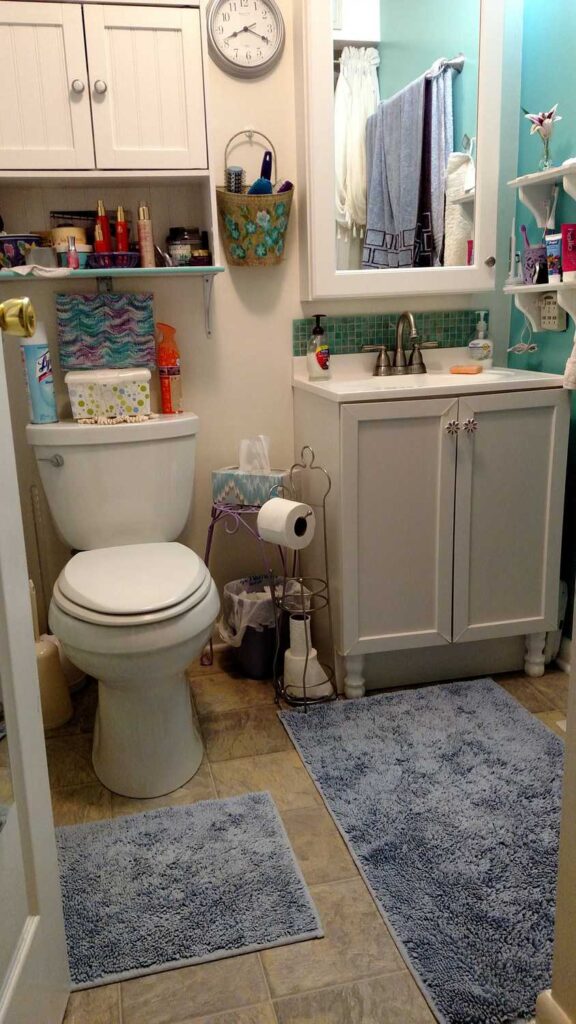 Here they are side by side:
Before and AFTER!