Counting My Blessings Window Sticker
*This post may contain affiliate links to websites such as Amazon. By purchasing anything from these links, I may receive a small commission at no extra cost to you. More information is available on my Disclosure page. I appreciate your support!
If you follow me on Instagram, you may have seen that I made a new window sticker for my car window with my Cricut Maker. I really enjoyed creating this. Read on to find out how you can get one of these for yourself or to give as a gift!
When I got my Cricut Maker last fall, I knew that I would have to learn how to use Cricut's Design Space in order to operate the machine, and create things with the Cricut Maker. If you are not tech savvy, this can be intimidating, but there are a lot of great how to videos available online.
To use my design in Cricut's Design Space, Click Here.
Thankfully, through these videos I have been able to learn fairly quickly how to get the designs that I want. I still have a lot to learn, but I am happy with my progress so far! The Cricut Design Space is pictured below.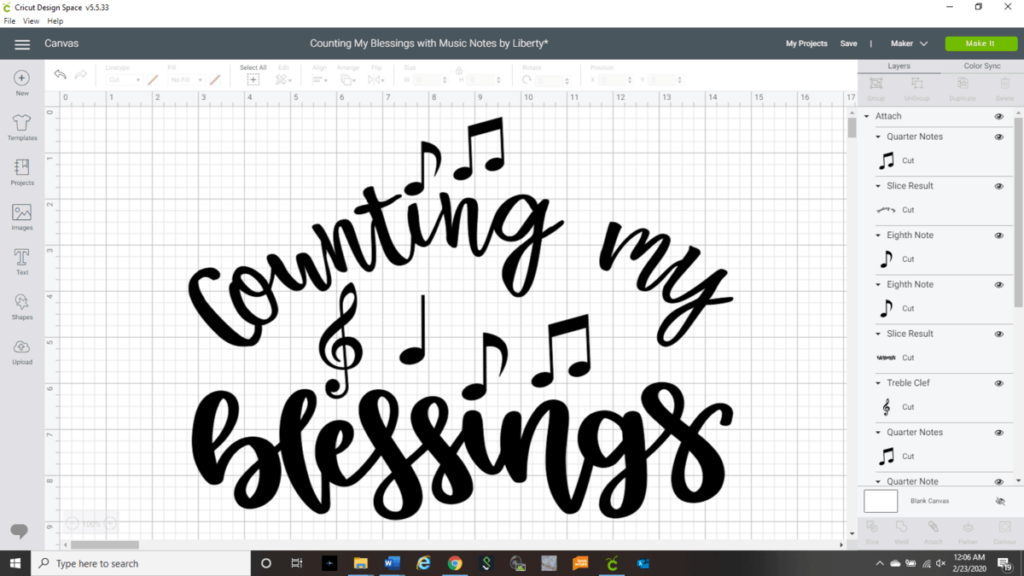 I play the piano, so I wanted to incorporate music notes into my design. There are two letter "i's" in "Counting my Blessings." I replaced the dots of the "i's" with the heads of music notes. The picture below shows my design after being cut out by the Cricut Maker.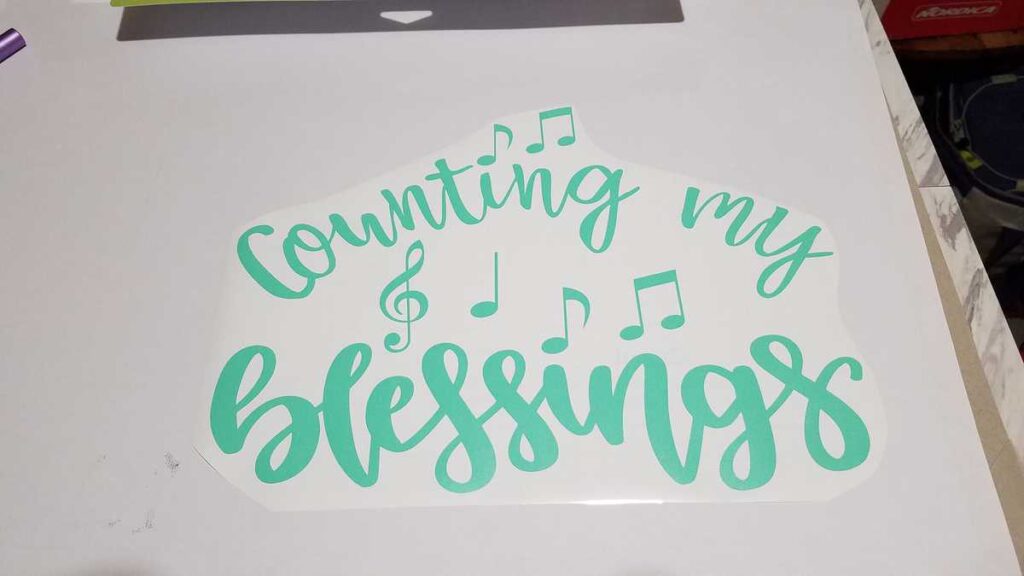 In order to apply the vinyl decal to my car window in an easy manner, I covered it with clear contact paper.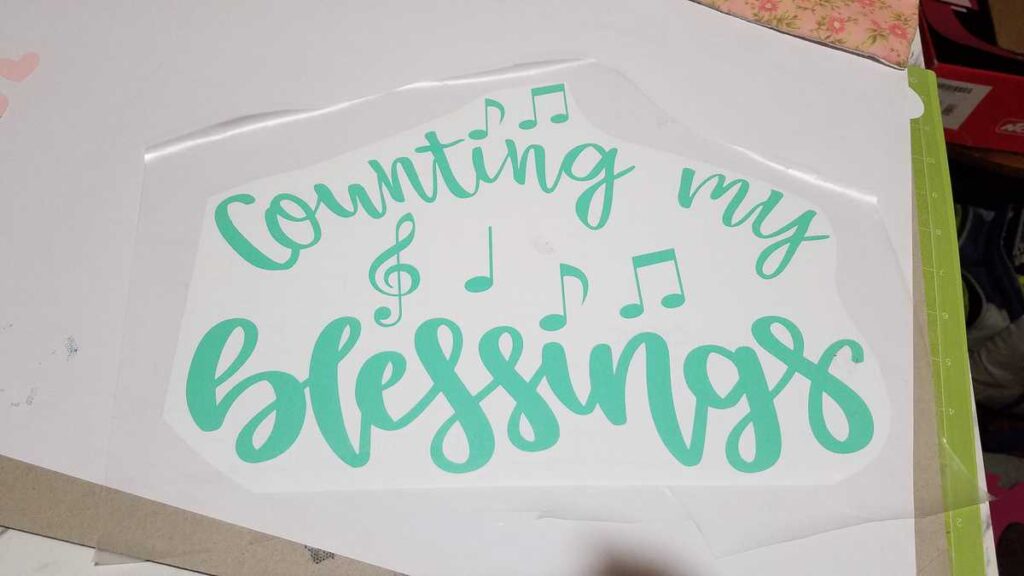 More Cricut Vinyl Decal ideas…
To apply it to my car window, I first cleaned the window with rubbing alcohol and wiped it dry. Then I pealed off the backing of the sticker, leaving just the clear contact paper adhered to the design. It is very easy to apply, since you can of course see right through the clear contact paper to place the window sticker right where you want it. Then you rub and press it all on firmly.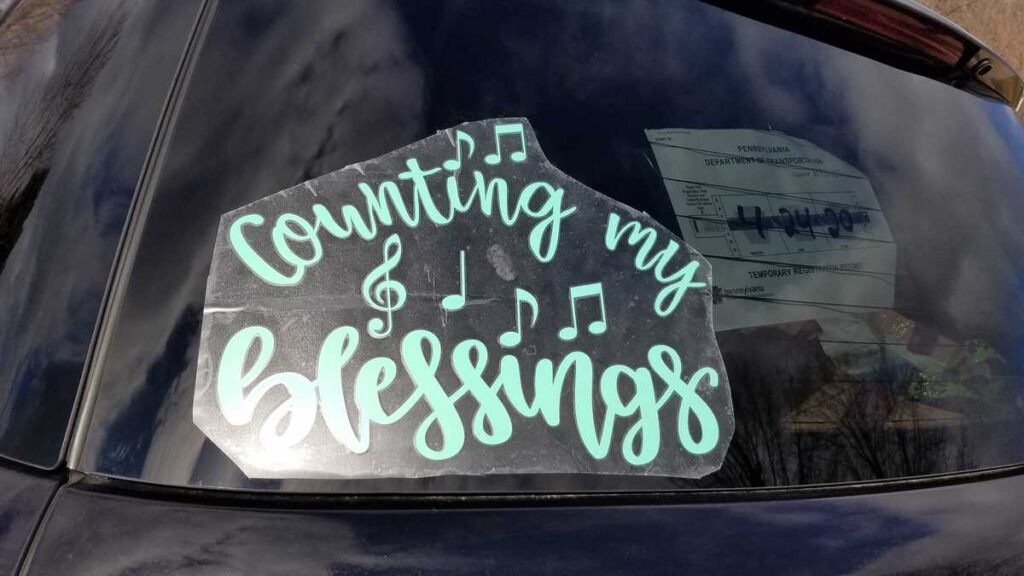 The last step is to peal off the clear contact paper. If there are any bumps left in the vinyl sticker then smooth them out and press down with your fingers. Voila! A beautiful sticker meant to cheer up my fellow drivers. And seeing it cheers me up, too. It also sometimes starts the tune of "Count Your Blessings" running in my mind, which is a good reminder all of the time.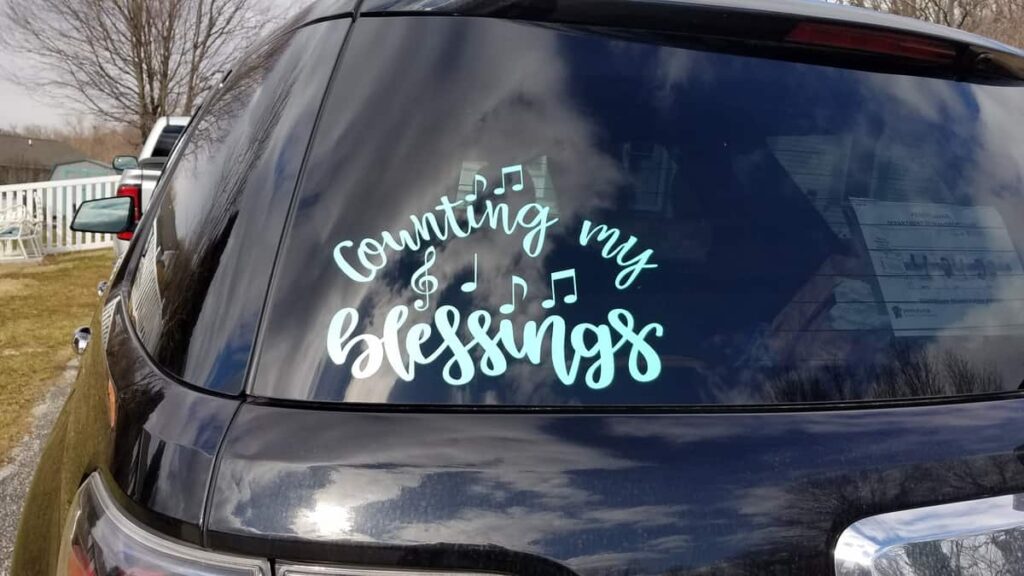 My windows are tinted, so I did not think I should put my design on the inside of my car window. But it is very easy to "reverse" the image in Cricut's Design Space, if I had wanted to put it on the inside instead. I think this design will last a long time. Whenever it does wear off due to the weather or whatever, I will just choose a new saying to put there!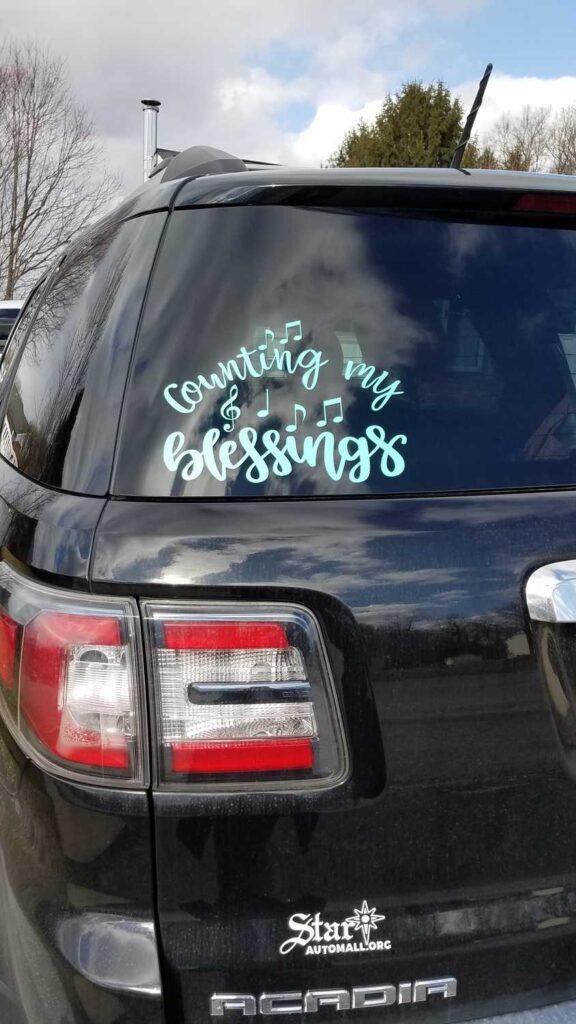 If you are concerned about safety and whether the words obstruct my driver's view out of the rear window, let me assure you that they do not. Through my rear view mirror I can only see the "my" of the saying because of the inside seats and the angle of my view.
Now, I did say that I would tell you how you can get one of these for your own. I will make one for you!
You have a choice of these colors currently in stock:
bright yellow
sea green (pictured)
bright sky blue
black
white
light gray
If you want a color that is not listed, just ask and I will let you know if I can get it for you!
The introductory price for these decals are $7.99 each plus $2 U.S. shipping if you are not local. Tax will be added. I have set up a link below through the Square platform. If you are not familiar with Square and are more comfortable with PayPal, let me know and I can send you a link for PayPal instead. Square is something I am familiar with and have used in the past, so it will be easier for me.
So with tax and shipping included the price is $10.59. When you pay, you will give your email. You will get a receipt from me asking for your mailing address, color choice, and whether you want your sticker for the OUTSIDE or the INSIDE of your window.
Counting My Blessings Window Decal
$10.59
Pay now
Have any questions? Please ask me in the Comment Section below!