I hope you are ready for the first Christmas post of the season….. easy DIY fabric trees! Don't worry, I still have a couple of fall themed posts to share with you if you aren't ready to move on to Christmas yet.
My idea for this project came when I was shopping in September the day that this store was putting out their Christmas selection and saw these cute tabletop Christmas trees. Of course I thought– "I can make one of those!"
Then I was challenged to make a project without spending any money, using just what I had. And this is how I did it!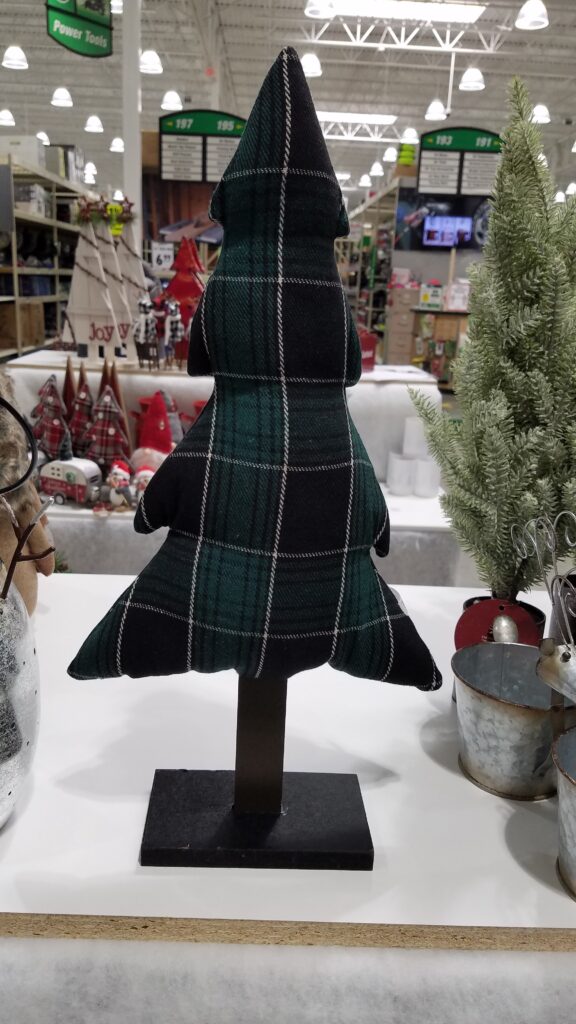 (*This post may contain affiliate links. By purchasing anything from these links, I may receive a small commission at no extra cost to you. More information is available on my
Disclosure
page.)
Then an amazing thing happened. Fabric Wholesale Direct sent me some FREE fabric to show you here on the blog! I used two different combinations of this Christmas plaid cotton flannel.
Instructions for DIY Fabric Christmas Trees
I could have looked on Cricut Design Space for a Christmas tree shape, but instead I visited a friend who drew one for me! Actually, she drew a half, then we folded the paper and cut it out. My friend drew 3 sizes for me.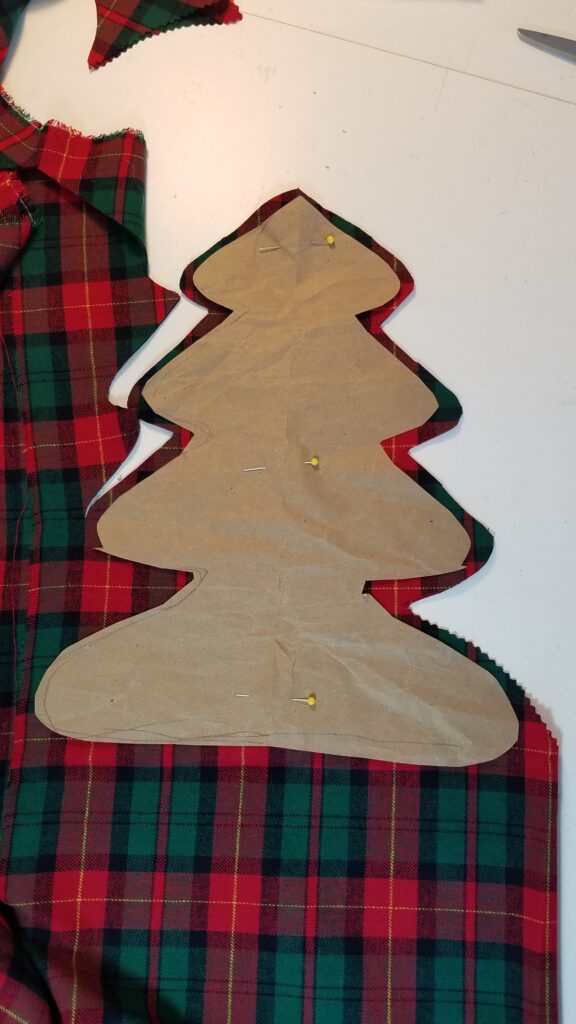 Would you like to make these trees with my patterns? You can get it right here!
Buy my product
Because of the stripes, you may want to place your trees either on a stripe, or off center. I chose off center. I made sure mine all went the same direction (the yellow stripe is vertical).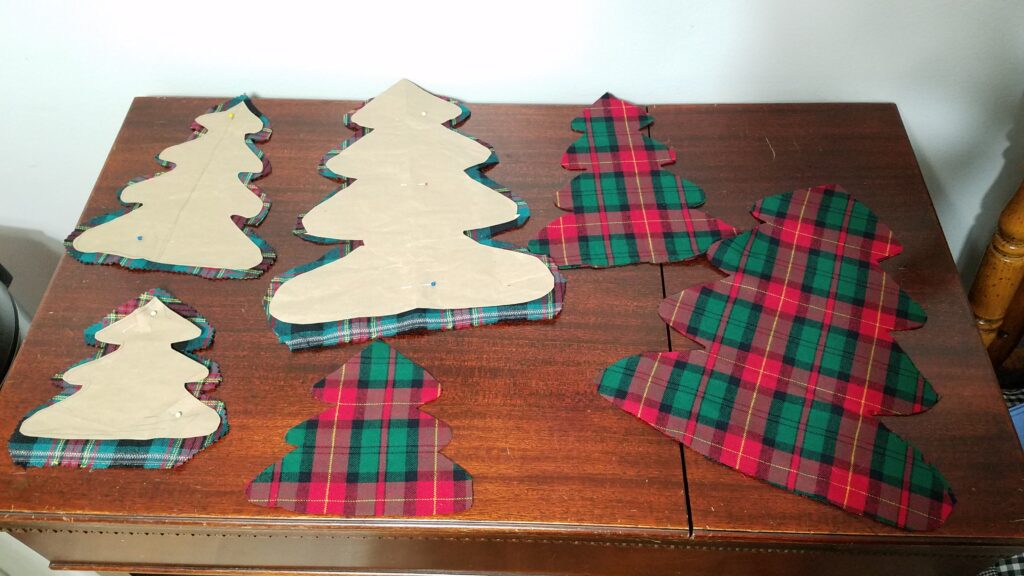 Next, sew fabric right sides together, leaving the bottom open so that you can turn it right side out and stuff it.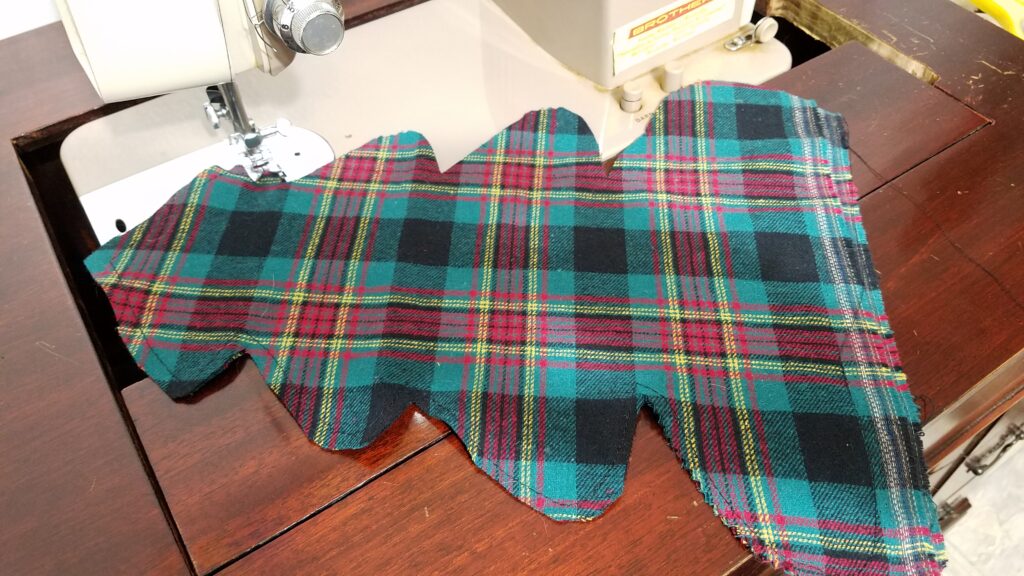 Steps to create a Fabric Tree
Draw and Cut paper pattern
Cut two layers of fabric
Sew right sides together, leaving bottom open for stuffing.
Stuff tree
Insert dowel rod or stick
Sew opening closed
Insert dowel rod or stick into prepared base
Add ribbon or embellishments as desired
You will need to carefully clip the inside corners with sharp scissors close to the seam.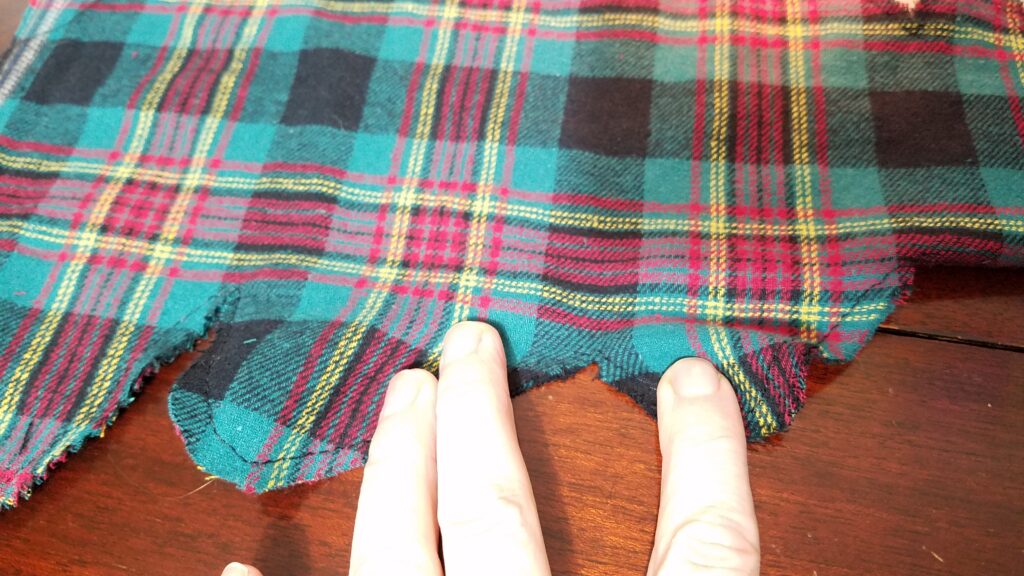 If you don't, the tree will pucker. Below you can see the puckers in the tree on the right. The tree on the left has been clipped.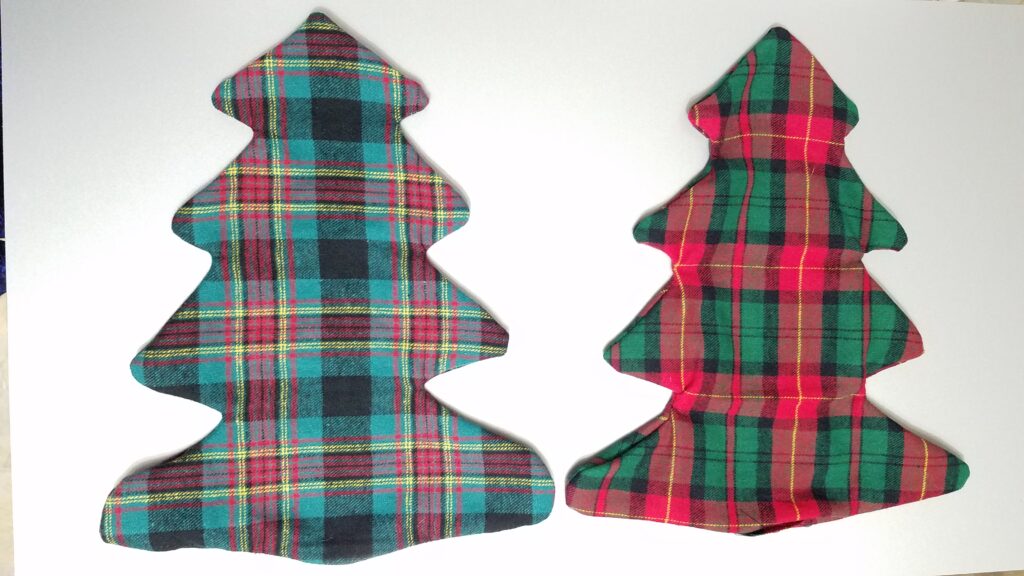 I made 2 each of 3 different sizes— six trees in all! I am going to use the two smaller trees for a different project.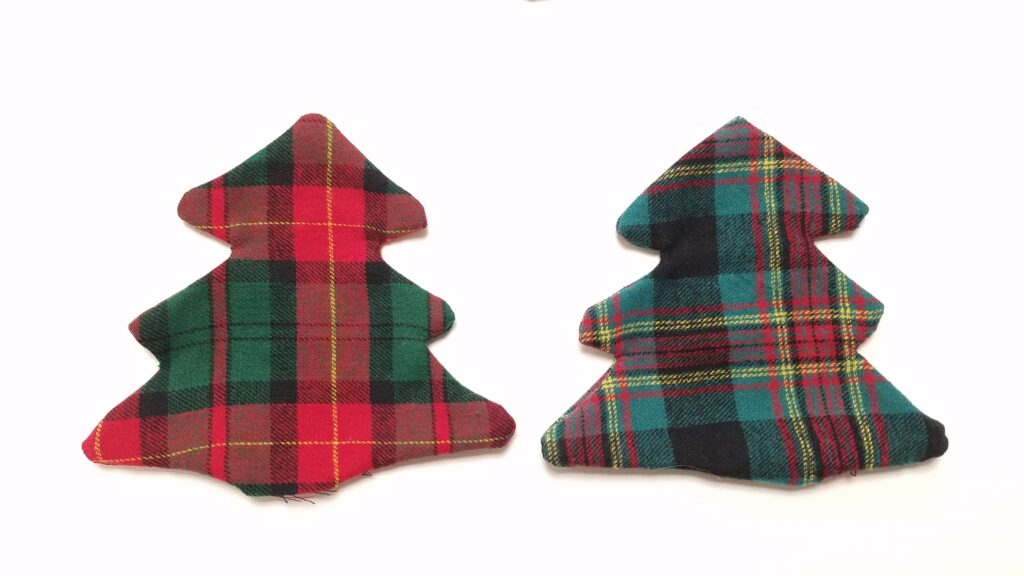 The next step is to fill the trees with stuffing, or polyfil. If you had a pillow you didn't want anymore, you could unstuff it and repurpose the stuffing. I took small bits to stuff each corner, then stuffed the middle section.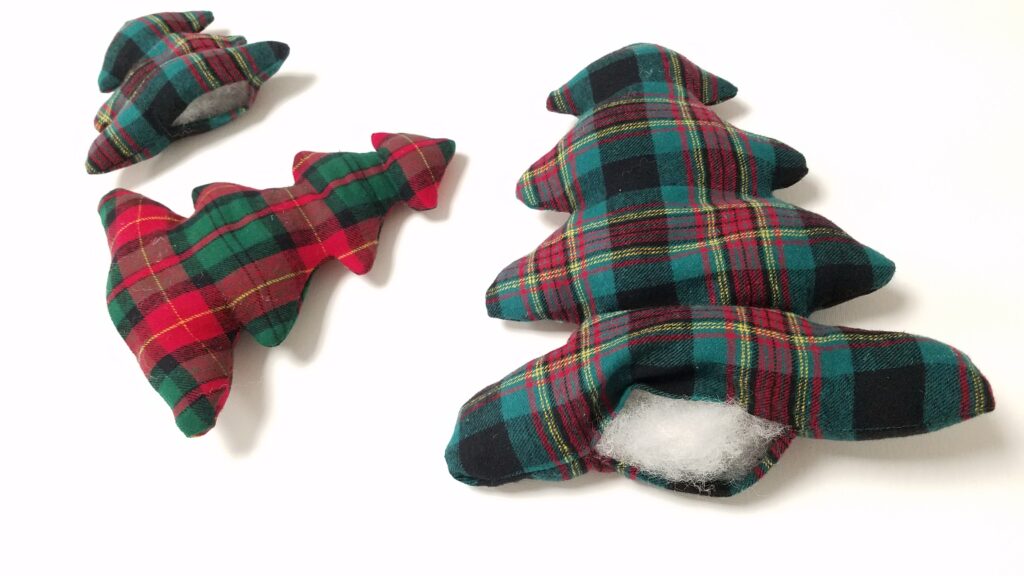 I thought about adding buttons or bells, but I didn't have any buttons that I thought would look nice. And I thought the jingle bell took away from the look instead of adding to it, so I decided not to add anything except…..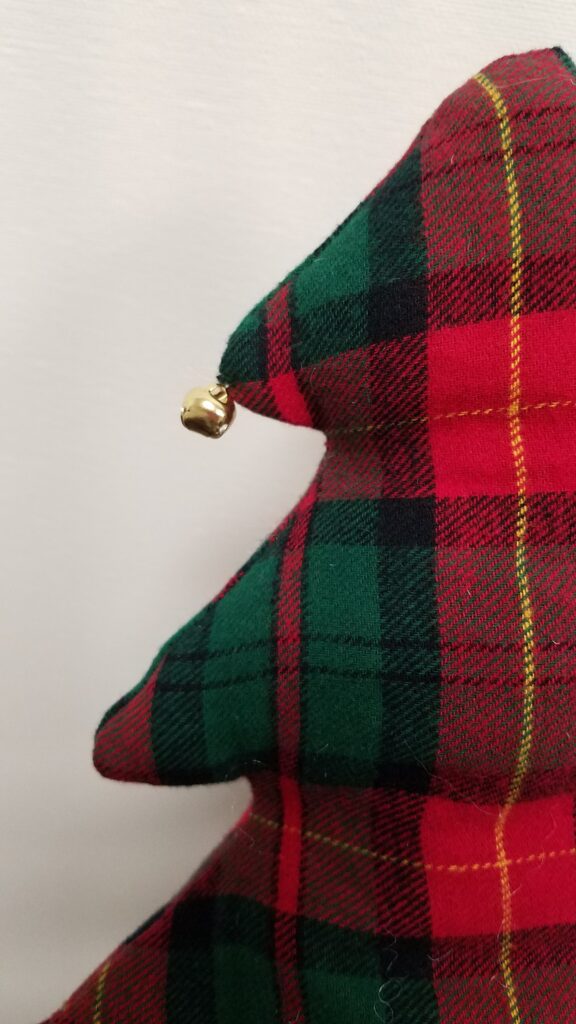 These diy fabric trees are going to be self-standing. I was going to use a dowel rod and a sliced log piece, but had technical difficulties. : ) Thankfully, I had salvaged some wooden blind slats thanks to Terrie's creative inspiration! I knew they would come in handy some day, and this is just the first project I plan to use them with.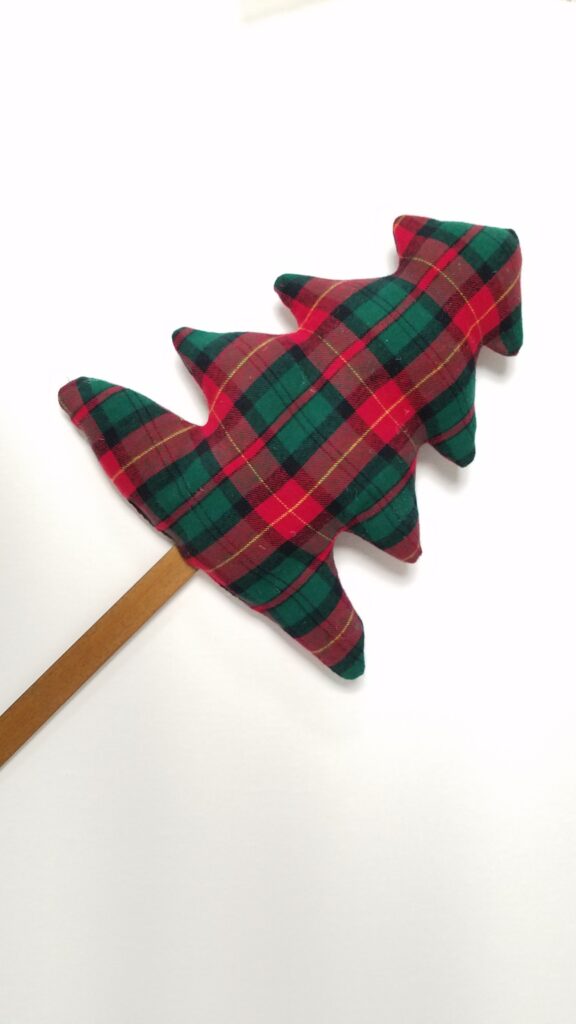 It was easy to whip-stitch the opening closed around the stick.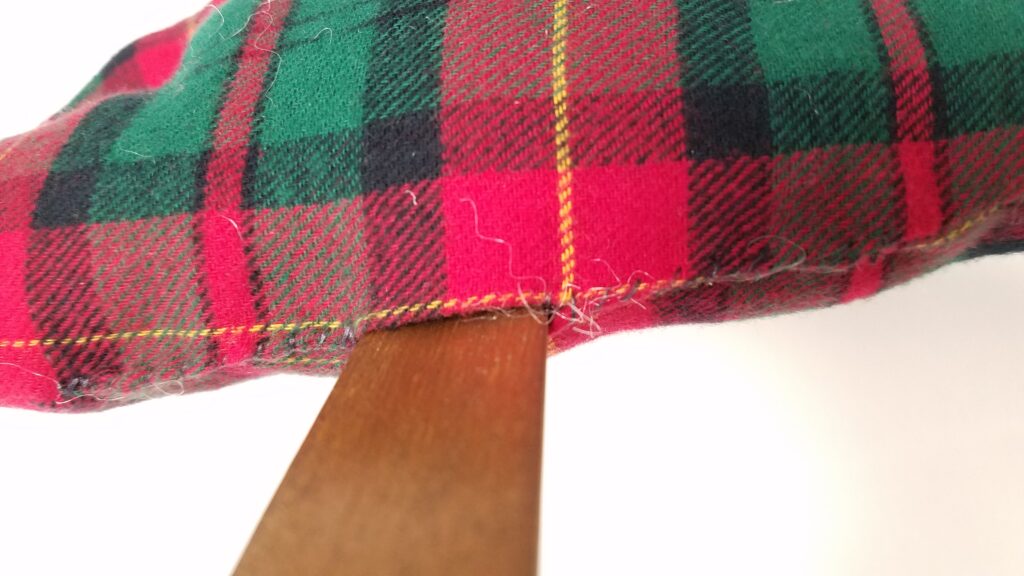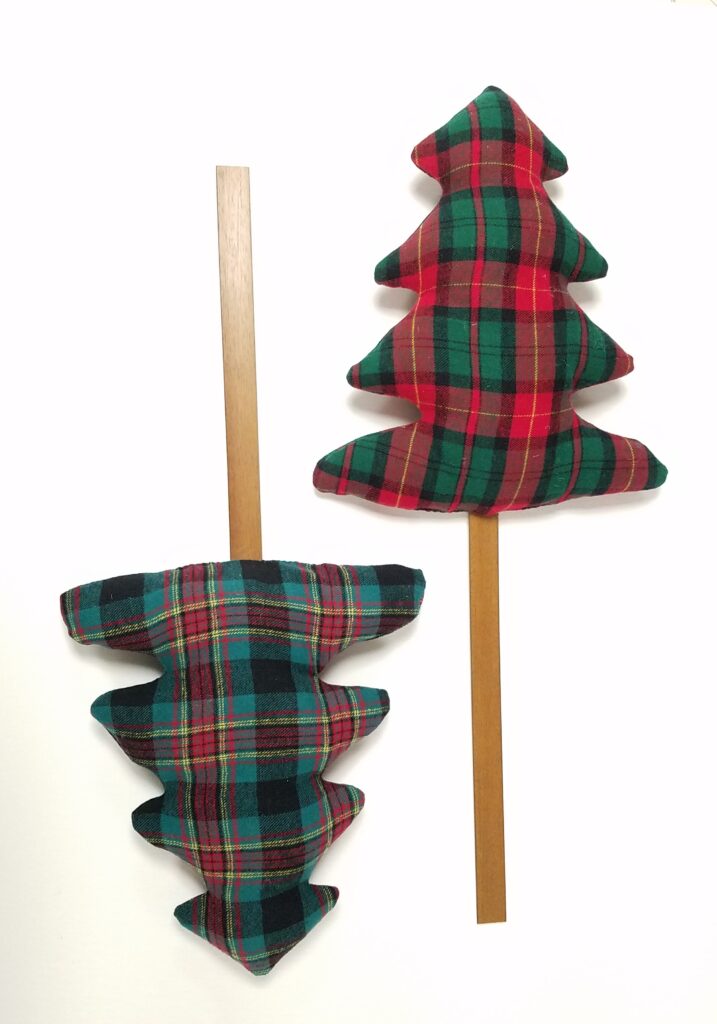 Fabric Tree Base
Some time ago I had grabbed some free flooring samples from my local home improvement store.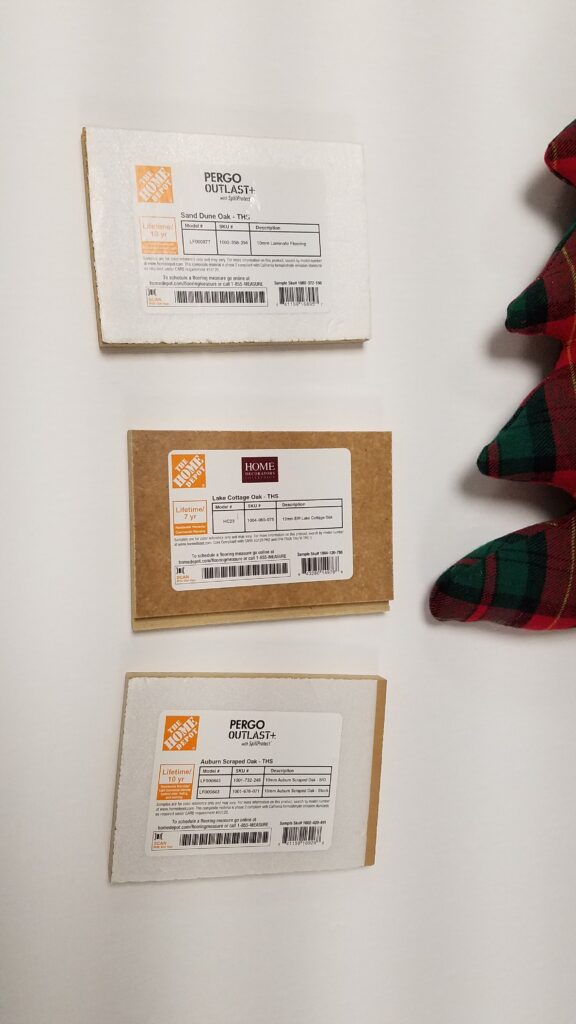 There are different colors available.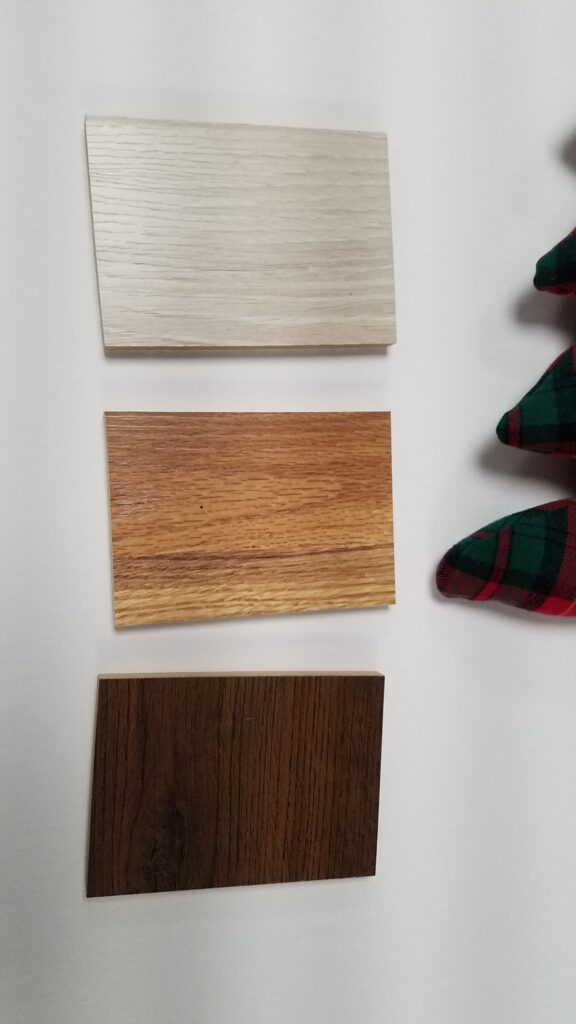 I drilled some holes in the wood.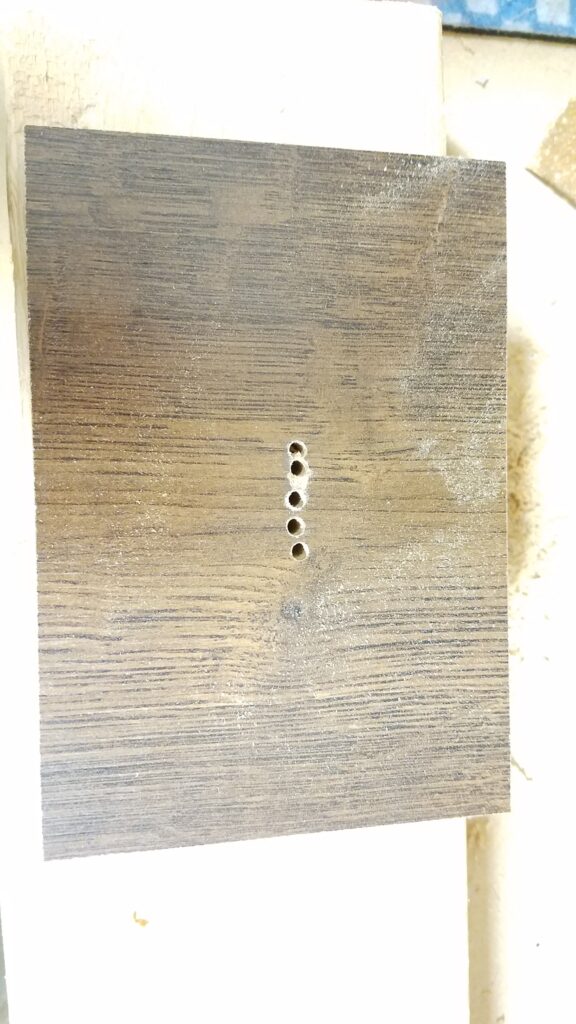 Then I slanted the drill to connect the holes together. Very unconventional, or shall we say "innovative!" : )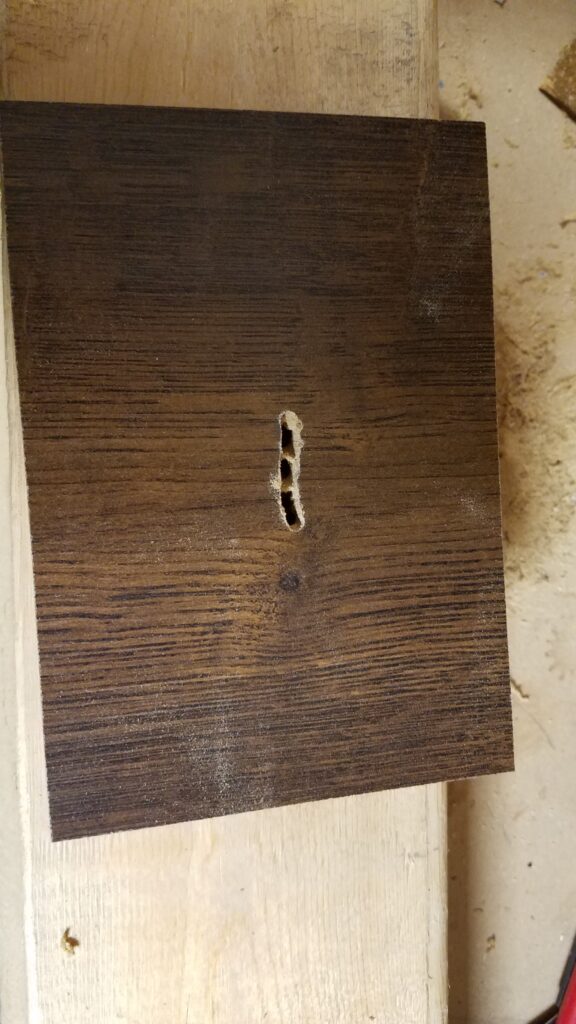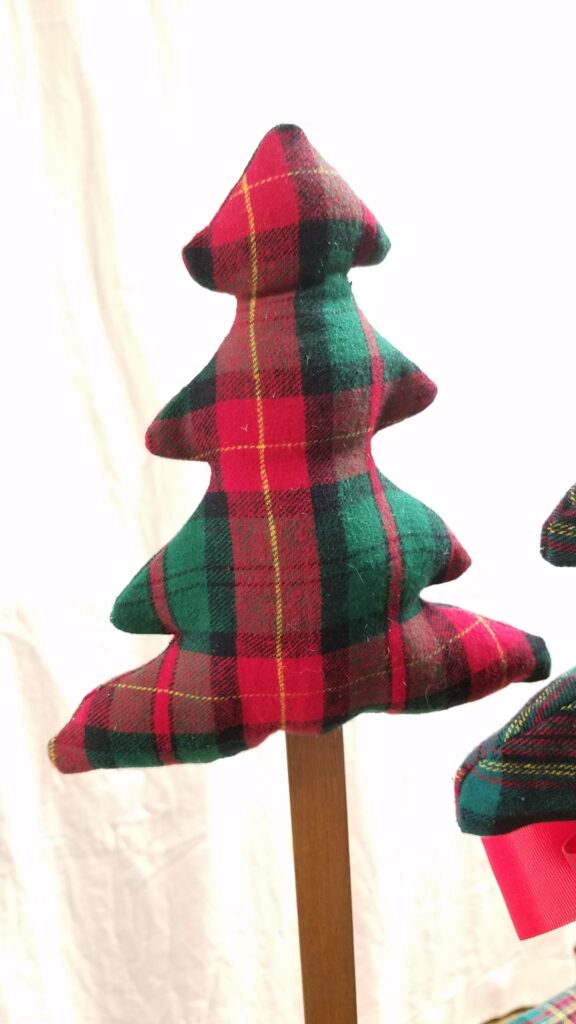 Then the wooden sticks fit right in! I want them to be removable for easy storage. Otherwise I could glue them in to make them more sturdy.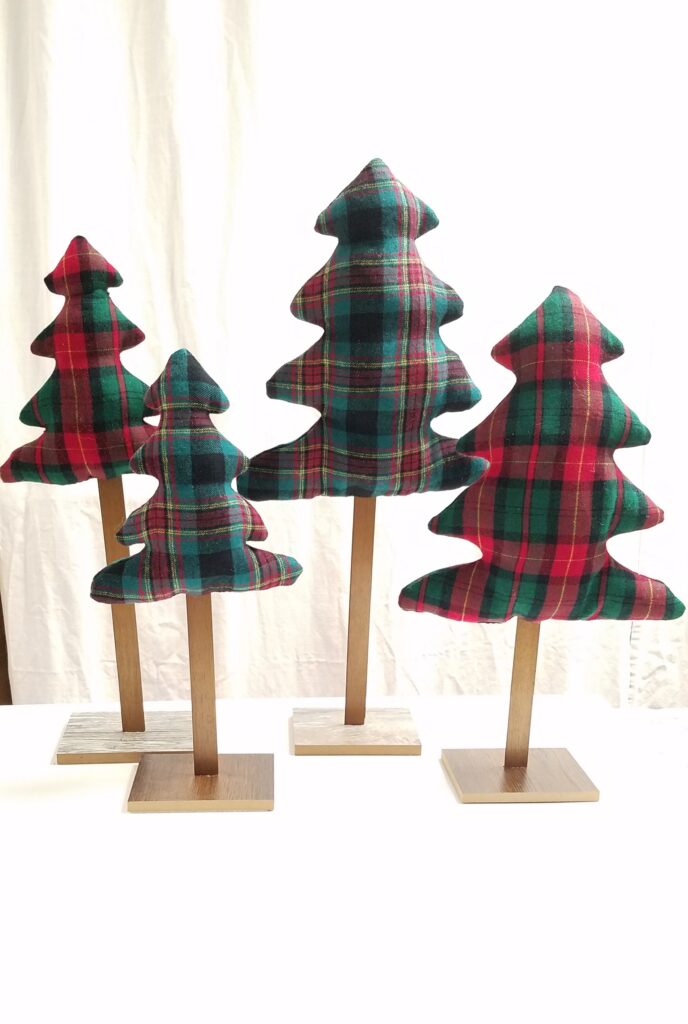 Making these cute little Christmas tree pillows was so much fun! But wait! There's more! Fabric Wholesale Direct also sent me some gorgeous 1.5 inch red grosgrain ribbon— two spools of it!! I've been using it on all sorts of projects. My new mini bowdabra helped me easily make these bows.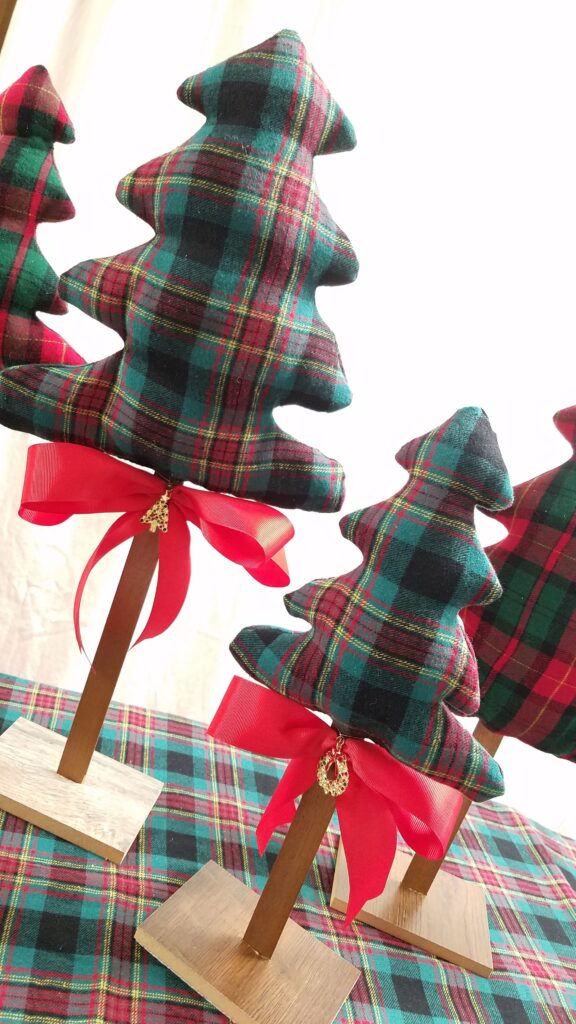 I had saved these cute metal accents that came in a ribbon set for years, and am so glad to use them for this project!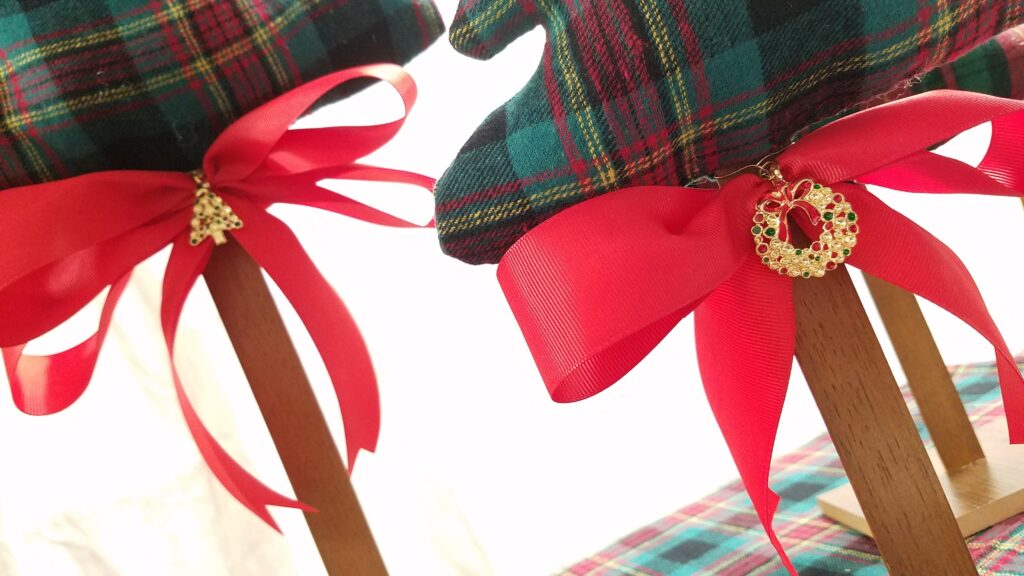 Step by Step Instructions
1. Start by drawing a paper tree template. I used 3 different sizes.
2. Then cut out 2 pieces of soft flannel fabric.
3. Sew the right sides together, leaving it open at the bottom.
4. Clip the insides of the corners so it doesn't pucker when turned right side out.
5. This is the smallest one turned right side out.
6. Fill with polyfil stuffing by putting small amounts into the corners first. Then fill the rest.
7. Insert a flat stick or dowel rod and hand sew the rest of the opening closed.
8. Use a small piece of wood or a wood slice for the base.
9. Make the trunks as tall or short as you like.
10. Add red grosgrain ribbon bows, with Christmas metal accents (optional).
11. Attach the bow to the stick with the same wire you used to make the bow.
12. Glue the sticks to the bases, or omit the gluing for easy storage. Enjoy your new decor!
DIY Challenge Completed
So there you have it! I made these fabric trees without spending a single penny! These trees would look so pretty in any color scheme– it does not have to be the traditional green and red that I used. They could be hand stitched instead of machine sewn, and if you don't have fabric, perhaps you have an old shirt or something that needs upcycled.
I hope these cute DIY Fabric Trees have inspired you!