How I Added Ceiling Lighting
Today's project of how I added Ceiling Lighting is something that I wish I had done sooner… it really changes my space! Of course, in order to do this I needed an outlet nearby. You can see where I first thought of drilling a hole so I would have access to a nearby outlet, in this post.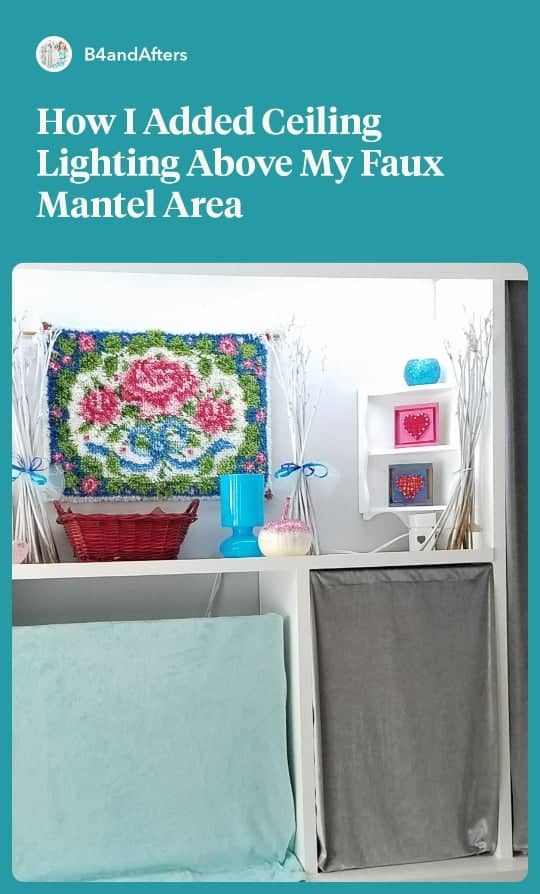 (*This post may contain affiliate links. By purchasing anything from these links, I may receive a small commission at no extra cost to you. More information is available on my
Disclosure
page.)
I do not have a mantel. But I do have this area above my TV that I love to decorate. I designed these built-ins so that I would have a faux mantel.
1
But… it was dark. I tried hanging white Christmas lights, but they showed, and didn't photograph well like I had hoped. See? Still dark.
2
Also, there was a big gap between my trim board and the ceiling from settling. So I removed the board, and nailed it in again a 1/2 inch higher.
3
I ordered an 18 foot length of white rope light, and installed it by attaching it to the ceiling. It is doubled up, about 9 feet across.
4
I added extra clips to keep it from drooping down.
It is really bright, but not too bright. And sooo much better than the white Christmas lights! Hurray!
5
How did I plug them in, you ask? See that blue lamp? Last year I drilled a hole in the shelf so I can plug it in behind the television.
And that bunch of dried stems to the right of this corner shelf?
6
It is hiding the rope light cord, and the extension cord that travels over to behind the blue lamp.
So that is how I installed my new ceiling lights, all by myself!
7
I wish I had thought of doing this little improvement years ago.
8
(You can see how to make these cute pumpkins.)
9
And for more details on how I made these stems, see this link.
10
I am so thrilled with the final result!!
11
(P.S. you can also see how I made these curtains to hide my clutter.) 🙂
More Details on Adding Ceiling Lighting
You could use this method to add under cabinet/ over counter lighting in your kitchen. You could also put rope lights over your upper cabinets, or even under your lower cabinets, to light up the floor. Yes! I've seen that done and it looks pretty neat!
I made that Rose Latch Hook over 20 years ago! Many years ago I had it hanging in my bathroom, but hadn't used it for 12 years. I'm so glad I resurrected it for my Valentine decor this year! It is the only latch hook that I've ever made, because I enjoy doing other crafts so much more than I enjoyed doing a latch hook.
I'm really glad for our built-ins. I love using this space, and I'm so glad I designed it how I did. If I did it again, I would do it exactly the same way. The recent curtain additions have only improved the original design.
The Valentine pumpkins added such a fun touch this year, too!!
The dried stems were so easy to make— anyone can do it!