An Unlikely Valentine's Decoration Idea
Well, I think my ideas are unique. I suppose maybe all of us crafty people think that! Do you think that about your creations? I suppose we think that because…. it's true! So tell me—how do you like this unusual Valentine's decoration idea I had?…..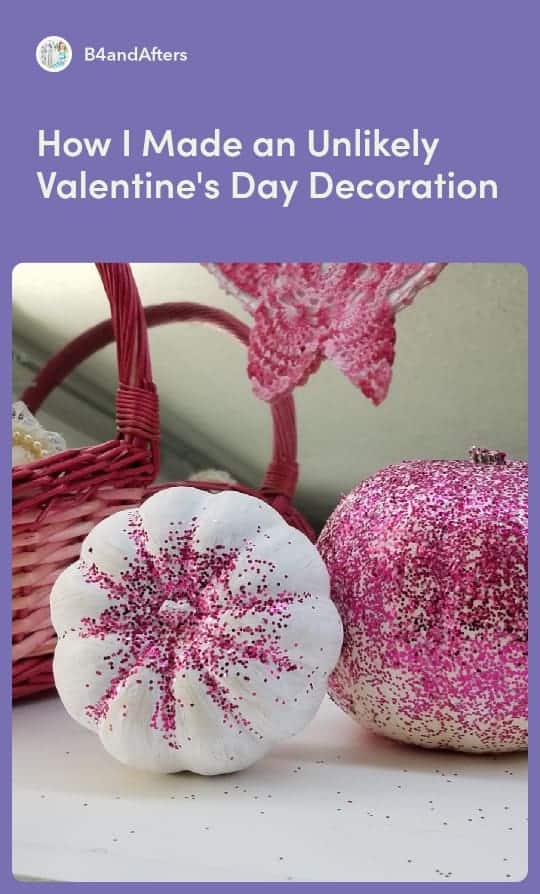 (*This post may contain affiliate links. By purchasing anything from these links, I may receive a small commission at no extra cost to you. More information is available on my Disclosure page.)
It's not unusual to dress up a pumpkin in various ways for Thanksgiving. But how about— for Valentine's day?!!!
I just loved these little white pumpkins that were given to us. I kept saving them (like I do too many things….), thinking how I could upcycle/ repurpose/ reuse them. Pink glitter repeatedly came to my mind. Are you thinking what I am thinking?? : )
(If you would prefer to watch this as a video instead with some romantic Valentine's music, Go Here!)
So I had kept these white pumpkins that I had used in November for my White Thanksgiving Centerpiece. I thought about making a snowman or something.
Instead, I decided to glitterize them for Valentine's day!
1
I used glitter, mod podge, and white craft paint.
2
To make sure I had enough pink glitter, I mixed two different colors of pink together. I tried just a tiny bit at first to see if I liked it.
3
I mixed fairly equal parts with my finger.
4
I used a baker's wire rack to sit the wet pumpkin on after painting it with Mod Podge, and put a piece of paper underneath to catch the extra glitter.
5
I decided to try this ombre effect by sprinkling glitter straight from the top, and I like this pumpkin better than the 100% glitter one. Do you?
6
The yellowing pumpkin would look better white, so I painted it with craft paint.
7
When it was mostly dry, I decided to add the glitter without the mod podge. It was wet on top, and I loved how the glitter looked in the creases.
8
After they dried completely, I used them all as part of my Valentine decor. Who would have thought that pumpkins could be Valentine's Day decor?!
You might also enjoy this Homemade Valentine Cut Out Cookie Recipe!
If you liked this idea, maybe you would also like to see How to Make a Pom Pom Letter!
Let me know if you have any questions!