Organizing my Daughter's Bedroom
This post contains links to affiliate websites, such as Amazon, and we receive an affiliate commission for any purchases made by you using these links. We appreciate your support!
This post is part of a DIY challenge hosted by Terrie at Decorate and More with Tip. I've teamed up with 6 bloggers to show you a bunch of organizing tips! Hopefully, you are still working on your New Year's resolutions and can use our ideas. If your entire house is already organized, then go ahead and just save this for later! : )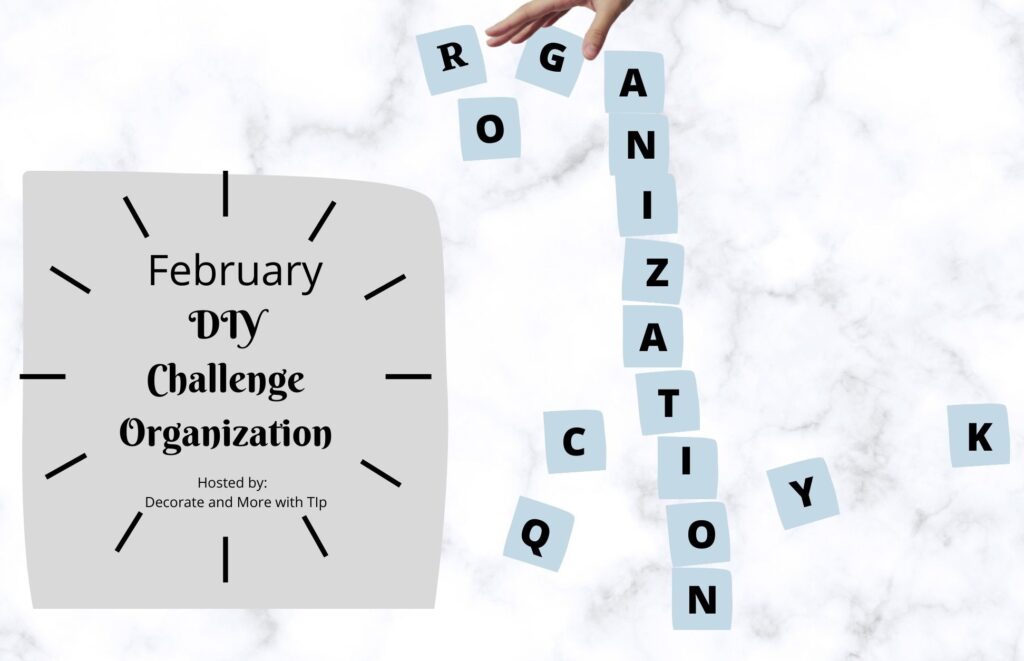 If you think you need to purchase expensive containers to organize your space, then think again! Purple Hues and Me has some great ideas for using recycled containers instead!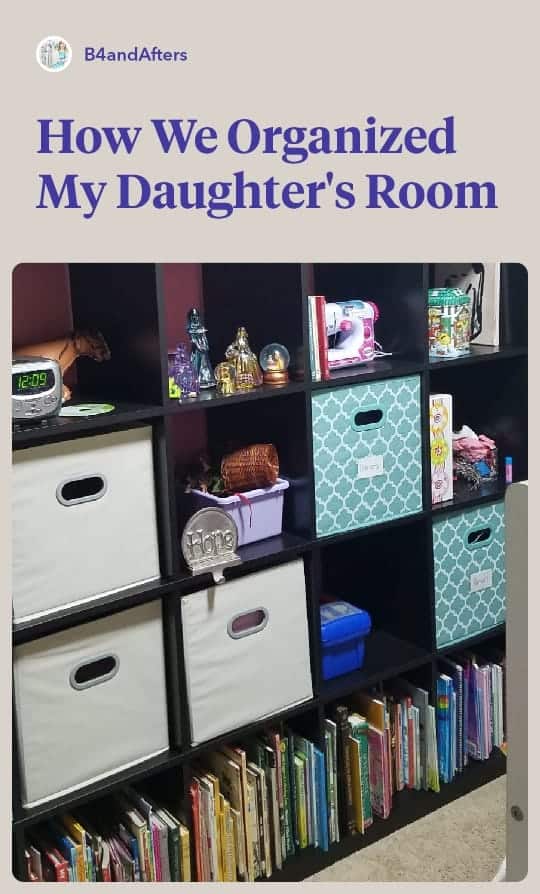 1
My daughter has a lot of toys and books. She gets a lot of gifts for her birthday and Christmas and she wants to keep it all.
2
We moved everything out.
3
We found an Ikea unit for half price on Craigslist that had 25 cubbies!
4
I ordered two different kinds of cloth storage bins.
5
Now she has plenty of room for her books.
6
I put little clear Command hooks on the side of a different bookcase to hold her necklaces.
7
And I put even more little clear Command hooks on the wall for her ribbons.
You can see more of my daughter's room, including the curtains that I made, here.
You may also enjoy seeing about her new ceiling light/ nightlight.
More Organizing Tips for a Girl's Bedroom
Now that my daughter had plenty of cubby storage, we used one of them for her jewelry box, hair ties, and brush. I also hung a mirror in her room, and added a laundry basket near her closet.
Now that she has a mirror, and we moved her hair things from the bathroom to her room, she can get ready in her room instead of in the bathroom.
Hopefully, the laundry basket will encourage her to put her clothes in it instead of on the floor.
I've also insisted that she keep the path to her closet clear and free of bean bags or toy riding horses. If you don't have a clear path to your closet, it is kind of hard to use it!!
The cloth storage bins are wonderful for toys that won't easily sit on a shelf. It also allows the full square cubical inches to all be used, instead of just the bottom surface of the shelf. They are also perfect for scraps of paper from art doodles or programs from events.
To recap, Here is What I did this time:
Bought a cubby unit, as large as the space would accommodate floor to ceiling
Bought cloth storage bins for some of the spaces
Hung Command Hooks for necklaces and award ribbons
Hung a mirror
Added a laundry basket
What I've done in the past:
Bought a second hand storage bed (It sits 3 feet off the ground and has drawers, shelves, and play space under it built in! It also has shelves up top that she can use for books, a lamp, and an alarm clock.)
Bought a second hand floor to ceiling bookcase unit for games, puzzles, and toys
Added wall shelf and hook units for backpacks, purses, bags, and clothes
Installed a new Ceiling/Nightlight.
Removed the closet doors
Are you wondering about that last one? ….. Our house is so small. Bi-fold closet doors really take a lot of space, when you need every square inch. And they are forever falling off their tracks. So one of the first things I did when we moved in was to remove the bi-fold closet doors. And I don't spend any time opening and closing or fighting with those doors. I love it that way.
Since my daughter is still just ten years old, I still need to remind her to use the organization tools that I gave to her. Every little bit helps!

Now for Everyone else's great Organization Tips! Up next after me is How to Make Good Use of your Space by Terrie.