Sewn Purple Curtains With Painted Tiebacks
Introduction
Once again, this post is not so much a "how-to" as it is a "this is what I did" post. : ) After putting up wallpaper border and painting my daughter's room, it needed different curtains. I had some purple satin fabric, and so I cut a valance in an upside down U shape, and sewed it directly onto the purple curtain. I made the curtain with a simple pocket for the curtain rod to slide through.
Before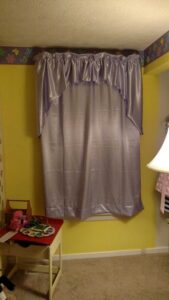 (*This post may contain affiliate links. By purchasing anything from these links, I may receive a small commission at no cost to you. More information is available on my Disclosure page.)
The curtain looked really nice. I hung a white curtain for privacy behind the purple one using a double rod. I like having white curtains in all the windows at the front of our house.
If you don't want to sew a valance, but would like to purchase a similar one, you can find a gorgeous one here for a very reasonable price (affiliate link).
Flower Tieback Accent
Then someone gave me these plastic flower tiebacks* to use to hold the curtains open.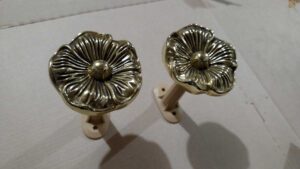 I liked the flowers, but I didn't think my daughter would like the color. I know she likes all things pink and sparkly, so…. I had a great idea to paint them! They came apart, which was very handy for painting. I used regular latex wall paint that I already on hand. I had bought some small sample pots for a dollar on clearance of various colors, and have used them for a lot of different projects.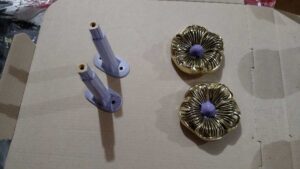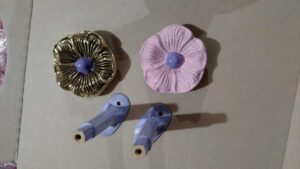 I used pink and purple, and enjoyed watching the transformation from fake gold plastic to colorful!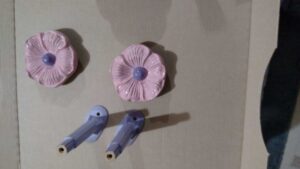 As a finishing touch, I put on some sparkly glitter Mod Podge that someone had given me.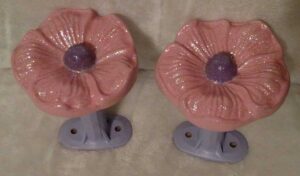 My only concern about these plastic tiebacks was that they would break. I warned my daughter about not hanging anything on them, and so far they have lasted more than a year! They must be very sturdy plastic. Doesn't the curtain look much better?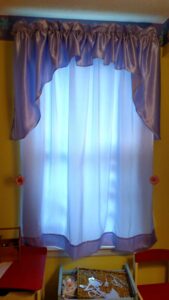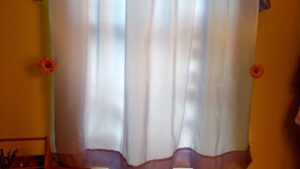 AFTER!!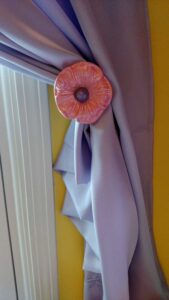 These beautiful flower accents serve their purpose well. It is so easy to just move the curtain to the side to hold it open. And you don't need to slide the curtain across the rod, which leaves the valance in place. It makes it easier for little people to maneuver as well.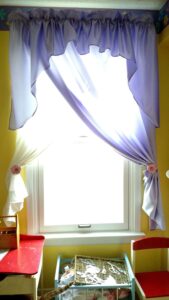 SaveSave
SaveSave
SaveSave
SaveSave
SaveSave