15 Ways That I Save Money
Introduction
In this post, I am going to tell you (15) fifteen ways that I save money, so that I have more money to spend on Projects! In the next post, I will tell you why my Free Budget Tool will help you and how you can get it, but first….
Whether you know me or not, after reading my blog posts you may be saying something like "But I can't fix up my house/ do projects like that! I don't know where she gets the money to be constantly making improvements!"
Well, today I want to tell you about some of the things that I do so that we have extra money to spend. To start off, my husband has a modest full-time job with health benefits. I have a part-time office job, in addition to the piano lessons that I teach. While we are able to invest in home improvement a little at a time, we would not be able to do so if I did not implement the things that I am going to tell you about.
(*This post may contain affiliate links. By purchasing anything from these links, I may receive a small commission at no cost to you. More information is available on my Disclosure page.)
15 Things I Do
We bought a smaller house than we could "afford." It has no garage, and it had only one bathroom.

Before

We listened to Dave Ramsey's advice to purchase a house where the mortgage payment is about one fourth of your take home pay. Most realtors tell you that you can afford a house twice that much. (In fact, when we first looked for a house and tried to use one of Dave Ramsey's trusted EPL realtors, even that realtor tried to get us to purchase a house that cost much more than we could afford!)
We also listened to Ramsey's advice that we take out a 15 year loan instead of a 30 year loan. That goes along with the first part of his advice–If we had a more expensive house we would be forced to have a 30 year loan.
The peace of mind that goes along with this plan is amazing. We know that if for any reason things got really tough financially, that we could revert to a 30 year loan and things would probably be okay.
We won't need to down-size down the road when our kids get older and move out. We're already there! We won't need to go through the hassle and expense of downsizing our possessions and finding another house.
Here is our house nearly four years after we bought it.
After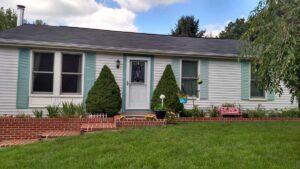 We don't have to buy name brand clothing for our kids or for ourselves.
Sure, I appreciate better quality clothing. And I love finding it at thrift stores or yard sales! Kids grow soooo quickly– it makes little sense to me to spend lots of $$ on something they will outgrow soon.
I yard sale whenever I can.
When I'm at a yard sale I try to think ahead for our future needs in the clothing department, for future wants like crafting, and for future home improvement projects. Yard sale prices can beat every other avenue (thrift store, big discount sales) except free!
I do my own pedicures and manicures.
Manicures are only practical about twice a year for me for special occasions–I do too much work and projects with my hands otherwise! Pedicures during the summer– taking care of it myself instead of paying someone else also means that I don't need to be concerned about sharing germs with other customers….
I cut my kids' and husband's hair.
I cut my own hair most of the time, too, but once in awhile I need a little help : ) Sure, it's only a few dollars that I save by doing this– but every little bit helps!
Another way that I save money is by spending time in my vegetable garden. I don't always get a lot of produce from it. The time invested is probably not worth what I get out of it. But along the way I'm getting exercise (yes, my doctor said gardening counts as exercise!); I'm breathing fresh air; I'm enjoying God's marvelous creation; I learn new things about plants and/or creatures; and I get some thinking time. Those things may be the primary reasons I garden– and the produce is just an added benefit. Again.. every little bit helps.
I drive a car that gets good gas mileage.
I knew someone once with two kids that thought they absolutely needed a minivan. Sure, I would love to drive an SUV (or maybe a minivan? maybe not). Actually, I would like a Suburban. But it just does not make sense to pay so much for gas. My car is comfortable, reliable, gets good gas mileage, and it meets my needs. I don't want to trade for a Suburban and be cash strapped and then not be able to do projects. What would be the fun in that??!! So the vehicle choices are right up there with the mortgage/ house choices…..
I use Tax Act. You can try it for free, and pay their very reasonable fee only when you are done and ready to file your taxes. It is much easier than Turbo Tax. I worked for Liberty Tax Service one season years ago…. When I answered the phone, everybody thought that I was the owner : ). Well, Liberty Tax Service, just like Jackson-Hewitt and H & R Block (all three companies were started by the same person), use a computer program to do taxes. Tax Act is very easy to use, even if you have a more complicated return to file. Simply log in online, and answer the questions. It is very straightforward and they run a test to see if everything looks right to them– if not, you can add information as necessary.
****Sooo…. if you are wondering where the other 7 things are I will tell you— they are in my new Ebook which is now available on Amazon's Kindle Store!
Did you know that you can read Kindle Ebooks without having a Kindle? You can simply download them to whatever device you are using (a desktop, mobile device, and more!) Go HERE for more information.
I hope you have enjoyed hearing how I save money so that I have more money to spend on projects! Perhaps it has given you some helpful ideas. In my next post I will tell you about my Free Budget Tool— why you need it and how you can get it.
Next Post

SaveSave
SaveSave
SaveSave
SaveSave
SaveSave
SaveSave