I decided to try out this wall kitchen organizer. I like having my aluminum foil easily accessible. Well– this organizer has room for TWO rolls of either plastic wrap, wax paper, or foil, AND paper towels AND spices!! I think that is a great use of space!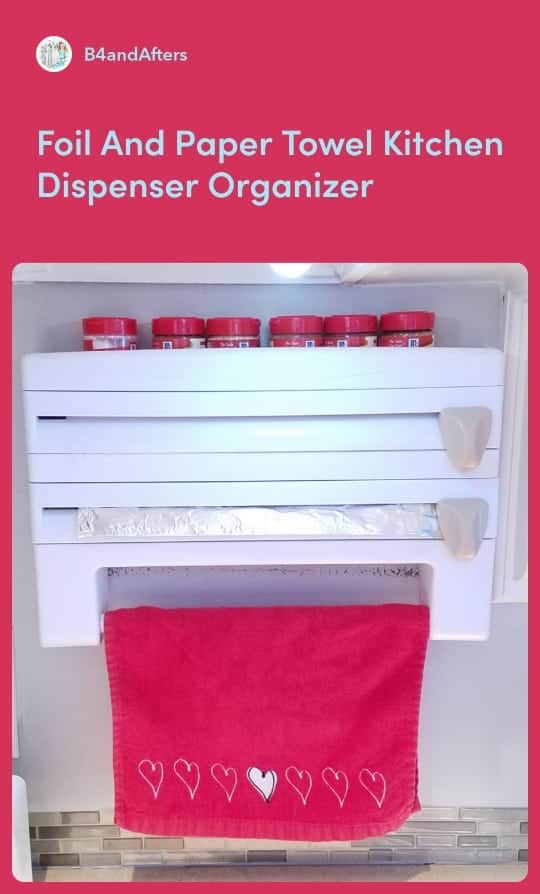 (*This post may contain affiliate links. By purchasing anything from these links, I may receive a small commission at no extra cost to you. More information is available on my
Disclosure
page.)
I like keeping my foil easily accessible right on the wall above my counter. I used a mini curtain rod, but it wasn't working that great.
So I ordered an organizer from Amazon to replace it.
The organizer has room for 3 rolls! Plastic, Foil, and paper towels! And it even has a shelf for spices!
I held it to the wall and marked the holes with a pencil.
Be sure to mark them at the top of the hole where the organizer will be when it rests on the screws.
I inserted the anchors that came with it.
I held up the organizer and screwed the screws into the anchors.
My foil roll was too thick. I had a hard time deciding whether it should roll "under" or "over." I finally decided it should be "over."
This NOT the place where the foil should come out. It should actually go in the slit above.
See? This is the right way. I put a finger towel instead of paper towels because my paper towels are in a different place.
I'm not used to the cutters yet. I am happy with this purchase though, and I think next time I might try a higher end one for better quality.
What is your favorite organizer in your kitchen?
Besides this wall organizer, I think a shelf like this would be great for cookbooks.