Piano Decor
*This post may contain affiliate links to websites such as Amazon. By purchasing anything from these links, I may receive a small commission at no extra cost to you. More information is available on my Disclosure page. I appreciate your support!
While everyone else is posting about their fall decorations, I am getting ready to start teaching piano lessons again after summer break. I decided to decorate with my piano things that I have accumulated over the years. I will decorate for fall in a month or so. Piano students and others have given me some neat things. I've also found some great things at yard sales, thrift stores, and an auction.
I normally have most of these things out already, just because I love piano; and I like being reminded of the people who gave things to me! But I decided to highlight and arrange some things especially nice. I am thrilled to show them to you here!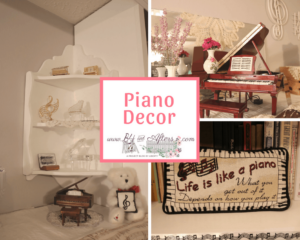 (*This post may contain affiliate links. By purchasing anything from these links, I may receive a small commission at no cost to you. More information is available on my Disclosure page.)
While I was decorating my "faux fireplace mantel" over my television, I decided that I wanted a corner shelf for this corner.
Before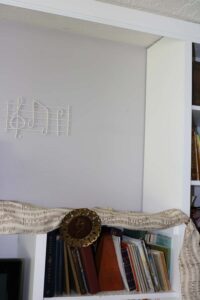 I was able to find one at a flea market. It was a nice shabby chic style, but it just was not going to look right in my corner. So I had to paint it.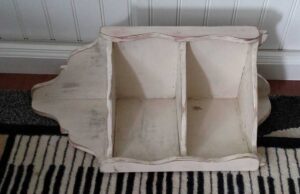 I used a glossy white with primer in it, but the second coat caused the first coat to peel off on one of the shelves. So for the last coat, I switched to flat white paint. I normally do not care for flat paint at all, because it is hard to wash clean. But this time, it gave the perfect finish for this particular shelf. There were no brush marks, and my shelf turned out perfect for my corner.
AFTER!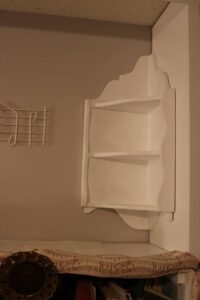 Then I put my gold and crystal piano trinkets on the shelf, just like I had planned. Now I could get onward to the rest of my decorating.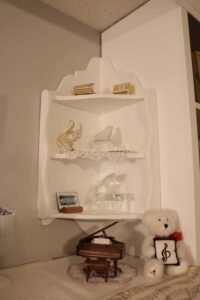 The brown piano is a wooden music box that winds up underneath. The white bear was a gift from a piano student.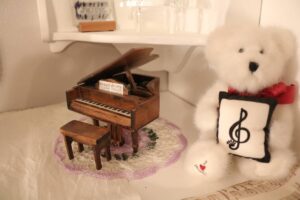 I found the wicker wall set at a yard sale years ago. The little crate supporting the "God is the Arranger of my Symphony" frame I found at the same flea market as the corner shelf, for a dollar.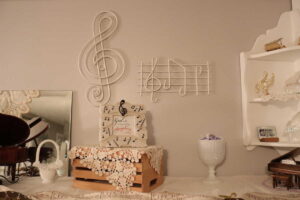 This little saying reminds me that my life is in God's hands, and that He cares for me.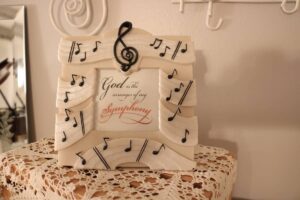 I got this piano music box at an auction for $4, if I remember correctly. The keys move up and down while it plays. It plays by spinning metal disks (you have to plug it in with its cord).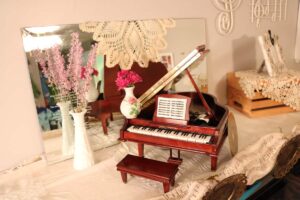 I have 7 disks. You can change which song is playing by changing the disk out like you would for a CD player.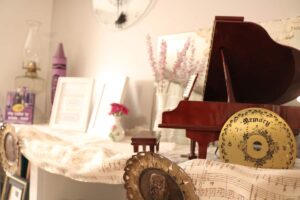 This is what the back of one of the disks looks like.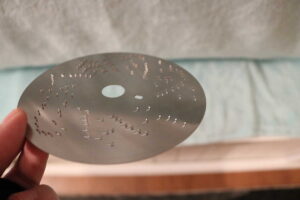 You can find a Christmas version on Ebay currently. I enjoy playing this for my students once in awhile. The fuchsia colored flowers in the vase (that I just got for a quarter at a yard sale!) are mums from my flower bed, and the tall lavender colored flowers are from my monkey grass.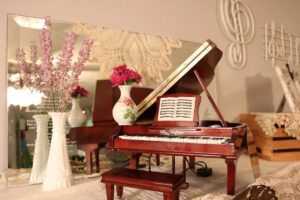 I do have a touch of fall included in my piano decor. It is these framed prints that I created myself! The nice thing about these prints is that they do not take much of your printer ink!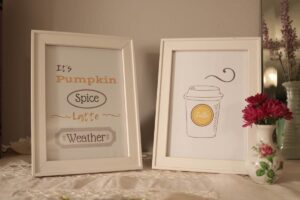 In the left corner are some momentos from our trip to the Crayola store at the Mall of America in Minneapolis, Minnesota, this summer…. a giant purple crayon, a variety packet of purple markers and crayons (a birthday present from the kids to me), and a nail file.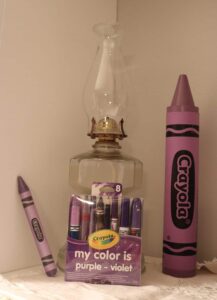 Here is my living room, where I also give piano lessons.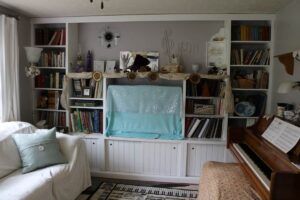 Here's a closeup of the sheer music scarf that I used over the television.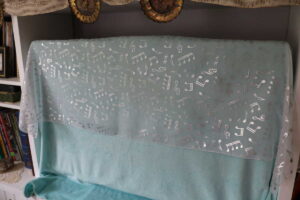 Here is a closeup of one of the composer plaques. The set was a gift from a piano student. The music ribbon was a Sam's club purchase at Christmas time.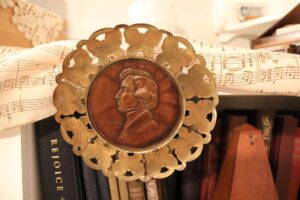 I got this pillow years ago while shopping at a music warehouse. I like this saying because I know that a piano can sound beautiful or awful depending on how you play it, or depending on who is playing it. And life can be the same way– similar circumstances for one person can cause them to have a bad day/ mood/ attitude/ outlook on life, where another person can rise above their circumstances and still enjoy life. Guess which person I hope I am??!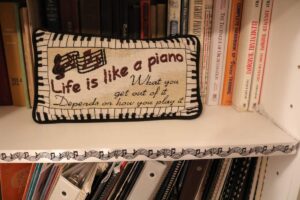 I think I found this music box at a thrift store. It is very heavy and made in Japan.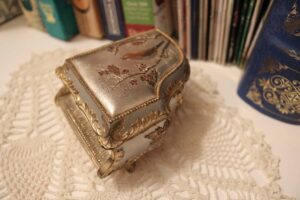 The music box matches the little vase that I have on this shelf over the doorway to my kitchen. (I will post how I installed this shelf sometime soon.) I bought the vase at a thrift store just because it matched my music box. One of my student's parents gave me the "Liberty School" block back when I rented a separate piano studio for teaching.

This is another gift from a piano student. Piano students give the nicest things, don't they?!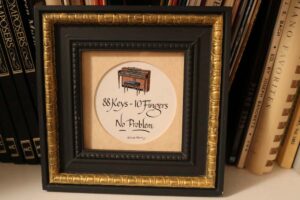 I crocheted this wall hanging years ago. First I graphed it out, then I crocheted it.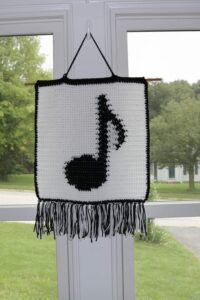 This CD tower was a gift from an adult piano student.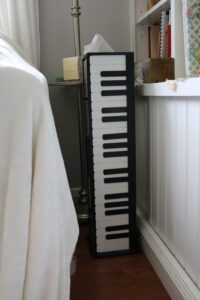 Another gift…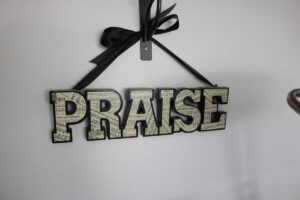 Now this scarf holder is something that I bought for myself about 17 years ago. It is just off of the living room in the basement stairwell.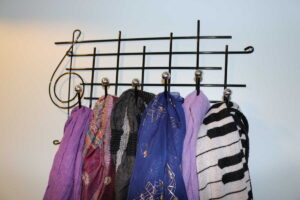 Every piano teacher should have a piano scarf….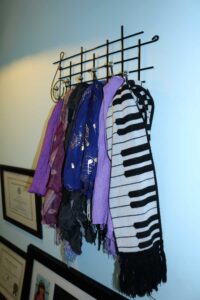 And last but not least is my…. piano carpet. This was a gift from a relative and imported from Canada. The quality is excellent as it has been very well used and it is around 16 years old. The carpet is still almost like new.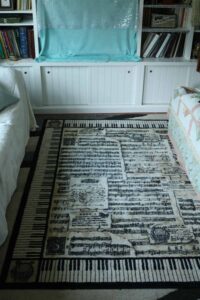 What do you think?! Do I have enough piano decor? You haven't even seen my kitchen yet…. or my door.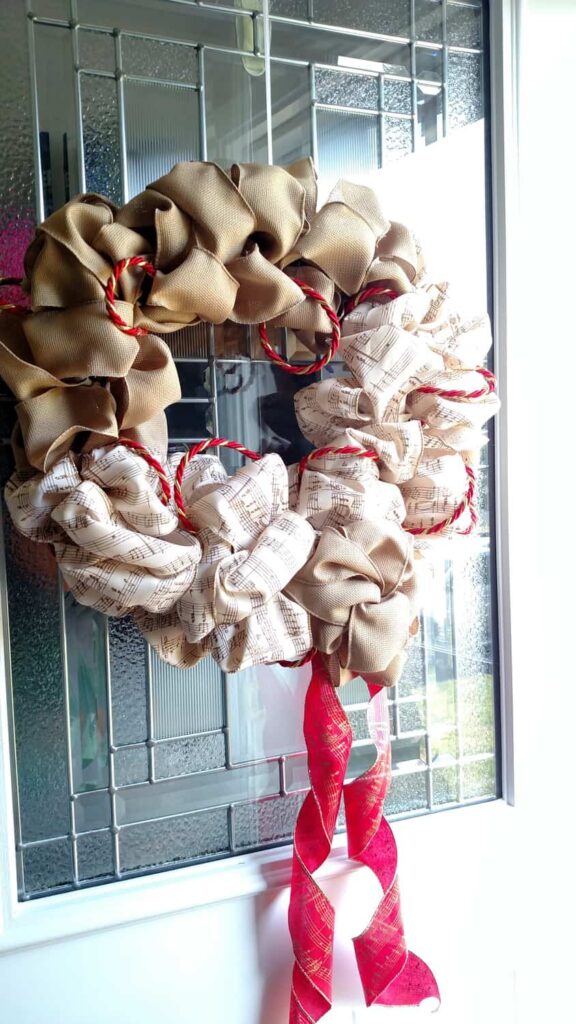 OH! I almost forgot about the CLOCK! It is there all of the time so I almost forgot to give you a closer look. The clock was also a gift. Sometimes visitors have a hard time telling the time from it…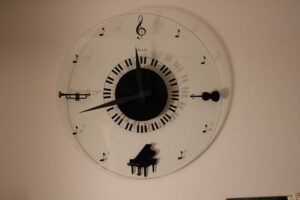 Here's another look at the entire room. I hope that you have enjoyed this tour of my Piano Decor!