Free Fall Coffee Printables
This post contains links to affiliate websites, such as Amazon, and we receive an affiliate commission for any purchases made by you using these links. We appreciate your support!
*Update: I sized these on my printer to print small– they are only 3 and a half inches tall! I cut them out, laminated them, and then creased them in the middle. Now it stands up by itself, and is small enough to fit in my pocket and give out as little seasonal gifts to my friends or coworkers!
(To Subscribe to B4 and Afters' Newsletters and for complete access to these free printables, Click Here.)
I like free printables. I have had all sorts of ideas to create new ones for my readers. This one is Fall related– and since Winter seems to come quickly after Fall, I have included Winter ones, too.
I hope that you like them as much as I do! One of the great things about these printables is that they don't take up very much printer ink.
This first one is my favorite. Somewhere I saw something about a Pumpkin Spice Latte, and I came up with this idea for a set of coordinating printables. I recently posted about the Coffee Station in my kitchen, so a printable about coffee seems appropriate.
Fall Coffee Printable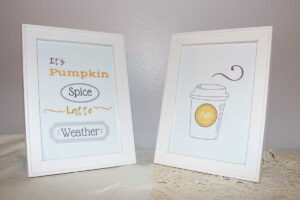 (*This post may contain affiliate links. By purchasing anything from these links, I may receive a small commission at no cost to you. More information is available on my Disclosure page.)
I printed mine with my printer set for a 5×7 or a 5×8 page. You can use two coordinating frames, or two different frames. I like the dark frame best with mine, but I only have one of them!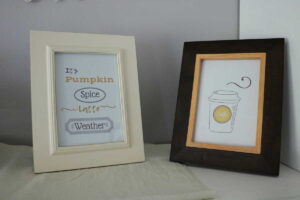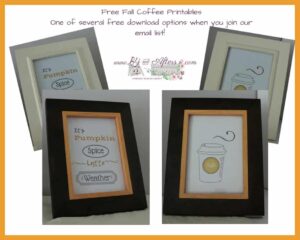 Here are the winter ones! After Pumpkin Spice Latte weather comes Hot Cocoa Weather. Perhaps I should include one that says "Hot Chocolate" as well as "Hot Cocoa"? If you want one that says "Hot Chocolate" instead, let me know in the comments and I will be glad to make it for you.
Winter Drink Printable #1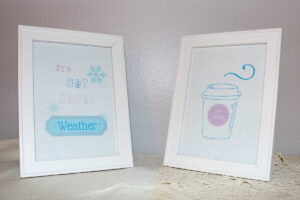 Lastly, but not least, comes the season for Peppermint Chocolate Chip Shakes! The Pumpkin Spice Latte may be my favorite printable in this post, but this shake is my favorite drink! I get it with whip cream on top. If you're not sure where you can find a shake like this… let me know in the comments and I will tell you. : )
Winter Printable #2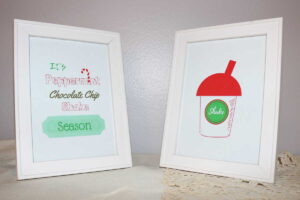 Here are all of the seasonal drink sets in one glance! I hope that you enjoy these as much as I enjoyed creating them. : ) I think they would also look nice in a vertical frame that had two picture openings, one above the other.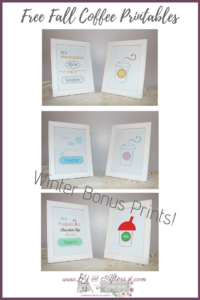 You can print these any size you like– just tell your printer what size to use in the "Page Setup" section. (I thought that I would give you the choice of having a pumpkin for one of the "P's" in pumpkin.) To get the free downloads, sign up for my emails of new posts. If you are already signed up, I will be sending out an email soon with a link for you to use if you wish. Enjoy!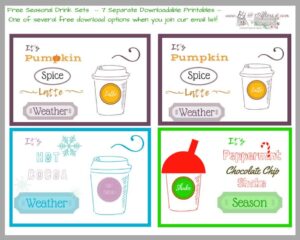 I also created coordinating checklists! You can find them here.


#PSL #pumpkinspicelatte #hotcocoa #freeprintables #peppermintchocolatechipmilkshake