Fall Decor 2019
This post contains links to affiliate websites, such as Amazon, and we receive an affiliate commission for any purchases made by you using these links. We appreciate your support!
Well, I hope it is not too late to share my current Fall Decor. I have until Thanksgiving, right??
FALL Door Sign
Somebody gave me an old Cricut machine. I had heard about them, but had not seen one in action. The first thing I did was make this giant FALL sign for my door. I made the letters as large as it would fit on a 12×12 piece of paper. Then I laminated them for durability.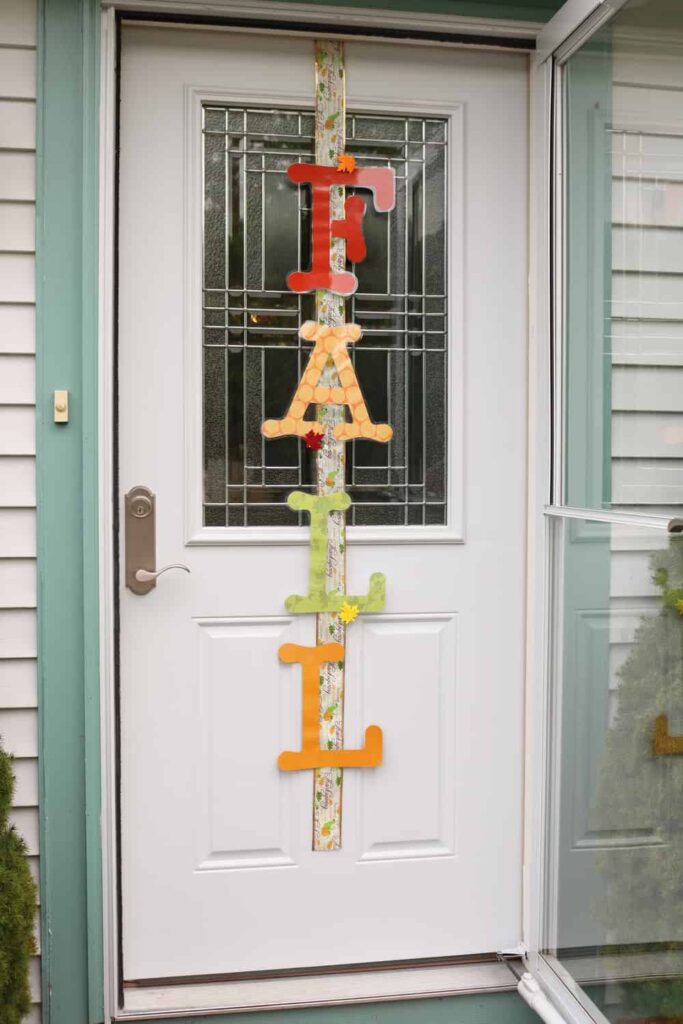 I added these felt leaf clothespins from the Dollar Tree for embellishments.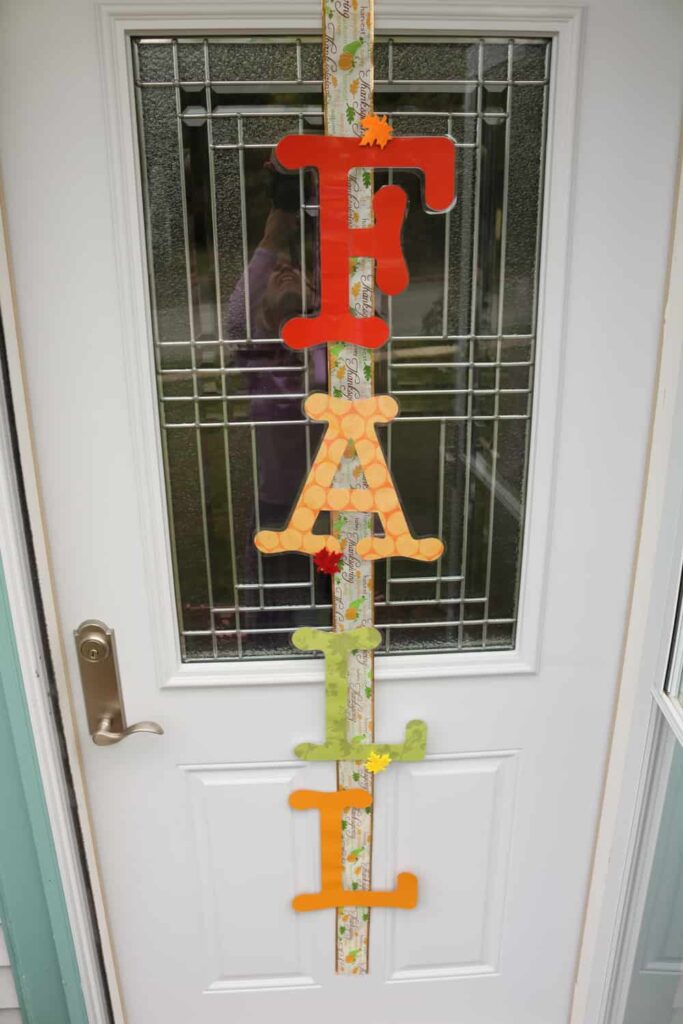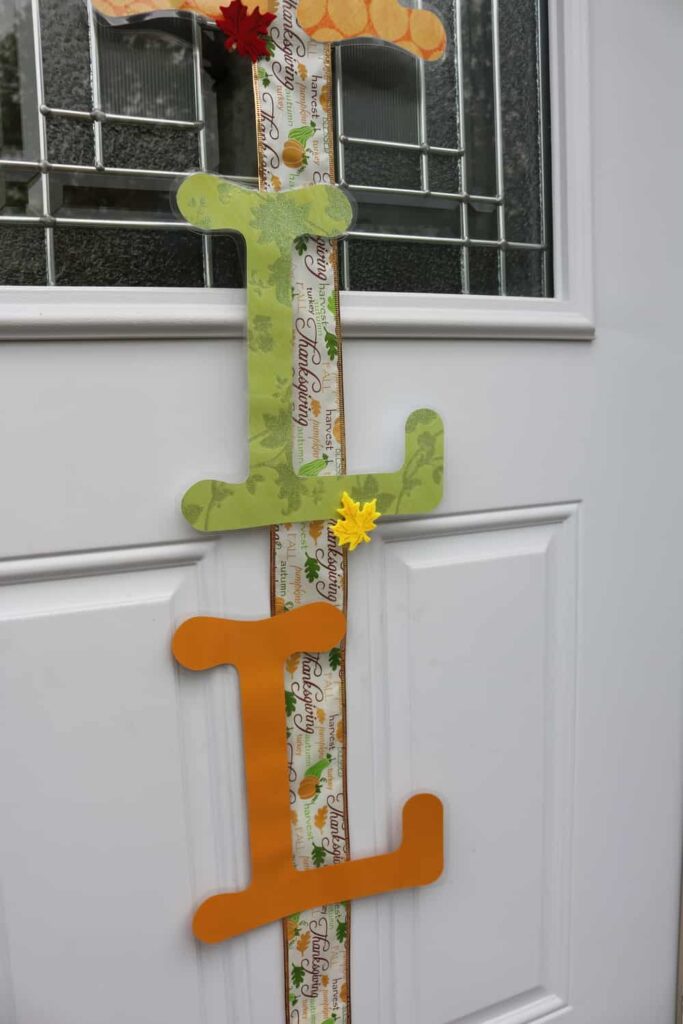 The inspiration for my FALL sign came from seeing this JOY sign in a catalog.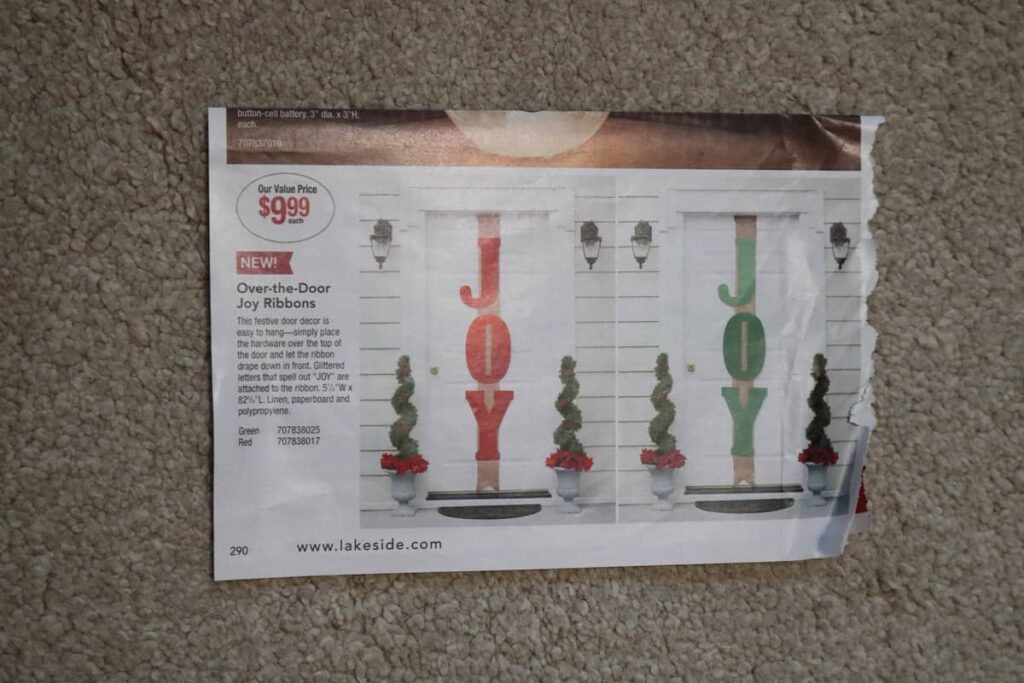 My Cricut cannot do any cursive or script fonts. Now that I know what this machine is capable of, I am itching to upgrade it!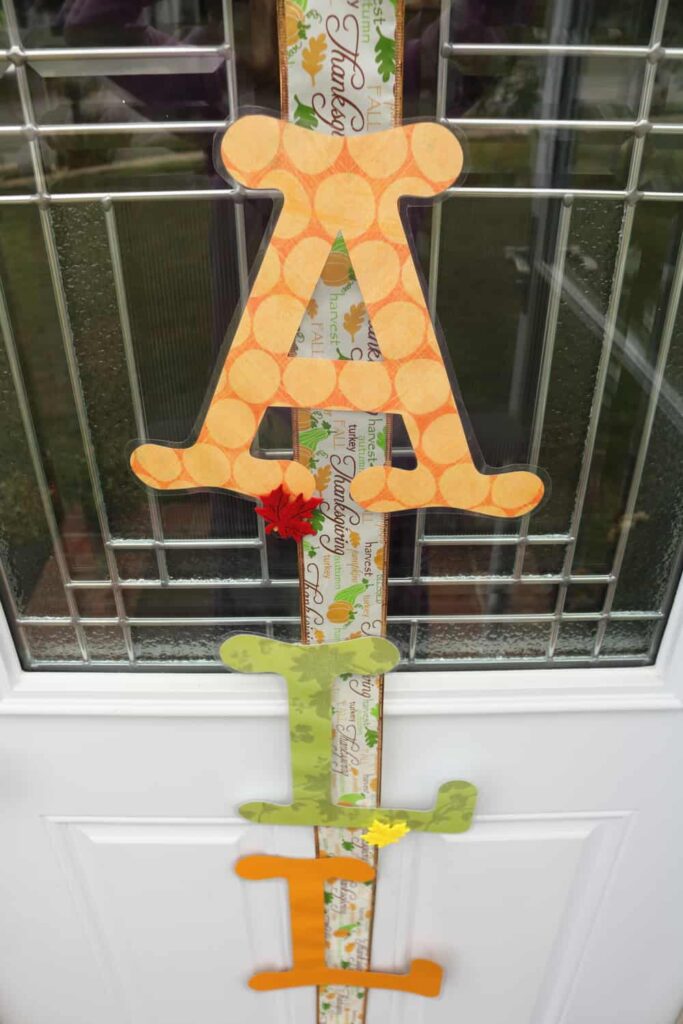 Leaf Dish
I got this Leaf Dish and an orange one at the Dollar Tree last year. I may have bought them on clearance for 50 cents each. I decided to hot glue a piece of ribbon onto it and hang it on the wall at my Coffee Station. Then I clipped on some of those same leaf felt clothespins to give it a little extra pizzazz.
Jello Mold?
I tried using the leaf dish for a jello mold, but I wasn't satisfied with how it turned out. Maybe if I piped whipped cream onto it for the leaf veins??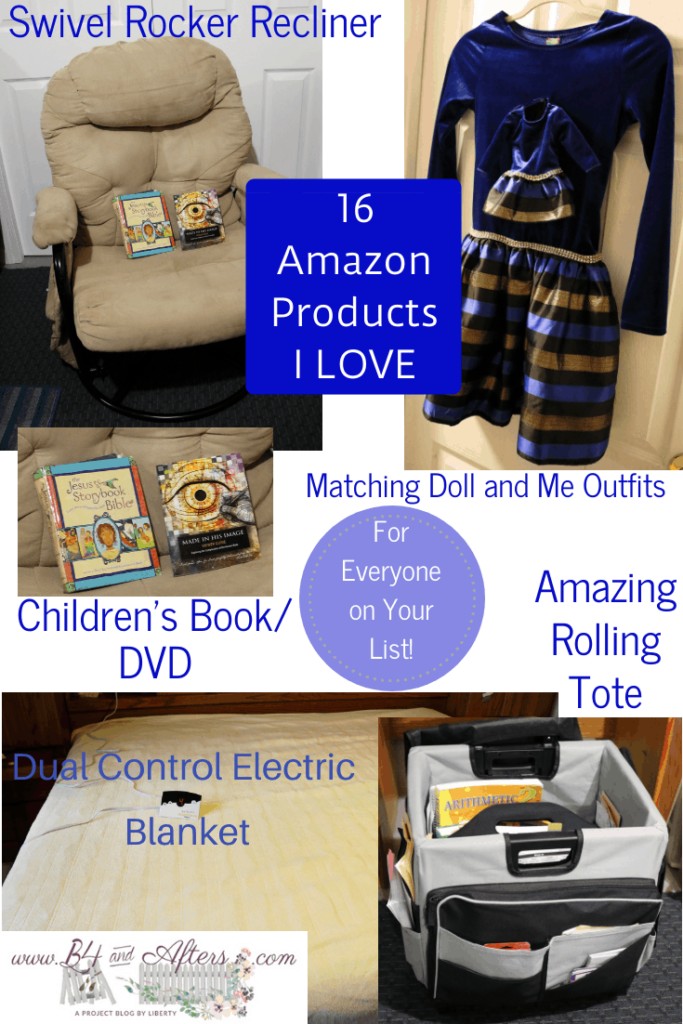 Tablecloth
This is my tablecloth this year, bought on clearance last year for half price, of course. And now guess what the dishes are being used for— dishes! I hardly ever use something for its intended use!!! : ) Okay, well, I do, but it's common for me to use it for something else.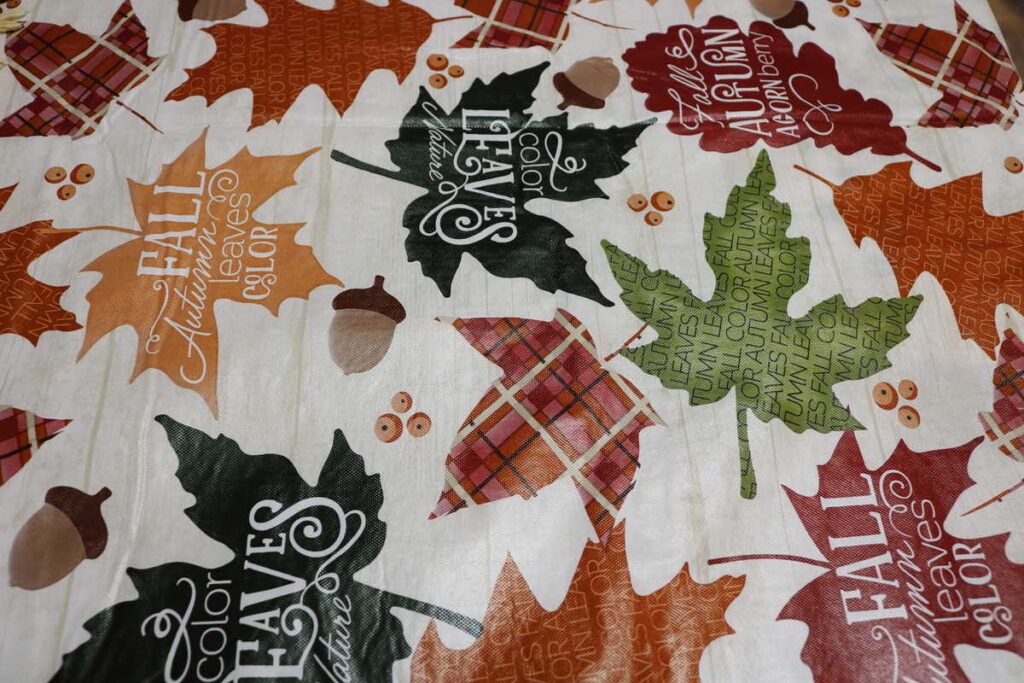 You may have seen my Fall Tree made with metallic confetti.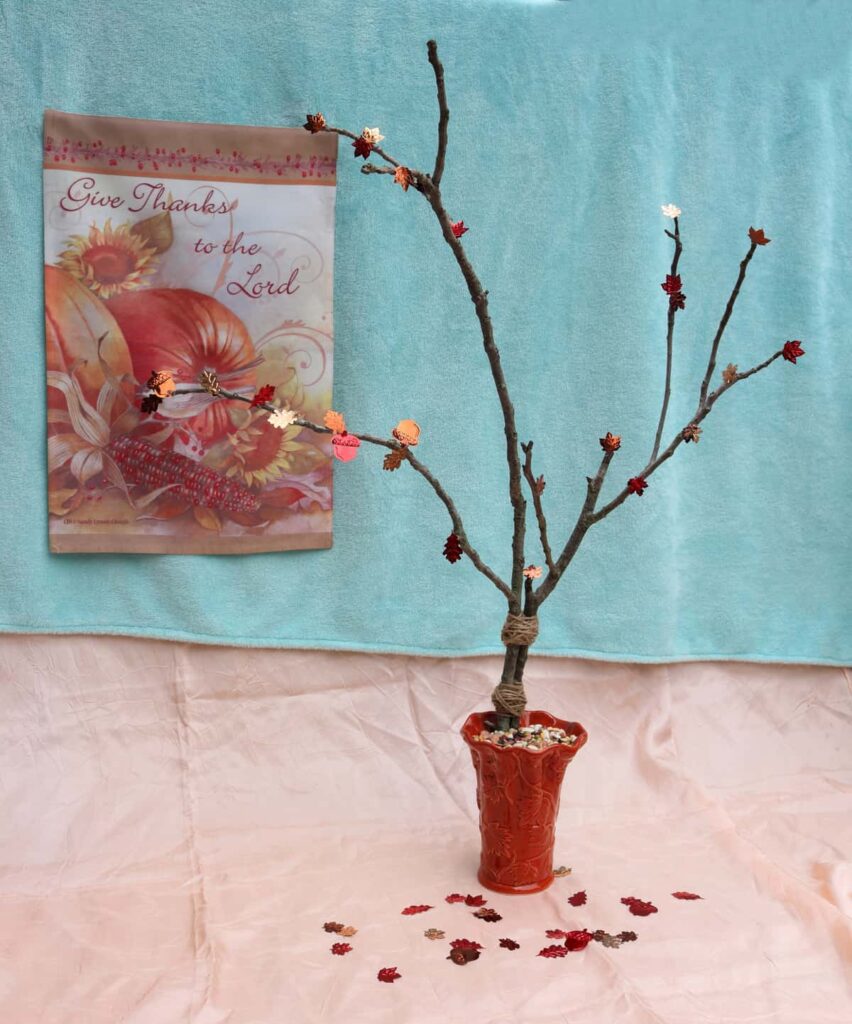 Here's my mini Pine Cone Tree all decorated for Fall.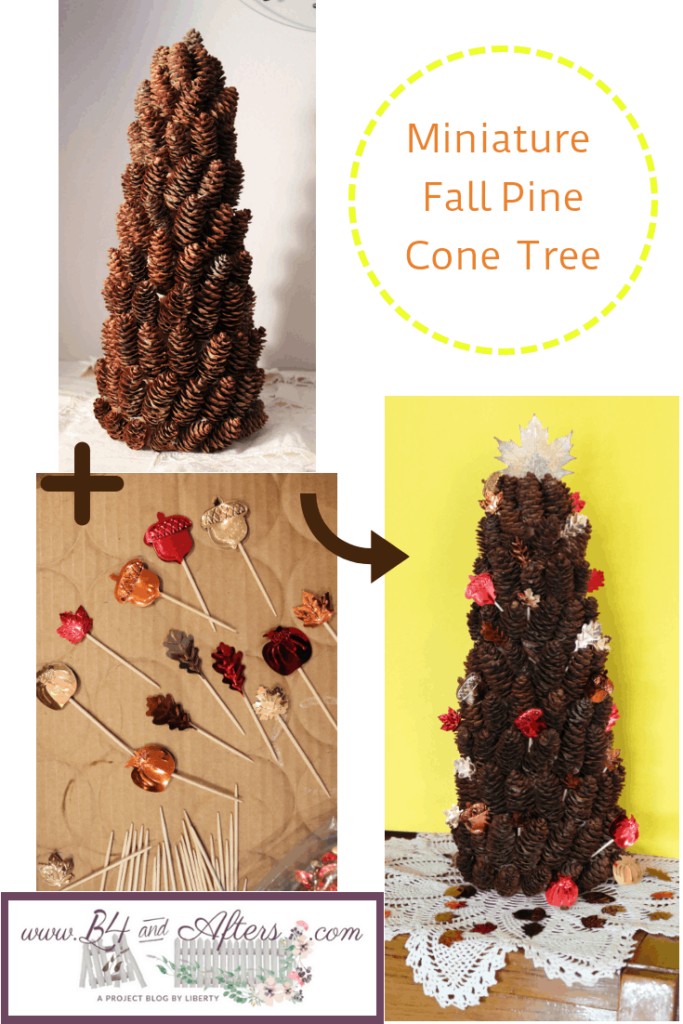 This Thankful Sign was the first thing I used the metallic confetti on.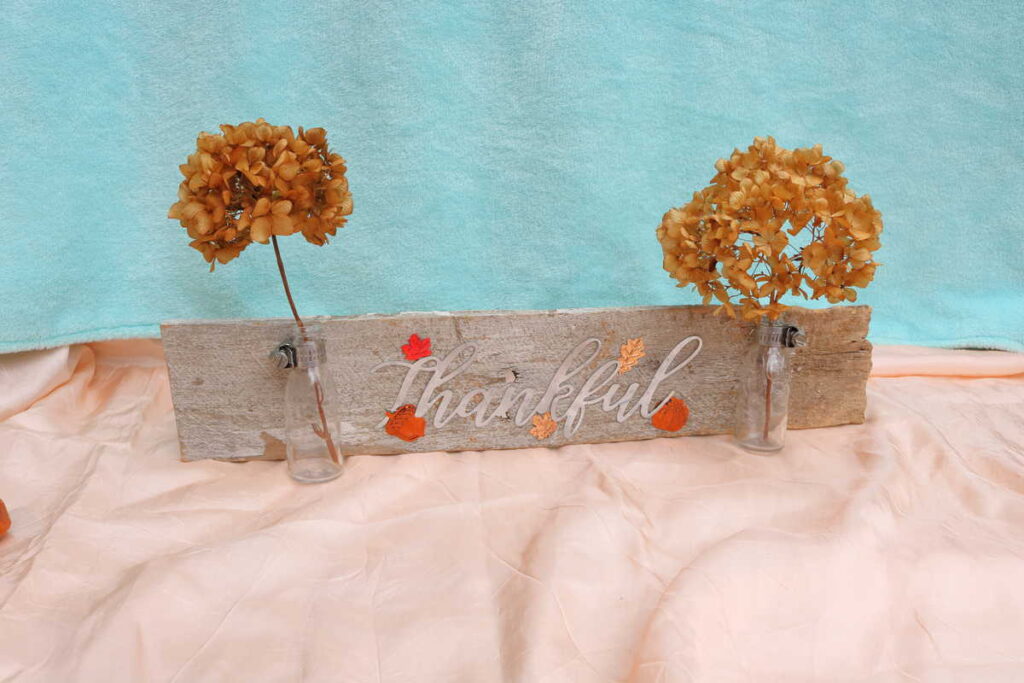 I used the Thankful Sign and the Fall Tree above our television. I put the pine cone tree on the piano this time.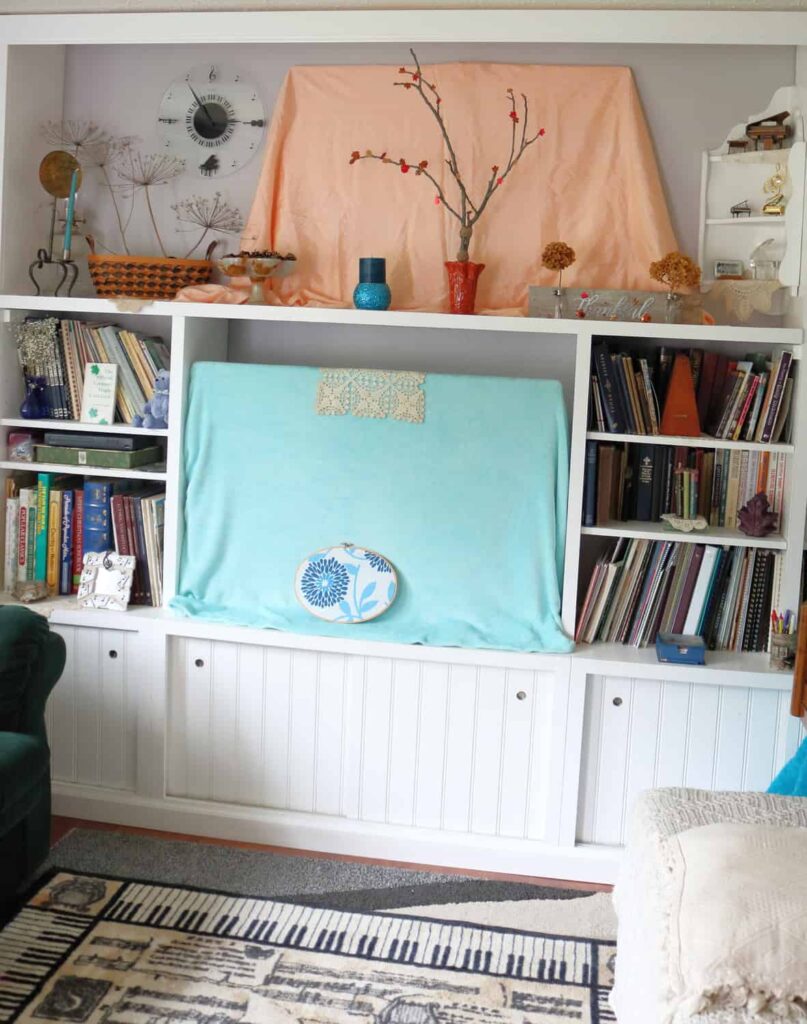 I used poster board with the peach fabric draped over it to change the color of the background. It's the first time I have tried it, and I like it alot! (I ended up removing the light strings.)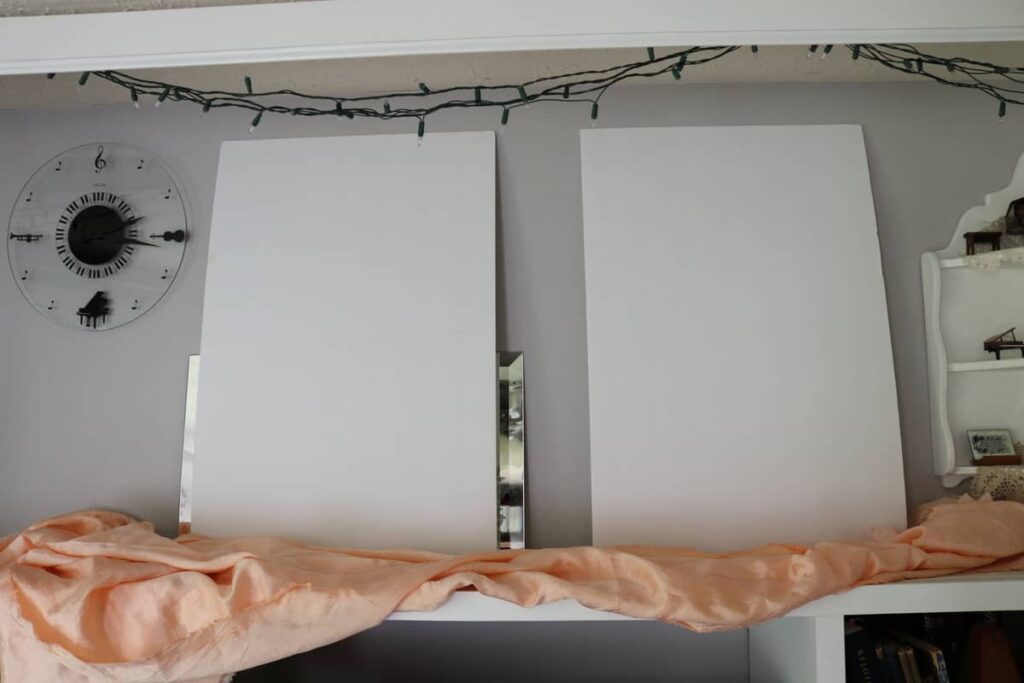 This basket in the left corner holds some dill weed sprigs. I may end up spray painting them later on.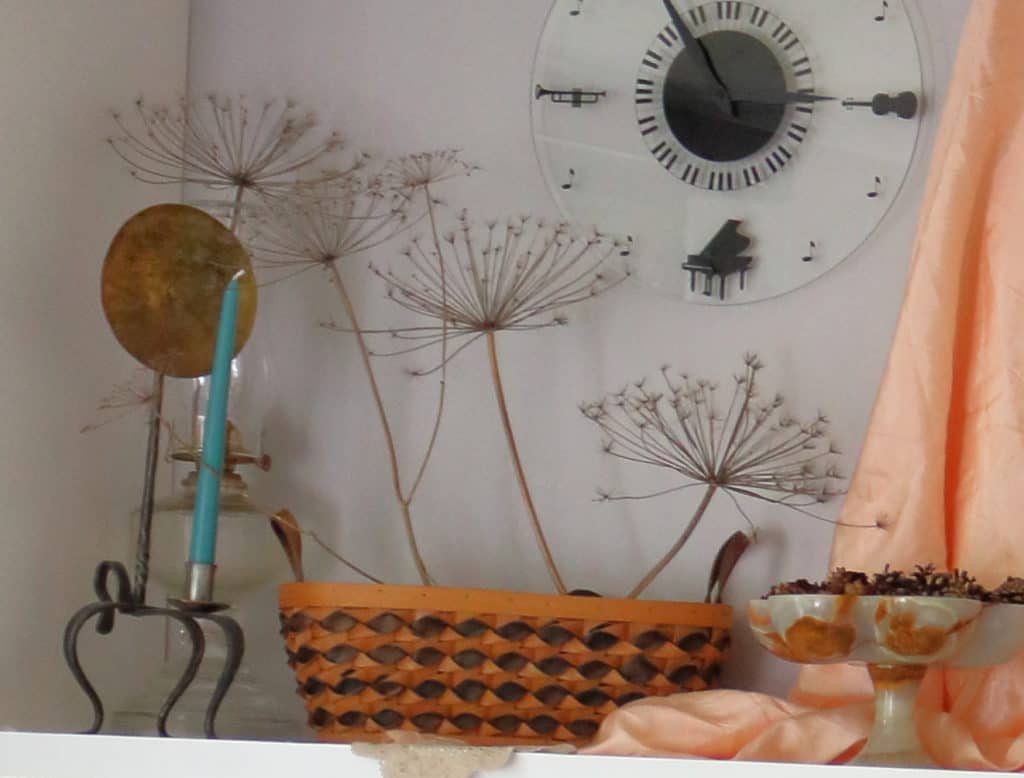 I found this little cookbook booklet in my collection and realized that it would fit in with fall decorations.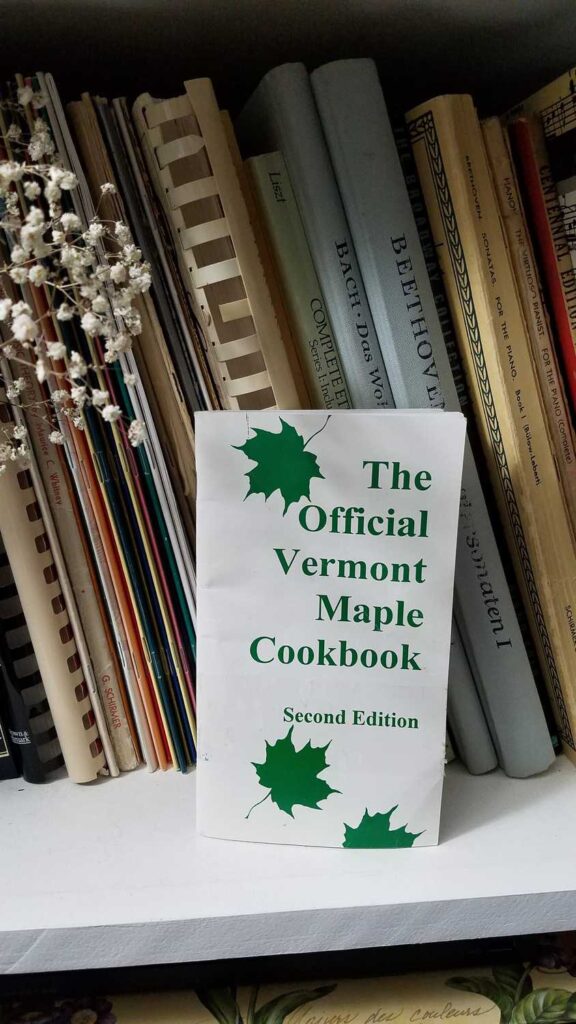 I put small pine cones in this fruit bowl. I got it long ago from a yard sale or a thrift store. I love things made of rock. I like hiking among rocks. (But one thing rock I don't care for is rock music. Ha!) A friend suggested that it looks like agate or alabaster. It also looks alot like white onyx.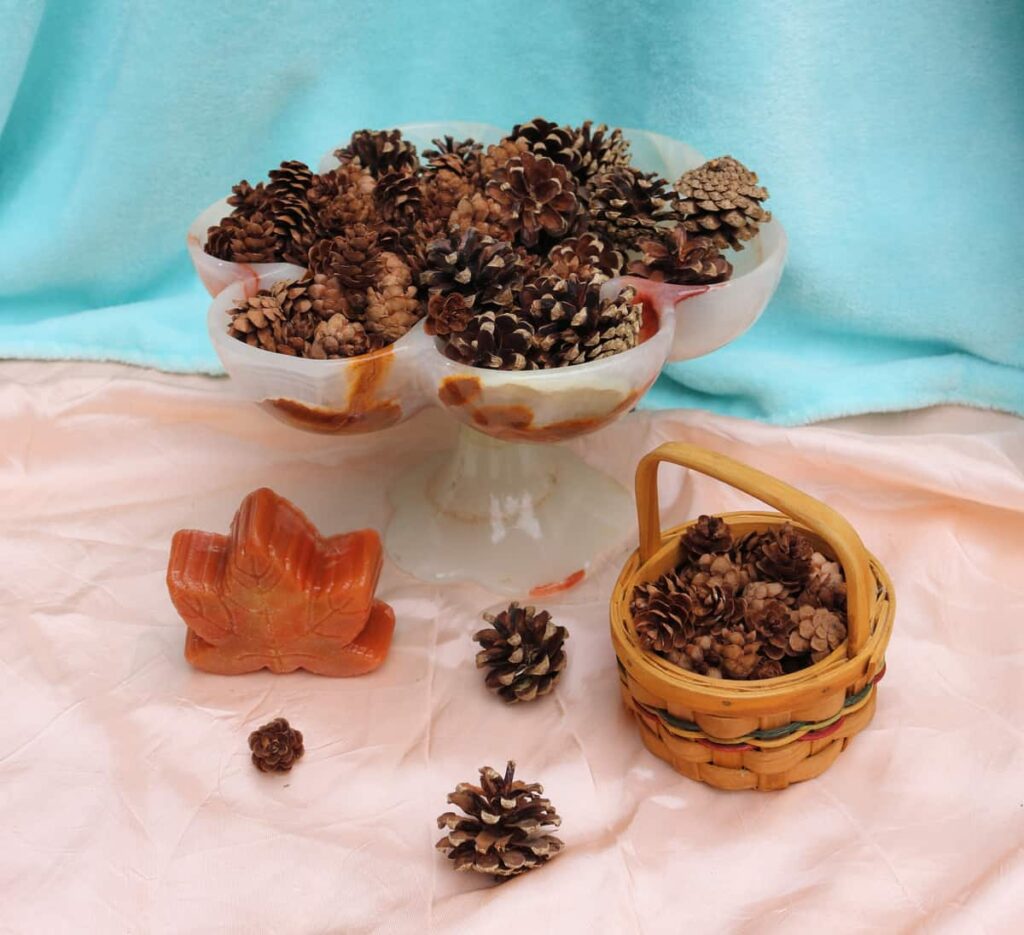 I won this Maple Leaf soap in a giveaway from Paula at Virginia Sweet Pea last year.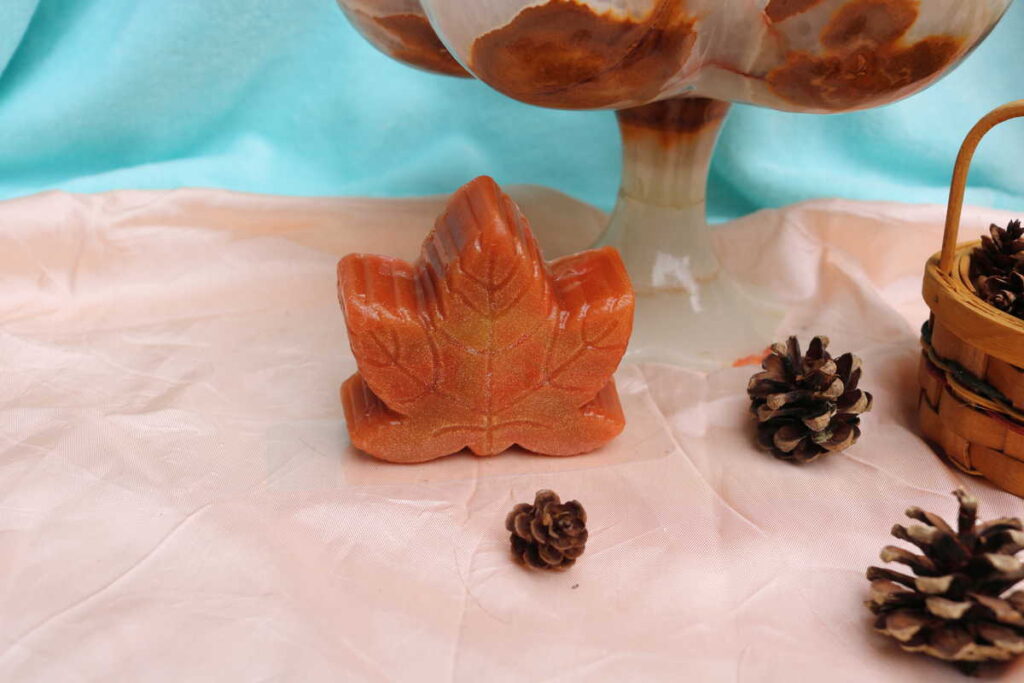 I thought these mini pine cones looked so cute in this little basket.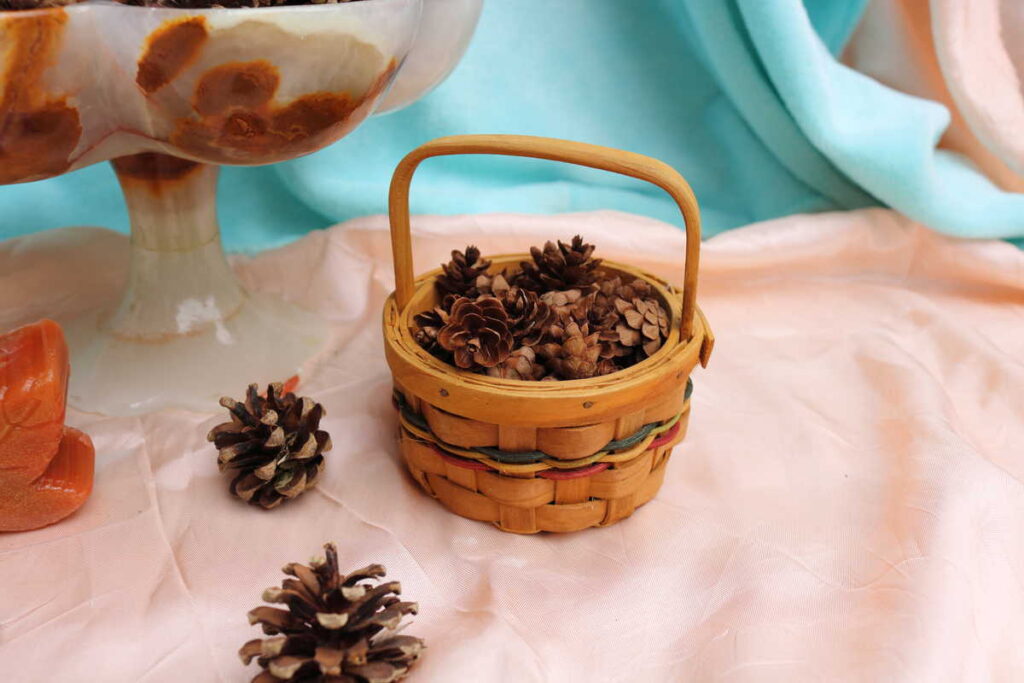 I ended up putting the soap and the little basket on my piano with the pine cone tree.
I'm very happy with how my bookshelf area turned out this year.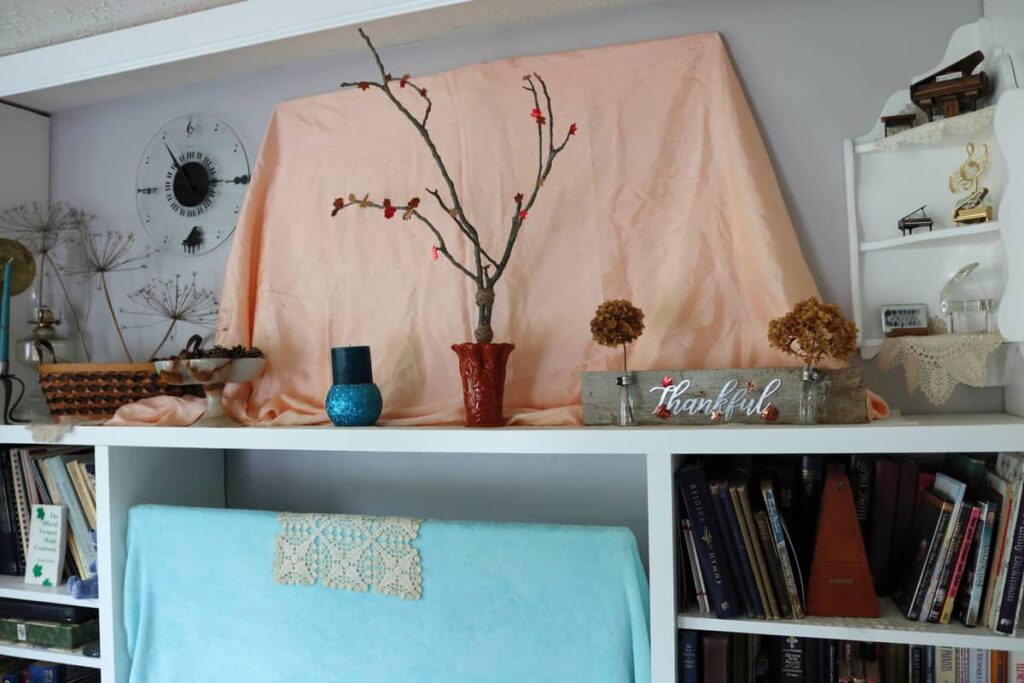 Outdoors
Here is what the side of my house looked like at the end of October. My sweet potato vines had climbed a trellis. The red flowers are pineapple sage. A rose is peeking up just in front of the fence. To the right of the pathway is purple verbena and purple heart, along with some lamb's ear.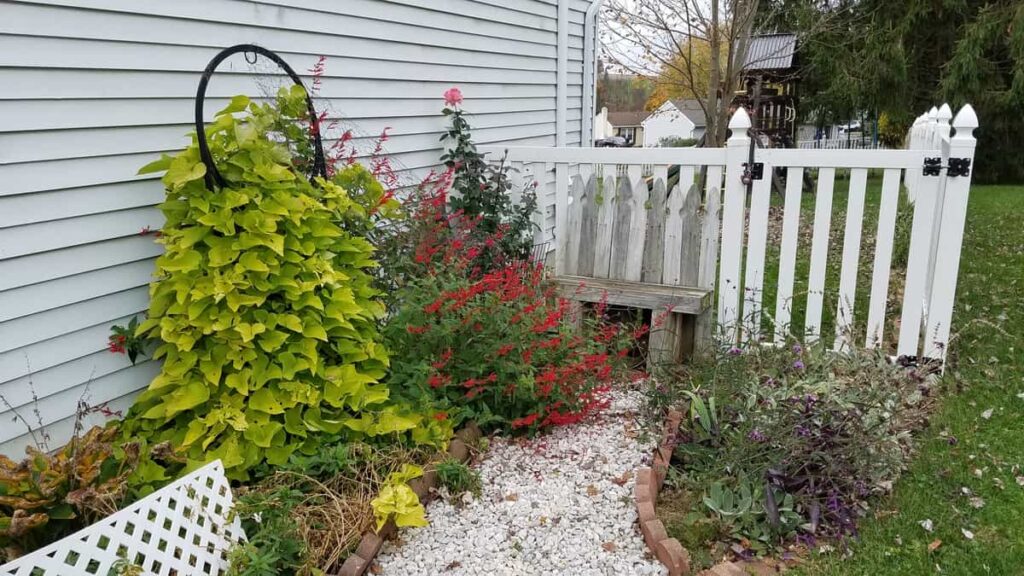 Here are my mums at their peak. The purple ones must really like where they live! On the right are some envelopes of tea made with the Tea Tags to encourage another blogger fighting cancer, Kari at Me and My Captain. I had noticed that she was drinking tea and thought she would like these encouraging words.
I hope you have enjoyed seeing my Fall Decor this year, and that it has inspired you in your decorating ambitions.