Crochet Custom Glove Cuffs
Today I am going to show you how to crochet a custom cuff onto your glove. I made several pairs of these gloves to give as gifts. They are so pretty though, that I will probably keep at least one pair for myself!
Did you ever wish your gloves were longer at the wrist? Sometimes gloves don't meet your coat sleeve, and the crisp winter air gets in if you are reaching for a child or a shopping bag or something. This is my solution; and it adds a really pretty custom accent at the same time. It adds such a nice touch for a semi-homemade gift, and it does not take near as long as making the entire glove! (Everyone will ask you if you made the entire glove ; ). )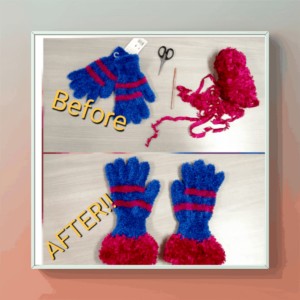 First, you need to buy some gloves. Preferably you will want soft ones, and in colors that will coordinate with your yarn. Mine only cost $2 each. You also need to buy some "fun fur" or other similar yarn, such as the Bernat Boa that I used for these. Not all fun fur has the same softness– so beware of that if you buy your yarn online. [I had one bright pink skein already (from I don't know where), and I found the others on Ebay.] Then you will need two crochet hooks*— a tiny one and a medium sized one. I used 2.75MM for my tiny one, and H (8) for my medium one.
Before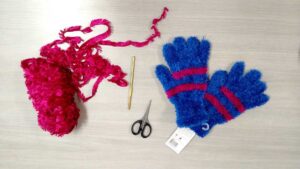 (*This post may contain affiliate links. By purchasing anything from these links, I may receive a small commission at no cost to you. More information is available on my Disclosure page.)
Use the tiny crochet hook to poke into the glove. Start at either the thumb side or the opposite side of the glove, so that you will know when you get to the end of a round/ row. The furry nature of the yarn makes it harder to tell where the rows begin and end. Use a slip stitch to connect your yarn to the glove. Then at regular intervals, use single crochets with 2 or 3 chain stitches between the single crochets for your first row. Continually check that the glove can stretch to fit your hand inside– then you will know if you are spacing your single crochets and chains too far apart.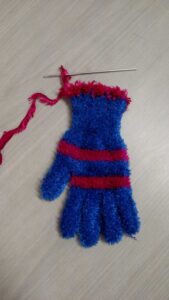 Complete your first row with a slip stitch. For the second, third, and maybe fourth row (it's up to you), I use double crochet stitches, with a chain or two between those. That is what I did with this pair. Then for other pairs, I used more double crochets and less chain stitches between– it all depends how ruffly you want your cuff to be. The picture below shows the first row of double crochet.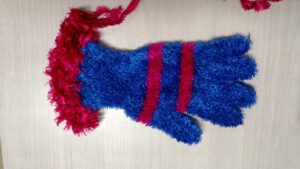 For your last row, if you want you can just chain 3, connect with a single crochet, and repeat all the way around. Or you can end it with just one of the plain double crochet rows. For me, it depended how I liked how long the cuff was getting to be. Working with this kind of furry yarn– it is all variable— especially since it is so hard to tell where you are poking your crochet hook for each stitch. The furry part helps hide if you make any mistakes, too. : )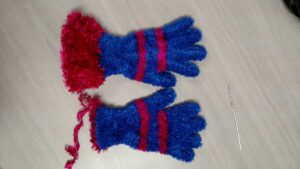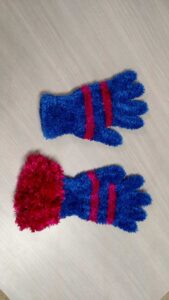 Be sure to wash the finished gloves in a lingerie bag if you put them into the washing machine. I like to dry mine on my drying rack, also. But they would probably dry a little softer if you dried them in the dryer just for a minute or two, and then let them finish drying on the rack.
The gloves that I found were silky– and matched my yarn in texture so well. I'm tempted to keep all of them!!!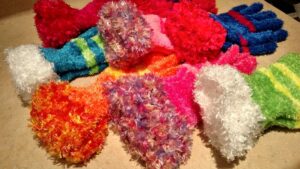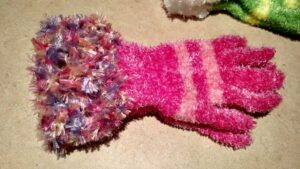 The Bernat Boa yarn color that matched the orange and yellow gloves is called Tweety Bird.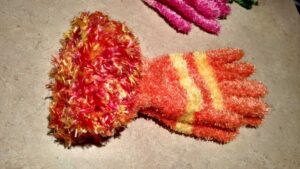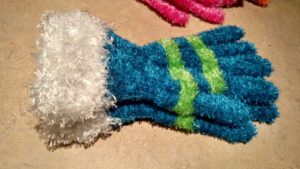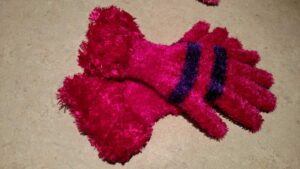 Is this a project that you would try? Which color is your favorite?
AFTER!!!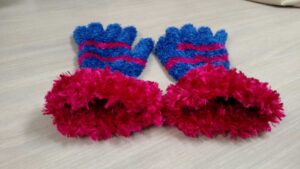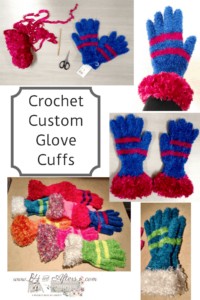 SaveSave
SaveSave
SaveSave
SaveSave
SaveSave
SaveSave
SaveSave
SaveSave