Chocolate Covered Strawberries
I know that usually people think of Chocolate Covered Strawberries around Valentine's Day. But it could also be a refreshing option (or addition) to Christmas cookies.
I don't have a Before picture this time– just imagine plain strawberries. : )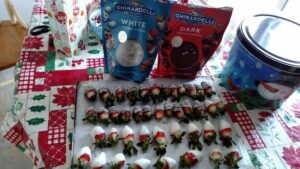 (*This post may contain affiliate links. By purchasing anything from these links, I may receive a small commission at no cost to you. More information is available on my Disclosure page.)
I used the same Ghirardelli Chocolate Melting Wafers that I used for my Chocolate Covered Pretzels. You can find them on Amazon year round, or at Sam's Club around the Thanksgiving and Christmas holidays.
To add the drizzle over the top, I put some of the melted chocolate in a ziplock back and cut off a small corner. Then I just piped it on like frosting. You could also just dip a fork in the melted chocolate and swing it back and forth, for a more haphazard, uneven look.
My strawberries were an odd oblong shape– but that made them perfect for dipping. What about you? Do you think chocolate covered strawberries are a healthy option instead of cookies? : )
AFTER!!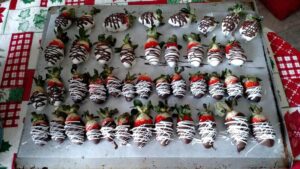 SaveSave
SaveSave
SaveSave