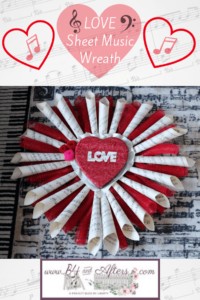 Well, I am sooo excited to show you this new wreath that I made! It seems that for me, the Valentine heart theme usually includes music, since this is at least my third red/heart wreath. Maybe it's because I love music?! Here is the other one that I blogged about: Valentine Music Wreath.
I had so many ideas when I started to make this wreath. I had to sort out which ideas to keep and use, and which ideas to save for another time. I knew that I wanted to use rolled up sheet music. As a piano player and teacher, it seemed strange to use real sheet music for anything other than playing…. but I ended up using an older book that I didn't care for, as far as playing goes. I do have plenty of them to spare.
LOVE Wreath, Before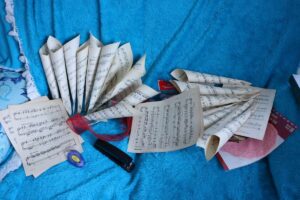 (*This post may contain affiliate links. By purchasing anything from these links, I may receive a small commission at no extra cost to you. More information is available on my Disclosure page.)
Before I rolled up the pages though, I created the word LOVE. I used mini foil die cut letters from the Dollar Tree to cut around. I did not cut all the way through the letters, so that the word is one piece of paper. Then I used glitter foam table scatter as a sticker for the middle of the O. I just cut the heart a little smaller to fit. I was not sure how I was going to use this in my wreath, but it turned out to be the focal point in the end. It is also my favorite part.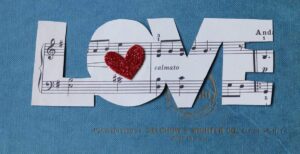 I also wanted to use deco mesh for my wreath. I had bought it half price after Christmas a couple of years ago. It was probably $4? That, and the heart shaped wire frame from the Dollar Tree, are the only things that I bought!
I used red glitter pipe cleaners to tie the deco mesh onto the heart, in the center, so that it folded out into two pieces. It was good that I did this, because I used up the entire roll and I needed every bit.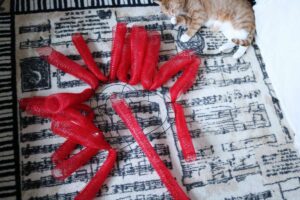 I realized that I needed something to glue the deco mesh in place, so I cut a rough heart shape for the back of my wreath. It is a good thing that I save random pieces of cardboard! You never know when you might need one. If I had Marie Kondo-ed my house, I would have been out of luck. (Read Why I Will Not Be Thanking My Socks here, if you haven't already….)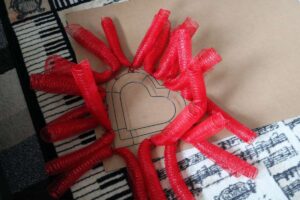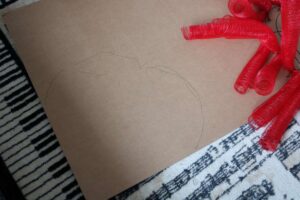 Then I hot glued the red mesh into place.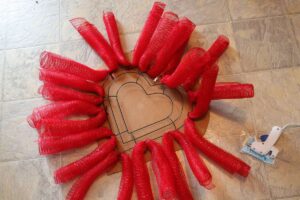 When I rolled the sheet music into cones, I stapled the ends and used glue dots up the paper sides to keep the cones rolled how I wanted them. That made assembling the wreath fairly easy. I weaved it into the heart frame on top of the deco mesh, and then hot glued them into place.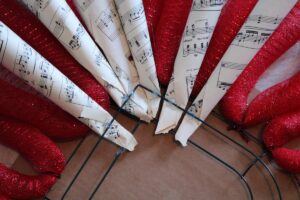 As you can tell, I'm working on the floor. Sometimes a project is so big, the floor is the best place to do it. However, I have been working on a counter height craft table area so that I can stand (or sit on a bar stool) to do projects. That should make everything much more efficient and comfortable.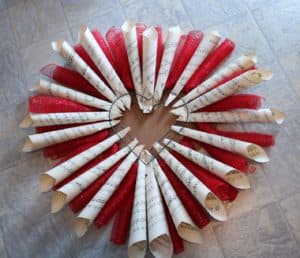 You can see some gaps between the paper and the mesh. So I hot glued the sides of the mesh to the sides of the rolled paper in some places to close those gaps.
My plan was to use the top of a chocolate box that I had saved. But it was not quite big enough to cover the wire wreath: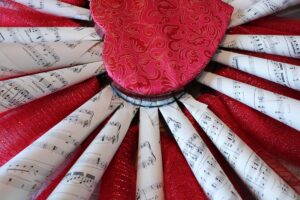 So to fix that little problem, I hot glued some wide ivory colored ribbon around the bottom edge. I'm glad that I had to do that, because it adds a nice touch, I think.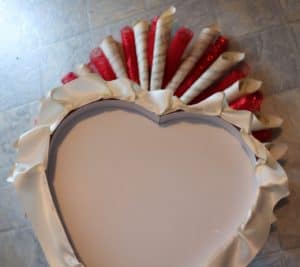 Then it fit just right! I hot glued the heart shaped box to the wreath.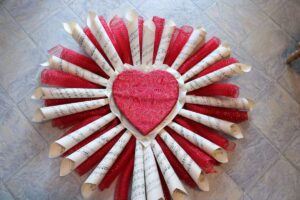 Next, I hot glued the LOVE to the center. Tulle was one of the ideas I had pulled out…. by simply wrapping it around my finger I was able to easily created three little rosettes to add to the wreath.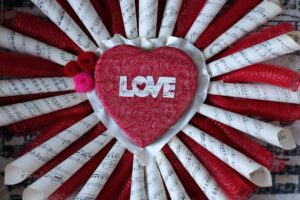 Aren't they cute?!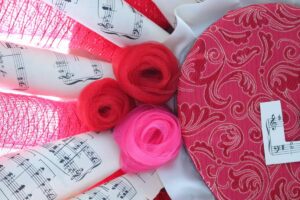 I was so pleased with how this LOVE wreath turned out. I hope that you like it, too! Rolling the sheet music and the deco mesh took quite a bit of time, as well as creating the LOVE and assembling everything. But my cost investment was only about $7. I think that it was worth all of the time it took.
LOVE Wreath, AFTER!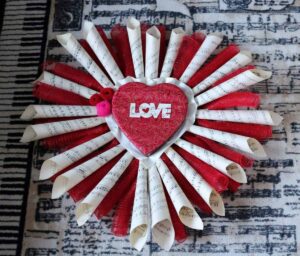 Have you ever made a rolled paper wreath? I've seen different variations over the years, and this was my first one. I'd love to make another one sometime.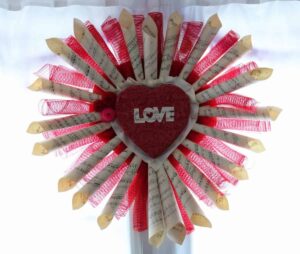 I hung this wreath in front of my living room windows before moving it to hang on my office door.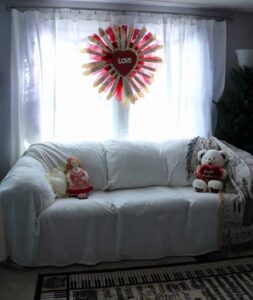 To see an easy way to Hang a Wreath on a Door, Click Here.