Sweet Pink Kitchen Sink
This post contains links to affiliate websites, such as Amazon, and we receive an affiliate commission for any purchases made by you using these links. We appreciate your support!
I had so much fun "styling" my kitchen sink with snowmen, that I decided to style it for Valentine's Day, too.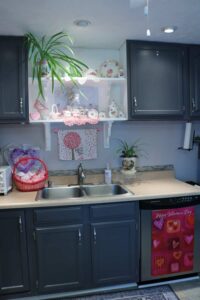 [sc name="This Post May Contain Affiliate Links"]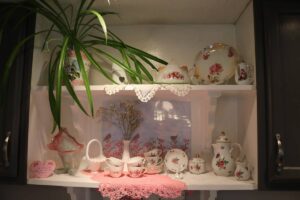 On the top shelf I put a spider plant that I repotted into this metal planter. I lined it with a plastic bag so the metal wouldn't rust when I water it. This is a great place for the plant, because the cat cannot reach it. This is my first time putting a plant on these shelves, and I really like it.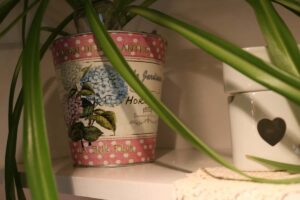 The soup tureen and the plate belonged to my grandmother. The little teapot was a gift from a friend. I did not make the doily.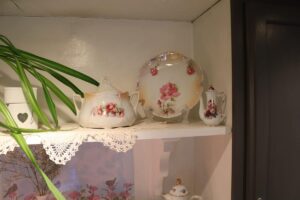 On the lower shelf is a wooden heart– a gift from a friend. I like the swirly vase, though it is difficult to find just the right flowers to fit it.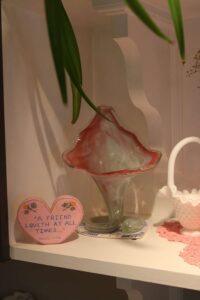 I made the bird and flower background scene using scrapbook paper and my new laminator* that I received for Christmas. (I used a placemat sized plastic sleeve.)*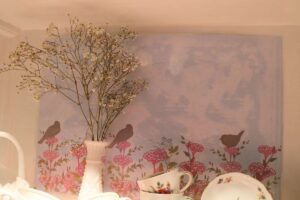 I made the pink doily years and years ago.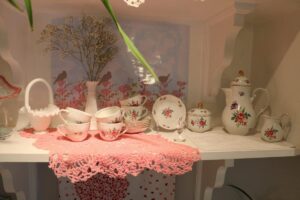 I got this little coffee set at a yard sale a long time ago. I think it was $10 for everything.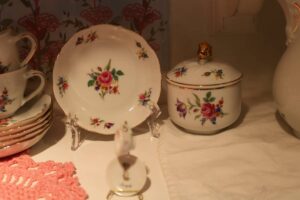 Isn't the pattern so pretty?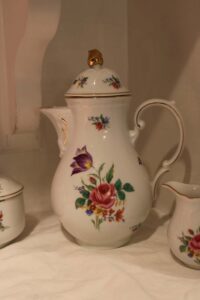 I had this mini cafe curtain rod for years and finally decided to put it right here above my sink to hold this cute kitchen hand towel. I used table scatter glitter foam hearts from the Dollar Tree to cover the ends.
This planter holds another spider plant that I grew from the large one on the top shelf.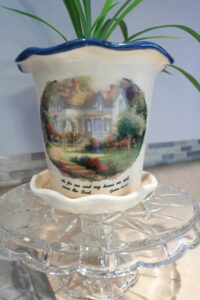 Using my laminator and matching scrapbook paper, I made a soap sleeve that matches the backdrop.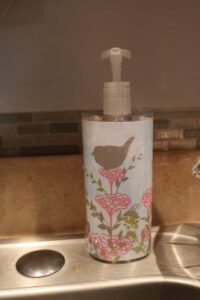 I put Valentine paper on part of it, so that I could change the look whenever I want. Now I have allll sorts of ideas for soap sleeves, so you might see new versions of these someday.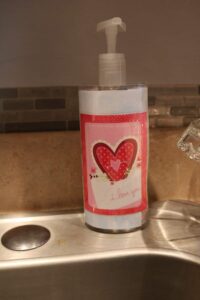 I hope that you have enjoyed seeing my Valentine styled sink!