11 Coffee Station DIY Decor Ideas
Have you ever wondered how to decorate your coffee station area with DIY Decor ideas? I've been decorating my coffee and tea area from awhile now. I wanted to share with you all of my different ideas (so far) of how to decorate your coffee area. I hope they inspire you!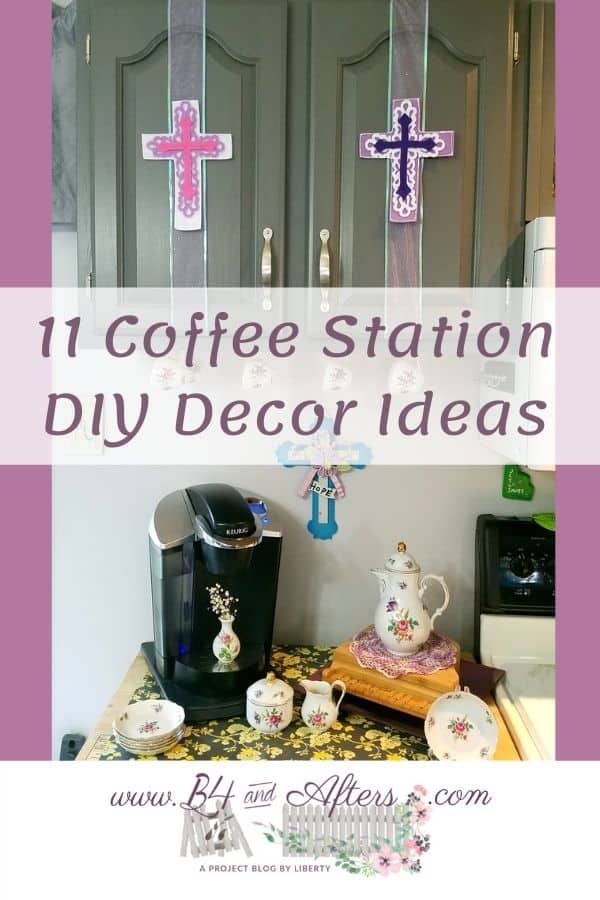 (*This post may contain affiliate links. By purchasing anything from these links, I may receive a small commission at no extra cost to you. More information is available on my
Disclosure
page.)
First of all, let me share with you all about how I created this Coffee Station area all by myself!
1.
Then one day I discovered that I liked decorating this little spot in my kitchen. It is a whole lot easier to decorate one area, than to try to decorate an entire room. This is especially true when multiple people live in and use the space constantly!
It started with the cupboards. It is so much fun to decorate my cupboards for the seasons.
Then I began decorating the entire area by adding wall decor, things on top of the cabinets, and coordinating items on the countertop area.
2.
I try to be creative in my ideas. Sometimes I have used felt. Sometimes I have used fabric. Sometimes I have used glittery craft foam.
3.
One of my favorite things to use to decorate with is Paper Plates!! Have you ever noticed how pretty Paper Plates can be?!
4.
You don't have to spend a ton of money or time to have nice coffee station decor. You can often find pretty things at the Dollar Store!
5.
I would love to know which one of these is your favorite. I have some more ideas… I just haven't had time to do all of them yet! Isn't that the truth for so many things.
6.
Most of the time I do not purchase new things for my decor. Usually I just pull things from around the house and reuse them here. You can start with a color theme if you like (use shades of red, or shades of purple, etc.)
7.
While I really liked the Yellow and Gray Floral contact paper that I had at my coffee station, one day I realized that my decor would look much nicer if it didn't clash with those colors sometimes. So I redid it in white.
8.
When I do buy things like ribbon, I nearly always purchase it on clearance after the holidays.
9.
I even made some Free Coffee Printables that just might help you get started on decorating your Coffee Station area!
10.
I hope this post has inspired you to make your home beautiful. Let me know if you have some great Coffee Station DIY Decor Ideas of your own to share!
11.