I just love show and tell and today I get to show you how I decorated my kitchen coffee station for the Fourth of July! Maybe it will give you some ideas, too!
It all started several years ago when I began decorating my cupboards for Christmas with cute felt Gingerbread Men. When I shared them, you all liked them so much that I started creating more kitchen cupboard decor for Christmas, and other seasons! You can see all of those ideas below.
This is my first time sharing my kitchen coffee station area since I did something about the Most Neglected Place in my Kitchen. Can you tell the difference?
I also replaced the batteries in my under cabinet lights. I bought 4 of these lights in a set from Sam's Club several years ago. The neat thing about these lights is that they turn 4 different colors! They also have a remote to change all four at once if desired.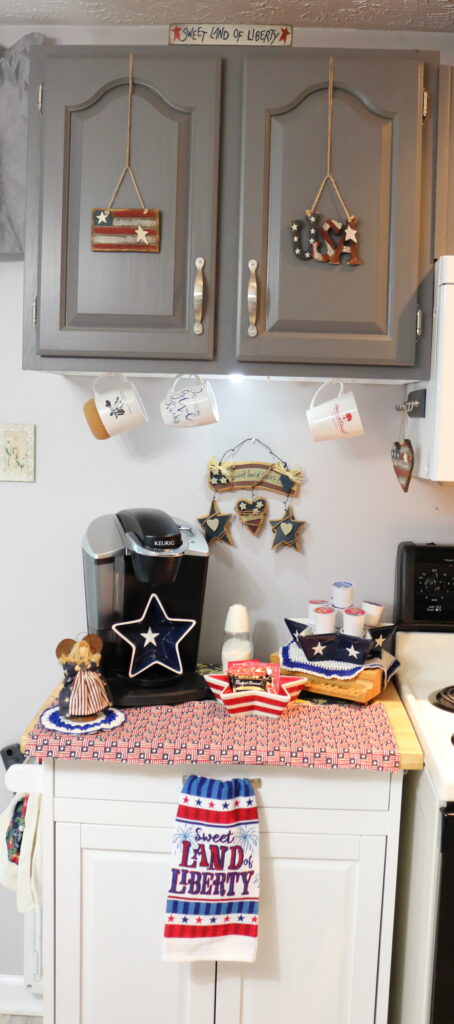 The light really brightens up my coffee station area! I chose the red setting for the next picture.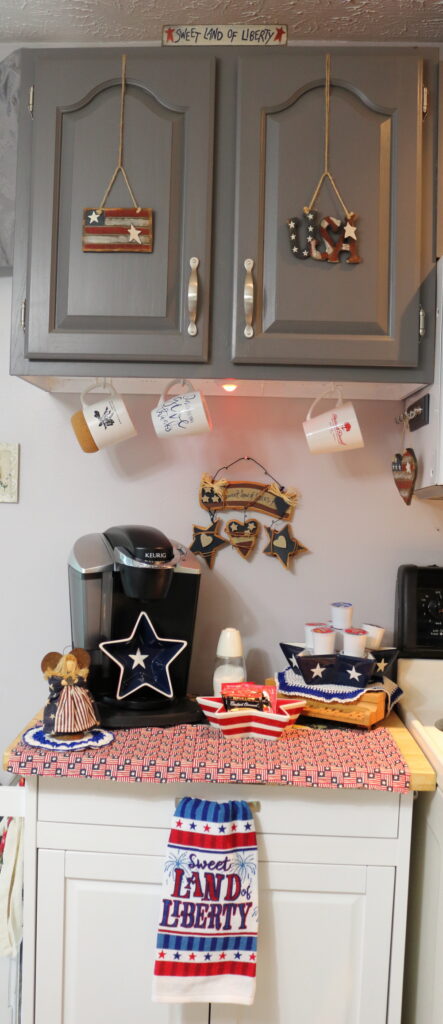 Below is a closeup of the blue light setting. Maybe I will show you the green setting when Christmas comes…. : )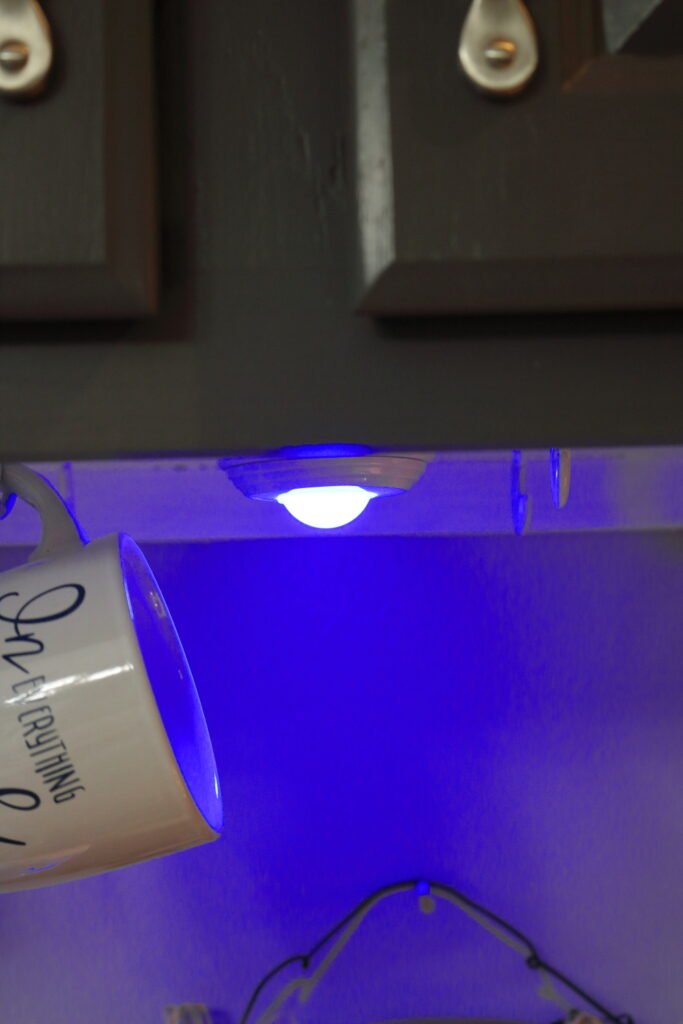 I hadn't done my usual decorating for the fourth of July this year until a friend gave me a lovely new patriotic towel.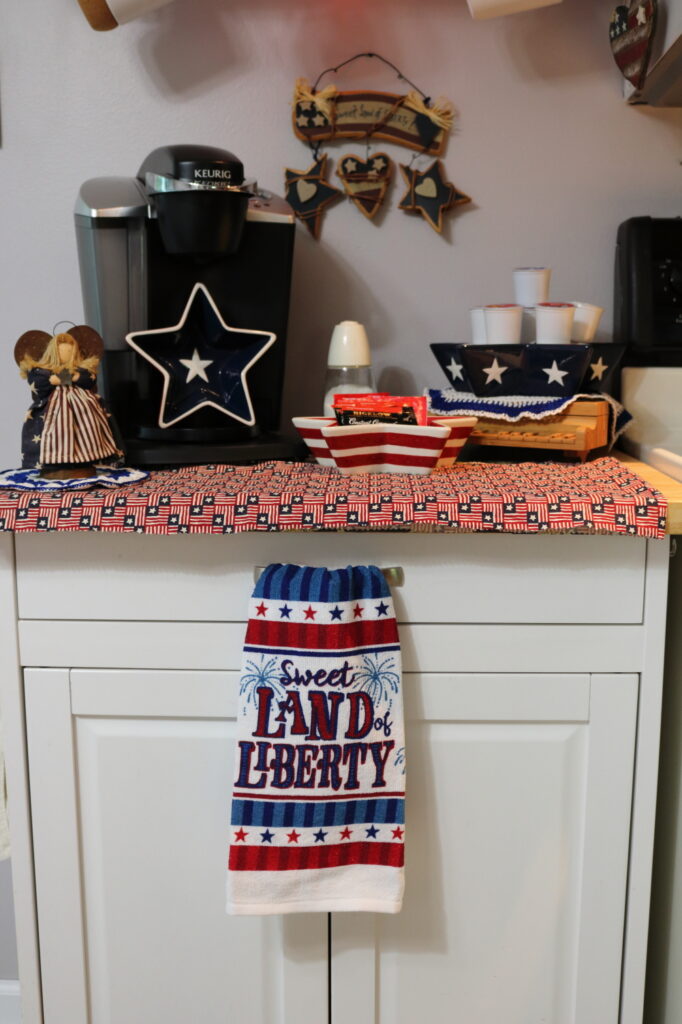 It is so nice when friends are thoughtful like that! The towel says "Sweet Land of Liberty" which is a phrase from the song "My Country, 'tis of Thee."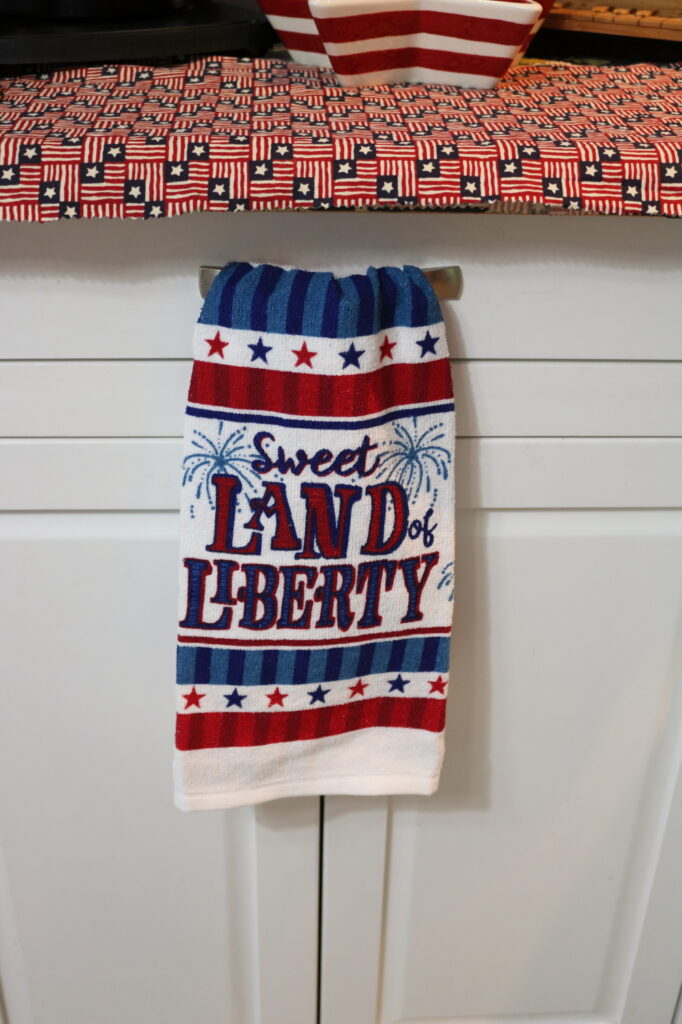 I have not decorated much in my kitchen for the fourth of July, although I have a little. When I was deciding what to use for this area, I pulled everything from my current patriotic supplies. I would usually place most of these things in my living room "mantle" area. But now I like them better here!!!
When I looked for Patriotic mugs for this area, I did not find any in my cupboards. I didn't realize I was lacking any, because I had never thought of it before now. So patriotic mugs are now on my Wish List. If you see any that you think would fit well here, let me know where I can find them!
I didn't realize it until now, but do you see that I used a lot of wooden things for this patriotic vignette?!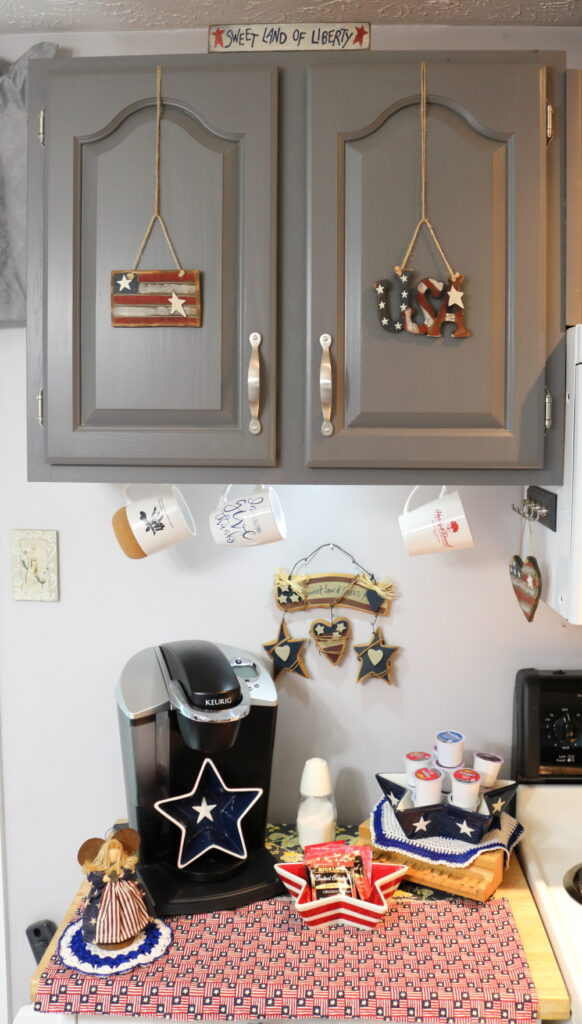 The "Sweet Land of Liberty" wooden sign was a gift from a former employer.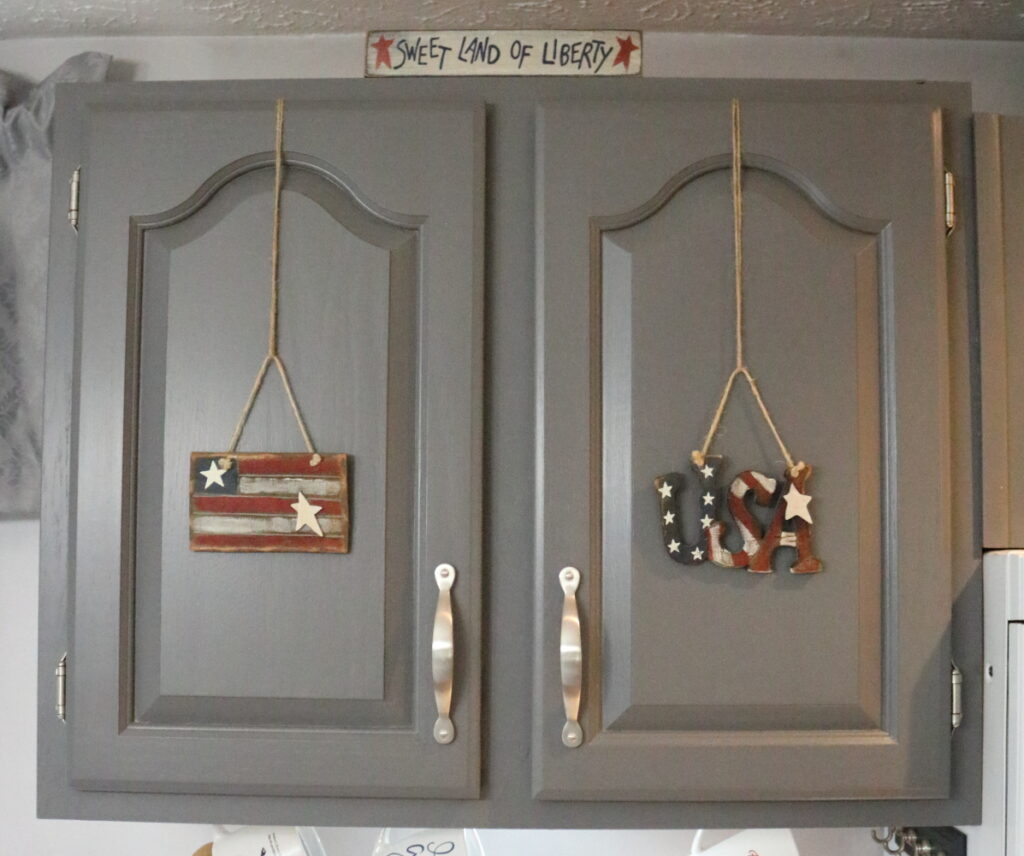 The wooden Flag and USA ornaments are two of three that I think I may have bought at Hobby Lobby years ago. I hung them by threading jute twine through their jute twine loops, and then taping the twine to the back of the cabinet door with masking tape.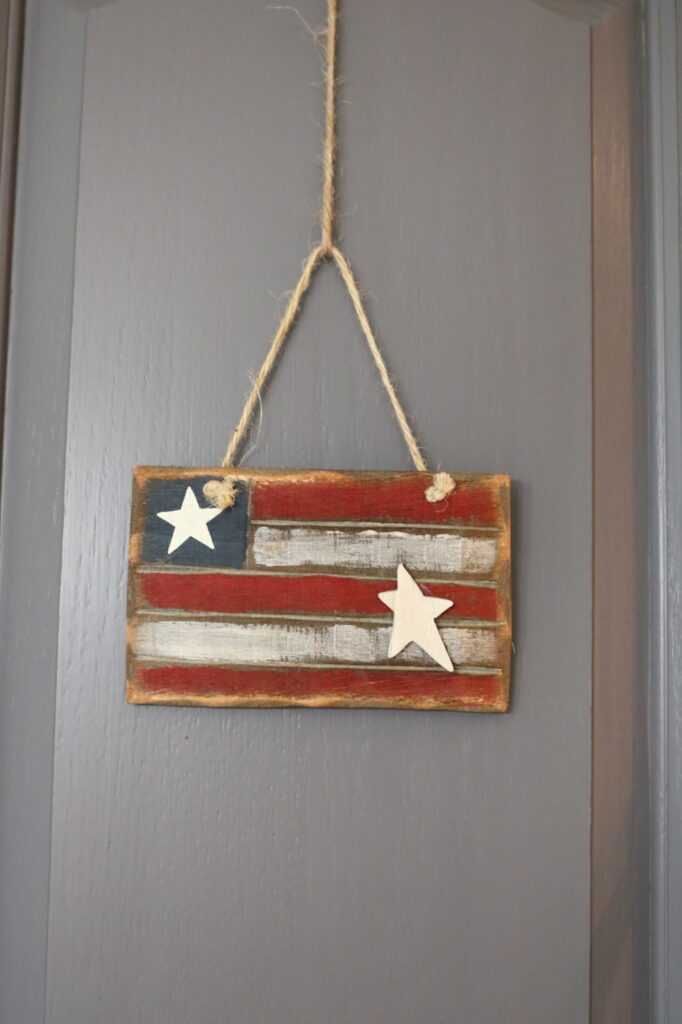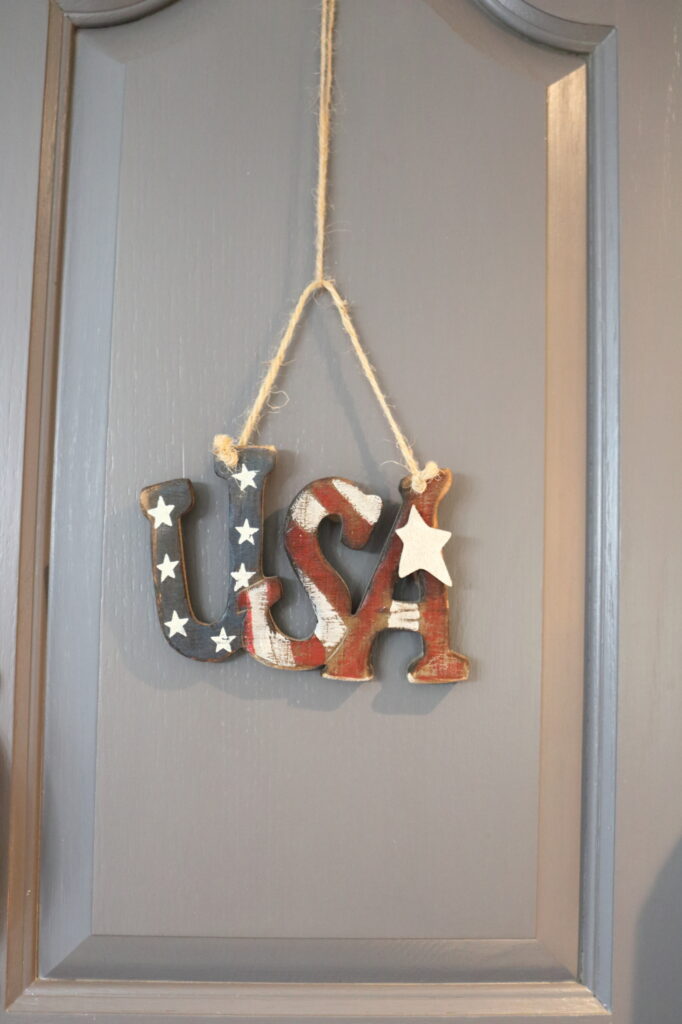 I can't remember exactly where I acquired this other wooden patriotic sign. I think perhaps it was a gift from the same employer who gave me the other sign.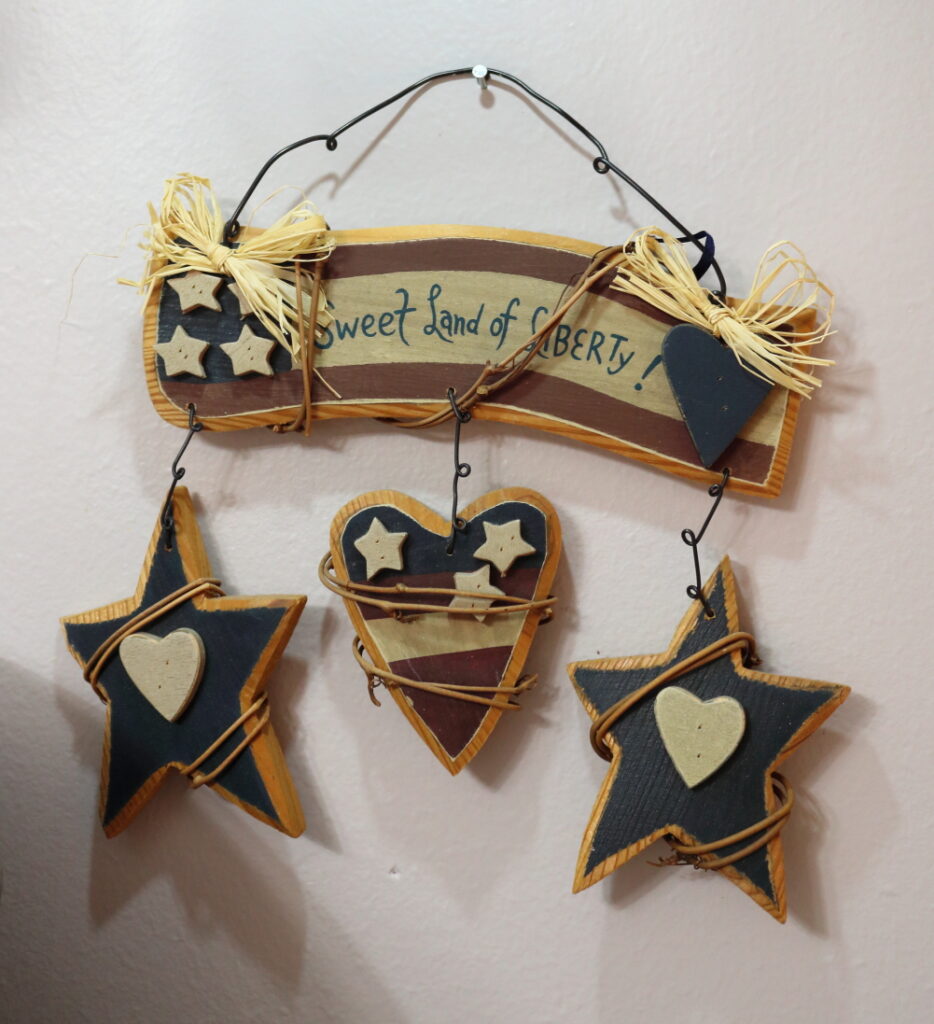 This cute little rustic Americana angel is a favorite of mine. She was a gift, also.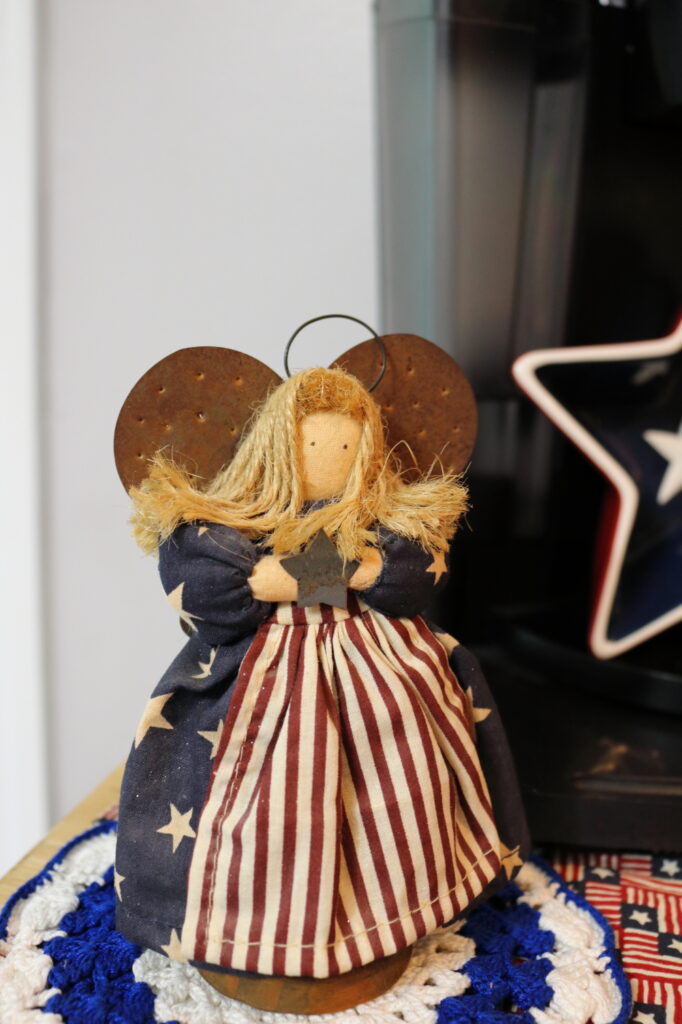 The three ceramic star dishes were wedding gifts from Kohl's 11 years ago. Our wedding was on July 4th. The dishes nest together for storage. I put coffee k-cups in one, and tea bags in another.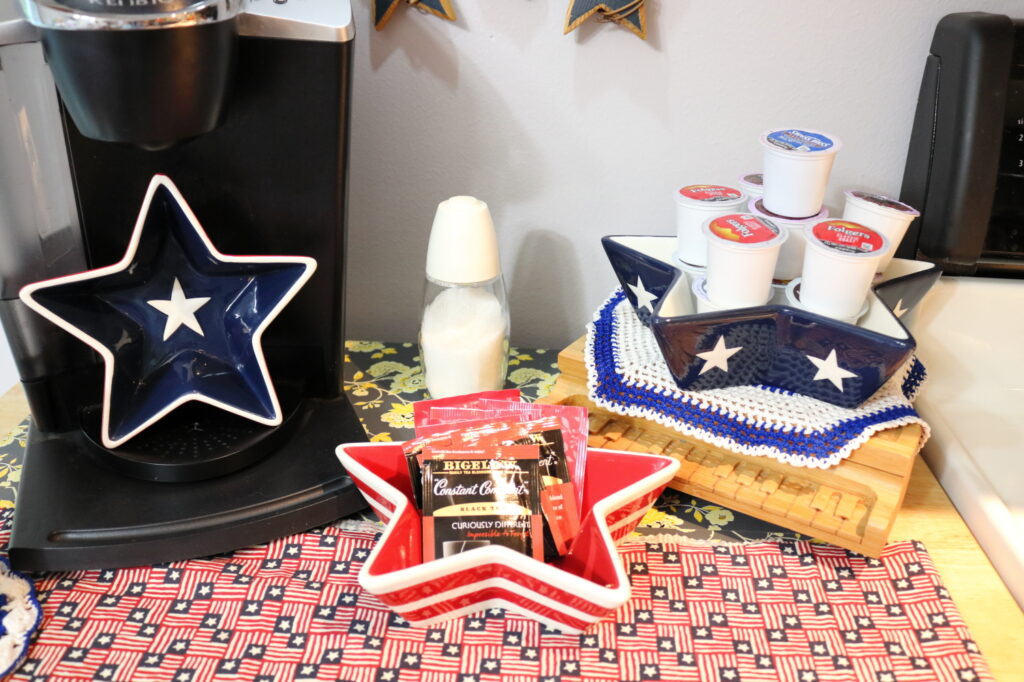 I love decorating with stars for the fourth of July, so maybe that is why I like these star dishes so much. As you can tell, I wouldn't have much to decorate with unless people had given me so many things. I am really thankful. It helps that my name is Liberty, so people think of me when they see Patriotic things. I'm glad they have such good taste!
More Patriotic Ideas