Wreath Chocolate Covered Pretzels
I wanted to try my own version of a chocolate covered pretzel wreath. I hope you like it!
Do you LOVE Chocolate Covered Pretzels like I do? Do you enjoy making them in different ways?
(Before I get started with showing you these chocolate wreaths, don't miss my Chocolate Covered Pretzel Angels, Crosses, or Snowmen. I love them, too!)
(*This post may contain affiliate links. By purchasing anything from these links, I may receive a small commission at no extra cost to you. More information is available on my Disclosure page.)
Even with these wreaths, I could not stick to just one design. I tried variations. Which one is your favorite? How would you take this idea and change it/ make it your own?
**I am sooo excited to tell you that you can shop for Ghirardelli's melting wafers right on their website and get 10% off when you sign up with your email.*** [And it's about half the price that you can find them for on Amazon….]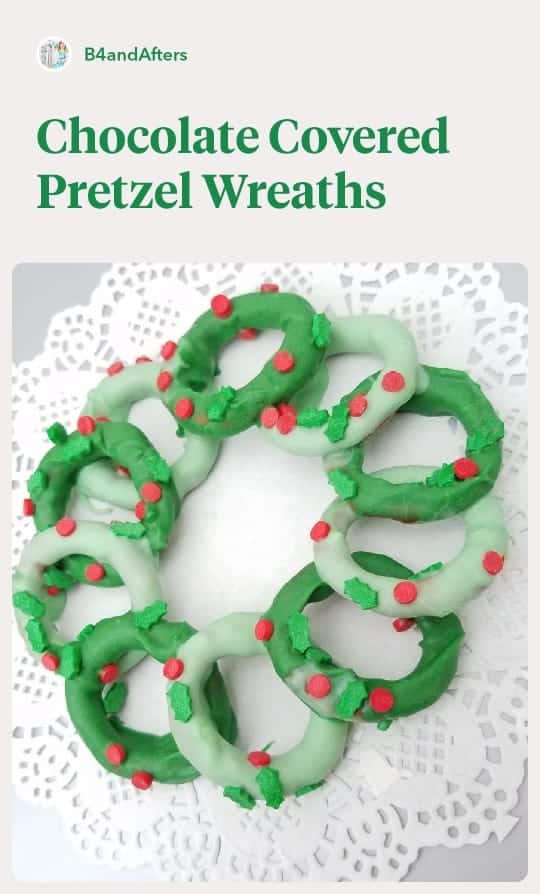 Give your scrolling hand a break, and watch the video for a change. : )
Chocolate Covered Pretzel Wreaths by B4andAfters on Jumprope.
I like using my mini tongs for projects like this one.
If you liked my idea for a Chocolate Covered Pretzel Wreath, consider sharing it for others to enjoy. : )