Cookie Press Cookies
This post contains links to affiliate websites, such as Amazon, and we receive an affiliate commission for any purchases made by you using these links. We appreciate your support!
Introduction
My grandma gave us a cookie press similar to this one, but we didn't know how to use it. Last year my friend had us over to make cookies, and she used her cookie press. In order to make cookie press cookies, you need a cookie press cookie recipe! Once I saw how she did it, I wanted to make my own. I found a cookie press at a thrift store. Armed with my friend's recipe and my new-to-me cookie press, I was ready to make my own cookies!
Before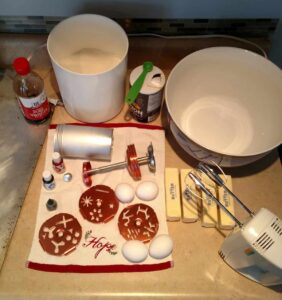 (*This post may contain affiliate links. By purchasing anything from these links, I may receive a small commission at no cost to you. More information is available on my Disclosure page.)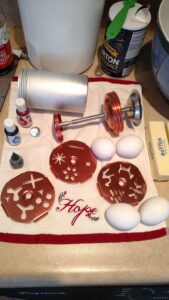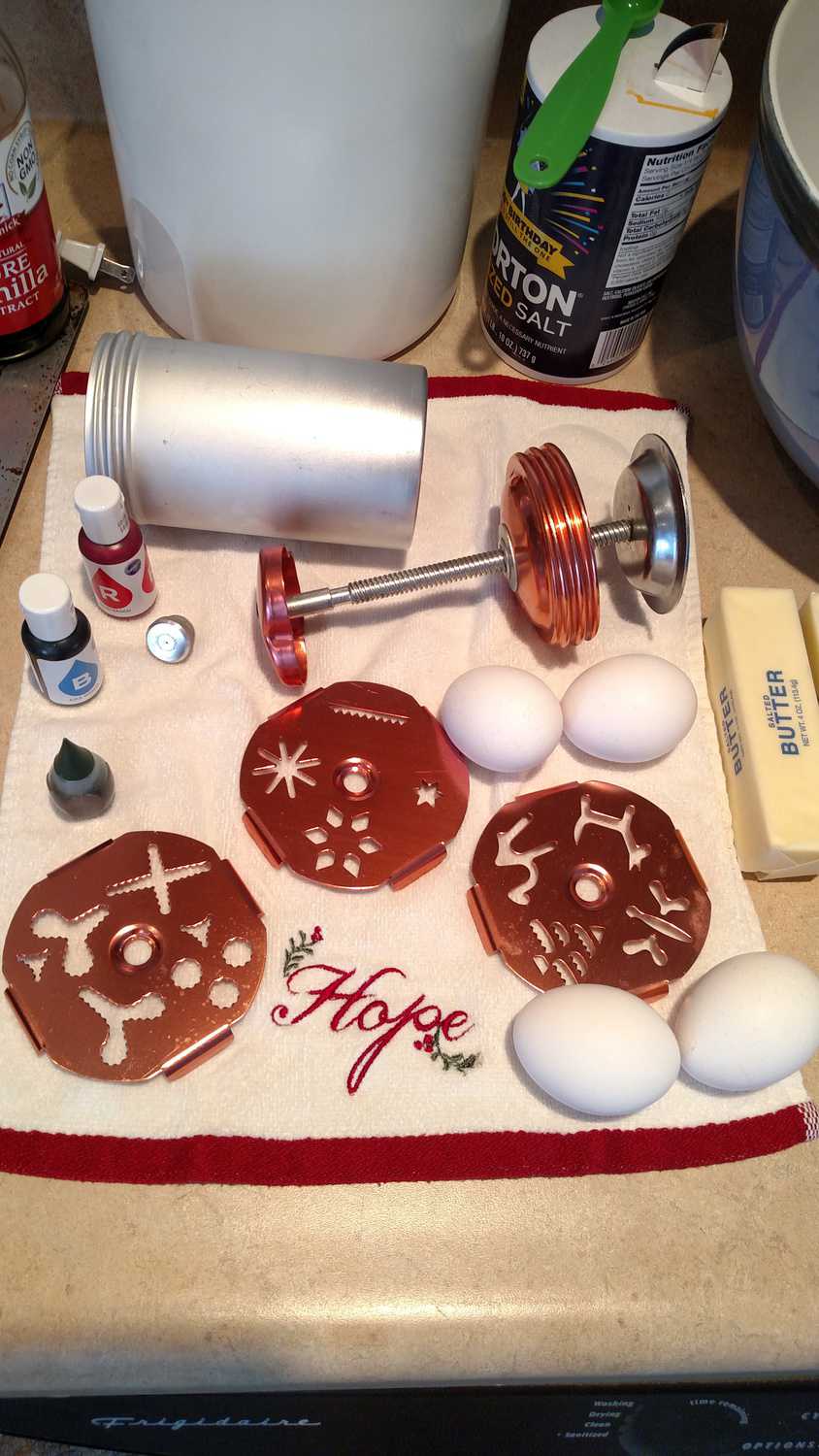 I like to double cookie recipes. It seems that if you are going to go to the trouble to make cookies, they should at least last more than 24 hours!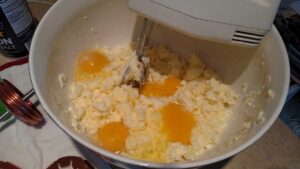 Your dough should not be this crumbly if you have remembered to add the vanilla extract….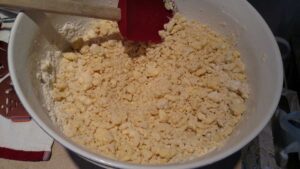 It is pretty neat how the shapes come out differently than you might expect on the cookie sheet.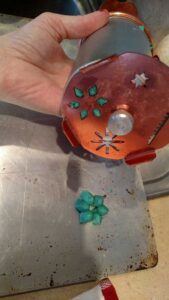 I soon found out that this cookie press leaks dough between the "round shape plate" and the canister of dough. This one twists– I think it is an older style. My friend's cookie press has a trigger, and it dispenses just the right amount of cookie dough. With my twist edition, I had to guess how much cookie dough was enough to get them right. Twisting was also a lot more work than just squeezing the trigger. Here is the camel shape: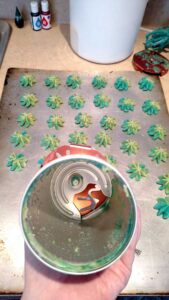 And this is how it looks as a dough on the cookie sheet…. (further below you can see how fat they look cooked.)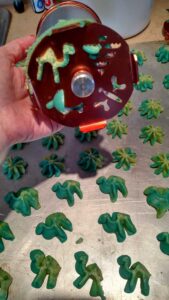 Here is a cross design that ends up looking like a star: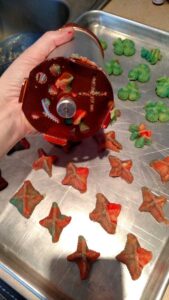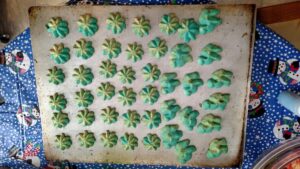 Here is the same sheet of cookies unbaked, and baked: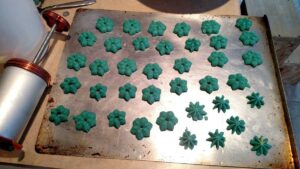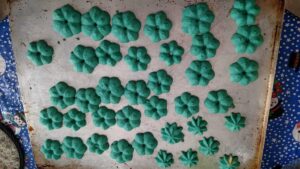 There were little scottish terriers…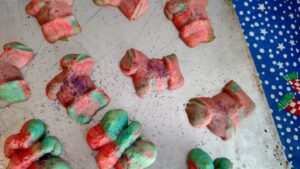 Unbaked, and baked….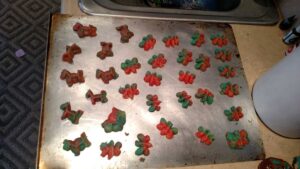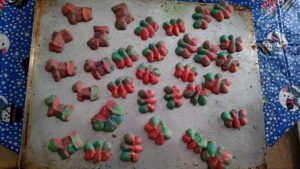 I think the butterflies were my favorite. It was so much fun to add the different colored dough to the dispenser and see how they came out. I liked the camels a lot, too.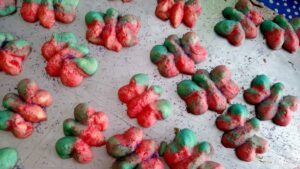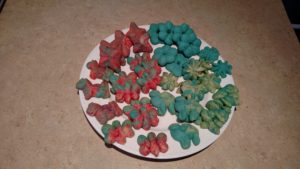 AFTER!!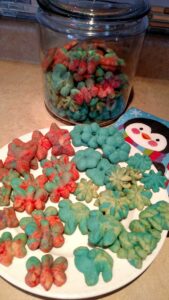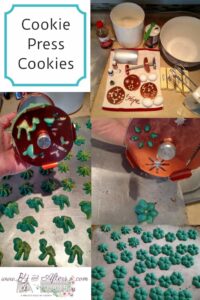 SaveSave
SaveSave
SaveSave
SaveSave
SaveSave
SaveSave
SaveSave
Cookie Press Cookies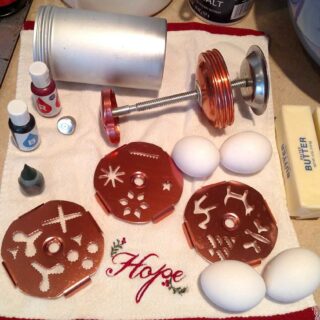 These cookie press cookies will make any occasion feel special because of their fun shapes.
Equipment
Mirro Cookie Press Icing Decorator Replacement Parts Disks | Etsy
Ingredients
1

c.

butter

1

c.

sugar

1½

tsp.

vanilla

2

eggs

3

c.

flour

¼

tsp.

salt
Instructions
Cream first three ingredients.

Add the eggs and beat well.

Add the flour and salt and mix until blended

Using cookie press, press cookies onto ungreased cookie sheet.

Bake at 400 degrees for 8-10 minutes.