This month marks the end of 3 years since B4 and Afters began! Each year I like to do a recap and talk about what changes or improvements have taken place. I will also share with you the top five posts of B4 and Afters at the end!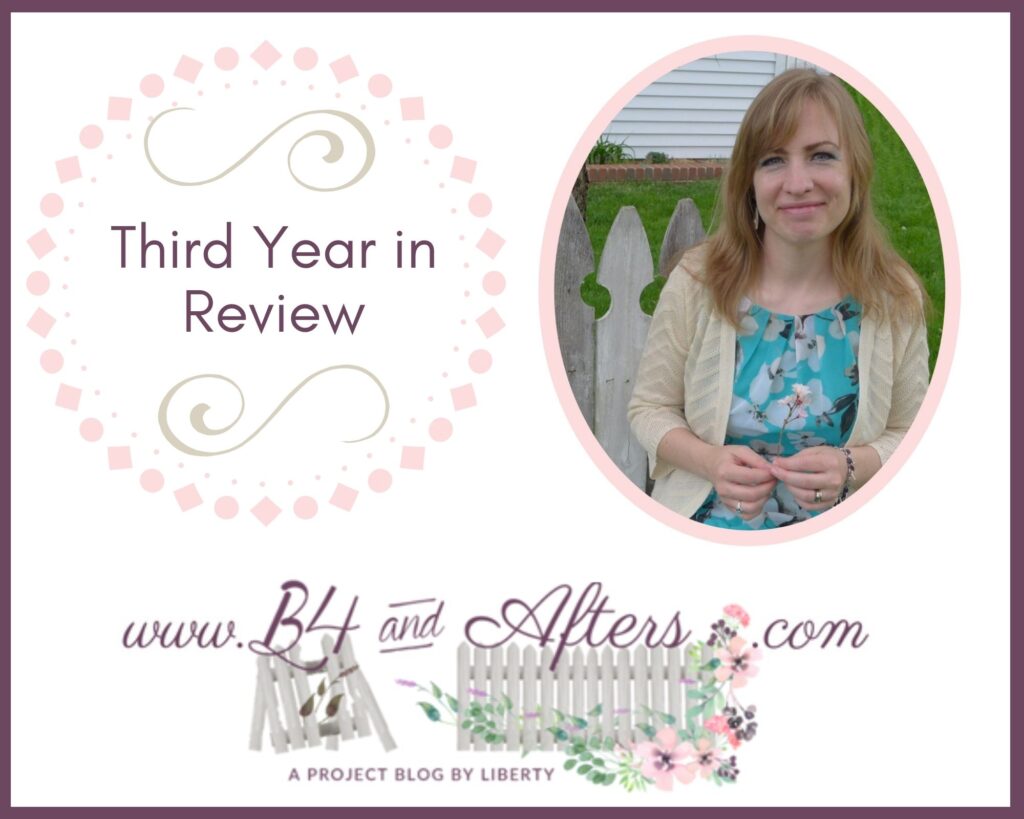 (*This post may contain affiliate links. By purchasing anything from these links, I may receive a small commission at no extra cost to you. More information is available on my Disclosure page.)
Thank you so much for your support of this blog. It means alot to me! When I hear that someone was helped, encouraged, or inspired by something I posted, it is very encouraging. : )
"Crafting and DIY projects give you the chance to glorify God with the gifts and time He has given you, learn new skills that can bless your family and others, do something creative with your hands, beautify the home the Lord has given you, and make memorable handmade gifts for those He has placed in your life."
CRAFTS
Since my Gingerbread Kitchen Décor has been so popular, all year I worked on similar ideas for different seasons, like Easter and Valentine's. I've really enjoyed coming up with ideas, and I hope you have enjoyed them, too! The latest one was the Felt Pumpkin Décor.
I used my Cricut Maker a lot this year to help me make my crafty ideas (I've had it for about a year now). I know that a lot of people don't have access to a Cricut, so I don't focus on that like some bloggers do. It is just one of many tools that I use. I also just a few months ago acquired a Xyron Creative Station machine. It is a lot of fun, a lot cheaper than a Cricut, and runs WITHOUT electricity!! I have an idea for Christmas cards using it and can't wait to show you.
I've continued creating more decorations of my Pine Cone Tree. I have a goal of 100 different themes. It looks like that is going to take me several years at my current rate….
Recently, I acquired a mini-bowdabra. Have you ever heard of one? It is a little gadget that helps you make bows. I will share a post of something I made with it eventually. (I'm likely to share things on Instagram or JumpRope first, so in case you don't want to wait for a post– watch there!)
PERSONAL
Since I already homeschool, the Virus Lockdown was not as hard on my family as it was on the rest of the world. We were also blessed in that my husband continued going to his job, since he can't do what he does from home and he is considered Essential! That blessing also helped our homeschool life to not be disrupted by having him home, as I know happened to sooo many people.

I actually enjoyed the slowing down of life, and being able to stay home for days at a time and not be constantly driving to the next activity. It sort of reminded me of when I was a child, when the days seemed to go by at a slower pace.

I set a personal spiritual goal at the beginning of the year to read my Bible through. This was greatly due to a Facebook group that I was invited to be a part of. I'm very glad that I am on track to complete that goal!
BLOG
I was challenged at the beginning of this year by another blogger to come up with an "elevator pitch." This is also known as a mission statement of who I am writing to, and why. Maybe you already know who you are! : ) Anyway, this is what I came up with: "B4 and Afters project blog is all about frugal, practical, and crafty ideas for women who like to make things for their home or for others." Does that fit you?!
When I started this blog, I signed a 3 year beginner contract with my hosting provider (the behind the scenes web coordinator). So I have anticipated migrating to a different company. For the past year I gathered information and decided where to move. I also wanted a different look for my blog pages (called a theme). That required more decision making as I decided which one to purchase.
So I have made those decisions, and both the migration and the new theme have taken place and have been installed! It's always scary to make changes like that, and I have watched other bloggers as they struggled through the same thing. There were more hiccups than I would have liked, and it took quite a bit of extra time on my part, but I am very relieved to have these changes finished! And I also am very pleased with how everything is working out.
A blogger can blog just for fun as a hobby, to document a journey, or to make money. They may be passionate about a cause or a message they want to share. I truly enjoy sharing about my crafts, but I would like this blog to be more than a hobby— it would be great to make money, too.
If you are not familiar with exactly how bloggers make money, I will tell you. A blogger can sell physical products or digital/ virtual products. A blogger can make money by having ads on their site. The more readers a blog has, the more money those ads will make. And that is why bloggers always want you to Share Share Share because they would always love to have more readers. . [I am experimenting with ads currently. I don't want inappropriate ads so please be patient with me, and do please let me know if you ever see an ad that is not appropriate!]
This past year I've been able to meet with some other bloggers in person and learn some more about how to be a better blogger. When covid changed everyone's lives this year, I couldn't keep meeting with that group, but was able to be part of a second group that met once a month on Zoom. Then in August I joined a 3rd blogger community for a fee. This third group has been a HUGE help and encouragement to me, as it is hosted by a motivated, enthusiastic, and experienced blogger who has made available all sorts of brand connections and tools to us less experienced folks.
A FEW OTHER THINGS…..
I stopped hosting the Best of the Month Link Party in June, but have continued the monthly "You're the Star" link party.
B4 and Afters has recently joined Twitter as @b4andafters, and LinkedIn as B4andAfters.
I have also been using an app called JumpRope to make videos and you are welcome to follow me on JumpRope, also.
In addition, I have been sharing my projects over at HomeTalk. I have been taking part in 2 different Craft Hops. The first one that I joined is hosted by Celebrate and Decorate and we share our ideas on the 4th Thursday each month. The second one is actually my favorite, and it is hosted by Decorate and More with Tip. We share on the first Wednesday of the month, and I really enjoy the DIY Challenges because it stretches my creativity!
So as you can see I am very busy behind the scenes—and sometimes in front of the scenes, too!!
TOP POSTS
Lastly, I usually recap with the five top posts of this past year. Here they are!
4. Kitchen Cupboard Christmas Decor
And the Number 1. post this past year…. How to Laminate Stickers!
Thanks again so much for reading about my crafty ideas and projects around my home. I appreciate all of your comments and support!