Dollar Tree Decorated Trash Can
I had so much fun decorating my refrigerator and my kitchen trash can with items from the Dollar Tree.
Trash Can, Before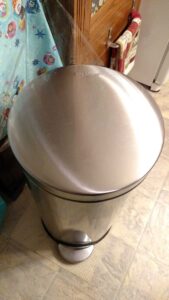 (*This post may contain affiliate links. By purchasing anything from these links, I may receive a small commission at no extra cost to you. More information is available on my Disclosure page.)
I had bought two of the Dollar Tree's winter/ snowman/ Christmas magnet sets, intending to use them for the refrigerator. They came in a sheet, where you have to punch out the magnets. Click here to see the magnet sets:* I bought the top two. I also bought red paper doilies with snowflakes on them.
As my daughter and I were decorating the refrigerator, I put a magnet on the trash can* (which I absolutely love) to see if it would stick. Somehow I had not thought it was magnetic. But it is magnetic!!! Now I will be on the lookout for new magnets to decorate my trashcan for the seasons! #styledtrashcan
Trash Can, After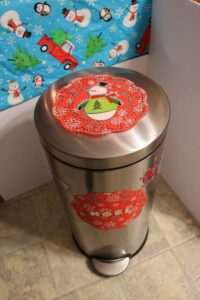 I just used the magnets to hold the doilies on. When the lid opens, the magnet and the doily stay in place!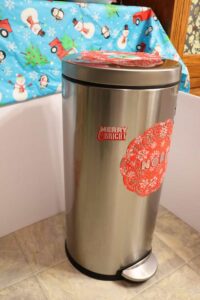 I did use a little double sided tape to help with the doily on the side of the trash can. If your trash can is not magnetic, you could use double sided tape for everything.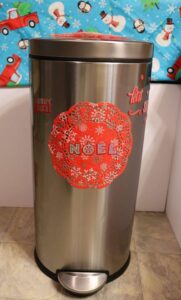 I think the trash can turned out better than the fridge did! What about you? Have you ever decorated your trash can?