Why I Will Not Be Thanking My Socks…..
*This post may contain affiliate links to websites such as Amazon. By purchasing anything from these links, I may receive a small commission at no extra cost to you. More information is available on my Disclosure page. I appreciate your support!
Introduction to article about the organization method of Mari Kondo: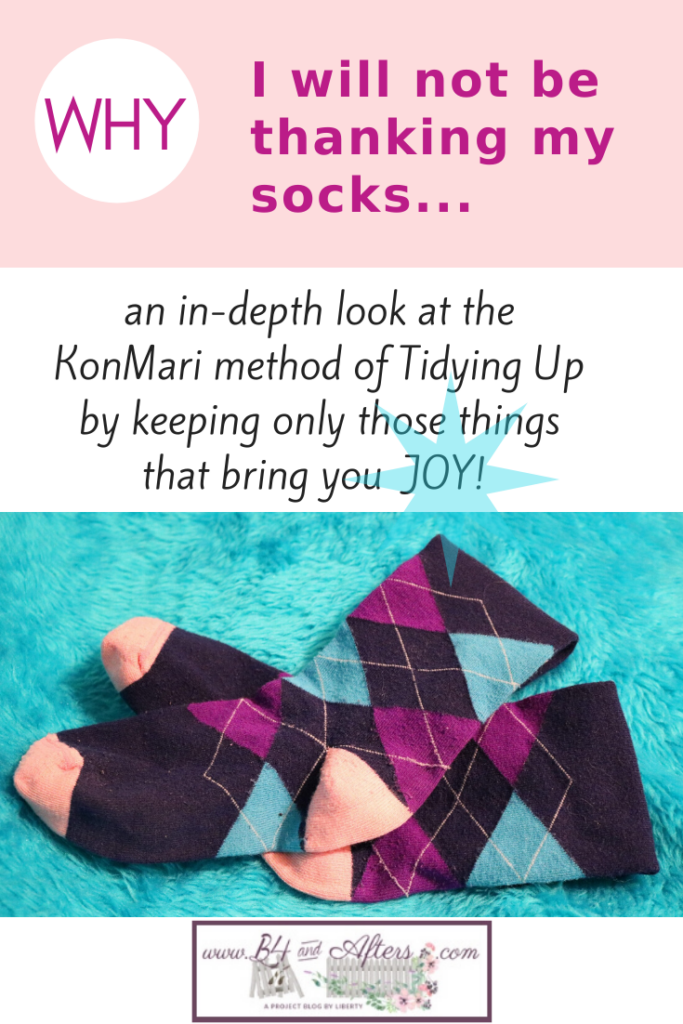 [sc name="This Post May Contain Affiliate Links"]
Sometimes I am rather slow on keeping up with culture and fashion. Some of this is on purpose and some of it is on accident. When everyone first started loving Burlap, I thought it was ugly. It is sack-cloth. It is not good quality, it speaks of being poor– not blessings. I still don't care much for Burlap. But I did finally find some neat burlap fabric bags on sale and I knew people would probably like them.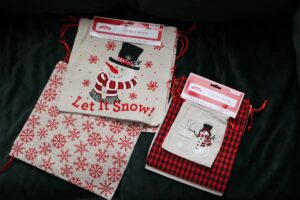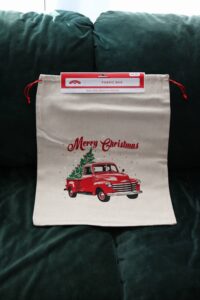 I even cut one apart and framed it. Cute, isn't it?!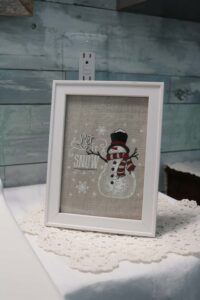 I have yet to jump on the ribbed sheet metal craze, though. That one baffles me as much the burlap. Oh well….
I first heard about the book, "The Life-Changing Magic of Tidying Up," several years ago. A friend was reading it and organizing her house by using the method. This particular friend was already well-organized. Her house was already de-cluttered by her own natural habits. So it did not alarm me that she "found joy" by de-cluttering her house a bit more than she already had.
The other evening I wanted to spend some time with our outside dog by allowing her into the basement. Because of the six month old dog's rambunctiousness, I can't do much with the dog present other than try to watch some TV so I chose the Netflix show "Tidying Up."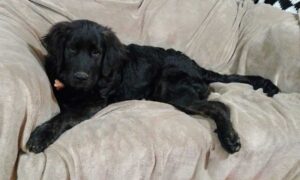 I had heard about the new series from others, and it was right there in the suggested things for me to watch. I had heard that it was "life-changing" and how people were throwing things out left and right.
The show has Marie Kondo and a translator come into a young family's cluttered, messy home. Mrs. Kondo begins her process of showing the family how to sort their things. The family works from start to finish for about a month, with Mrs. Kondo visiting about once a week, and those are the times that we see on the show. It is not a dramatic show like Super Nanny was, or even like What Not to Wear, where they throw things out and the people are very upset. It was practical.
I like practical. I could use some practical tips in how to better store the things I want to keep. I have two problem areas I want to tackle in my home; and I know my entire house would be neater if I could have a better organized master closet and craft area.
But in my post today I want to tell you why I will not use the KonMari method of organizing things, and I probably will not watch any more of her shows (although I may, to see if there are any practical tips that I could use.)
At the beginning of the process, Mrs. Kondo had the family and herself pray over the house. Mrs. Kondo found a spot on the living room floor that "felt right" to her. She kneeled, closed her eyes, and prayed. They prayed together, silently, and "thanked the house for protecting them." Mrs. Kondo made some sort of motion over the carpet with both of her hands during the prayer.
Now you may not think much of that, or you may think it was quaint or cute, or that it wasn't even really a prayer, but it was a prayer. She held her hands in the praying position, palms together. It was not cute or quaint: it was the worship of a thing, an inanimate object. They were praying to the house as if the house could hear them– they were making the house an idol constructed of stone or wood.
It does not end there. As they began to sort through the clothes and decide which ones to throw away, Mrs. Kondo instructed that the clothes that were to be thrown away needed to be "thanked." Again, it was talking to an inanimate object as if it could hear, or had feelings.
Speaking of feelings, the "spark of joy" that Mrs. Kondo wants you to feel has me suspicious, and rightly so (be sure to read the More Information links at the end of this article). To her, the "spark of joy" is a spiritual thing. And she wants you to have that same spiritual experience, except she calls it a "spark of joy." It is true, joy is a fruit of the spirit– but it comes from peace in your heart through faith in Christ– joy does NOT come from holding a physical object. Sure, things can make you happy or sad based on your memories associated with those things– but just because a necklace from your grandmother makes you sad because you miss her, does not mean that you should get rid of that necklace because it does not bring you a spark of joy.
To carry that further– many people with special needs children must use medicines and equipment for their children that may not bring them joy. It may frustrate them to have to use braces, wheelchairs, and other necessary things….(I'm not sure how Mrs. Kondo addresses those types of things.)
As a normally emotionally stable person without drastic highs and lows, it is hard for me to get excited over things…. not to say that I don't get excited, because I do– for example, if I find a great sale! Also, as a practical person, it is hard for me to get excited over many things that are just practical to life. I'm not going to have joy over most of my kitchen ware– it is just essential to life. Should I pitch it all out and buy matching sets that I truly love? I don't think so.
(So I'm sorry to break it to you, but you do need to keep your bills, the diapers, and the vacuum cleaner– even though they may not bring you joy….)
To judge by the reaction of people, they have not picked up on these things. I hope that I have helped someone by pointing these things out. It is extremely dangerous to base your joy in something by how it makes you feel. Sometimes my children don't make me feel very good– every day, in fact. Yet I still have joy in my children, and I will still love and continue to teach them no matter how many times they fail, or how bad they make me feel.
It is foolish to decide if you like something by how it feels holding it in your hands. Feelings change from day to day. Needs can change from day to day, based on the weather, seasons of life, and circumstances.
Be careful. If you or someone you know subscribes to the KonMari method fully, you are in fact worshiping things, under the disguise of getting rid of things. You think are de-cluttering your house by making things not such an important part of your life, but in actuality you are elevating the things you kept to the status of a god by praying to them, thanking them, and feeling joy because of them. Please, be careful.
Now you know why I will not be thanking my socks. You will find me, however, thanking the God who gave me those soft, comfortable socks. I will thank Him for giving me the ability to wash those socks, to wear them, and to share them upon occasion. I will thank Him for the joyful times He brings into my life, and I will thank Him for the hard times He brings into my life.
You will also find me endeavoring to have an organized house. But to be honest, real life just does not allow me to have a completely organized home at this season in my life. You can see where I posted a picture of my real life kitchen HERE. Guess what– there's even a picture in that post that is sideways, and no matter what I do, I can't get it turned around… sigh.
Be thankful — to God, not things.
Be joyful — with whatever circumstances or possessions God has blessed you.
Be organized — the best you know how, with the resources God has given to you.
For additional information on this topic, Click Here. Also, there is another three part series that Begins Here with more information.