I enjoyed making several of these heart doilies, and maybe you will, too! It would make a lovely seasonal decoration in your home.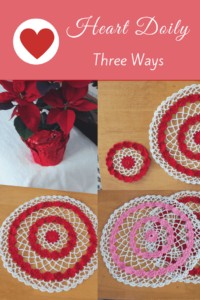 (*This post may contain affiliate links. By purchasing anything from these links, I may receive a small commission at no extra cost to you. More information is available on my Disclosure page.)
It would also make a nice gift. You could make a set of two for a bridal shower gift.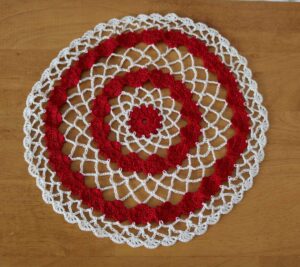 I did not have to go to great lengths to get this doily to lay right, or to set it after I finished crocheting it. Simply wash it gently in water and squeeze the water out. Then gently lay it on a towel and smooth it out. Then you can lay another towel on top of it, or roll it up in the towel under it (that is what I do). Check it after a day or so and it should be dry and nicely shaped.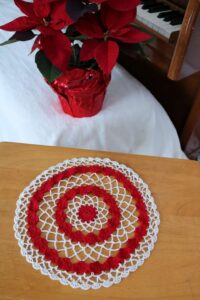 It took me 1 and a half to 2 hours to make this heart doily. The directions are easy to follow, and there are no tricky stitches. You can purchase this Valentine Doily pattern at the same place I did for about $4 at CrochetMemories.com or by Clicking Here.

Sometimes it is hard to find a heart shape that really looks like a nice heart. This one is perfect!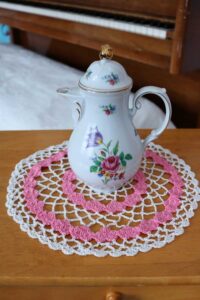 I needed some miniature doilies for vases and things– so I shortened this doily to coaster size by stopping after the first round of hearts– isn't it cute? (I also made a purple heart-ed one.)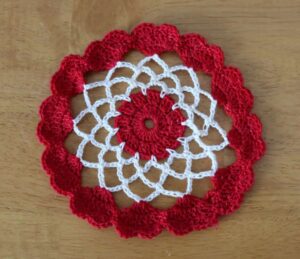 Here you can see them side by side.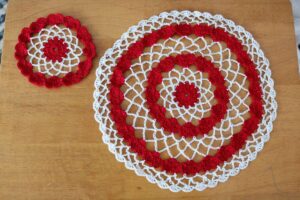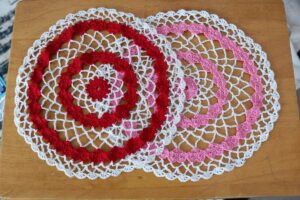 What do you think? Is this doily something that you would make?