Disguising the Basement Support Pole
Do you have one of those basement support poles in your unfinished basement that is not cleverly hidden? Is it maybe even in a very inconvenient spot? Do you really wish you could do something about it? Yes, yes, yes; I answered!
I painted two of my basement poles in an attempt to hide them. But the one I am going to show you today, I did not paint. It is just a few feet away from our pellet stove. The nearer you are to the pellet stove in the winter, the warmer you are. And now our basement TV and sitting area is near the pellet stove, which is near that basement support pole.
Here it is:
Before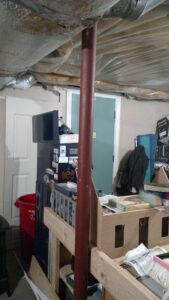 (*This post may contain affiliate links. By purchasing anything from these links, I may receive a small commission at no cost to you. More information is available on my Disclosure page.)
Somebody was getting rid of their pre lit Christmas tree, and I was the happy recipient. I took off all of the lights since they didn't work. Then I took apart the tree so that I could reuse it for making wreaths and other things. I love taking free things and remaking them into something new. The fancy word these days for that is recycle. And so I had a brainstorm!
Ta-dah!
AFTER!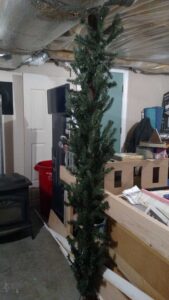 And then Christmas season came. And I realized that I already had a tree up to decorate!
AFTER! Christmas style : )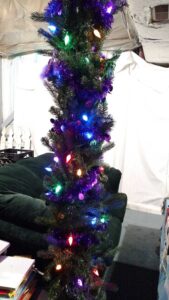 Isn't it better than the bare pole? I just hope our cat leaves it alone….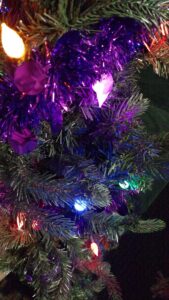 See the pellet stove?!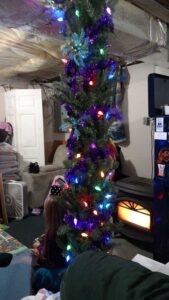 I even bought some ornaments that had clips on them, just for this tree. I bought some garland, too. I think this will be my purple peacock tree.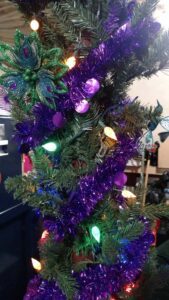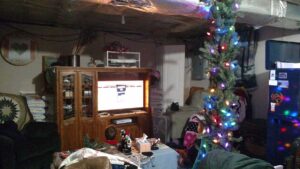 Here it is in the dark.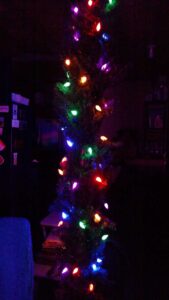 SaveSave
SaveSave
SaveSave
SaveSave
SaveSave
SaveSave
SaveSave