Winter Wreath
This post contains links to affiliate websites, such as Amazon, and we receive an affiliate commission for any purchases made by you using these links. We appreciate your support!
I found this wreath at a thrift shop a few years ago. For a dollar, I just had to bring it home. It has lavender glitter on the sticks. I've used it just plain like this, but I found something to make it even better!
Wreath Before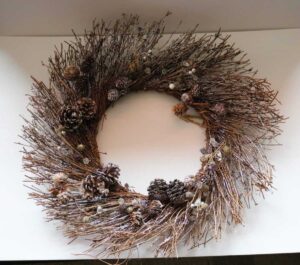 [sc name="This Post May Contain Affiliate Links"]
While I was Christmas clearance shopping, I came upon this glittery metal snowflake looking thing, at the Christmas Tree Shops, I think. It was marked down to $3.31 from $7.99. It is better when you buy things, if you know what you are going to do with it. It didn't take me very long to think of pairing it with the wreath.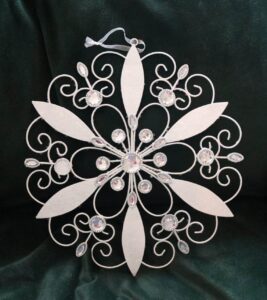 Doesn't it take the wreath up a notch or two?! It was so easy to just wedge the metal snowflake into the wreath. I didn't even use glue. I hooked the snowflake's ribbon into the wreath's hanger just to be safe. So it will easily come apart if I want to use the snowflake for something else, or if I want to do something else with the wreath.
Wreath After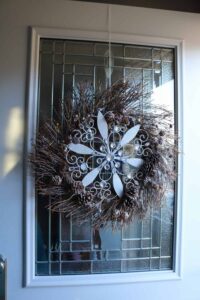 Can you see the sparkles?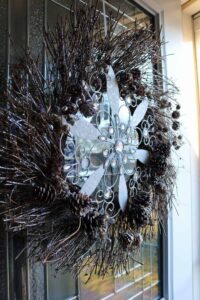 I love how this looks on my white door. For under $5 total, this is my kind of DIY style! Does this give you any ideas for your house?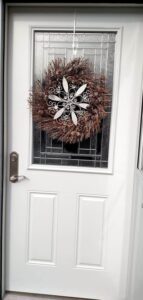 If you want to see how I hang wreaths on my door with that thin ribbon, the details are HERE.