I made this Sword Cake for my son's Armor of God birthday party. Here is what I did to make it extra special!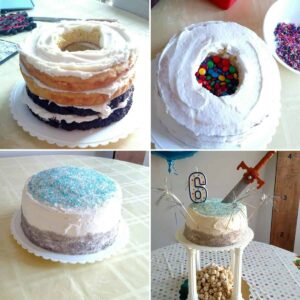 (*This post may contain affiliate links. By purchasing anything from these links, I may receive a small commission at no extra cost to you. More information is available on my Disclosure page.)
I started by baking four 9 inch round cakes. I made two vanilla and two chocolate.
Cake, Before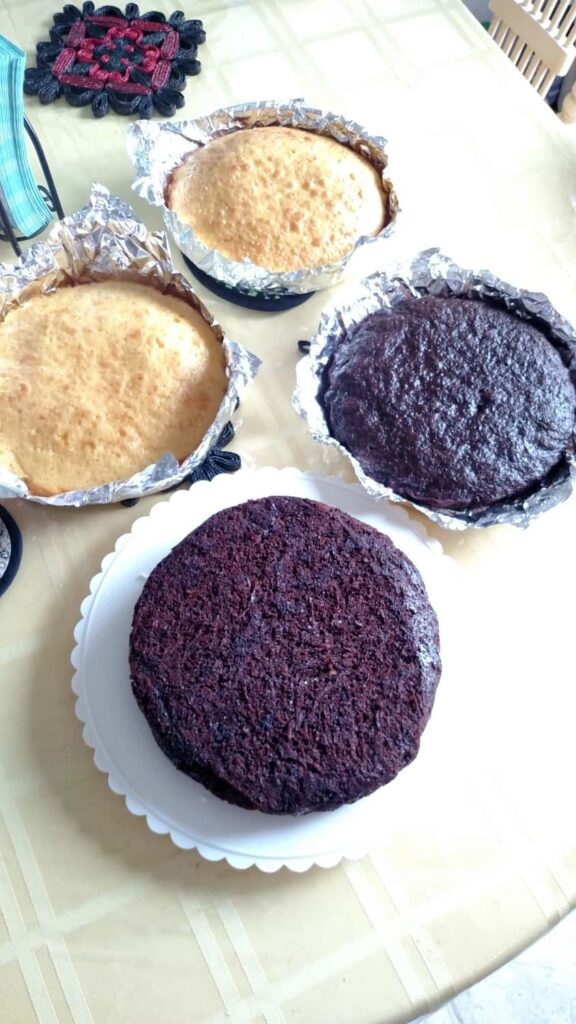 I could have used a tube pan, but I chose to just cut out the middles by using an upside down cup as a cutter.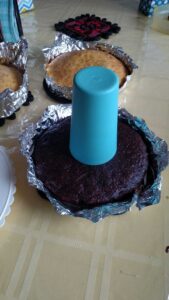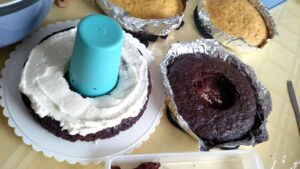 Then I frosted between the layers. My son always likes big cakes, so my goal is to make it as tall as possible. Four layers of cake is a good start.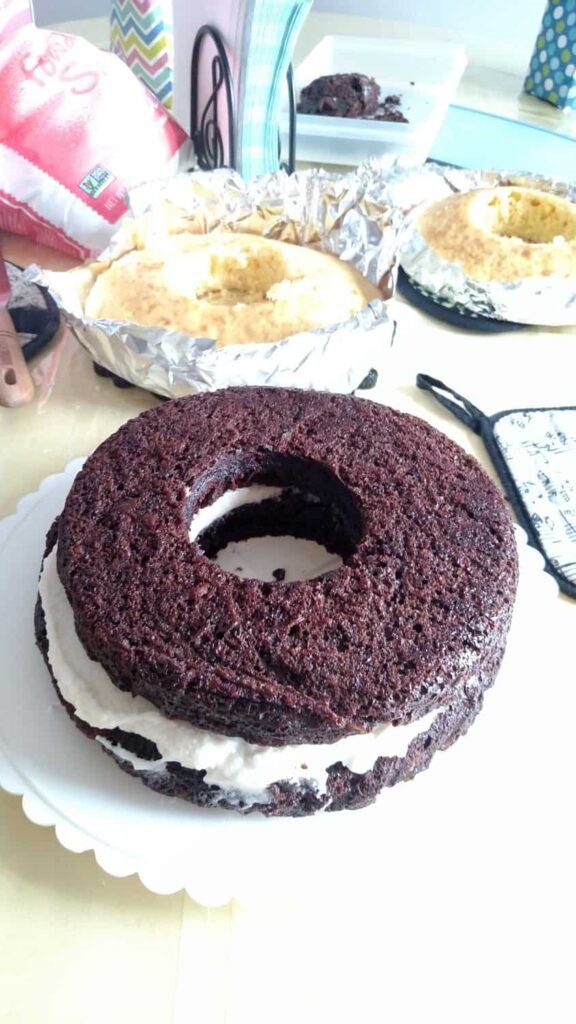 I do not like store bought frosting so I make my own. I wing it, not using a recipe. Maybe I should start…. but I have a problem with frosting– you see one of my children's birthdays is in April, and one is in July. So the room temperature in our kitchen can vary by at least fifteen degrees just because it is a different season! And frosting behaves differently at different room temperatures….. But anyway, I have discovered that little secret about frosting the cake, that you should refrigerate it to let the frosting harden before putting the next layer on. That helps a lot.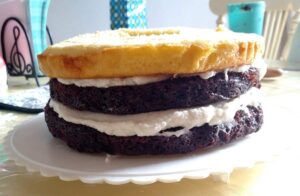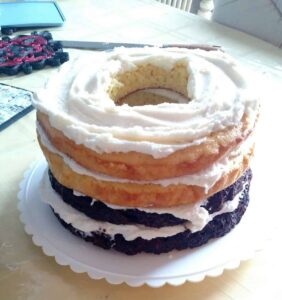 So this will go in the fridge before putting the next frosting layer on.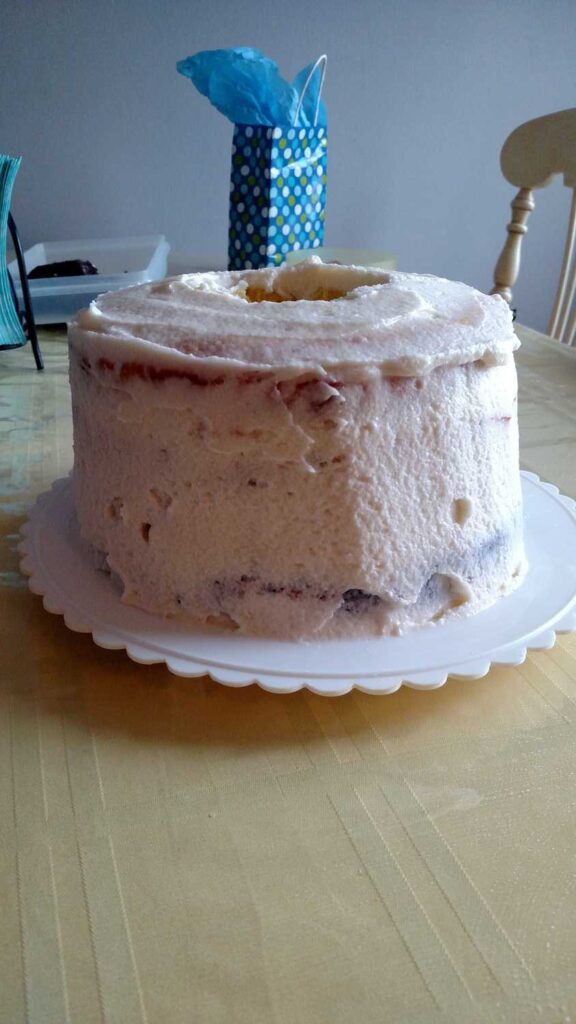 And now you can see why I cut out the middle… to put a surprise inside of M+Ms. I also added Nerds just because I had them on hand, and sprinkles, because my son loves sprinkles. But I would recommend sticking to just M+Ms because I didn't care for the taste combination…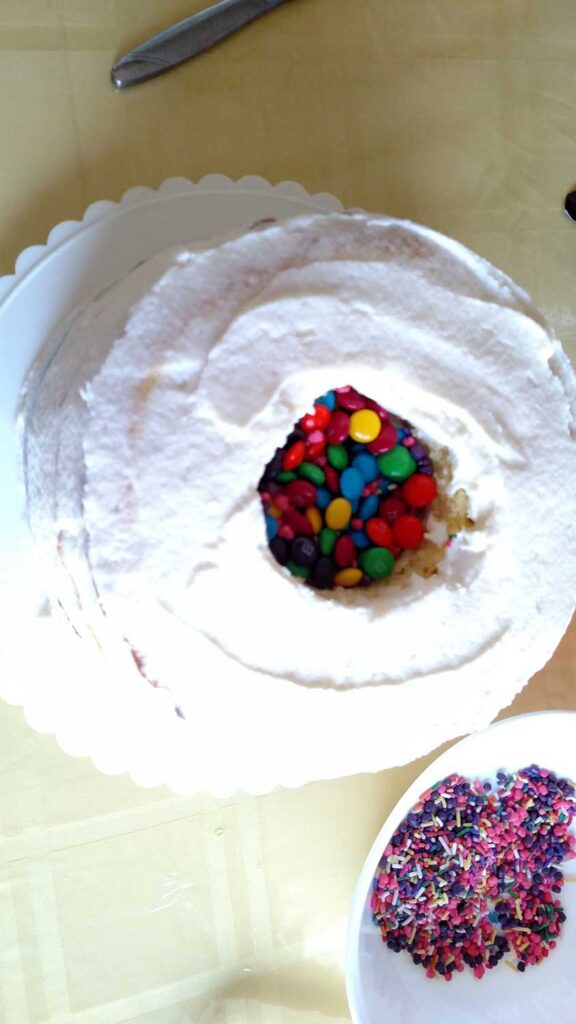 Then I put one of the cake pieces that I had cut out, back on top.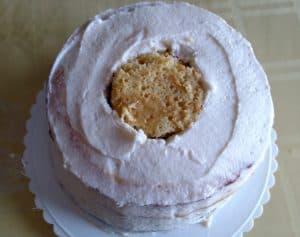 And of course, refrosted it.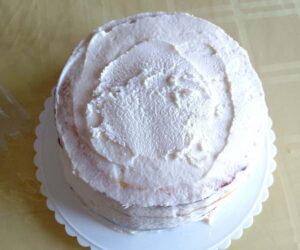 Then I added coarse sugar sprinkles of colors that I had leftover from a different baking project.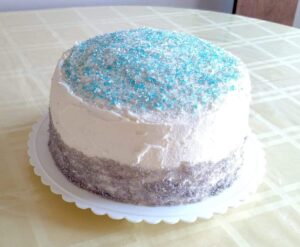 Then I proceeded to build the cake as tall as I could for my son who likes Big Cakes.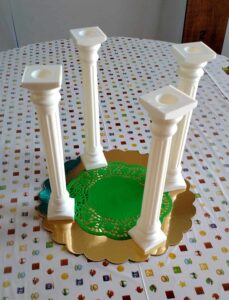 I put it on these pillars, given to me by a neighbor who was moving away. The Six balloon is from Party City.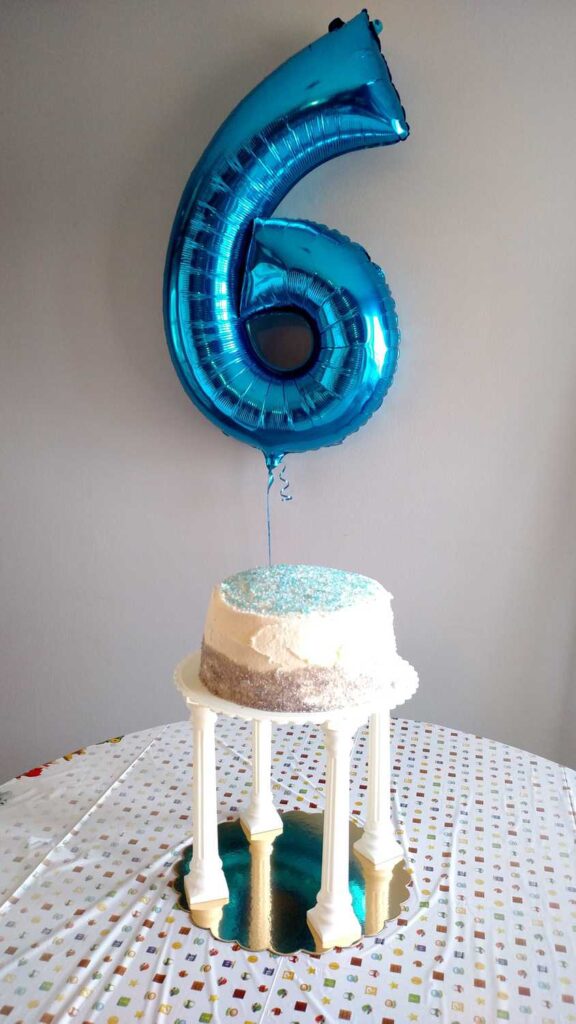 And now for the Sword part. I ordered this sword* from Amazon. It came in a set of two, which turned out very well because sometimes a boy will try to stab his plastic sword into the ground and it will break…..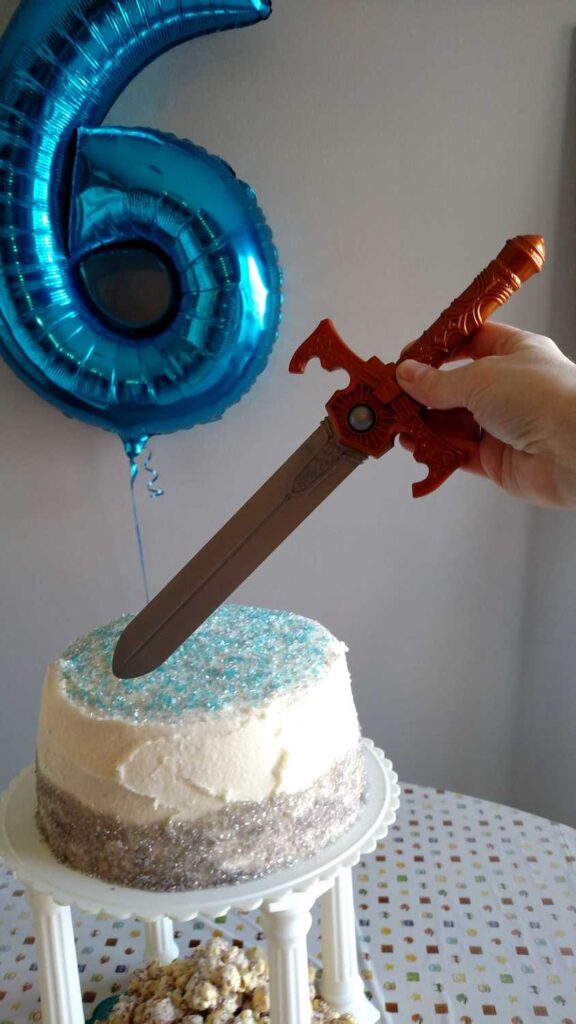 I stuck the sword into the cake at an angle. I piled Birthday Cake flavored popcorn underneath. It was a caramel flavored popcorn drizzled in white chocolate, with sprinkles, and smelled like birthday cake.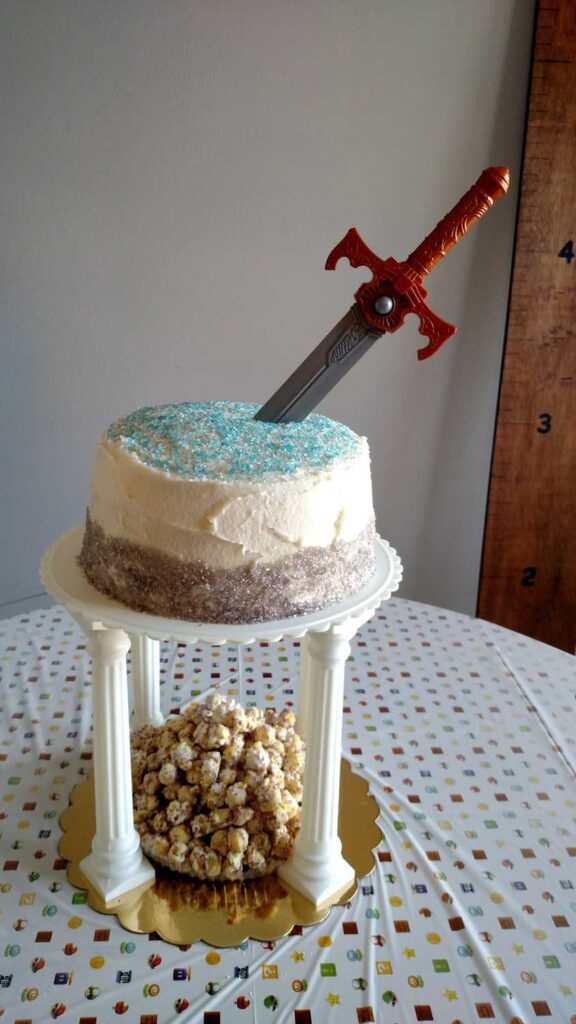 I added a birthday candle and firework cupcake toppers.* When I was shopping for birthday candles, I could only find a six in red. My son would never choose red since that is close to pink, so I bought the red six, and painted over the red outline to make it blue. No one ever knew (until now).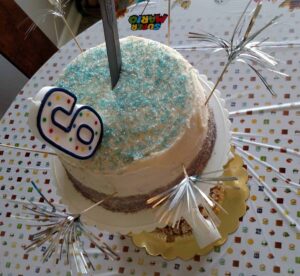 I used a Mario tablecloth since that is another thing my son likes.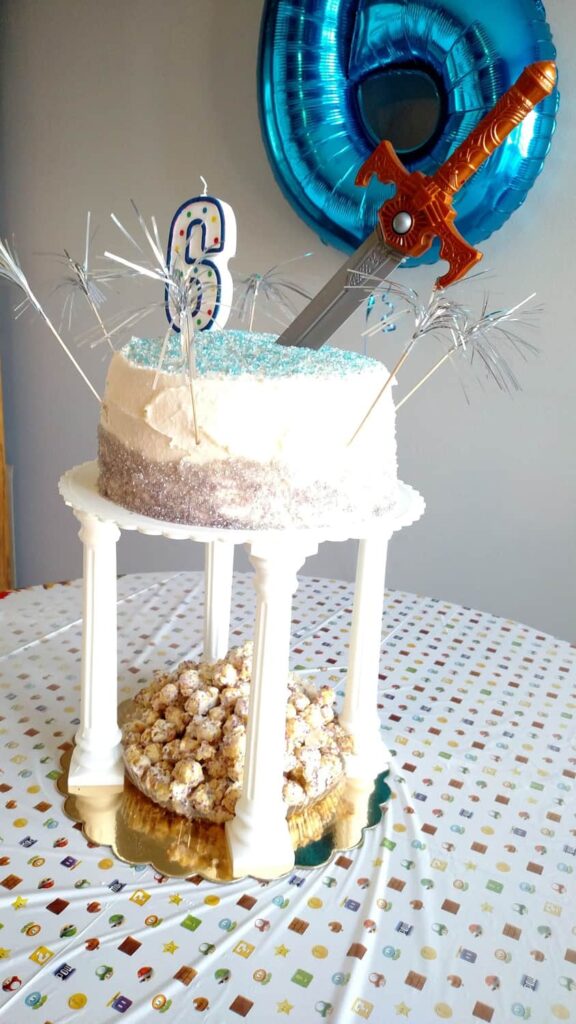 Sword Cake, AFTER!!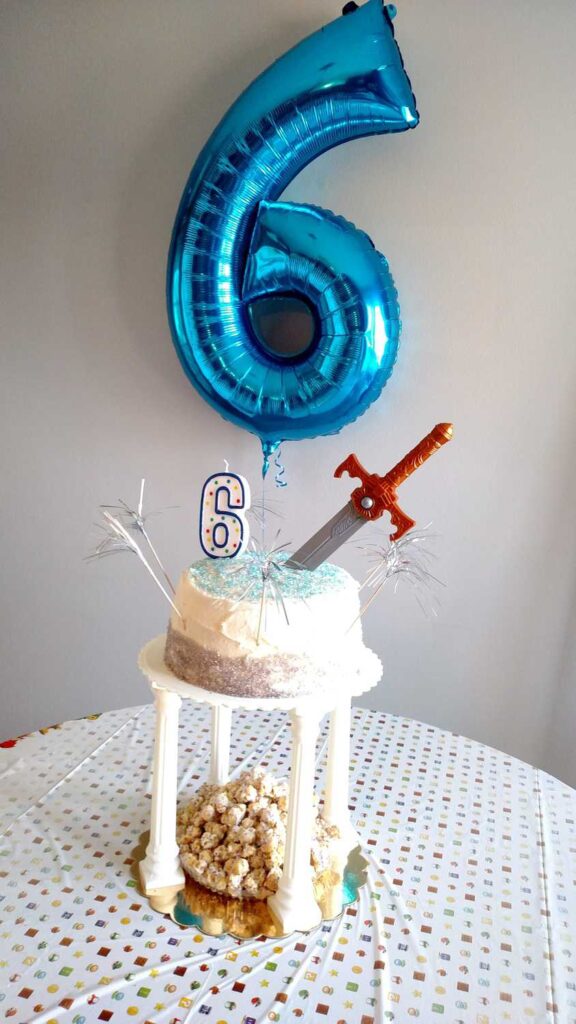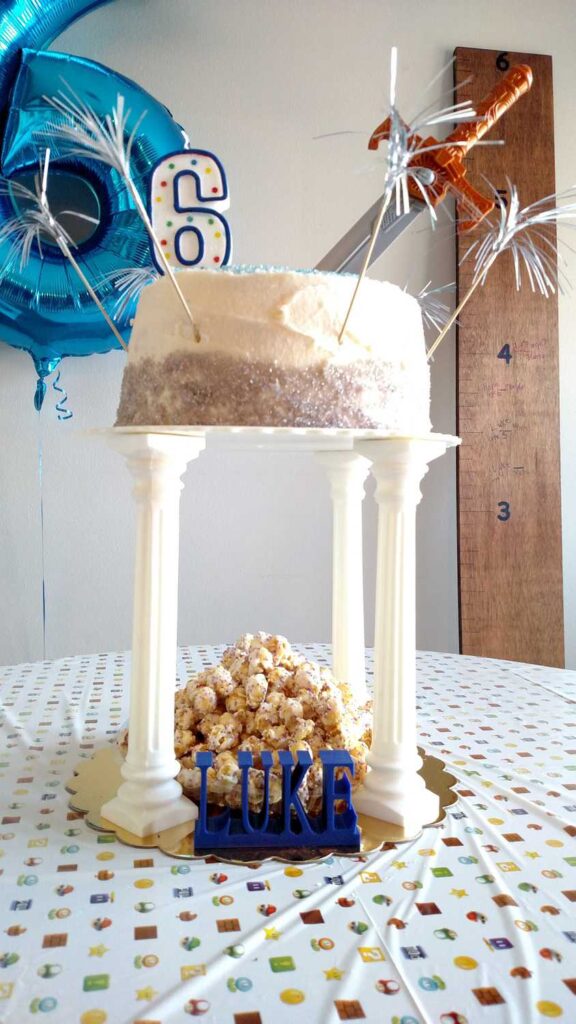 The M+Ms did not spill out when I cut the cake, until I had cut a rather large section of cake out of the way.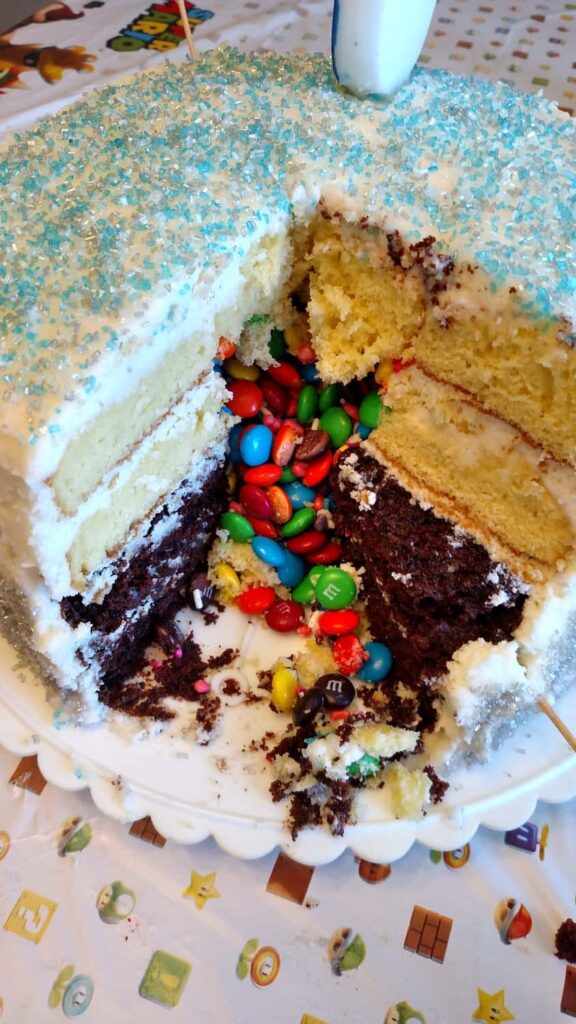 The surprise inside was very fun.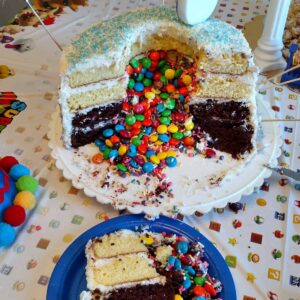 Well, our house is small, so lots of times we will have friends over for one party, and then later have relatives/ family over for another party. So after the first party, above, I decided to remake the cake. I've remade other cakes for the same reason, so I'm accustomed to it. I had more chocolate cake, so I built up half of the cake again.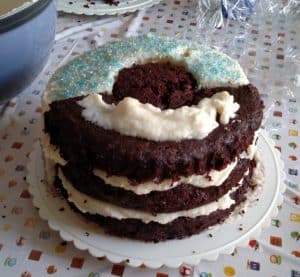 I frosted half of it again….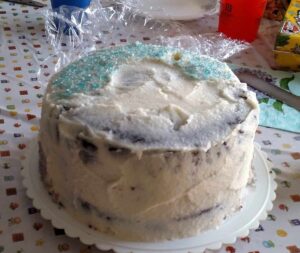 And I stuck the sword in again. I also used a self-inflatable smaller six balloon– but it did not stay inflated very well–I'm not sure how it was supposed to stay sealed.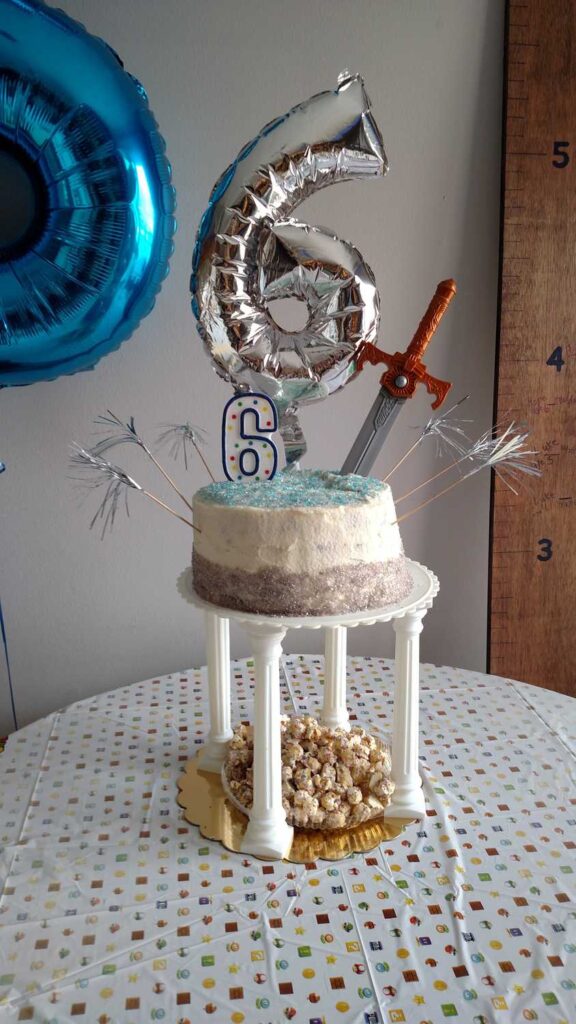 Because it wasn't a whole cake to start with this time, the sword did want to fall out…. but we managed okay.
Sword Cake, version 2, AFTER!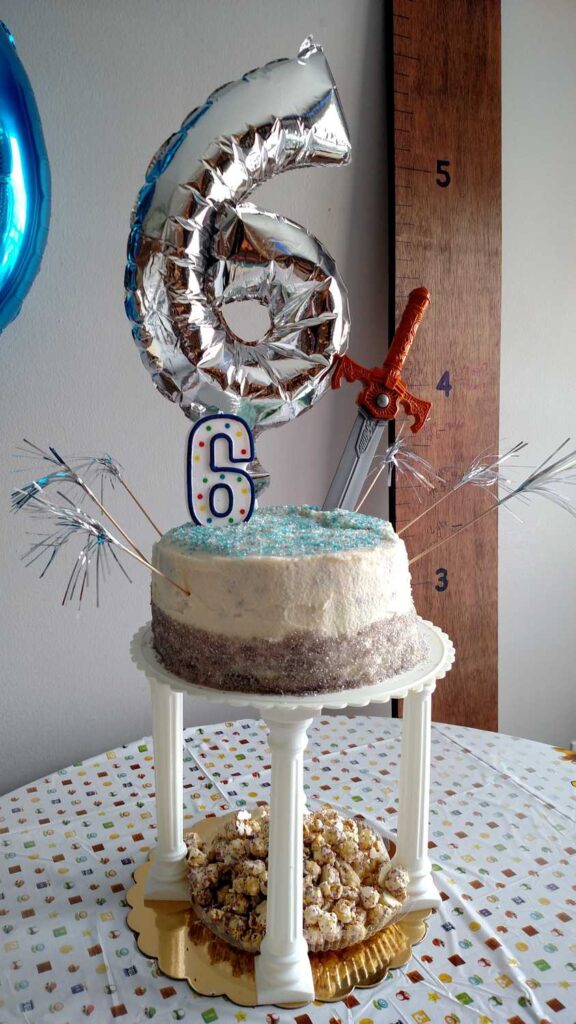 I hope that you have enjoyed seeing how I made this Sword Cake with a Surprise inside!