Roller Coaster Cake
This post contains links to affiliate websites, such as Amazon, and we receive an affiliate commission for any purchases made by you using these links. We appreciate your support!
Introduction
My husband is a roller coaster fan. I always make our kids' birthday cakes of things they like. I enjoy surprising them with the cake on their birthday. It is part of my gift to them. I decided to make a cake in similar fashion for my husband for his surprise birthday party. In order to surprise him, I made it at someone else's house (so this is not my kitchen until later on…) My husband also likes Resee's Peanut Butter Cups, so I made the chocolate cake with peanut butter frosting, and the funfetti vanilla side with vanilla frosting. I started out with two 9×13 cakes side by side for the base.
Before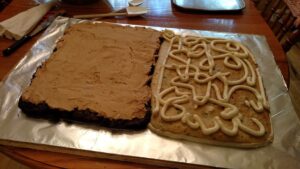 (*This post may contain affiliate links. By purchasing anything from these links, I may receive a small commission at no cost to you. More information is available on my Disclosure page.)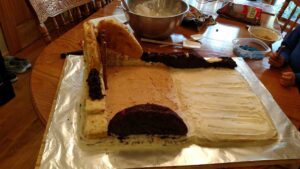 Construction
I did my usual research of the internet before starting this monumental cake. Then I decided on a combination of different ideas that I had seen. I used an assortment of round cakes to get the hills of the roller coaster. I inserted straws to hold the hills upright. Then I snipped the straws off at the right height. It was still difficult to frost the base coat. I was afraid it would all fall over!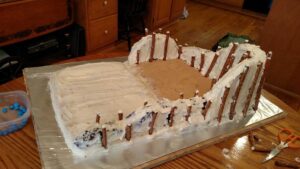 After adding the pretzel logs to the outside, it was much more stable. Even if I had wanted to put it into the fridge to stabilize the crumb coat– I doubt that I could have because of the size of the board that the cake was on.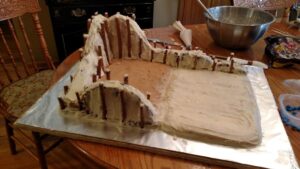 This is a wooden roller coaster, as you can tell by the pattern of the X's. I did not try to imitate any roller coaster in particular.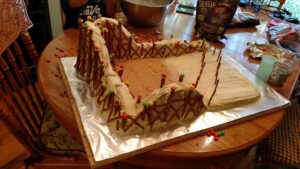 My husband also likes M+Ms– I don't know anybody who doesn't! I used the ones that matched my color scheme of red, orange, yellow, and green.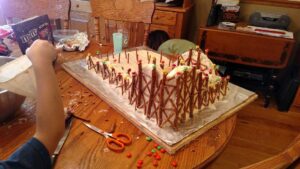 And then you can see the green shoestring licorice that I used for the tracks.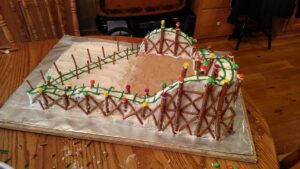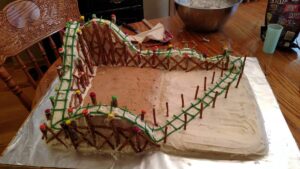 I made a river of M+Ms down the middle of the cake.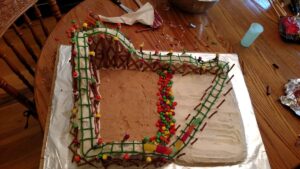 And I used gummy fruit slices for the roller coaster cars.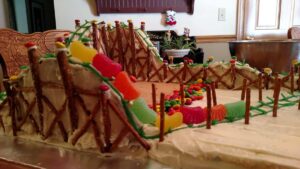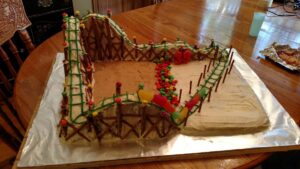 Final Result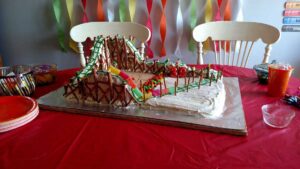 The surprise party was a success, and my husband liked his roller coaster cake! It tasted good, too!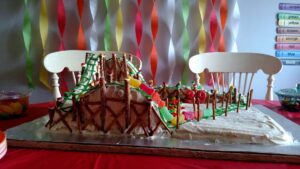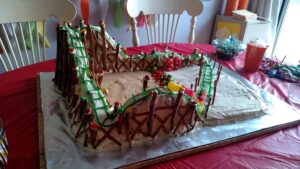 AFTER!!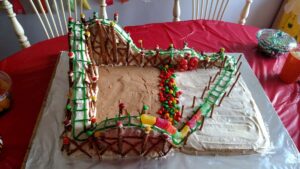 SaveSave
SaveSave
SaveSave
SaveSave
SaveSave
SaveSave