Disguising the Basement Ceiling Pipes
Perhaps by now you know that I like to disguise things in unconventional ways. These ceiling pipes in our basement ceiling are no exception. We bought our house with an unfinished basement. No drywall, no ceiling– just plain cement block and concrete floor. Little by little we are making progress into turning it into real living quarters that we enjoy. We built a bathroom. After the bathroom was built, the pipes in the basement ceiling from the upstairs bathroom were kind of a distraction. They were directly over the new bathroom's door, which is to the right in the photo below.
Before
(*This post may contain affiliate links. By purchasing anything from these links, I may receive a small commission at no cost to you. More information is available on my Disclosure page.)
See how ugly they are? You are a step higher to the ceiling at this point, because of the bottom landing of the basement stairs. Therefore, you are very likely to stare right at them and not be able to ignore these big drain pipes. We were not quite ready to finish our basement ceiling.
I remembered the curtains that I had been using to simulate walls before the bathroom was built. Now that I'm not using them for walls, I have several leftover. As Ikea curtains, they are very long. It turned out that one was all I needed. It was just the right width!! With the help of a staple gun and a step stool, I made those ugly ceiling pipes disappear! Ta-dah!
After!!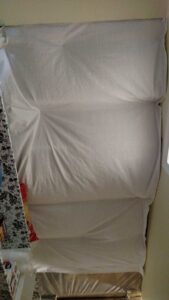 I just stapled the fabric directly to the rafters. The curtain fabric does not stand out when you walk through the hallway. It kind of disappears like a cloud in the sky. And see the green to the left? That's that ugly wall pipe that I disguised : ).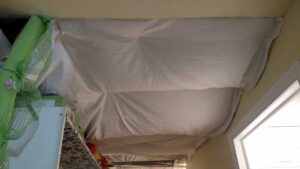 As long as the tiny holes won't matter, a staple gun and fabric can hide or disguise lots of things! Can you think of something or somewhere that you could staple fabric in your house?
Check out my other Basement ideas below!
SaveSaveSaveSave
SaveSave
SaveSave
SaveSaveSaveSave
SaveSave
SaveSave
SaveSave