Farmhouse and Beach Style Bathroom
This post is the eighth and last in a series on the building of our Downstairs Bathroom. There are pictures and links to the other posts in this series at the very end of this post.
I am sooo excited to get to show you our downstairs bathroom in its entirety!
Here's the Before: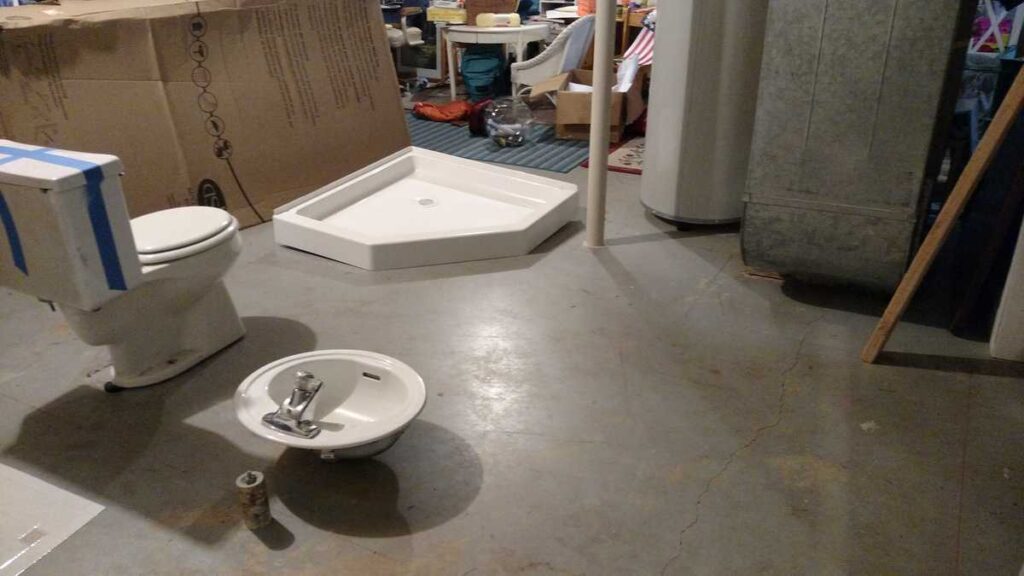 (*This post may contain affiliate links. By purchasing anything from these links, I may receive a small commission at no cost to you. More information is available on my Disclosure page.)
And here is the AFTER!!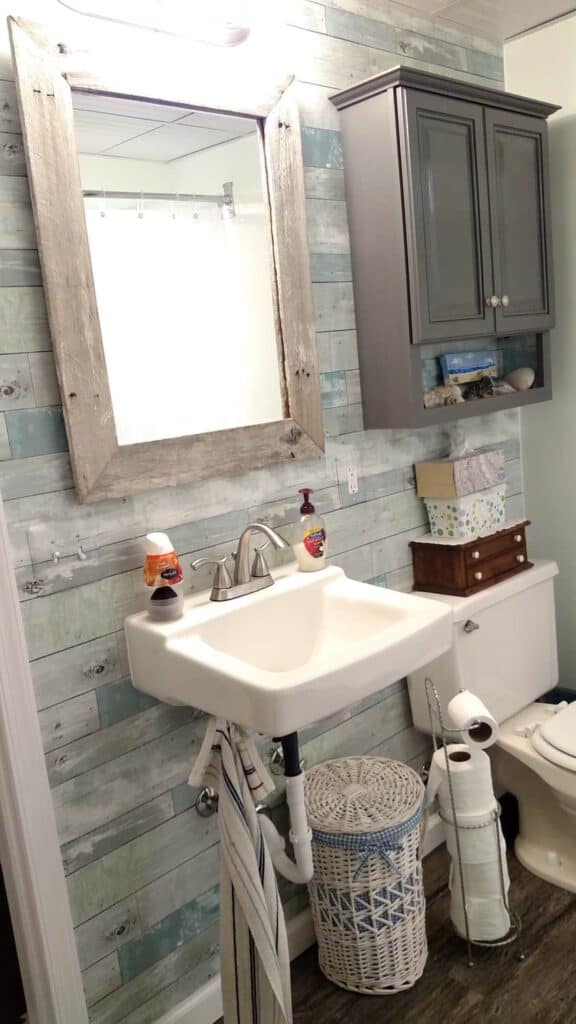 So let me take you through the door…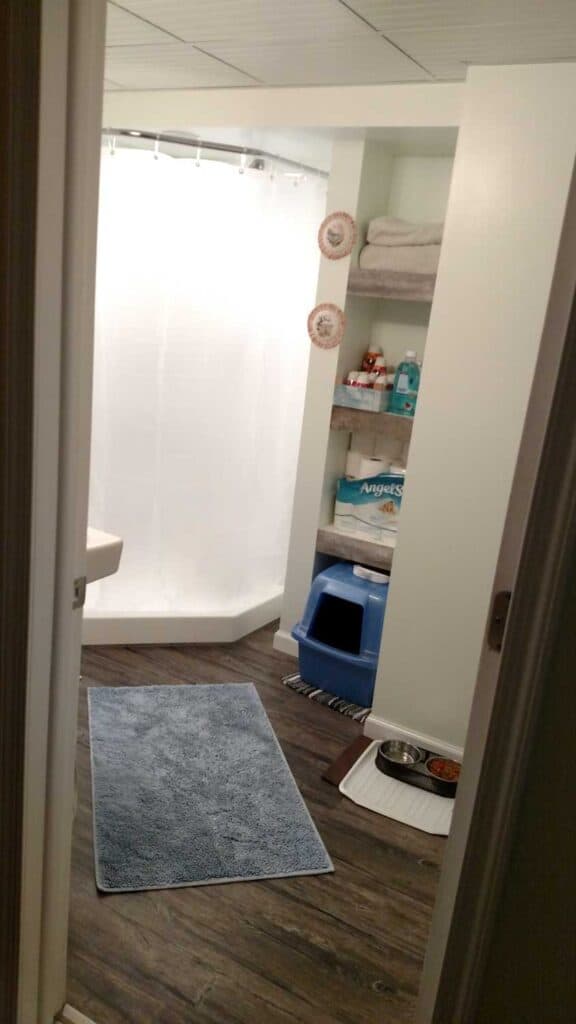 Remember the support pole in the little wall to the left that caused these built in shelves? I had the lowest one put in high enough to allow the cat's litter box to go there. It fits perfectly.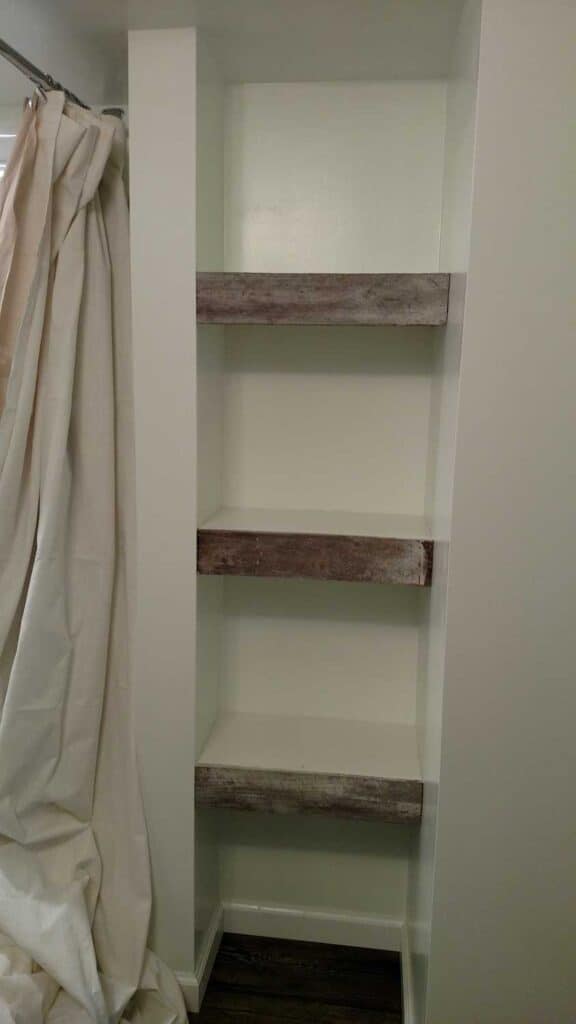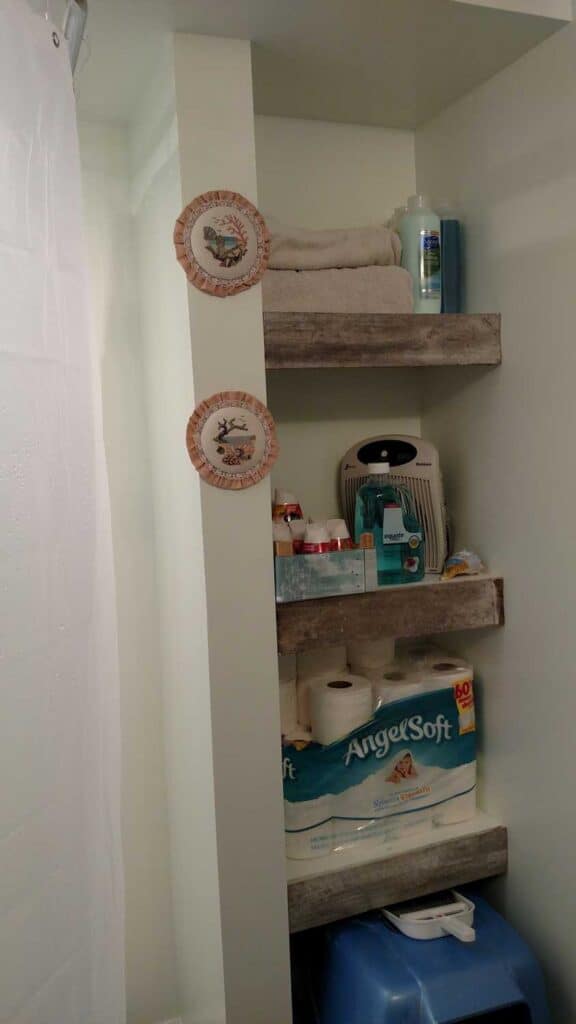 These cross-stitched circles add a nice touch. I did not make them. I found them and they were…. free : ). They look brand new.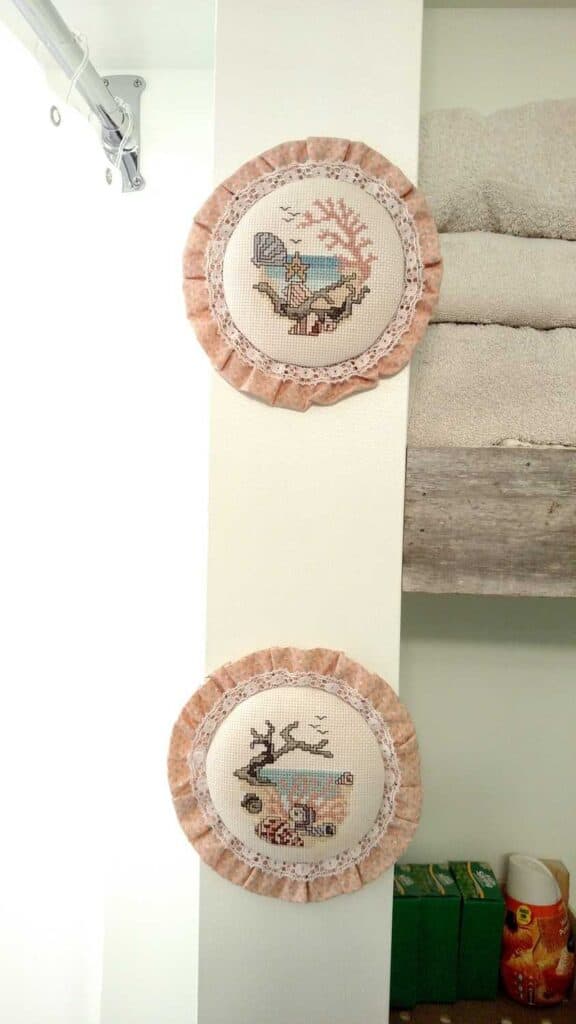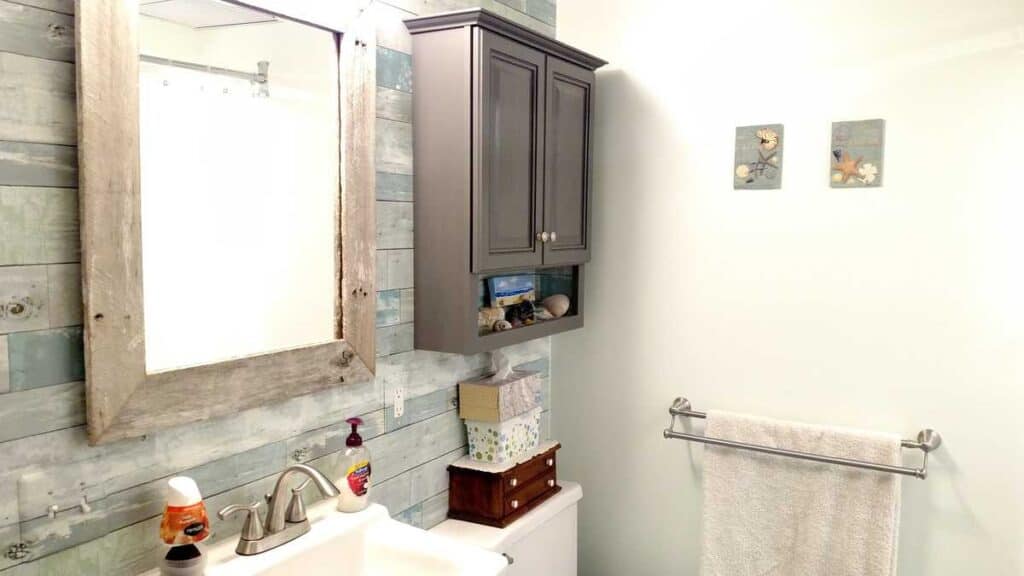 These beach themed plaques? They are from our wedding registry. They go so well with the beach wood wallpaper! I picked the wallpaper for its color, not its beach theme…but it all works out.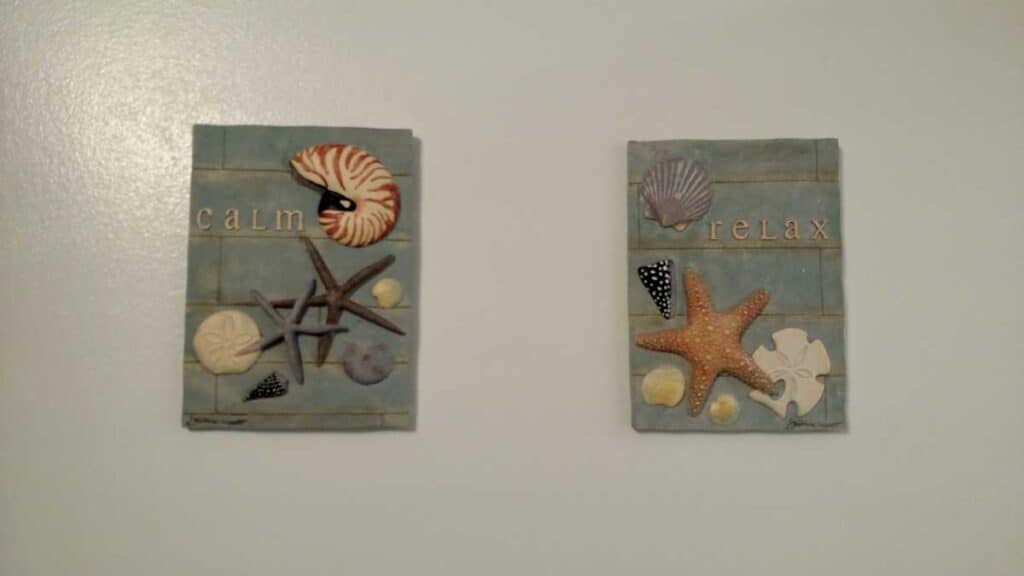 Here's the shower. I bought an extra long shower curtain, and then trimmed it to the right length. I did not want to clean a pesky shower door. So far the curtain is working just fine.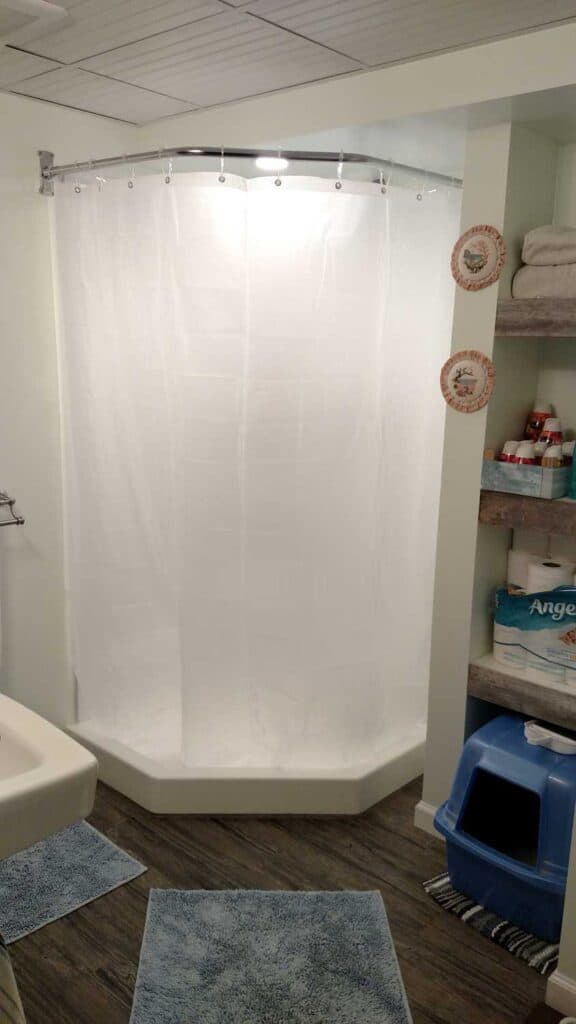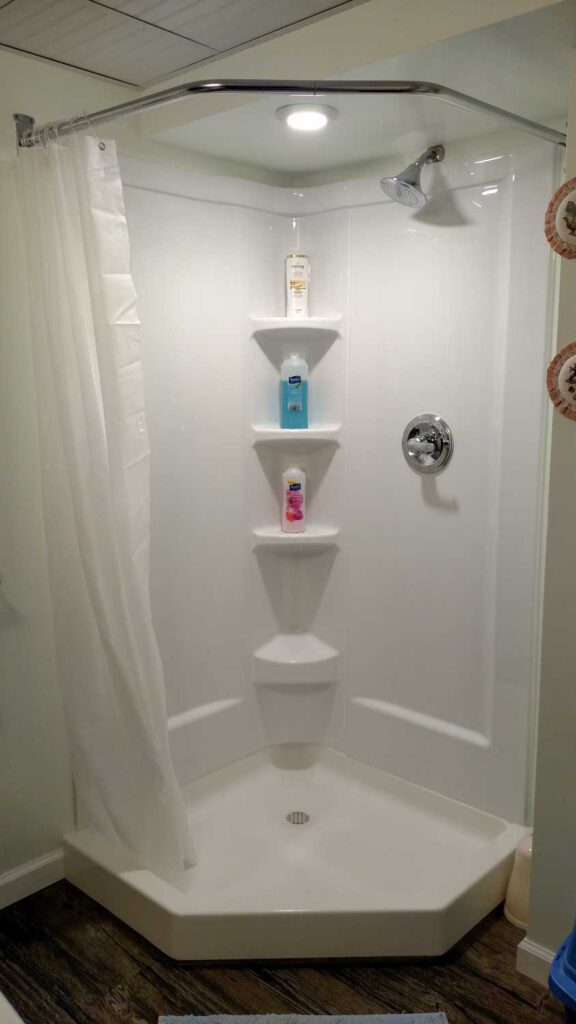 If you walk towards the shower and turn around, this is the view you have back towards the door. Oh, the door! I almost forgot to mention that it was free! I saved it when I found it, and then the door frame for this bathroom was built to fit my free door. : )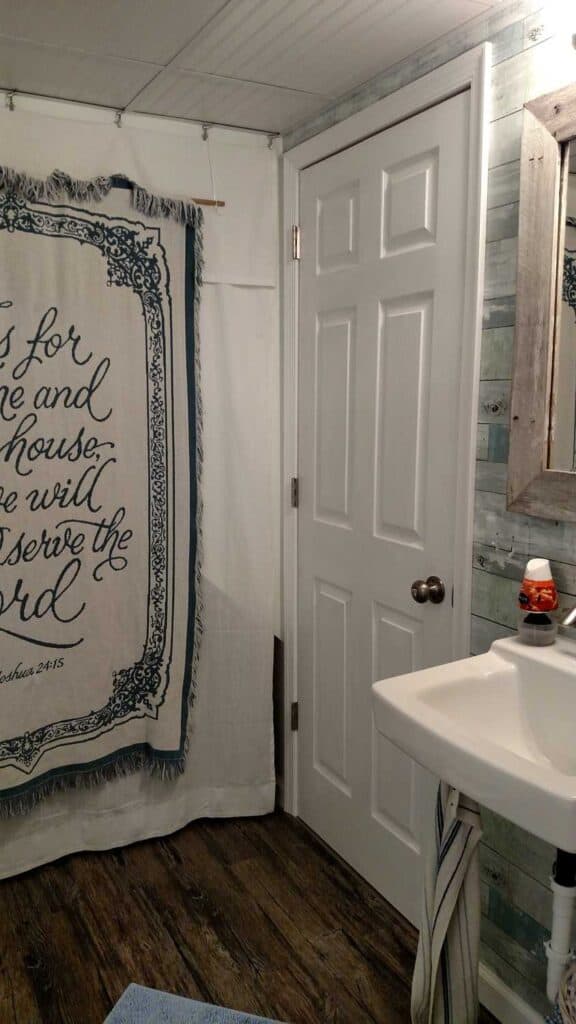 I decided to use a curtain to cover my odd-shaped closet opening. It is odd because it is a triangle, and it is odd because I didn't want the adjoining wall opposite the door to go all the way to the triangle. See how the curtain curves to the left? I wanted it that way so that I could reach further back under and into the closet. And it gives me a good excuse to use my throw blanket (which just happens to be a coordinating color!) for a wall hanging. I first used it as a wall hanging around ten years ago.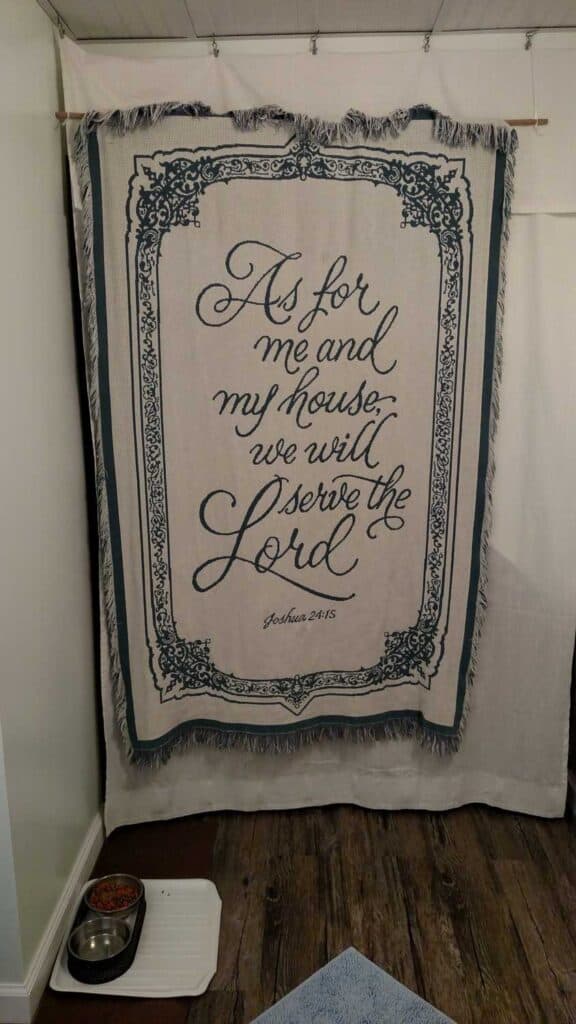 It is this mirror, and the shelves accented with my old fence pickets, that reminds me of farmhouse style. Do you agree?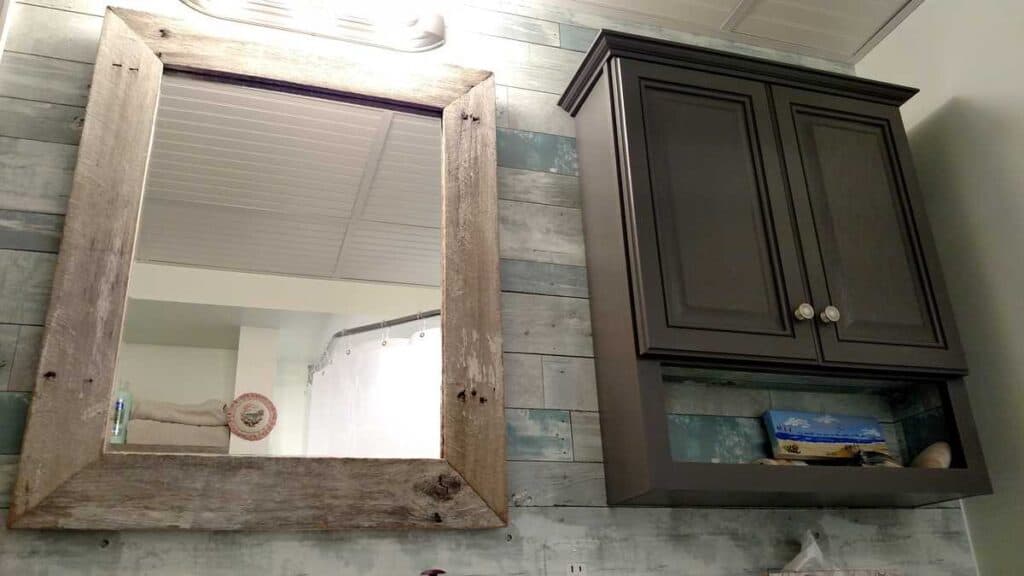 Here is a panoramic to give you more of an idea how it all looks together:

I hope you've enjoyed this series on our Downstairs Bathroom! Links to the rest of the Series are below.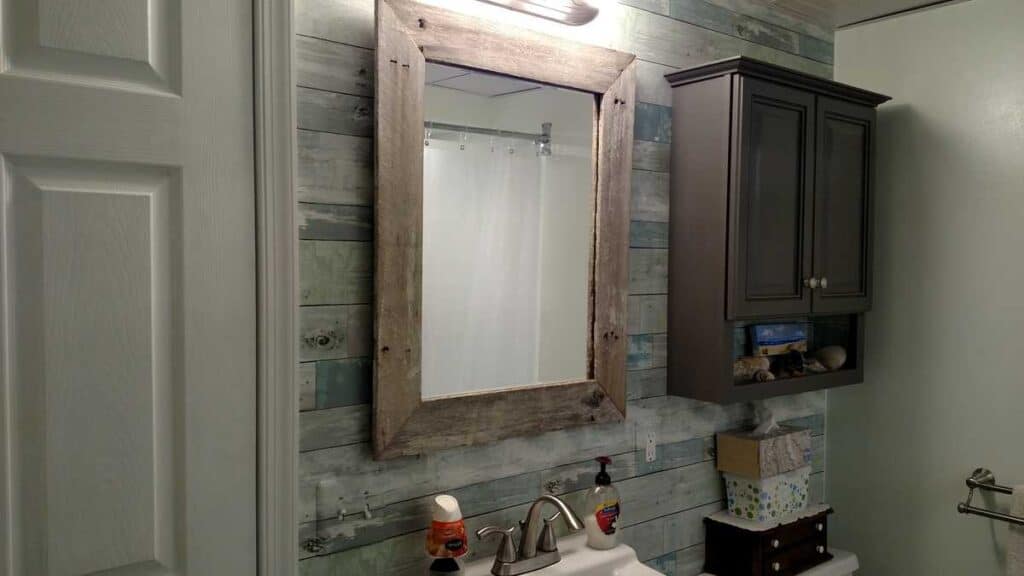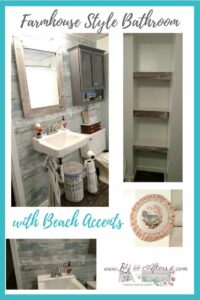 SaveSave
SaveSave
SaveSave
SaveSaveSaveSave
SaveSave
SaveSave
SaveSave
SaveSave
SaveSave
SaveSave
SaveSave
SaveSave
SaveSave
SaveSave
SaveSave
SaveSave
SaveSave
SaveSave