I first found this recipe for this Eggnog flavored shortbread in the back of a fiction book. It is different than your normal cookies and bars, and I like it's distinctive Nutmeg flavor.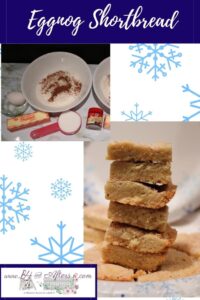 There are just five ingredients. The first step is mixing the nutmeg with the flour.
Nutmeg Shortbread, Before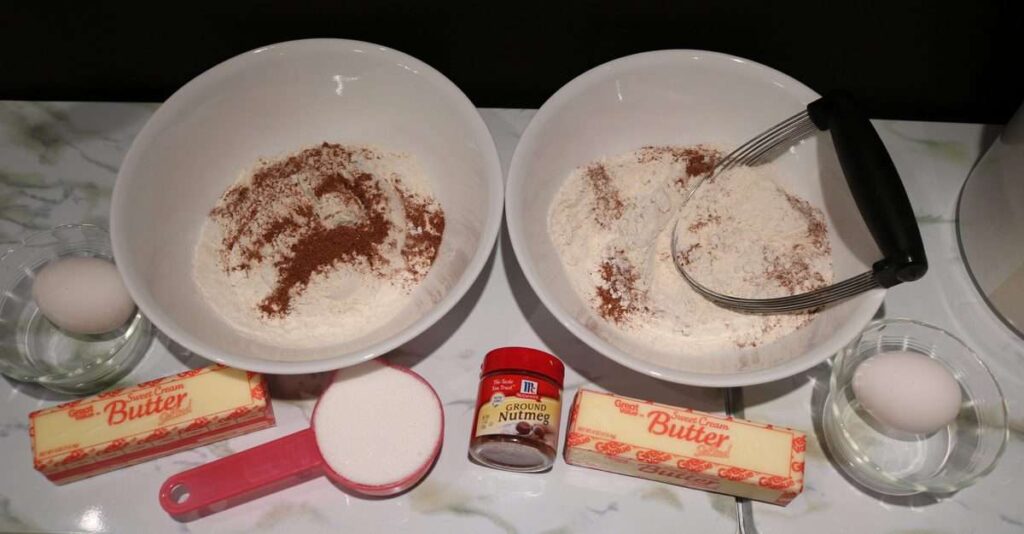 (*This post may contain affiliate links. By purchasing anything from these links, I may receive a small commission at no extra cost to you. More information is available on my Disclosure page.)
This Nutmeg Shortbread does not rise and the texture is on the hard side– perfect with tea, coffee, or milk! While you are measuring out the ingredients, go ahead and put the extra nutmeg and sugar in a small bowl for the topping so it is ready at the end (see recipe at the bottom of this post).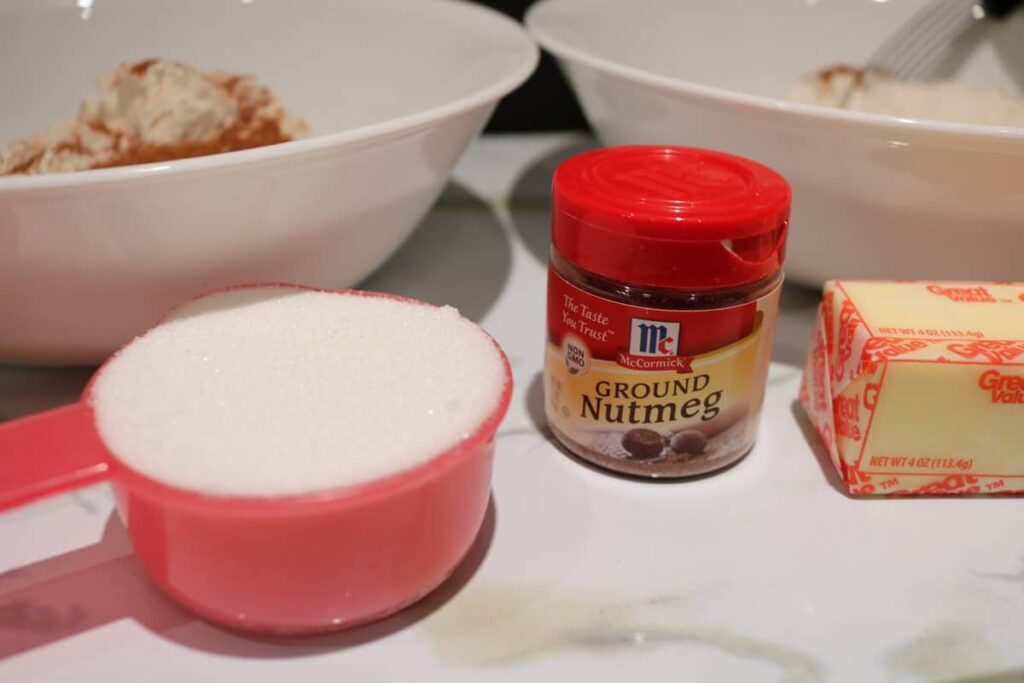 I like making double batches of things. With this recipe, it is best to make the double batches in separate bowls, because of the specific requirements of making and baking it. Be sure to read and follow the directions very carefully! It might take more than one try to get this recipe right– so don't double your recipe the first time. After mixing the nutmeg and flour together, cut the cold butter into small pieces.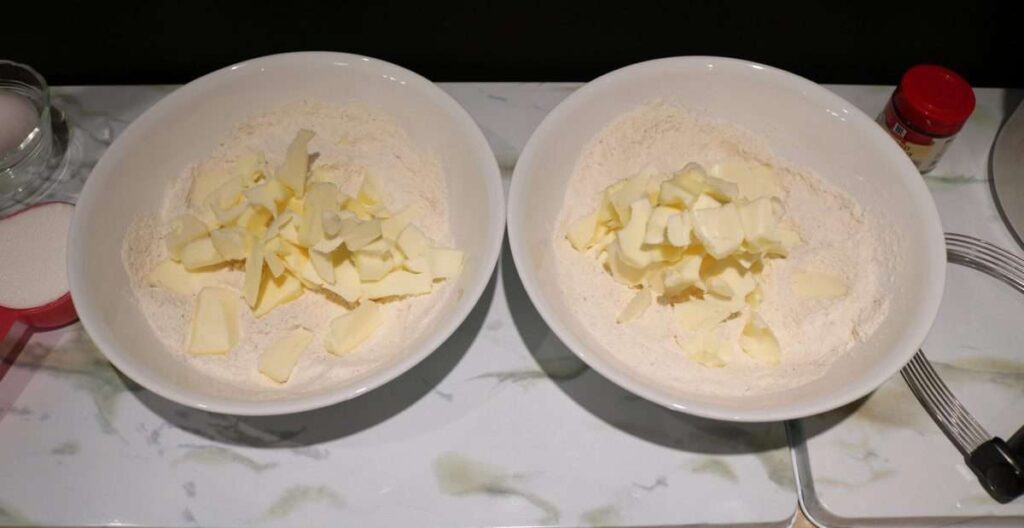 Then mix in the butter until it looks like coarse sand.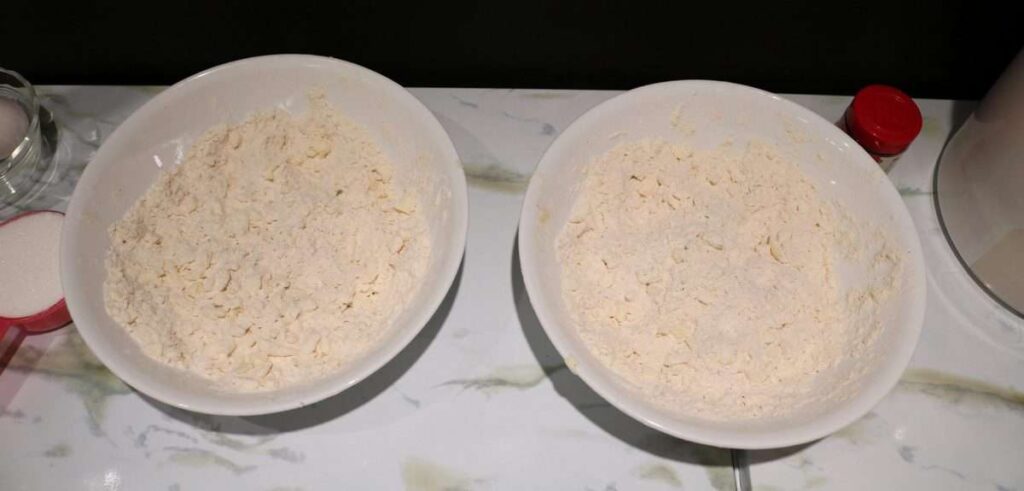 Then it is time to add the sugar (the one on the right has already been stirred in).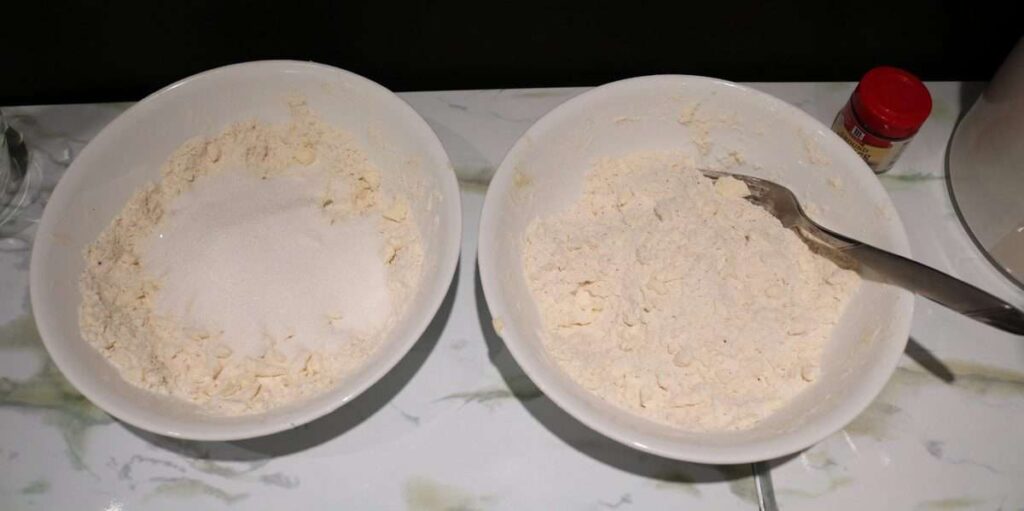 After stirring in the sugar, add one egg yolk.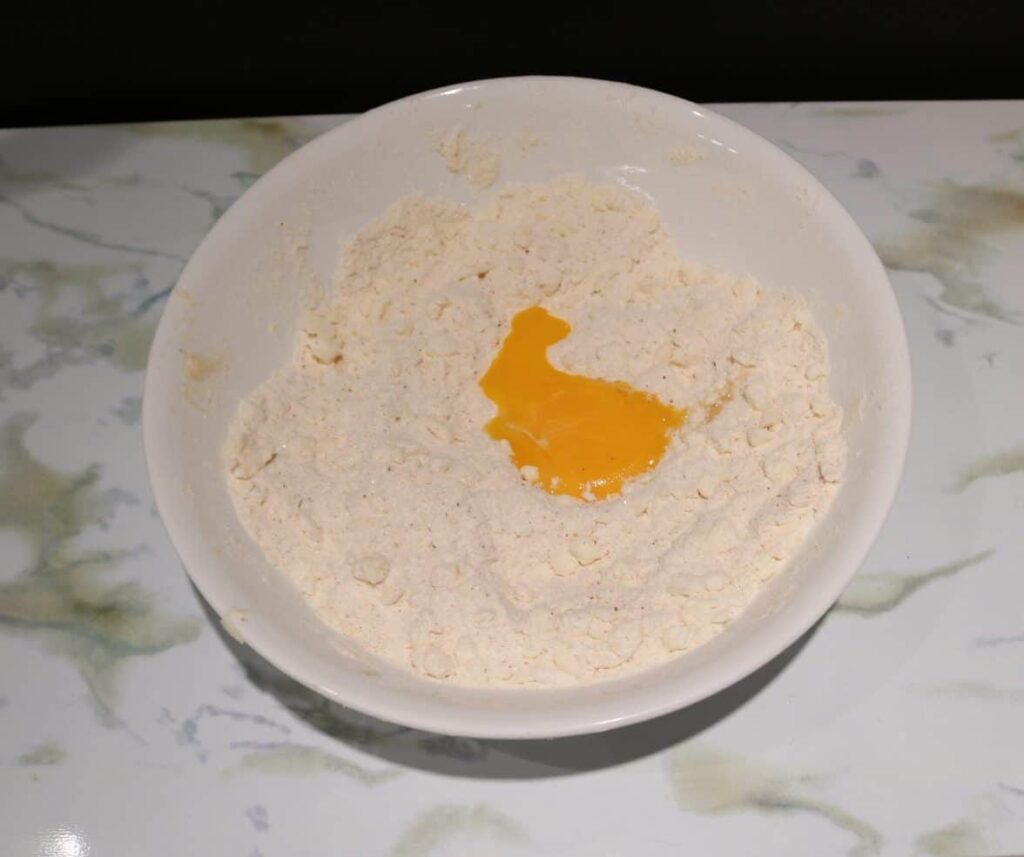 Stir in the egg yolk. There is no vanilla– which is good since it is so expensive right now.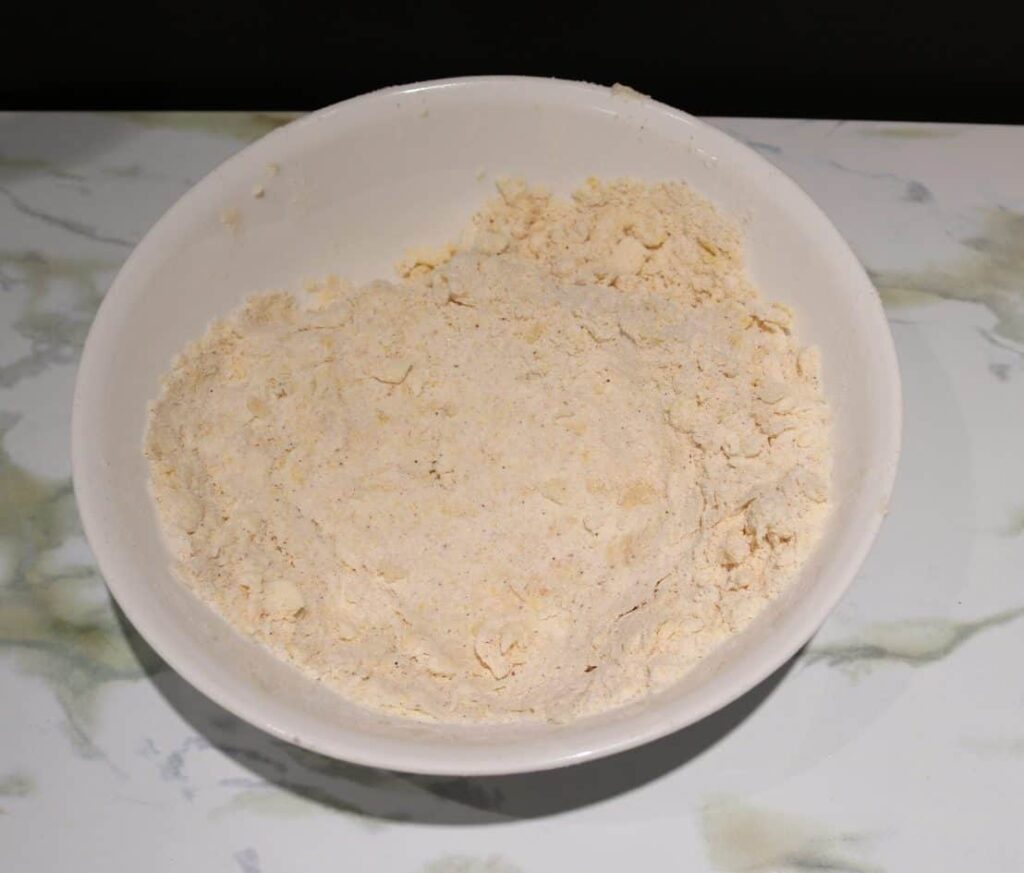 You are going to be tempted to add some water. But just keep mixing the dough with your hands until the dough begins to hold together. Just keep kneading and pressing it together. Finally, it will make a ball. You can see the ball of dough on the right.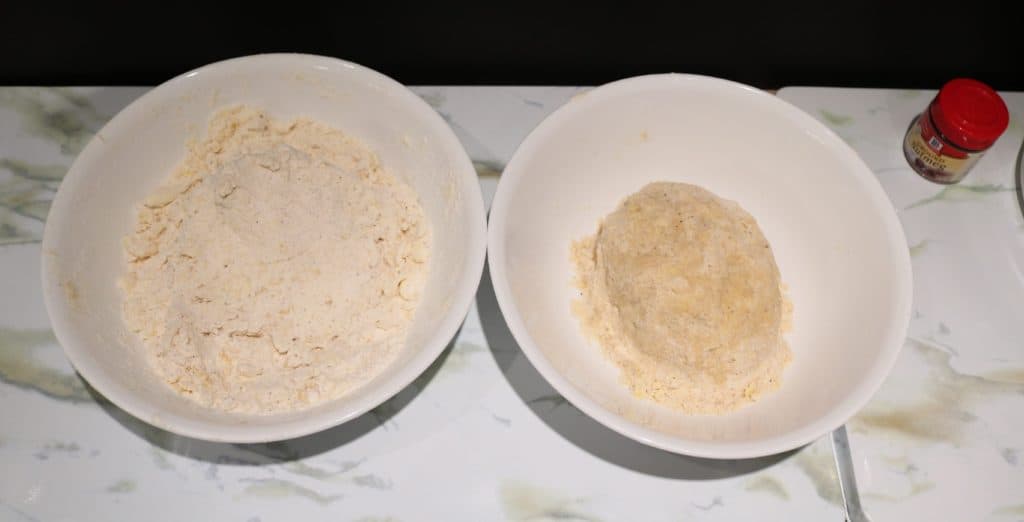 When you put it in the greased pie plate, it will fall apart again, but that's okay. Just press it all down as flat as you can.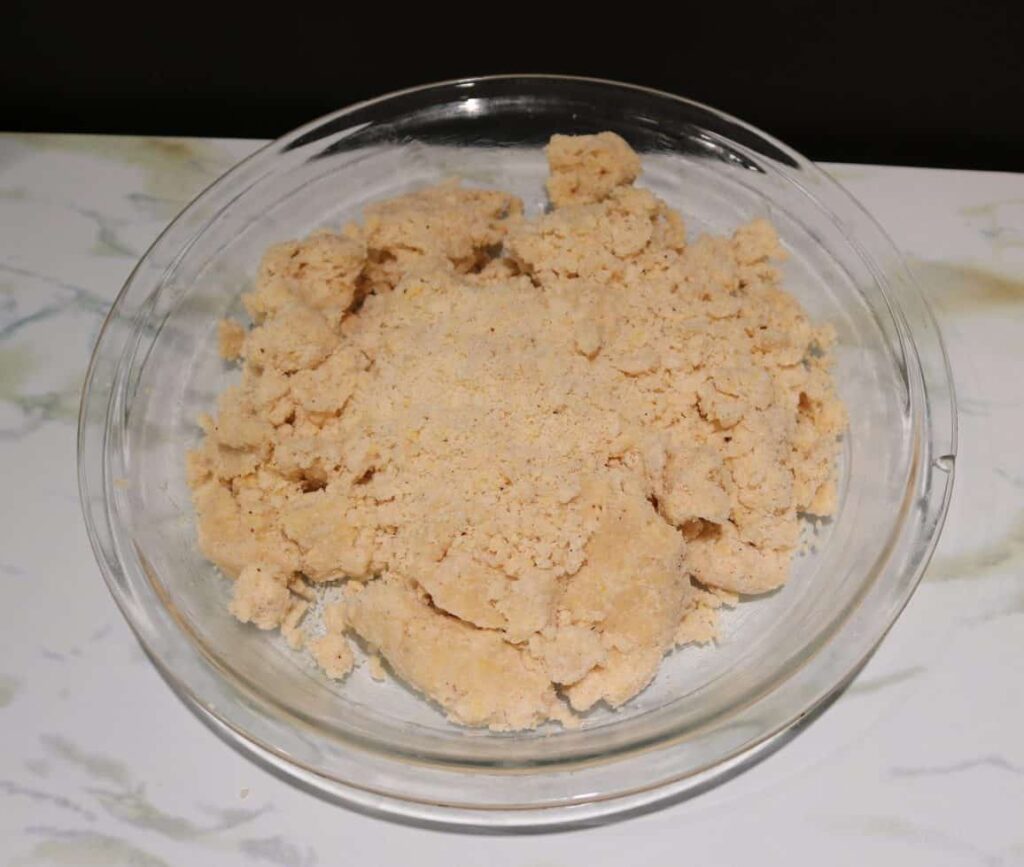 Here it is all pressed down into a 9 inch pie plate. You can also use an 8 inch square pan. I've always used glass.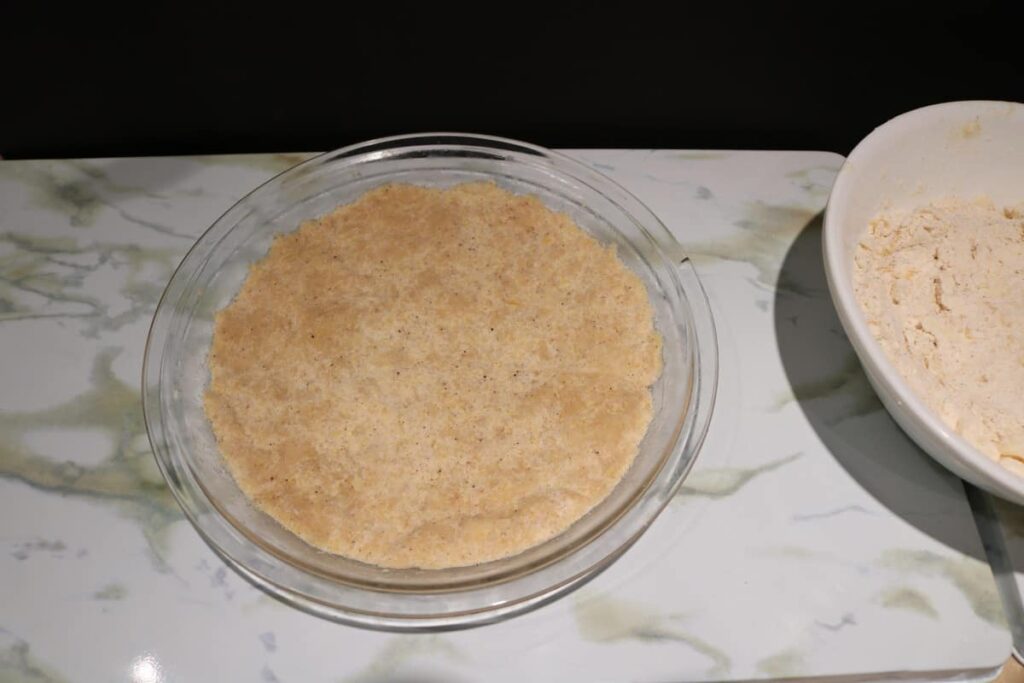 After it is pressed down, lightly mark eight slices with a sharp knife. I used my pointy paring knife. Don't cut all the way through– not even half way through. You're just marking a little bit so that after it is cooked, it will cut more easily.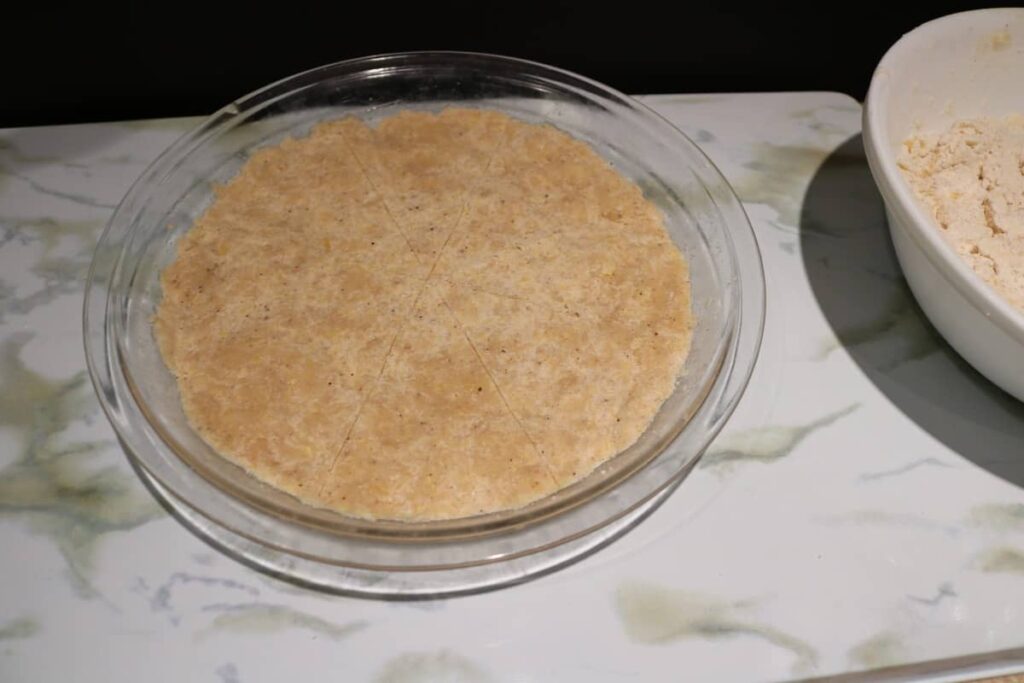 Then, with a pointy fork (some have slimmer tines than others– that is the one I use), poke air holes all around– again being careful not to poke too far down.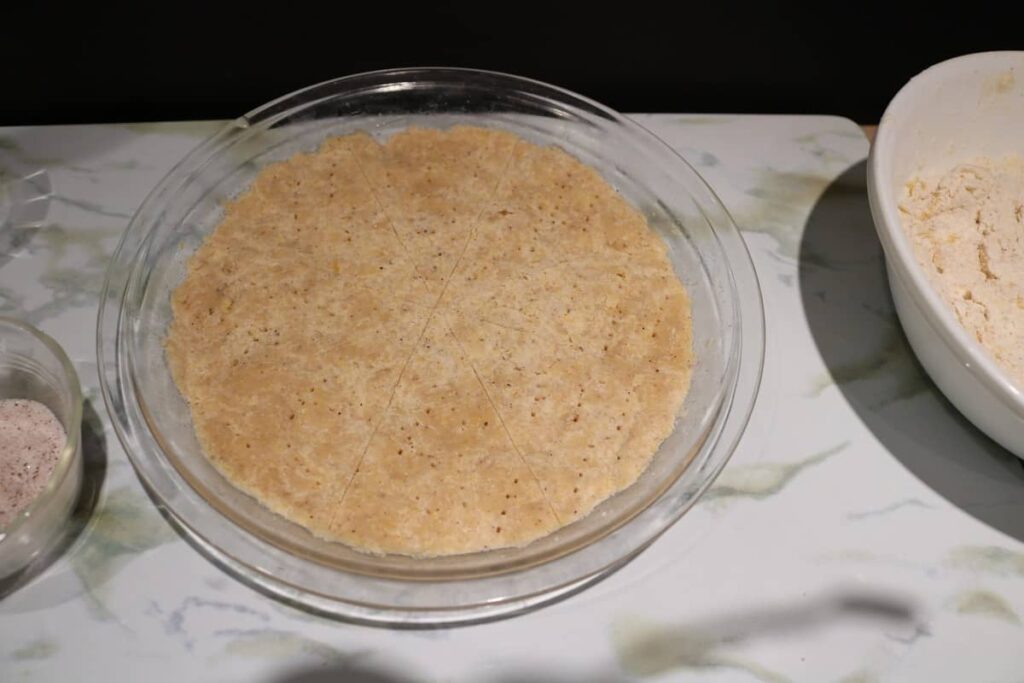 Then it is time to sprinkle the nutmeg and sugar topping on before baking.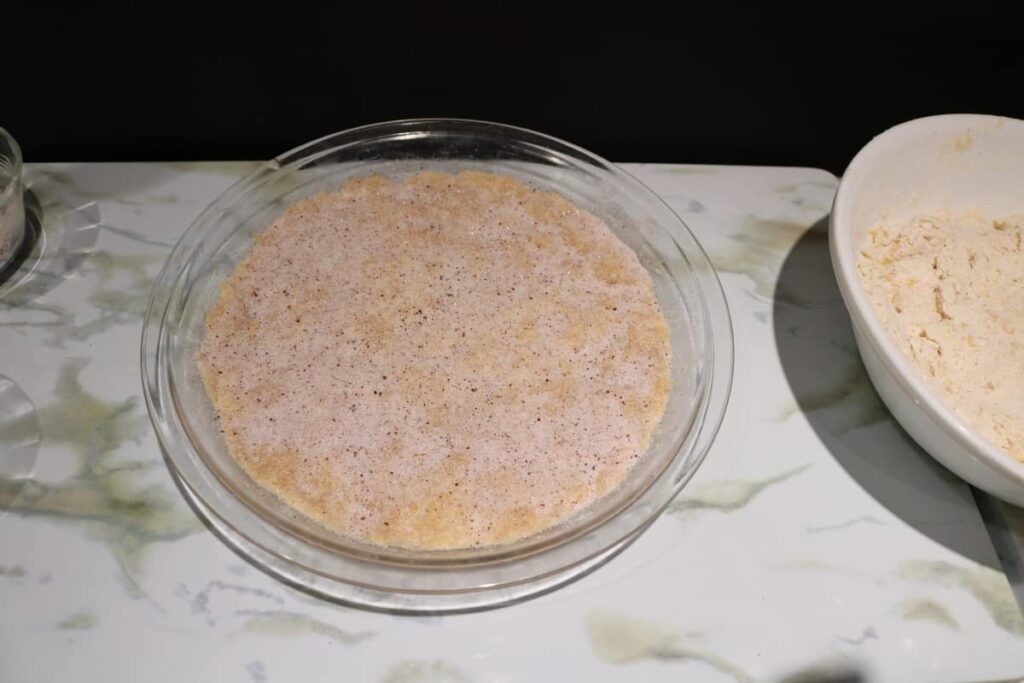 Here is my square one… you can see the nutmeg and sugar topping waiting on the left side.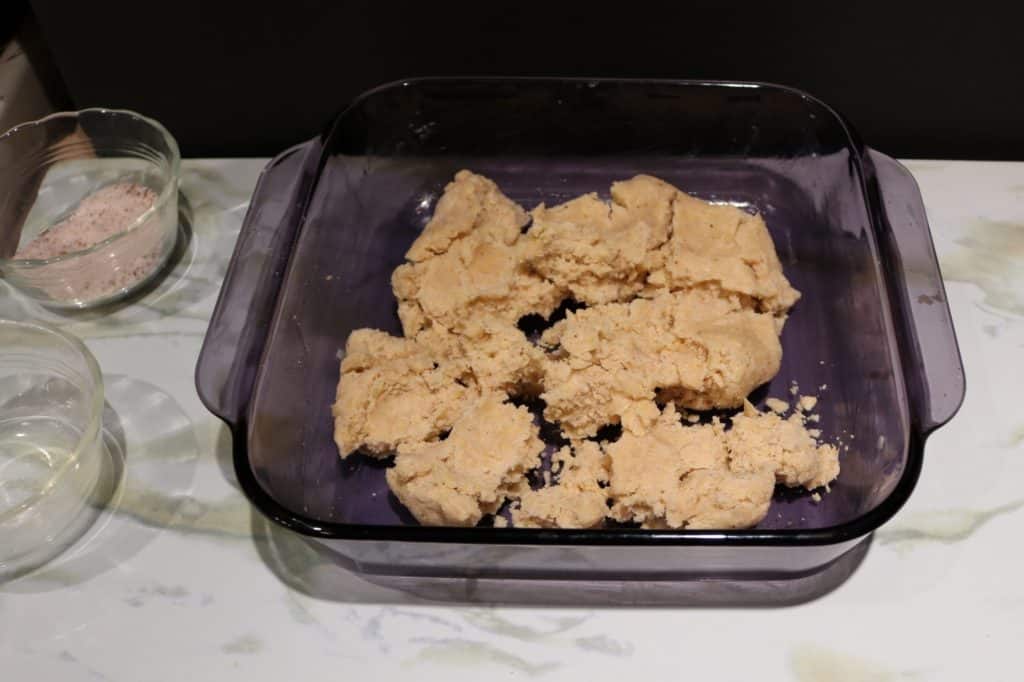 Follow the same process of marking the pieces, poking fork holes, and then topping with nutmeg and sugar. While the pie plate gives 8 slices, the square pan gives 12 smaller pieces.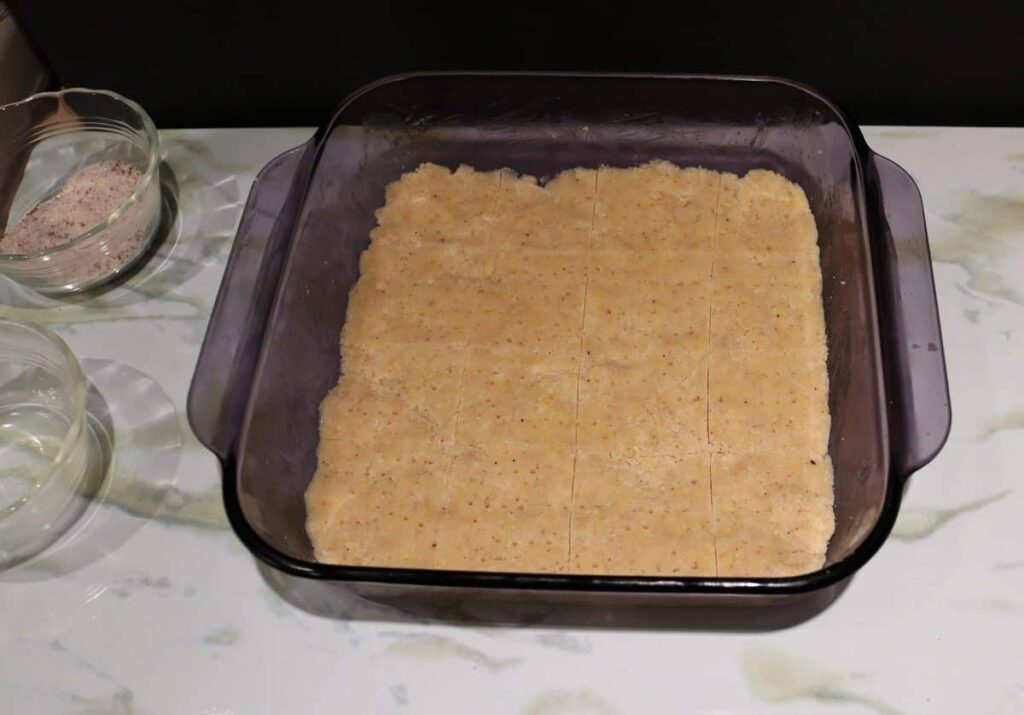 Here it is ready to bake.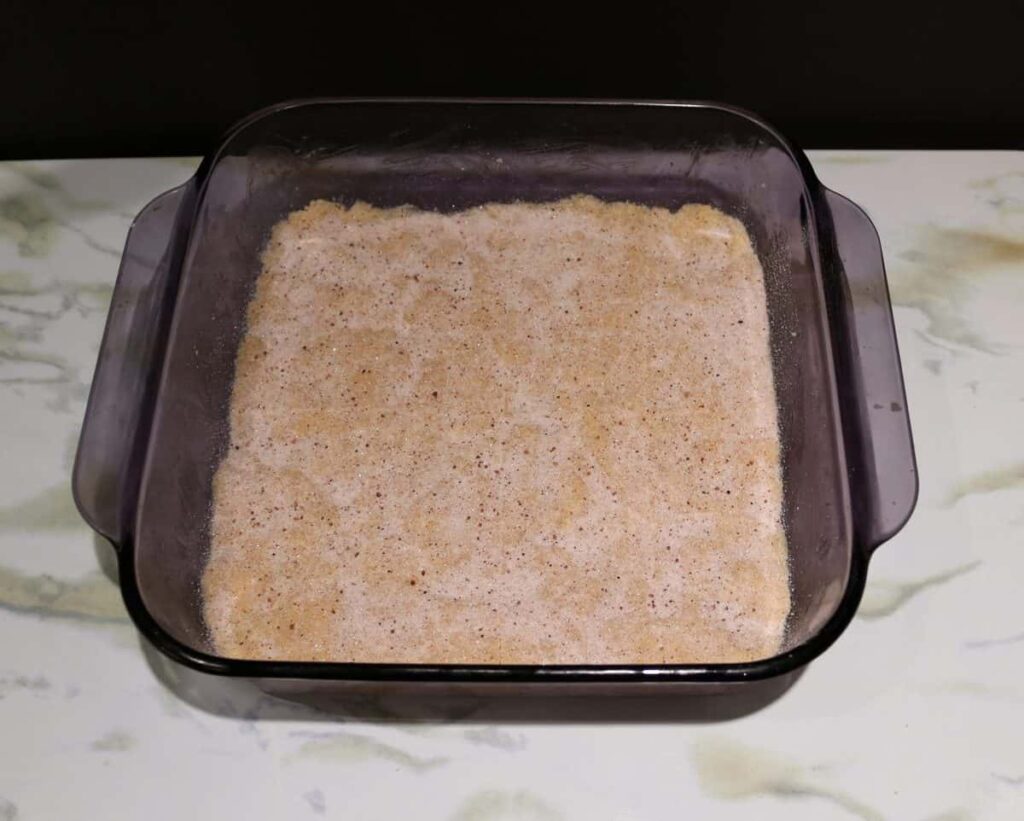 Here is the round one straight out of the oven. You should watch it carefully, because it is easy to overcook once it starts browning on the edges.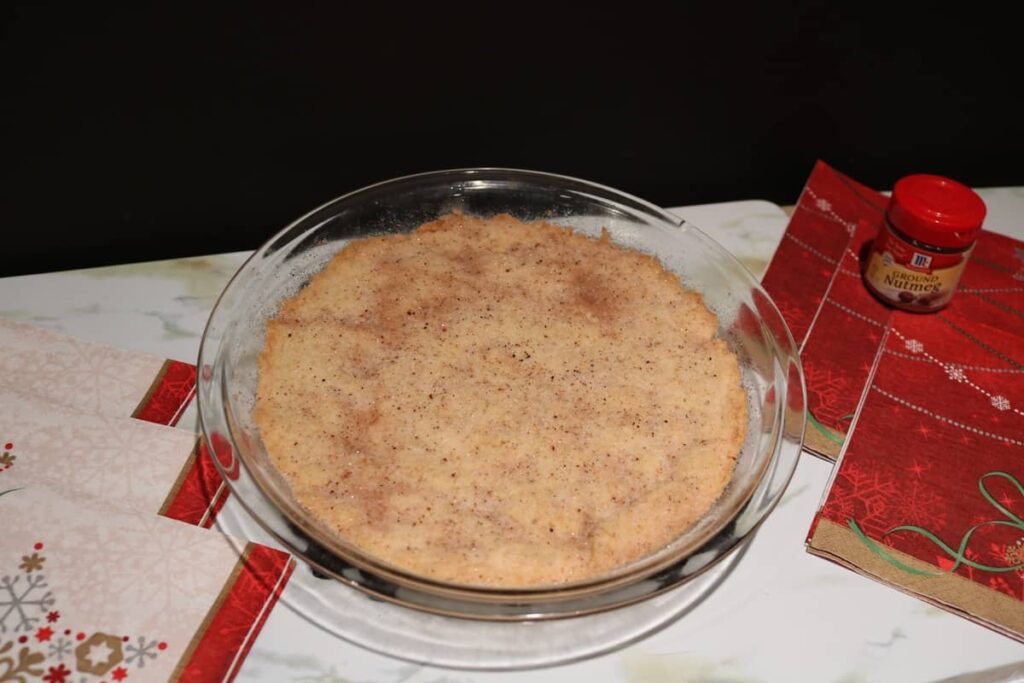 Before it cools, slice the pieces where you marked them. Then leave them in the pie plate until it cools completely or it will crumble. If you forget to cut it while it is still warm— it will be too hard when it is cool to make nice slices.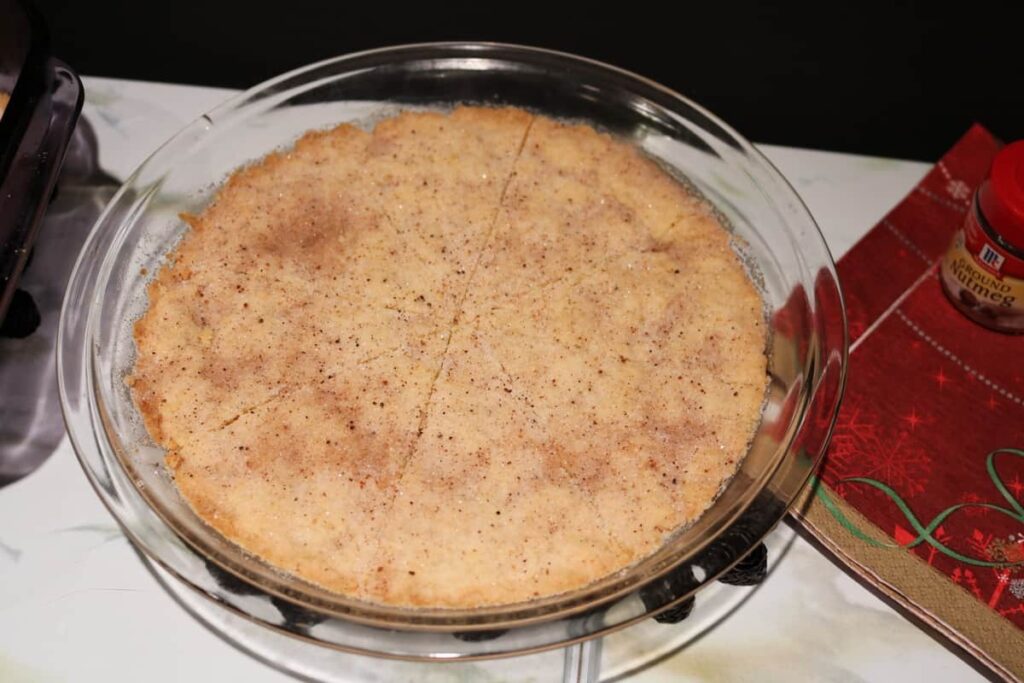 They are thin. Your house will smell soooo good from the nutmeg and sugar baking.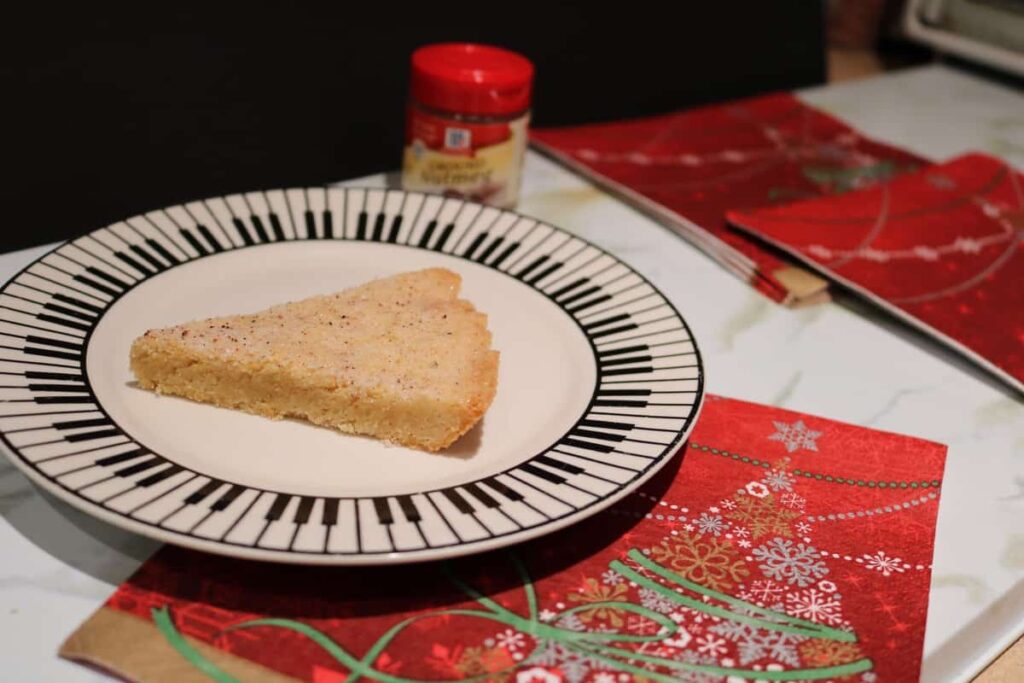 Here is the square one.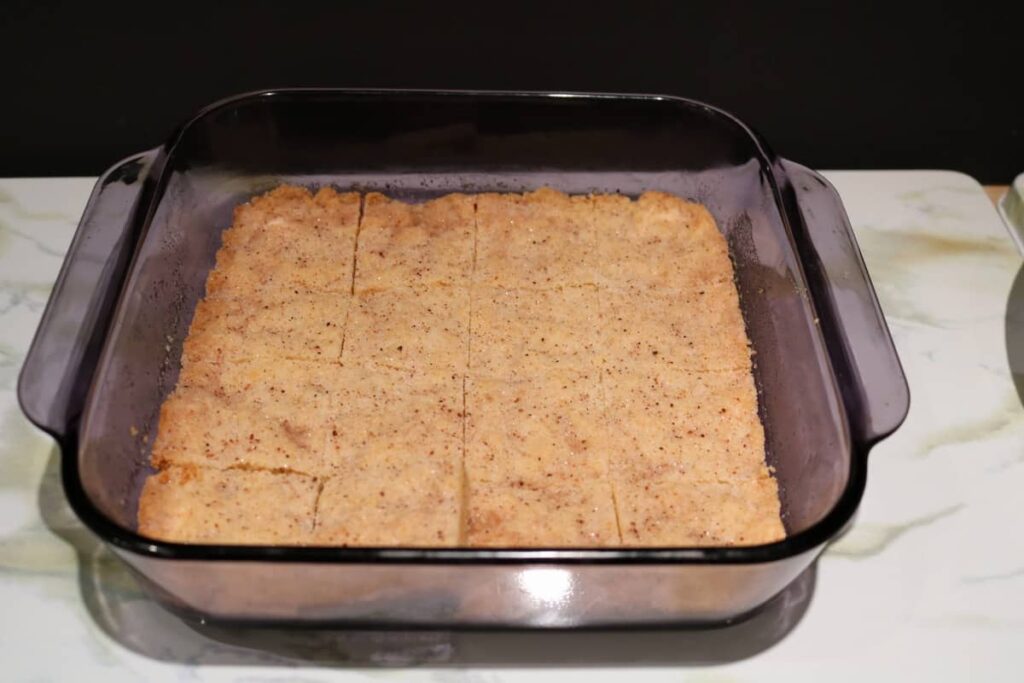 It is fun to have something a little different once in awhile.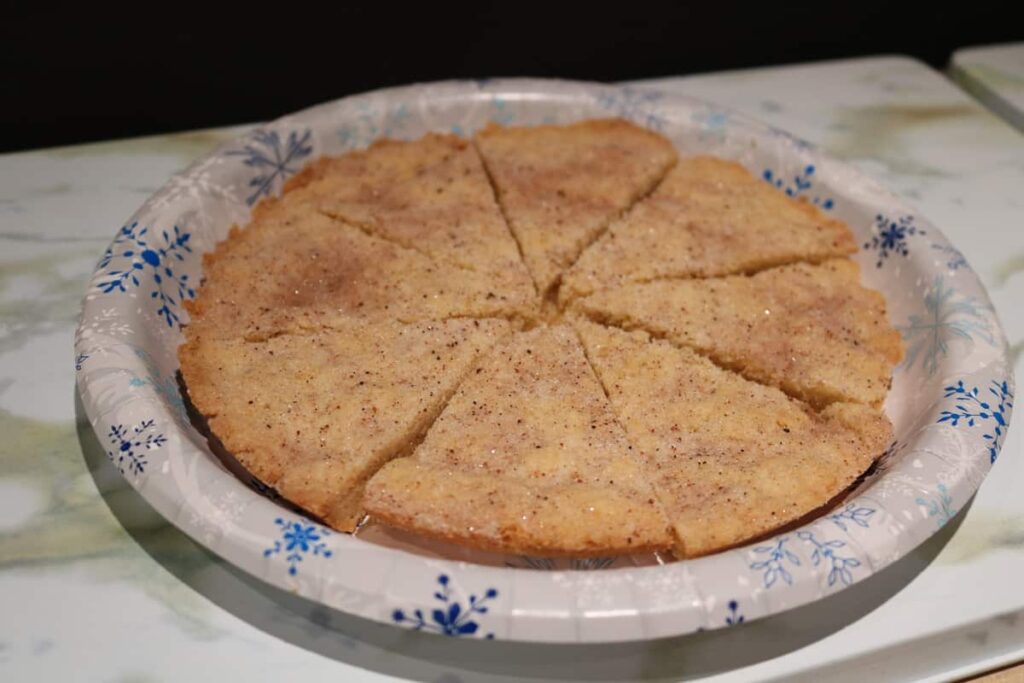 I enjoy baking and sharing– which is why I make double batches!
Nutmeg Shortbread, After!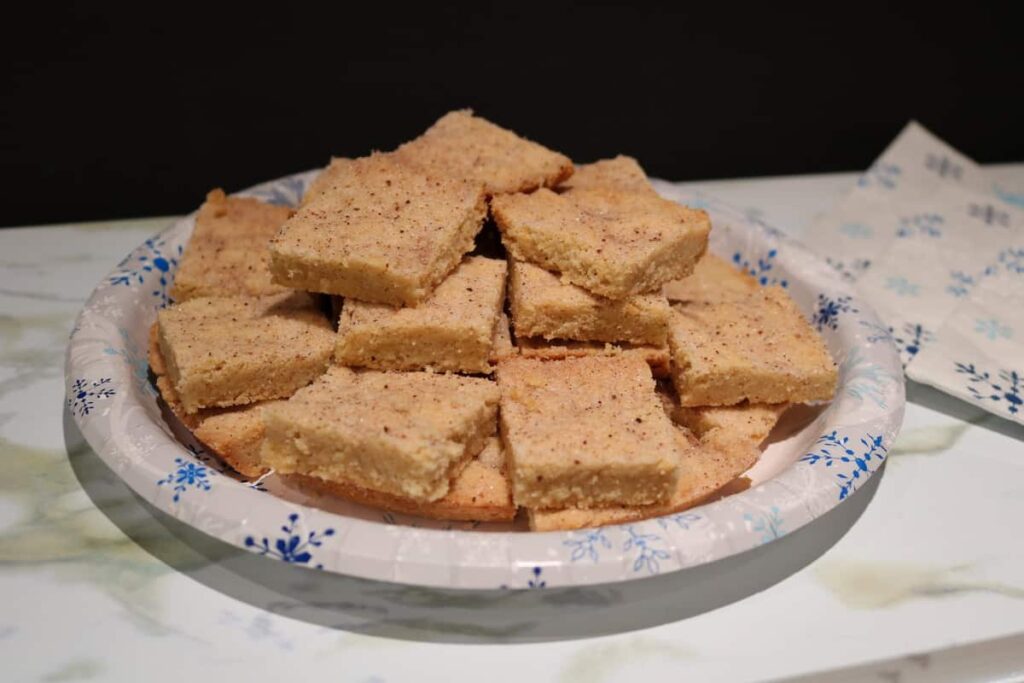 These will keep for several weeks– they just dry out and get a little harder (but not as hard as biscotti).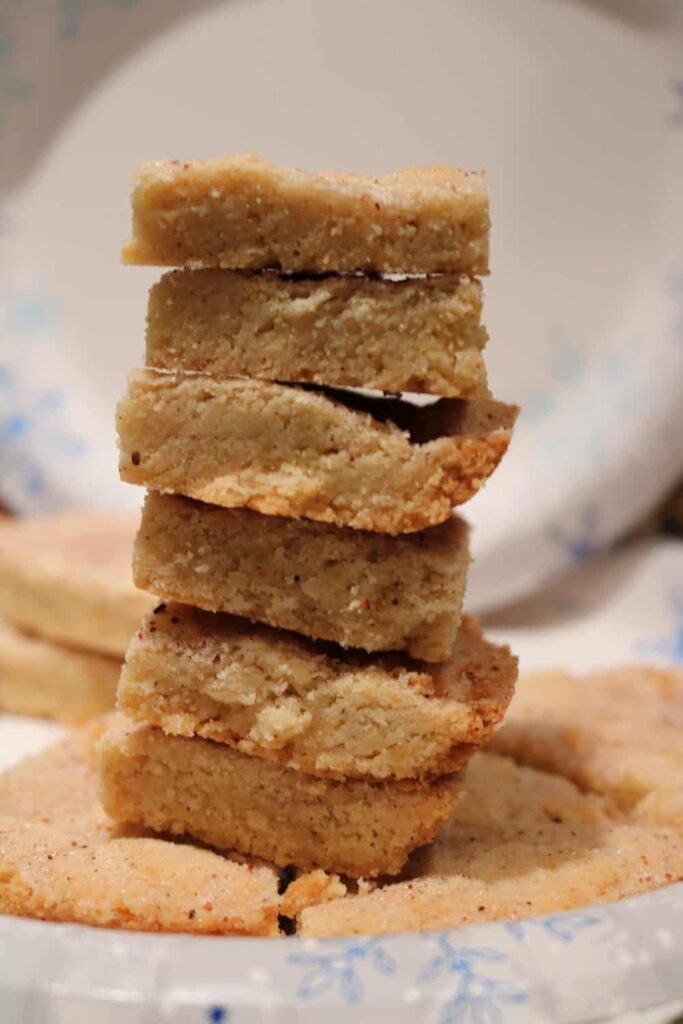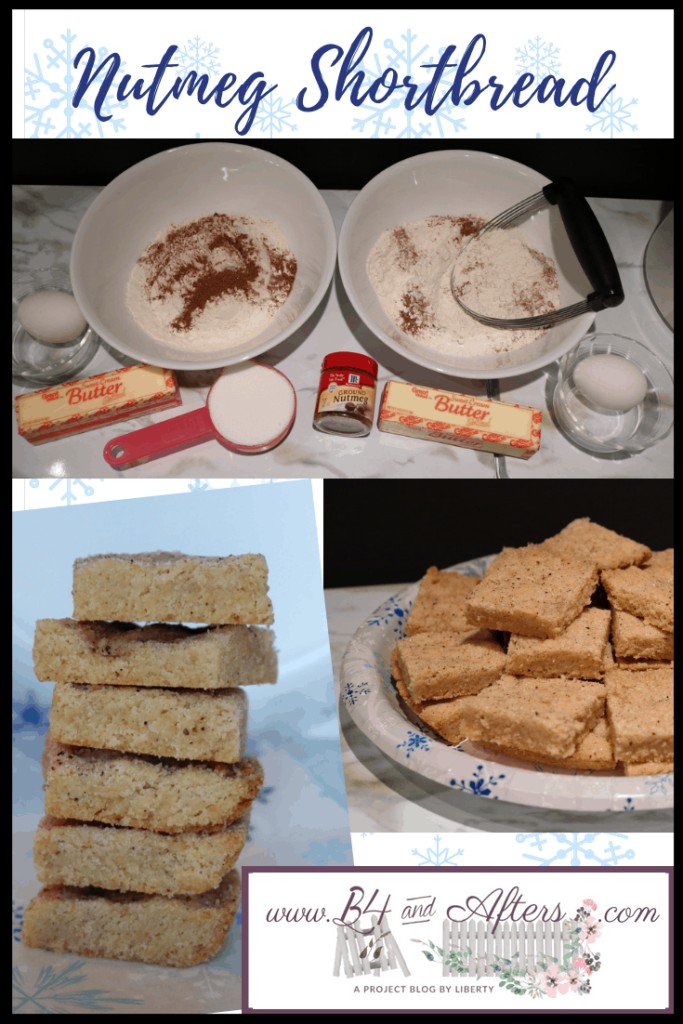 Yield:

8-16
Nutmeg Shortbread
This nutmeg shortbread is perfect if you are looking for something different to bake for the holidays!
Ingredients
1⅓ cup flour
1 tsp. nutmeg, plus ¼ tsp.
⅓ cup sugar, plus 1 TBLSP
1 stick cold butter (4 oz)
1 large egg yolk
Instructions
Mix flour and 1 tsp nutmeg together.
Mix 1 TBLSP sugar and ¼ tsp nutmeg together in small bowl and set aside.
Cut cold butter into small pieces and mix into flour mixture until it resembles coarse sand.
Stir ⅓ c. sugar into flour mixture.
Stir in one egg yolk with fork.
Then use hands to knead it together for several minutes until dough forms a ball.
Press flat into greased 9 inch pie plate or 8 inch square glass pan.
Mark slices carefully (not going very deep at all) with a sharp knife.
Poke fork holes half an inch apart all over the dough surface.
Sprinkle the extra nutmeg/ sugar mixture over the top.
Bake at 325 degrees for about 35 minutes. Watch carefully. Let it brown just a bit on the edges, being careful not to overcook (or undercook). It should be golden underneath (you can look through the clear pie plate) but if the golden gets too dark it will taste burnt.
Cut the slices in the pan, but then let it cool completely before getting them out or it will crumble apart.
Notes
I have always made this shortbread in a glass dish. I like the triangle shaped slices in a pie plate, but you can get more servings by using an 8x8 glass dishes and cutting 16 squares instead of 8 slices.